Mystical Thailand With Phuket 2014

Tour Operator:

Globus Tours

Tour Code:

OTE24

Tour Style:

Escorted Tour

Tour Length:

15 days

Tour Quality:

First Class

Current Promotions for this Tour!
LOW UNPUBLISHED PRICES ON GLOBUS TOURS
Why pay full price? Call us or click below for a quick quote and save money on Globus Tours.
Repeat Travelers Save an Additional 5%!Mention Promo Code:

PT1113

Repeat Travelers Save an Additional 5%!
Journeys club members save an additional 5% on any 2013 vacation. Repeat traveler must be a member of Journeys Club to receive additional discount. Booking must be made and under deposit before December 31, 2013 for travel commencing by December 31, 2013. Promotion applies to people that have traveled within the last five years of your booking, applies to new bookings only and must be a US Citizen. Additional restrictions may apply.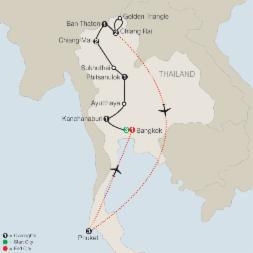 *Departure Dates in bold denote Guaranteed Departures
*Please Note: This vacation includes an internal air component which will not be discounted from the listed price above
| Start Date | End Date | Offers | Brochure Land Price | Our Price | Quote |
| --- | --- | --- | --- | --- | --- |
| | Mon, Mar 03, 2014 | | $3,474 | Get Lower Price | |
| | Mon, Mar 31, 2014 | | $3,424 | Get Lower Price | |
| | Mon, Oct 27, 2014 | | $3,294 | Get Lower Price | |
| | Mon, Nov 10, 2014 | | $3,424 | Get Lower Price | |
| | Mon, Nov 24, 2014 | | $3,424 | Get Lower Price | |
| | Mon, Dec 22, 2014 | | $3,424 | Get Lower Price | |
*Please Note: This vacation includes an internal air component which will not be discounted from the listed price above