Current Promotions for this Tour!
LOW UNPUBLISHED PRICES ON COSMOS TOURS
Why pay full price? Call us or click below for a quick quote and save money on Cosmos Tours.
Up to $200 Air-Credit on 2015 Europe Vacations!Mention Promo Code:

PT4058

Up to $200 Air-Credit on 2015 Europe Vacations!
Book a select 2015 air-inclusive Europe vacation to receive the $200 per couple ($100 per person) Air Credit. Valid on Cosmos vacations of six nights or more, plus as always receive our AffordableTours.com extra savings. Must be booked and under deposit between January 7 and June 23, 2015 for travel in 2015. Not applicable to custom tours. Not applicable on instant purchase air. Applies to coach class only. Air must be purchased through Cosmos in conjunction with a Europe vacation. Air credit will apply to the per person air price and is non-transferable. Offer not valid with any other offer except Journeys Club Repeat Traveler benefit, Cosmos $50 coupon and Cosmos Single Supplement promotion and Monograms Wanderlist promos. Applies to new 2015 bookings only, and offer will not be applied to pre-existing bookings. Air Credit will apply to the per person air price and is non-transferable. An additional $300 non-refundable deposit is required for air booked in conjunction with a land vacation. Once ticketed, airline reservations subject to change/cancellation penalties of between $300 per ticket and 100% of ticket price; air tickets not eligible for frequent flyer mileage/point accrual; stopovers not permitted. Promotional discounts do not carry forward on changed air bookings however other promotions at time of change may be available. Once airfare is confirmed and we have received your full air and land deposit, your air-inclusive price is guaranteed. We reserve the right to ticket passengers upon receipt of full land and air deposit. Additional airline fees for baggage may apply. Availability of promotional prices are limited and may be restricted to specific flights, class of service, travel dates or, length of stay. Additional restrictions applyOffer may be withdrawn at any time.

Repeat Travelers Save 5%!Mention Promo Code:

PT1165

Repeat Travelers Save 5%!
Journeys club members can save 5% on any 2014 Cosmos vacation. Must be a Journeys Club member at the time of booking to receive discount on the land-only portion. Booking must be made, under deposit, and discount applied by December 31, 2016 for travel commencing by December 31, 2016. Must have traveled within the last five years of your booking date to receive discount. Journeys Club discount is not available retroactively. Applies to new bookings only. Full cancellation penalties will apply. Does not apply to custom groups. Additional restrictions may apply.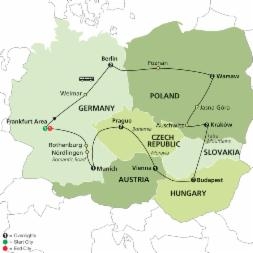 *Departure Dates in bold denote Guaranteed Departures
| Start Date | End Date | Offers | Brochure Land Price | Our Price | Quote |
| --- | --- | --- | --- | --- | --- |
| Sat, May 30, 2015 | Sat, Jun 13, 2015 | | $2,099 | Get Lower Price | |
| Sun, Jun 07, 2015 | Sun, Jun 21, 2015 | | $2,139 | Get Lower Price | |
| Sun, Jun 14, 2015 | Sun, Jun 28, 2015 | | $2,139 | Get Lower Price | |
| Sun, Jun 28, 2015 | Sun, Jul 12, 2015 | | $2,139 | Get Lower Price | |
| Sat, Jul 04, 2015 | Sat, Jul 18, 2015 | | $2,139 | Get Lower Price | |
| Sun, Jul 05, 2015 | Sun, Jul 19, 2015 | | $2,139 | Get Lower Price | |
| Sat, Jul 11, 2015 | Sat, Jul 25, 2015 | | $2,139 | Get Lower Price | |
| Sun, Jul 12, 2015 | Sun, Jul 26, 2015 | | $2,139 | Get Lower Price | |
| Sat, Jul 18, 2015 | Sat, Aug 01, 2015 | | $2,139 | Get Lower Price | |
| Sat, Jul 25, 2015 | Sat, Aug 08, 2015 | | $2,139 | Get Lower Price | |
| Sun, Aug 02, 2015 | Sun, Aug 16, 2015 | | $2,139 | Get Lower Price | |
| Sun, Aug 16, 2015 | Sun, Aug 30, 2015 | | $2,139 | Get Lower Price | |
| Sun, Aug 23, 2015 | Sun, Sep 06, 2015 | | $2,139 | Get Lower Price | |
| Sun, Aug 30, 2015 | Sun, Sep 13, 2015 | | $2,139 | Get Lower Price | |
| Sat, Sep 05, 2015 | Sat, Sep 19, 2015 | | $2,139 | Get Lower Price | |
| Sun, Sep 06, 2015 | Sun, Sep 20, 2015 | | $2,139 | Get Lower Price | |
| Sat, Sep 12, 2015 | Sat, Sep 26, 2015 | | $2,139 | Get Lower Price | |
| Sun, Sep 13, 2015 | Sun, Sep 27, 2015 | | $2,139 | Get Lower Price | |
| Sat, Sep 19, 2015 | Sat, Oct 03, 2015 | | $2,139 | Get Lower Price | |
| Sat, Sep 26, 2015 | Sat, Oct 10, 2015 | | $2,139 | Get Lower Price | |
| Sun, Sep 27, 2015 | Sun, Oct 11, 2015 | | $2,139 | Get Lower Price | |
| Sat, Oct 03, 2015 | Sat, Oct 17, 2015 | | $2,059 | Get Lower Price | |
| Sun, Oct 04, 2015 | Sun, Oct 18, 2015 | | $2,059 | Get Lower Price | |
| Sat, Oct 10, 2015 | Sat, Oct 24, 2015 | | $2,059 | Get Lower Price | |
| Sun, Oct 11, 2015 | Sun, Oct 25, 2015 | | $2,059 | Get Lower Price | |
| Sun, Oct 18, 2015 | Sun, Nov 01, 2015 | | $1,999 | Get Lower Price | |
| Sun, Oct 25, 2015 | Sun, Nov 08, 2015 | | $1,999 | Get Lower Price | |
| Sun, Nov 01, 2015 | Sun, Nov 15, 2015 | | $1,949 | Get Lower Price | |
| Sun, Dec 06, 2015 | Sun, Dec 20, 2015 | | $1,949 | Get Lower Price | |
| Sun, Dec 13, 2015 | Sun, Dec 27, 2015 | | $1,899 | Get Lower Price | |
| Mon, Dec 14, 2015 | Mon, Dec 28, 2015 | | $1,899 | Get Lower Price | |