Grecian Legends - Superior Cabin (2014)


Current Promotions for this Tour!
LOW UNPUBLISHED PRICES ON INSIGHT TOURS
Why pay full price? Call us or click below for a quick quote and save money on Insight Tours.
Young Travelers Discount: Travelers from 5 to 17 years old Save 10%.Mention Promo Code:

PT320

Family Savings, Young Travelers Save 10%!
Travel broadens the mind and enhances those special relationships. Young travelers from 5 to 17 years old save 10% on the Land Only portion of your tour. Travelers must be under the age of 18 years on the tour departure date, and must be accompanied by an adult. Discount is not combinable with other promotional offers. Restrictions may apply please contact us for more details on applicable vacations.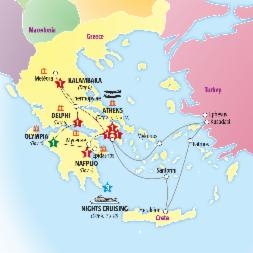 *Departure Dates in bold denote Guaranteed Departures
| Start Date | End Date | Offers | Brochure Land Price | Our Price | Quote |
| --- | --- | --- | --- | --- | --- |
| | Tue, May 06, 2014 | | $2,740 | Get Lower Price | |
| | Tue, May 13, 2014 | | $2,740 | Get Lower Price | |
| | Tue, May 20, 2014 | | $2,740 | Get Lower Price | |
| | Tue, May 27, 2014 | | $2,740 | Get Lower Price | |
| | Tue, Jun 03, 2014 | | $2,740 | Get Lower Price | |
| | Tue, Jun 10, 2014 | | $2,740 | Get Lower Price | |
| | Tue, Jul 01, 2014 | | $2,740 | Get Lower Price | |
| | Tue, Jul 08, 2014 | | $2,740 | Get Lower Price | |
| | Tue, Jul 15, 2014 | | $2,740 | Get Lower Price | |
| | Tue, Jul 22, 2014 | | $2,740 | Get Lower Price | |
| | Tue, Jul 29, 2014 | | $2,740 | Get Lower Price | |
| | Tue, Aug 05, 2014 | | $2,740 | Get Lower Price | |
| | Tue, Aug 12, 2014 | | $2,740 | Get Lower Price | |
| | Tue, Aug 19, 2014 | | $2,740 | Get Lower Price | |
| | Tue, Aug 26, 2014 | | $2,740 | Get Lower Price | |
| | Tue, Sep 02, 2014 | | $2,740 | Get Lower Price | |
| | Tue, Sep 16, 2014 | | $2,740 | Get Lower Price | |
| | Tue, Sep 23, 2014 | | $2,740 | Get Lower Price | |
| | Tue, Sep 30, 2014 | | $2,740 | Get Lower Price | |
| | Tue, Oct 07, 2014 | | $2,740 | Get Lower Price | |
| | Tue, Oct 14, 2014 | | $2,740 | Get Lower Price | |
| | Tue, Oct 21, 2014 | | $2,740 | Get Lower Price | |
| | Tue, Oct 28, 2014 | | $2,740 | Get Lower Price | |