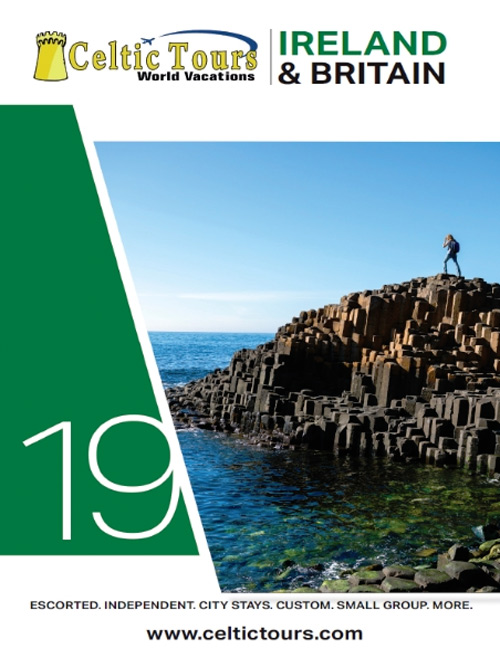 Guaranteed Low Prices on Celtic Vacations - Ireland and Britain
NEW! 2019 Now Open for Sale! Celtic tours brings you exceptional value and vacation options in Ireland and Britain. Take a Celtic Dream tour and visit: Giants Causeway, Blarney and the Cliffs of Moher or in Britain visit: Scottish Islands, the Heart of England & North Wales and more.
Escorted Tour
Escorted Tours are our most popular product. Escorted tours are normally conducted by a tour director who takes care of all services from beginning to end of the tour. Escorted tours normally include flights, hotels, transportation, transfers to the airport/hotel, most meals and sightseeing. Escorted Tours are conducted by motor-coach and usually no more than 2 nights are spent in each location visited. Escorted Tours are usually fast-paced and prices include much of the sightseeing.
Guided/Hosted Tour
Guided Tours are somewhat similar to Escorted tours but passengers are greeted by a local representative rather than a Tour Director and will not be escorted to all activities and functions. Local guides will be available to answer questions through the duration of the tour. Some meals, accommodations and sightseeing may be included in your tour. This style is ideal for people who want some freedom but still have the comfort of a guide.
Independent Vacation
These vacations usually spend 2 or 3 nights in each location visited and usually only a few locations are visited. A tour guide is normally not included, but there is a usually a host available to answer questions and suggest sightseeing. Few meals and some sightseeing are typically included, but a lot of free time to explore is available. These vacations are ideal for independent travelers looking to set their own pace.
Rail Tour
Rail tours offer a unique type of vacation in which much of the transportation is conducted via rail. Trains have been a fascination of many for years and with these select rail journeys you will get to experience the wondrous view, comfort and excitement of a train with the in-depth experience of a hosted or escorted tour.