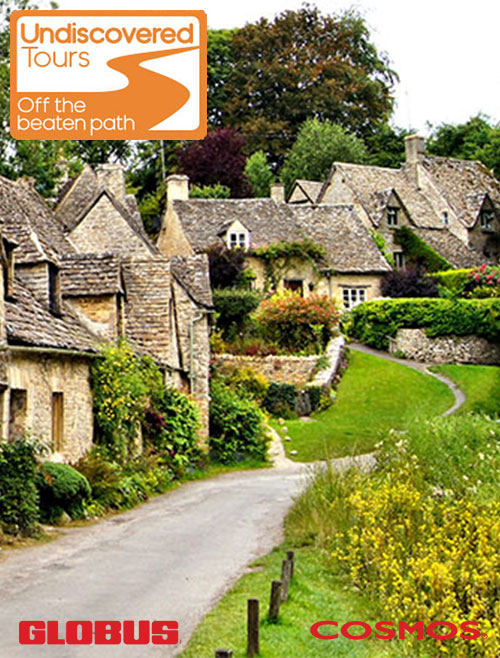 Guaranteed Low Prices on Cosmos Vacations - Undiscovered Tours
NEW! 2020 Now Open for Sale! Perhaps you have already stood inside the storied walls of the Colosseum or marveled at the London Bridge. Maybe you've cruised through the most romantic Venice canals. Even if you've experienced the highlights of some of Europe's most famous cities, there are entirely new regions, people and cultures to experience in unique cities less traveled.
Escorted Tour
Escorted Tours are our most popular product. Escorted tours are normally conducted by a tour director who takes care of all services from beginning to end of the tour. Escorted tours normally include flights, hotels, transportation, transfers to the airport/hotel, most meals and sightseeing. Escorted Tours are conducted by motor-coach and usually no more than 2 nights are spent in each location visited. Escorted Tours are usually fast-paced and prices include much of the sightseeing.
| Tour Itinerary | Days | Operator | Quality | Style | Starts | Ends | Price |
| --- | --- | --- | --- | --- | --- | --- | --- |
| British Highlights 2020 | 06 | Cosmos | | Escorted | London | Edinburgh | $1,059 |
| Scottish Outlander Adventure 2020 | 07 | Cosmos | | Escorted | Glasgow | Glasgow | $1,229 |
| England Explorer 2020 | 07 | Cosmos | | Escorted | London | London | $799 |
| Scenic Slovenia & Croatia 2020 | 08 | Cosmos | | Escorted | Ljubljana | Ljubljana | $1,499 |
| Gourmet Tuscany 2020 | 08 | Cosmos | | Escorted | Montecatini Terme | Montecatini Terme | $1,499 |
| The Magic of the Italian Lakes 2020 | 08 | Cosmos | | Escorted | Milan | Lago Maggiore | $1,299 |
| Apulia, the Heel of Italy 2020 | 08 | Cosmos | | Escorted | Naples | Naples | $1,299 |
| Sicily 2020 | 08 | Cosmos | | Escorted | Palermo | Palermo | $1,199 |
| Nice to Lyon Explorer 2020 | 08 | Cosmos | | Escorted | Nice | Lyon | $899 |
| Greece Explorer 2020 | 08 | Cosmos | | Escorted | Athens | Athens | $799 |
| Venice, Slovenia, Croatia & Montenegro 2020 | 11 | Cosmos | | Escorted | Venice | Dubrovnik | $1,699 |
| Discover the Eastern Med 2020 | 11 | Cosmos | | Escorted | Dubrovnik | Rome | $1,629 |
| Mediterranean Flavors 2019 | 14 | Cosmos | | Escorted | Madrid | Rome | $2,099 |
| Mediterranean Flavors 2020 | 14 | Cosmos | | Escorted | Madrid | Rome | $2,099 |