Family tours are designed to incorporate quality family time, engaging family cultural experiences, sightseeing and education brought to families in a fun environment for children and adults alike all the while traveling with like minded families creating lifelong bonds. Many tours include a mix of activities and down time for rest and relaxation while on vacation. Day-by-day itineraries are crafted with all ages in mind. Family vacations are available in worldwide destinations. Travelers of all ages can relax in the Hawaiian Islands, learn about American history in Washington, D.C., spot toucans in the Costa Rican jungle or tour ancient castles in Europe.
What You Can Expect on a Family Tour
While the details of each escorted-tour itinerary vary among tour operators and destinations, typically on a tour designed for families, you will enjoy the following:
Centrally located hotel accommodations that are in the middle of all the action, often with kid-friendly amenities, such as swimming pools or game rooms.
Included or optional activities that appeal to all age ranges, from snorkeling in Hawaii and game-viewing in Africa to horseback riding in Arizona and gelato tasting in Italy. (Some itineraries include "kids only" activities, as well.)
A leisurely pace to provide time for family bonding and learning. (Few early morning wake-up calls ensure non-cranky travelers.)
A friendly tour director who will smooth the way for you, sharing expert commentary throughout your vacation.
The opportunity to meet like-minded families who share similar interests (on most family tour itineraries, only adults with children are allowed on the trip).
Buffet meals or menus with kid-friendly options for picky palates.
Free time for your family to enjoy explorations on your own.
As always, check the day-by-day itinerary and "What's Included" information to confirm exactly what comes with the price of your vacation.
Age Minimums for Family Tours
The escorted travel companies that offer specific family trips have different minimum ages required for travel. While on tour, there may be some age restrictions for included or optional activities, such as horseback riding, river rafting or snorkeling; ask an AffordableTours.com travel consultant for details.
The Benefits of Traveling with Children
Indeed, traveling with children on lengthy plane flights, through multiple time zones and then bunking in strange beds, can, frankly, have its touchy moments. But the benefits of taking your children on a trip far outweigh any "what if" concerns.
Here are just a few reasons to plan your escorted family vacation this year:
Kids love spending time with you. At home it's too easy to get distracted by housework or office obligations. On vacation, you have fabulous quality time with your whole family, with opportunities to carve out some one-on-one time with each child if you like.
Children are learning, and they don't know it! Seeing important historic buildings in Europe or getting acquainted with the environment in Central America doesn't seem like "education" when it's in the form of exciting day trips and adventures. They'll be introduced to different cultures and foods, broadening their horizons along the way and learning so much more than if they simply read about locales in school textbooks.
You're making amazing memories. Years and even decades after family vacations, your children will still be able to tell funny stories about the time that Dad tried surfing in Hawaii, even Grandma climbed the Leaning Tower of Pisa or the entire family spotted elephants on safari. Travel often inspires lifelong memories.
Introduce the concept of traveling to your children now, and they will grow up understanding that there is a huge world outside of their hometown. They'll have firsthand experiences that they can take with them to college and beyond, and then pass down their love of travel to their own children and grandchildren!
Family Tours Operators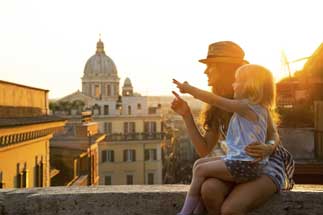 | Tour Itinerary | Days | Operator | Quality | Style | Starts | Ends | Price |
| --- | --- | --- | --- | --- | --- | --- | --- |
| 2019 Family Australia | 09 | Abercrombie Kent | | Escorted | Sydney | Port Douglas | $8,995 |
| 2019 Family Egypt & The Nile | 10 | Abercrombie Kent | | Tour & Cruise | Cairo | Cairo | $7,495 |
| 2019 Family Galapagos | 08 | Abercrombie Kent | | Escorted | Quito | Quito | $7,995 |
| 2019 Family Costa Rica | 07 | Abercrombie Kent | | Escorted | San Jose | San Jose | $4,995 |
| 2020 Family Japan | 09 | Abercrombie Kent | | Escorted | Tokyo | Kyoto | $10,495 |
| 2020 Family Galapagos | 08 | Abercrombie Kent | | Escorted | Quito | Quito | $7,995 |
| 2020 Family China | 12 | Abercrombie Kent | | Escorted | Beijing | Shanghai | $6,495 |
| 2020 Family Alaska | 08 | Abercrombie Kent | | Escorted | Anchorage, AK | Anchorage, AK | $6,995 |
| 2020 Family Kenya & Tanzania Safari | 12 | Abercrombie Kent | | Escorted | Nairobi | Nairobi | $11,495 |
| 2020 Family Egypt & The Nile on "Sanctuary Nile Adventurer" | 10 | Abercrombie Kent | | Tour & Cruise | Cairo | Cairo | $6,995 |
| 2020 Family Egypt & The Nile on 'Sanctuary Sun Boat IV' | 10 | Abercrombie Kent | | Tour & Cruise | Cairo | Cairo | $7,995 |
| 2020 Family Australia | 09 | Abercrombie Kent | | Escorted | Sydney | Port Douglas | $8,695 |
| 2020 Family Costa Rica | 07 | Abercrombie Kent | | Escorted | San Jose | San Jose | $4,395 |
| 2020 Family Italy | 10 | Abercrombie Kent | | Escorted | Rome | Venice | $9,295 |
| 2020 Family Spain | 10 | Abercrombie Kent | | Escorted | Barcelona | Madrid | $7,995 |
| 2020 Family Switzerland | 08 | Abercrombie Kent | | Escorted | Zurich | Zurich | $8,495 |
Adventures By Disney Tours
| Tour Itinerary | Days | Operator | Quality | Style | Starts | Ends | Price |
| --- | --- | --- | --- | --- | --- | --- | --- |
| Japan: Osaka, Kyoto, Takayama, Hakone, Tokyo | 11 | Adventures By Disney | | Escorted | Osaka | Tokyo | $11,499 |
| China: Hong Kong, Beijing, Xi'an, Guilin,Chengdu, Shanghai | 12 | Adventures By Disney | | Escorted | Hong Kong | Shanghai | $9,429 |
| Amsterdam Escape | 03 | Adventures By Disney | | Guided/Hosted | Amsterdam | Amsterdam | $1,819 |
| Austria and Czech Republic | 09 | Adventures By Disney | | Escorted | Prague | Vienna | $6,039 |
| Barcelona Escape | 04 | Adventures By Disney | | Guided/Hosted | Barcelona | Barcelona | $2,099 |
| Danube River Cruise (East) 2020 | 08 | Adventures By Disney | | River Cruise | Vilshofen | Budapest | $5,099 |
| Danube River Cruise (West) 2020 | 08 | Adventures By Disney | | River Cruise | Budapest | Vilshofen | $5,099 |
| Danube River Cruise: Christmas Markets (Budapest to Vilshofen) 2019 | 08 | Adventures By Disney | | River Cruise | Budapest | Vilshofen | $5,069 |
| Danube River Cruise: Christmas Markets (Vilshofen to Budapest) 2019 | 08 | Adventures By Disney | | River Cruise | Vilshofen | Budapest | $5,479 |
| Danube River Cruise: Christmas Markets (Vilshofen to Budapest) 2020 | 08 | Adventures By Disney | | River Cruise | Vilshofen | Budapest | $5,099 |
| England and France | 08 | Adventures By Disney | | Escorted | London | Paris | $5,719 |
| Germany | 09 | Adventures By Disney | | Escorted | Munich | Berlin | $5,699 |
| Greece | 10 | Adventures By Disney | | Escorted | Athens | Heraklion | $6,309 |
| Iceland | 08 | Adventures By Disney | | Escorted | Reykjavik | Reykjavik | $7,599 |
| Ireland | 08 | Adventures By Disney | | Escorted | Dublin | Shannon | $5,599 |
| Italy | 08 | Adventures By Disney | | Escorted | Rome | Venice | $5,809 |
| Italy & Amalfi Coast | 08 | Adventures By Disney | | Escorted | Naples | Florence | $6,019 |
| Italy & Switzerland | 08 | Adventures By Disney | | Escorted | Stresa | Lucerne | $6,119 |
| Norway | 08 | Adventures By Disney | | Escorted | Bergen | Oslo | $5,429 |
| Rhine River Cruise 2020 | 08 | Adventures By Disney | | River Cruise | Basel | Amsterdam | $5,389 |
| Rhône River Cruise 2020 | 08 | Adventures By Disney | | River Cruise | Lyon | Arles | $5,169 |
| Rome Escape | 04 | Adventures By Disney | | Guided/Hosted | Rome | Rome | $2,999 |
| Scotland | 08 | Adventures By Disney | | Escorted | Edinburgh | Inverness | $5,949 |
| Seine River Cruise 2020 | 08 | Adventures By Disney | | River Cruise | Paris | Paris | $5,169 |
| Spain | 09 | Adventures By Disney | | Escorted | Barcelona | Malaga | $5,999 |
| Alaska | 08 | Adventures By Disney | | Escorted | Anchorage, AK | Girdwood, AK | $5,639 |
| Boston Escape | 04 | Adventures By Disney | | Guided/Hosted | Boston, MA | Boston, MA | $2,309 |
| Canadian Rockies | 07 | Adventures By Disney | | Escorted | Calgary | Calgary | $4,949 |
| Disney Resort and Southern California | 06 | Adventures By Disney | | Escorted | Los Angeles, CA | Los Angeles, CA | $3,499 |
| Arizona & Utah | 08 | Adventures By Disney | | Escorted | Sedona, AZ | Moab, UT | $4,539 |
| New York City Escape | 04 | Adventures By Disney | | Guided/Hosted | New York, NY | New York, NY | $2,789 |
| Philadelphia and Washington D.C. | 07 | Adventures By Disney | | Escorted | Philadelphia, PA | Washington DC | $3,799 |
| Vietnam, Laos & Cambodia | 12 | Adventures By Disney | | Escorted | Ho Chi Minh | Siem Reap | $6,249 |
| Australia: Sydney, Ayers Rock, Palm Cove, Great Barrier Reef, Gold Coast | 11 | Adventures By Disney | | Escorted | Sydney | Brisbane | $7,999 |
| Disneyland Resort and Southern California Escape | 04 | Adventures By Disney | | Escorted | Los Angeles, CA | Los Angeles, CA | $2,529 |
| South Africa: Cape Town, Knysna, Kapama Game Reserve | 10 | Adventures By Disney | | Escorted | Cape Town | Johannesburg | $8,999 |
| Costa Rica | 07 | Adventures By Disney | | Escorted | San Jose | Liberia | $3,699 |
| Ecuador: Amazon and Galápagos Islands | 12 | Adventures By Disney | | Tour & Cruise | Quito | Guayaquil | $9,999 |
| Peru | 08 | Adventures By Disney | | Escorted | Lima | Lima | $4,999 |
| Wyoming | 07 | Adventures By Disney | | Escorted | Jackson Hole, WY | Jackson Hole, WY | $4,999 |
| Montana | 07 | Adventures By Disney | | Escorted | Bozeman, MT | Bozeman, MT | $4,799 |
| Tour Itinerary | Days | Operator | Quality | Style | Starts | Ends | Price |
| --- | --- | --- | --- | --- | --- | --- | --- |
| Peru Family Experience | 09 | G Adventures | | Escorted | Lima | Lima | $2,099 |
| China Family Adventure | 14 | G Adventures | | Escorted | Beijing | Hong Kong | $2,749 |
| Costa Rica Family Experience | 09 | G Adventures | | Escorted | San Jose | San Jose | $1,449 |
| Family Land Galápagos — Multi-Activities | 08 | G Adventures | | Escorted | Quito | Quito | $2,199 |
| Vietnam Family Adventure | 12 | G Adventures | | Escorted | Hanoi | Ho Chi Minh | $1,449 |
| Alaska Family Journey: Wilderness Explorer | 09 | G Adventures | | Escorted | Anchorage, AK | Anchorage, AK | $4,199 |
| Costa Rica Family Journey: From Rainforest to Coast | 09 | G Adventures | | Escorted | San Jose | San Jose | $1,999 |
| France Family Journey: From Paris to Normandy and Beyond | 09 | G Adventures | | Escorted | Paris | Paris | $3,399 |
| Iceland Family Journey: Geysers, Glaciers, and Fjords | 08 | G Adventures | | Escorted | Reykjavik | Reykjavik | $3,999 |
| Italy Family Journey: Venice to Rome | 08 | G Adventures | | Escorted | Venice | Rome | $2,899 |
| Japan Family Journey: From Ancient to Modern Times | 11 | G Adventures | | Escorted | Tokyo | Kyoto | $5,399 |
| National Parks Family Journey: Yellowstone and Grand Teton | 08 | G Adventures | | Escorted | Jackson Hole, WY | Jackson Hole, WY | $2,999 |
| Peru Family Journey: Machu Picchu to the Amazon | 10 | G Adventures | | Escorted | Lima | Lima | $2,999 |
| Southeast Asia Family Journey: Vietnam to Cambodia | 13 | G Adventures | | Escorted | Hanoi | Siem Reap | $2,599 |
| Southern Africa Family Journey: In Search of the Big Five | 11 | G Adventures | | Escorted | Cape Town | Victoria Falls | $3,439 |
| Tanzania Family Journey: A Serengeti Safari | 08 | G Adventures | | Escorted | Arusha | Arusha | $4,699 |
| Thailand Family Adventure | 12 | G Adventures | | Escorted | Bangkok | Bangkok | $1,274 |
| Thailand Family Adventure | 12 | G Adventures | | Escorted | Bangkok | Bangkok | $1,499 |
| Tour Itinerary | Days | Operator | Quality | Style | Starts | Ends | Price |
| --- | --- | --- | --- | --- | --- | --- | --- |
| Costa Rica Family Adventure | 08 | Intrepid | | Escorted | San Jose | San Jose | $1,582 |
| Egypt Family Holiday | 09 | Intrepid | | Guided/Hosted | Cairo | Cairo | $1,425 |
| Thailand Family Holiday | 12 | Intrepid | | Guided/Hosted | Bangkok | Bangkok | $1,431 |
| Sri Lanka Family Holiday | 12 | Intrepid | | Guided/Hosted | Negombo | Colombo | $1,440 |
| Morocco Family Holiday | 08 | Intrepid | | Escorted | Marrakesh | Marrakesh | $548 |
| Thailand Family Holiday with teenagers | 09 | Intrepid | | Escorted | Bangkok | Bangkok | $1,360 |
| Peru Family Holiday | 10 | Intrepid | | Escorted | Lima | Cusco | $2,590 |
| Borneo Family Adventure | 11 | Intrepid | | Guided/Hosted | Kota Kinabalu | Kota Kinabalu | $2,030 |
| Vietnam Family Holiday with teenagers | 09 | Intrepid | | Escorted | Hanoi | Hoi An | $1,325 |
| Vietnam Family Holiday | 13 | Intrepid | | Escorted | Hanoi | Ho Chi Minh | $1,241 |
| Vietnam & Cambodia Family Holiday | 15 | Intrepid | | Guided/Hosted | Hanoi | Siem Reap | $2,552 |
| Italy Family Holiday | 08 | Intrepid | | Escorted | Rome | Sorrento | $2,275 |
| Borneo Family Holiday Comfort | 10 | Intrepid | | Escorted | Kota Kinabalu | Kota Kinabalu | $2,180 |
| Northern India Family Holiday Comfort | 10 | Intrepid | | Escorted | New Delhi | New Delhi | $1,341 |
| Cambodia Family Holiday with Teenagers | 08 | Intrepid | | Escorted | Phnom Penh | Siem Reap | $1,005 |
| Turkey Family Holiday with teenagers | 08 | Intrepid | | Escorted | Fethiye | Fethiye | $805 |
| Botswana Family Safari with teenagers | 10 | Intrepid | | Escorted | Victoria Falls | Johannesburg | $1,445 |
| Tanzania Family Safari | 08 | Intrepid | | Guided/Hosted | Nairobi | Nairobi | $2,030 |
| Bali Family Holiday with Teenagers | 08 | Intrepid | | Escorted | Ubud | Seminyak | $1,380 |
| Jordan Family Holiday | 08 | Intrepid | | Guided/Hosted | Amman | Dead Sea | $1,595 |
| Mexico Family Holiday | 08 | Intrepid | | Escorted | Playa del Carmen | Tulum | $1,810 |
| Northern Italy Family Holiday | 08 | Intrepid | | Escorted | Venice | Rome | $2,355 |
| South Africa Family Safari with teenagers | 12 | Intrepid | | Guided/Hosted | Johannesburg | Johannesburg | $1,705 |
| Egypt Family Holiday for solo parents | 09 | Intrepid | | Escorted | Cairo | Cairo | $1,425 |
| Morocco Family Holiday for solo parents | 08 | Intrepid | | Escorted | Marrakesh | Marrakesh | $645 |
| Vietnam Family Holiday for solo parents | 13 | Intrepid | | Escorted | Hanoi | Ho Chi Minh | $1,314 |
| Spain Family Holiday | 09 | Intrepid | | Escorted | Madrid | Torremolinos | $2,845 |
| China Family Holiday | 12 | Intrepid | | Escorted | Beijing | Hong Kong | $3,170 |
| Best of Morocco Family Holiday | 10 | Intrepid | | Escorted | Casablanca | Marrakesh | $975 |
| Croatia Family Holiday | 09 | Intrepid | | Escorted | Dubrovnik | Split | $2,565 |
| Greece Family Holiday | 08 | Intrepid | | Guided/Hosted | Athens | Corfu | $2,230 |
| Turkey Family Holiday | 10 | Intrepid | | Escorted | Istanbul | Istanbul | $1,510 |
| Vietnam Family Holiday Comfort | 13 | Intrepid | | Escorted | Hanoi | Ho Chi Minh | $1,625 |
| Summer Pyrenees Family Holiday with teenagers | 08 | Intrepid | | Escorted | Soldeu | Soldeu | $1,055 |
| Morocco Family Holiday Comfort | 10 | Intrepid | | Escorted | Casablanca | Marrakesh | $1,130 |
| Egypt Family Holiday Comfort | 08 | Intrepid | | Escorted | Cairo | Cairo | $1,940 |
| Vietnam Family Cycling Holiday | 10 | Intrepid | | Escorted | Ho Chi Minh | Hoi An | $1,345 |
| Thailand Family Cycling Holiday | 10 | Intrepid | | Escorted | Bangkok | Ao Nang | $1,625 |
| Morocco Family Cycling Holiday | 10 | Intrepid | | Escorted | Casablanca | Marrakesh | $1,380 |
| Central Europe Family Holiday | 08 | Intrepid | | Escorted | Prague | Budapest | $1,950 |
| Peru Family Holiday with Teenagers | 10 | Intrepid | | Escorted | Cusco | Lima | $2,510 |
| Northern India Family Holiday for Solo Parents | 10 | Intrepid | | Escorted | New Delhi | New Delhi | $926 |
| Tour Itinerary | Days | Operator | Quality | Style | Starts | Ends | Price |
| --- | --- | --- | --- | --- | --- | --- | --- |
| Tanzania: A Grand Family Safari 2019 | 10 | Tauck | | Escorted | Kilimanjaro | Kilimanjaro | $8,190 |
| Italia Bella: Rome to Venice 2019 | 08 | Tauck | | Escorted | Rome | Venice | $5,590 |
| Tanzania: A Grand Family Safari 2020 | 10 | Tauck | | Escorted | Kilimanjaro | Kilimanjaro | $8,290 |
| The Sweet Life: Rome & Sorrento 2020 | 07 | Tauck | | Escorted | Rome | Sorrento | $3,990 |
| Red Rocks & Painted Canyons 2020 | 08 | Tauck | | Escorted | Phoenix, AZ | Las Vegas, NV | $4,390 |
| Alaska: Call of the Wild 2020 | 08 | Tauck | | Escorted | Anchorage, AK | Anchorage, AK | $5,190 |
| Alpine Adventure 2020 | 08 | Tauck | | Escorted | Zurich | Munich | $5,290 |
| Blue Danube: Family Riverboat Adventure - Eastbound 2020 | 08 | Tauck | | River Cruise | Munich | Budapest | $4,390 |
| Blue Danube: Family Riverboat Adventure - Westbound 2020 | 08 | Tauck | | River Cruise | Budapest | Munich | $4,390 |
| Bon Voyage! France Family River Cruise 2020 | 08 | Tauck | | River Cruise | Paris | Lyon | $4,690 |
| Castles on the Rhine: Family Riverboat Adventure - Northbound 2020 | 08 | Tauck | | River Cruise | Basel | Amsterdam | $4,590 |
| Castles on the Rhine: Family Riverboat Adventure - Southbound 2020 | 08 | Tauck | | River Cruise | Amsterdam | Basel | $4,590 |
| Cowboy Country 2020 | 08 | Tauck | | Escorted | Jackson Hole, WY | Rapid City, SD | $4,290 |
| Costa Rica: Jungles & Rainforests 2020 | 08 | Tauck | | Escorted | San Jose | Guanacaste | $3,690 |
| Douro Discovery: A Family River Cruise in Portugal 2020 | 08 | Tauck | | River Cruise | Lisbon | Porto | $4,290 |
| Family Fun Along The Seine: Paris To Normandy 2020 | 08 | Tauck | | River Cruise | Paris | Paris | $4,490 |
| Mystical Peru 2020 | 08 | Tauck | | Escorted | Lima | Lima | $4,690 |
| Majestic California: San Francisco, Yosemite & the Pacific 2020 | 08 | Tauck | | Escorted | San Francisco, CA | San Francisco, CA | $4,690 |
| Grand European Family Holiday 2020 | 12 | Tauck | | Escorted | London | Paris | $8,990 |
| Italia Bella: Rome to Venice 2020 | 08 | Tauck | | Escorted | Rome | Venice | $5,490 |
| Holiday Magic: Danube Family River Cruise - Eastbound 2020 | 08 | Tauck | | River Cruise | Munich | Budapest | $3,890 |
| Holiday Magic: Danube Family River Cruise - Westbound 2020 | 08 | Tauck | | River Cruise | Vienna | Munich | $3,890 |
| Tour Itinerary | Days | Operator | Quality | Style | Starts | Ends | Price |
| --- | --- | --- | --- | --- | --- | --- | --- |
| Wild West Cowboys and Buffalos end Denver Summer 2020 | 09 | Trafalgar | | Escorted | Salt Lake City, UT | Denver, CO | $2,475 |
| Wild West Cowboys and Buffalos End Rapid City Summer 2020 | 09 | Trafalgar | | Escorted | Salt Lake City, UT | Rapid City, SD | $2,475 |
| Pioneer Adventures of the Old West Summer 2020 | 08 | Trafalgar | | Escorted | Phoenix, AZ | Las Vegas, NV | $2,025 |
| Greek Island Hopper Family Summer 2020 | 10 | Trafalgar | | Escorted | Athens | Athens | $2,850 |