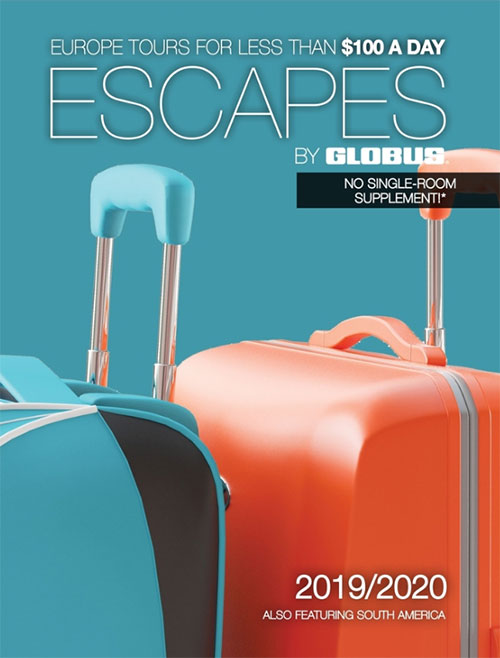 Guaranteed Low Prices on Globus Vacations - Escapes by Globus
NEW! 2020 Now Open for Sale! Escapes by Globus is a compilation of the best itineraries in Europe - presented during the low season - so you can experience Europe's most popular destinations for less.
Escorted Tour
Escorted Tours are our most popular product. Escorted tours are normally conducted by a tour director who takes care of all services from beginning to end of the tour. Escorted tours normally include flights, hotels, transportation, transfers to the airport/hotel, most meals and sightseeing. Escorted Tours are conducted by motor-coach and usually no more than 2 nights are spent in each location visited. Escorted Tours are usually fast-paced and prices include much of the sightseeing.
Tour and Cruise
When you combine a cruise with your tour package you get the best of both worlds. Enjoy part of your vacation by land staying overnight in some locations at hotels, taking in the local life and exploring day trips in your area, then enhance the remainder of your vacation on a cruise taking in all the benefits a ship has to offer.
| Tour Itinerary | Days | Operator | Quality | Style | Starts | Ends | Price |
| --- | --- | --- | --- | --- | --- | --- | --- |
| Egyptian Escape with Nile Cruise 2020 | 09 | Globus | | Tour & Cruise | Cairo | Cairo | $1,439 |
| Egyptian Escape with Nile Cruise 2019 | 09 | Globus | | Tour & Cruise | Cairo | Cairo | $1,339 |
| Egyptian Escape with Nile Cruise 2020 | 09 | Globus | | Tour & Cruise | Cairo | Cairo | $1,339 |
| Highlights of Greece Escape plus 3-night Iconic Aegean Cruise 2020 | 09 | Globus | | Tour & Cruise | Athens | Athens | $1,240 |
| Athens Escape plus 7- night 3 Continents cruise 2020 | 10 | Globus | | Tour & Cruise | Athens | Athens | $1,440 |
| Athens Escape plus 7- night Eclectic Aegean cruise 2020 | 10 | Globus | | Tour & Cruise | Athens | Athens | $1,340 |
| Highlights of Greece Escape plus 4-night Iconic Aegean Cruise 2020 | 10 | Globus | | Tour & Cruise | Athens | Athens | $1,340 |
| Highlights of Greece Escape with 4-night Iconic Aegean Cruise 2020 | 10 | Globus | | Tour & Cruise | Athens | Athens | $1,290 |
| Greek Escape plus 3-Night Iconic Aegean Cruise 2020 | 11 | Globus | | Tour & Cruise | Athens | Athens | $1,390 |
| Greek Escape plus 4-Night Iconic Aegean Cruise 2020 | 12 | Globus | | Tour & Cruise | Athens | Athens | $1,490 |
| Greek Escape with 4-Night Iconic Aegean Cruise 2020 | 12 | Globus | | Tour & Cruise | Athens | Athens | $1,440 |
| Highlights of Greece Escape with 7-night 3 Continent Cruise 2020 | 13 | Globus | | Tour & Cruise | Athens | Athens | $1,740 |
| Highlights of Greece Escape plus 7-night 3 Continent Cruise 2020 | 13 | Globus | | Tour & Cruise | Athens | Athens | $1,740 |
| Highlights of Greece Escape with 7-night Eclectic Aegean Cruise 2020 | 13 | Globus | | Tour & Cruise | Athens | Athens | $1,640 |
| Italian Escape with 7 night Adriatic Cruise 2020 | 15 | Globus | | Tour & Cruise | Rome | Venice | $2,499 |