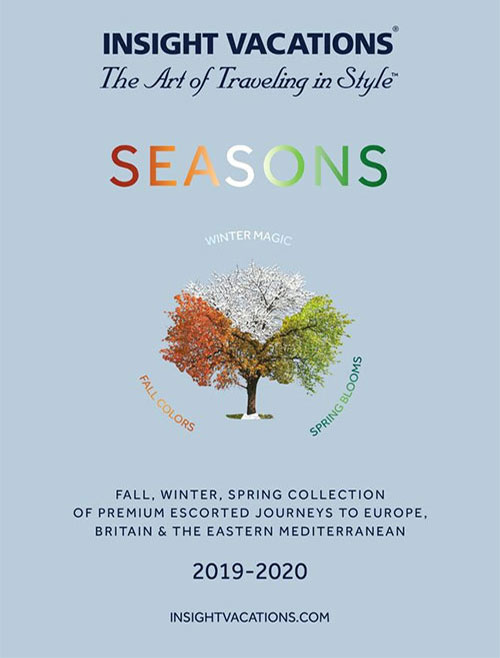 Guaranteed Low Prices on Insight Vacations Vacations - Europe Winter
NEW! 2019/20 Now Open for Sale! Traveling outside of the summer season means fewer crowds and more intimate moments connecting with locals, enjoying the beautiful changing seasons, and celebrating amazing festivals.
Tour and Cruise
When you combine a cruise with your tour package you get the best of both worlds. Enjoy part of your vacation by land staying overnight in some locations at hotels, taking in the local life and exploring day trips in your area, then enhance the remainder of your vacation on a cruise taking in all the benefits a ship has to offer.
| Tour Itinerary | Days | Operator | Quality | Style | Starts | Ends | Price |
| --- | --- | --- | --- | --- | --- | --- | --- |
| Wonders of Egypt (Winter 2020 2021) | 09 | Insight Vacations | | Tour & Cruise | Cairo | Cairo | $3,095 |
| Wonders of Egypt (Winter 2019 2020) | 09 | Insight Vacations | | Tour & Cruise | Cairo | Cairo | $2,875 |
| Athens & Three Continents Cruise Premium (Winter 2020 2021) | 11 | Insight Vacations | | Tour & Cruise | Athens | Athens | $3,625 |
| Athens & Three Continents Cruise Superior (Winter 2020 2021) | 11 | Insight Vacations | | Tour & Cruise | Athens | Athens | $3,525 |
| Athens and Three Continents Cruise premier (Winter 2019 2020) | 11 | Insight Vacations | | Tour & Cruise | Athens | Athens | $3,450 |
| Athens & Three Continents Cruise Standard (Winter 2020 2021) | 11 | Insight Vacations | | Tour & Cruise | Athens | Athens | $3,425 |
| Athens and Three Continents Cruise premium (Winter 2019 2020) | 11 | Insight Vacations | | Tour & Cruise | Athens | Athens | $3,350 |
| Athens and Three Continents Cruise Superior (Winter 2019 2020) | 11 | Insight Vacations | | Tour & Cruise | Athens | Athens | $3,250 |
| Athens and Three Continents Cruise Standard (Winter 2019 2020) | 11 | Insight Vacations | | Tour & Cruise | Athens | Athens | $3,095 |
| Splendours of Egypt (Winter 2020 2021) | 12 | Insight Vacations | | Tour & Cruise | Cairo | Cairo | $3,795 |
| Splendours of Egypt (Winter 2019 2020) | 12 | Insight Vacations | | Tour & Cruise | Cairo | Cairo | $3,495 |
| Glories of Greece & Three Continents Cruise Premium (Winter 2020 2021) | 15 | Insight Vacations | | Tour & Cruise | Athens | Athens | $4,850 |
| Glories of Greece & Three Continents Cruise Superior (Winter 2020 2021) | 15 | Insight Vacations | | Tour & Cruise | Athens | Athens | $4,725 |
| Glories of Greece & Three Continents Cruise Standard (Winter 2020 2021) | 15 | Insight Vacations | | Tour & Cruise | Athens | Athens | $4,650 |
| Land of the Prophets (Winter 2020 2021) | 25 | Insight Vacations | | Tour & Cruise | Tel Aviv | Cairo | $9,925 |