For many, traveling abroad is a spiritual experience visiting magnificent cathedrals, ancient temples and other historic religious sites can have a profound effect on anyone that encounters them. Increasingly, though, Americans are planning international vacations specifically designed to explore their religion and deepen their faith.
In response, escorted travel companies have introduced specific itineraries that focus on the Holy Land, biblical sites, Catholic cathedrals and Italian shrines. Globus, a pioneer in escorted travel since 1928, has emerged a leader in worldwide faith-based travel as well. The company established a religious travel division in 2004. It has steadily increased its religious vacation offerings and now boasts dozens of departure dates throughout the year.
In 2007, Globus unveiled the findings of an extensive study about the U.S. market for international religious vacations. Here are just a few highlights from the Globus Religious Travel Study, conducted by Menlo Consulting Group, Inc.:
One-third of all international travelers are likely to take a religious vacation in the future.
One in 10 international pleasure travelers have already been abroad on a faith-based vacation.
More than 40 percent of all American international pleasure travelers have at least some desire to get in touch with their religious heritage while traveling.
Half of all religious travelers are Protestant, and one-quarter are Roman Catholic.
More than two-thirds of religious travelers say they are active in their church, temple or synagogue.
Israel tops the list (35 percent) of countries that travelers have already visited on a faith-driven trip, followed by Italy (12 percent) and Greece (11 percent).
Israel is the most cited (54 percent) desirable destination for religious trips. Italy (41 percent) is also a top contender of desirable destinations, along with England (28 percent).
What to Expect on a Religious Tour
Faith-based tours aren't all religion, all of the time. On a one- to two-week itinerary, you can expect several sightseeing visits to spiritual sites, accompanied by expert commentary from your tour director or local guides. But you'll also enjoy traditional sightseeing, as well, such as a tour of Cairo's Great Pyramids, a scenic Rhine River cruise or a drive around Ireland's Ring of Kerry.
You'll also enjoy plenty of free time for exploration on your own. Stops for shopping at popular markets may be included, and you'll probably enjoy at least one festive dinner with entertainment on your tour. Carefully review the day-by-day itinerary, as well as What's Included, so you'll know exactly what to expect each day of your tour.
Often on tours catering to Catholic denominations, it's not unusual to find a priest among your fellow travelers. Time can be carved out for short daily Masses. Otherwise, your tour director will know what times Masses are held at the various churches and shrines you'll visit.
On tours catering to Jewish travelers, activities are curtailed during the Sabbath from sundown on Friday evening through sundown on Saturday. At mealtime, care is taken to offer at least one dish that does not mix meat and milk; pork and shellfish are generally not served.
Naturally, other travelers on your faith-based trip likely have similar spiritual interests. That can lead to many interesting conversations over group meals, during sightseeing visits and while you're traveling together by motorcoach. Many travelers cite the fellowship and new friends they make on religious trips as one of the highlights of their vacation.
Religious Tours Operators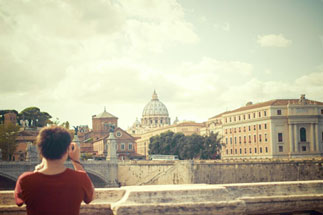 | Tour Itinerary | Days | Operator | Quality | Style | Starts | Ends | Price |
| --- | --- | --- | --- | --- | --- | --- | --- |
| Holy Land Discovery - Faith-based Travel - Catholic Itinerary 2019 | 08 | Cosmos | | Escorted | Tel Aviv | Jerusalem | $1,399 |
| Holy Land Discovery With Jordan - Faith-based Travel 2019 | 11 | Cosmos | | Escorted | Tel Aviv | Amman | $2,029 |
| Biblical Israel - Faith-based Travel 2020 | 08 | Cosmos | | Escorted | Tel Aviv | Jerusalem | $1,499 |
| Biblical Israel With Jordan - Faith-based Travel - Protestant Itinerary 2020 | 11 | Cosmos | | Escorted | Tel Aviv | Amman | $2,199 |
| Holy Land Discovery - Faith-based Travel 2020 | 08 | Cosmos | | Escorted | Tel Aviv | Jerusalem | $1,429 |
| Pilgrimage To Lourdes - Faith-based Travel 2020 | 06 | Cosmos | | Escorted | Lourdes | Lourdes | $1,099 |
| Fátima, Lourdes & Shrines of Spain – Faith-Based Travel 2020 | 12 | Cosmos | | Escorted | Lisbon | Barcelona | $1,599 |
| Holy Land Discovery with Jordan - Faith-Based Travel – Catholic Itinerary 2020 | 11 | Cosmos | | Escorted | Tel Aviv | Amman | $2,099 |
| Holy Land Discovery with Jordan - Faith-Based Travel – Catholic Itinerary 2021 | 11 | Cosmos | | Escorted | Tel Aviv | Amman | $2,199 |
| Holy Land Discovery - Faith-Based Travel – Catholic Itinerary 2021 | 08 | Cosmos | | Escorted | Tel Aviv | Beit Shean | $1,459 |
| Pilgrimage to Lourdes - Faith-Based Travel 2021 | 06 | Cosmos | | Escorted | Lourdes | Lourdes | $1,119 |
| Biblical Israel - Faith-Based Travel – Protestant Itinerary 2021 | 08 | Cosmos | | Escorted | Tel Aviv | Jerusalem | $1,529 |
| Biblical Israel with Jordan - Faith-Based Travel – Protestant Itinerary 2021 | 11 | Cosmos | | Escorted | Tel Aviv | Amman | $2,299 |
| Fátima, Lourdes & Shrines of Spain – Faith-Based Travel 2021 | 12 | Cosmos | | Escorted | Lisbon | Barcelona | $1,649 |
| Shrines of Italy - Faith-Based Travel 2020 | 14 | Cosmos | | Escorted | Milan | Rome | $2,349 |
| Shrines of Northern Italy & Rome - Faith-Based Travel 2020 | 09 | Cosmos | | Escorted | Milan | Rome | $1,599 |
| Spiritual Highlights of Iberia, Lourdes & Italy - Faith-Based Travel 2020 | 20 | Cosmos | | Escorted | Lisbon | Rome | $3,029 |
| Spiritual Highlights of Italy – Faith-Based Travel 2020 | 09 | Cosmos | | Escorted | Rome | Rome | $1,399 |
| Shrines of Alpine Europe with Oberammergau–Faith–Based Travel 2020 | 07 | Cosmos | | Escorted | Zurich | Vienna | $1,809 |
| Tour Itinerary | Days | Operator | Quality | Style | Starts | Ends | Price |
| --- | --- | --- | --- | --- | --- | --- | --- |
| Grand Catholic Italy With Oberammergau 2020 | 13 | Globus | | Escorted | Rome | Munich | $3,989 |
| German Highlights With Oberammergau 2020 | 12 | Globus | | Escorted | Frankfurt | Frankfurt | $4,329 |
| Imperial Splendors With Oberammergau 2020 | 12 | Globus | | Escorted | Munich | Munich | $4,039 |
| The Best Of Switzerland With Oberammergau 2020 | 12 | Globus | | Escorted | Zurich | Munich | $4,939 |
| Journey Through The Holy Land With Jordan - Faith-based Travel 2020 | 14 | Globus | | Escorted | Tel Aviv | Dead Sea | $3,652 |
| Journey Through The Holy Land - Faith-based Travel 2020 | 09 | Globus | | Escorted | Tel Aviv | Jerusalem | $2,542 |
| Top of Switzerland with Oberammergau 2020 | 09 | Globus | | Escorted | Zurich | Munich | $4,399 |
| Spectacular Switzerland with Oberammergau 2020 | 12 | Globus | | Escorted | Zurich | Munich | $5,109 |
| The European Reformation with Oberammergau–Faith–Based Travel 2020 | 11 | Globus | | Escorted | Berlin | Munich | $3,919 |
| Catholic Central Europe with Oberammergau–Faith–Based Travel 2020 | 09 | Globus | | Escorted | Munich | Frankfurt | $3,159 |
| The Best of Austria & Switzerland with Oberammergau 2020 | 14 | Globus | | Escorted | Vienna | Munich | $5,279 |
| Grand Catholic Italy – Faith-Based Travel 2020 | 10 | Globus | | Escorted | Rome | Padua | $2,431 |
| Footsteps of Apostle Paul – Faith-Based Travel 2020 | 10 | Globus | | Tour & Cruise | Athens | Athens | $2,349 |
| The European Reformation – Faith-Based Travel 2020 | 11 | Globus | | Escorted | Berlin | Munich | $2,496 |
| Journey Through the Holy Land - Faith-Based Travel 2021 | 09 | Globus | | Escorted | Tel Aviv | Jerusalem | $2,555 |
| Journey Through the Holy Land with Jordan - Faith-Based Travel 2021 | 14 | Globus | | Escorted | Tel Aviv | Dead Sea | $3,935 |