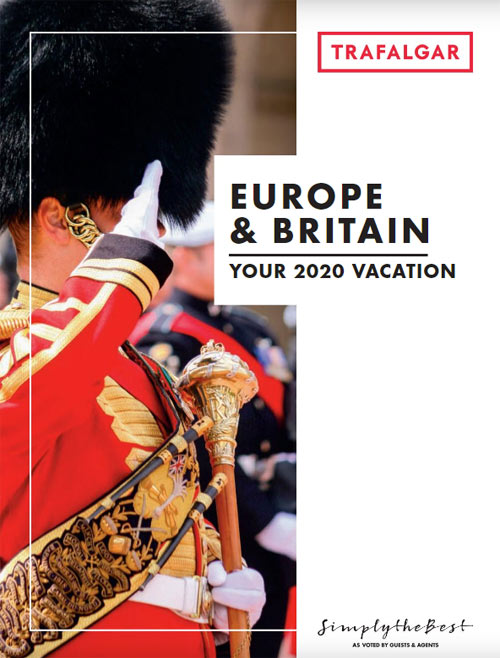 Guaranteed Low Prices on Trafalgar Vacations - Europe and Britain
NEW! 2020 Now Open for Sale! Europe is a sheer smorgasbord for the senses, brimming with spices, sounds and aromas, which Trafalgar brings to life. They transform the essence of any destination into bite-sized experiences. Explore this diversity in depth with Trafalgar. Sample the secret contrasts and quirks of each destination together.
Escorted Tour
Escorted Tours are our most popular product. Escorted tours are normally conducted by a tour director who takes care of all services from beginning to end of the tour. Escorted tours normally include flights, hotels, transportation, transfers to the airport/hotel, most meals and sightseeing. Escorted Tours are conducted by motor-coach and usually no more than 2 nights are spent in each location visited. Escorted Tours are usually fast-paced and prices include much of the sightseeing.
Tour Itinerary
Days
Operator
Quality
Style
Starts
Ends
Price

Iceland including the Blue Lagoon Summer 2020

06

Days

Trafalgar

First Class

Escorted
1 - Light

5+ years old
50
Reykjavik
Reykjavik
Iceland
$2,821View Tour

Iceland including the Blue Lagoon Presale 2021

06

Days

Trafalgar

First Class

Escorted
1 - Light

5+ years old
50
Reykjavik
Reykjavik
Iceland
$2,587View Tour

Iceland including the Blue Lagoon Summer 2020

06

Days

Trafalgar

First Class

Escorted
1 - Light

5+ years old
50
Reykjavik
Reykjavik
Iceland
$2,543View Tour

5 reviews

Amsterdam Explorer Summer 2020

06

Days

Trafalgar

First Class

Escorted
1 - Light

5+ years old
50
Amsterdam
Amsterdam
Netherlands
$1,780View Tour

Jordan Experience Presale 2021

06

Days

Trafalgar

First Class

Escorted
1 - Light

5+ years old
50
Amman
Amman
Jordan
$1,650View Tour

Jordan Experience Summer 2020

06

Days

Trafalgar

First Class

Escorted
1 - Light

5+ years old
50
Amman
Amman
Jordan
$1,475View Tour

Jordan Experience Summer 2020

06

Days

Trafalgar

First Class

Escorted
1 - Light

5+ years old
50
Amman
Amman
Jordan
$1,350View Tour

9 reviews

Treasures of Ireland End Shannon Summer 2020

06

Days

Trafalgar

First Class

Escorted
1 - Light

5+ years old
50
Dublin
Shannon
Ireland
$1,318View Tour

9 reviews

Treasures of Ireland End Dublin Summer 2020

06

Days

Trafalgar

First Class

Escorted
1 - Light

5+ years old
50
Dublin
Dublin
Ireland
$1,318View Tour

9 reviews

Treasures of Ireland Presale 2021

06

Days

Trafalgar

First Class

Escorted
1 - Light

5+ years old
50
Dublin
Shannon
Ireland
$1,237View Tour

Spiritual England Summer 2020

07

Days

Trafalgar

First Class

Escorted
1 - Light

5+ years old
50
London
London
England
$2,215View Tour

Steps of St Paul Summer 2020

07

Days

Trafalgar

First Class

Escorted
1 - Light

5+ years old
50
Athens
Athens
Greece, Turkey
$1,995View Tour

Steps of St. Paul Presale 2021

07

Days

Trafalgar

First Class

Escorted
2 - Classic

5+ years old
50
Athens
Athens
Greece
$1,995View Tour

Jordan Experience with Dead Sea Extension Summer 2020

07

Days

Trafalgar

First Class

Escorted
1 - Light

5+ years old
50
Amman
Amman
Jordan
$1,975View Tour

26 reviews

Wonders of St. Petersburg and Moscow Presale 2021

07

Days

Trafalgar

First Class

Escorted
1 - Light

5+ years old
50
St. Petersburg
Moscow
Russia
$1,957View Tour

14 reviews

Best of Holland Presale 2021

07

Days

Trafalgar

First Class

Escorted
1 - Light

5+ years old
50
Amsterdam
Amsterdam
Netherlands
$1,885View Tour

93 reviews

Italian Holiday Summer 2020

07

Days

Trafalgar

First Class

Escorted
1 - Light

5+ years old
50
Rome
Rome
Italy
$1,870View Tour

26 reviews

Wonders of St Petersburg and Moscow Summer 2020

07

Days

Trafalgar

First Class

Escorted
1 - Light

5+ years old
50
St. Petersburg
Moscow
Russia
$1,848View Tour

93 reviews

Italian Holiday Presale 2021

07

Days

Trafalgar

First Class

Escorted
1 - Light

5+ years old
50
Rome
Rome
Italy
$1,845View Tour

140 reviews

European Highlights Presale 2021

07

Days

Trafalgar

First Class

Escorted
2 - Classic

5+ years old
50
Amsterdam
Paris
France, Germany, Netherlands, Switzerland
$1,845View Tour

14 reviews

Best of Holland Summer 2020

07

Days

Trafalgar

First Class

Escorted
1 - Light

5+ years old
50
Amsterdam
Amsterdam
Netherlands
$1,806View Tour

Jordan Experience with Dead Sea Extension Presale 2021

07

Days

Trafalgar

First Class

Escorted
1 - Light

5+ years old
50
Amman
Amman
Jordan
$1,790View Tour

140 reviews

European Highlights Summer 2020

07

Days

Trafalgar

First Class

Escorted
2 - Classic

5+ years old
50
Amsterdam
Paris
England, France, Germany, Netherlands, Switzerland
$1,763View Tour

124 reviews

Best of Scotland Summer 2020

07

Days

Trafalgar

First Class

Escorted
1 - Light

5+ years old
50
Edinburgh
Glasgow
Scotland
$1,752View Tour

124 reviews

Best of Scotland Presale 2021

07

Days

Trafalgar

First Class

Escorted
1 - Light

5+ years old
50
Edinburgh
Glasgow
Scotland
$1,687View Tour

Jordan Experience with Dead Sea Extension Summer 2020

07

Days

Trafalgar

First Class

Escorted
1 - Light

5+ years old
50
Amman
Amman
Jordan
$1,675View Tour

140 reviews

European Highlights Summer 2020

07

Days

Trafalgar

First Class

Escorted
2 - Classic

5+ years old
50
Amsterdam
Paris
England, France, Germany, Netherlands, Switzerland
$1,549View Tour

164 reviews

Irish Highlights Summer 2020

07

Days

Trafalgar

First Class

Escorted
1 - Light

5+ years old
50
Dublin
Dublin
Ireland
$1,526View Tour

140 reviews

European Highlights Winter 2019 2020

07

Days

Trafalgar

First Class

Escorted
2 - Classic

5+ years old
50
Amsterdam
Paris
England, France, Germany, Netherlands, Switzerland
$1,525View Tour

164 reviews

Irish Highlights Presale 2021

07

Days

Trafalgar

First Class

Escorted
1 - Light

5+ years old
50
Dublin
Dublin
Ireland, North Ireland
$1,485View Tour

2 reviews

Festive St. Petersburg and Moscow

07

Days

Trafalgar

First Class

Escorted
1 - Light

5+ years old
50
St. Petersburg
Moscow
Russia
$1,433View Tour

93 reviews

Italian Holiday

07

Days

Trafalgar

First Class

Escorted
1 - Light

5+ years old
50
Rome
Rome
Italy
$1,433View Tour

124 reviews

Best of Scotland Summer 2020

07

Days

Trafalgar

First Class

Escorted
1 - Light

5+ years old
50
Edinburgh
Glasgow
Scotland
$1,410View Tour

124 reviews

Best of Scotland Winter 201920

07

Days

Trafalgar

First Class

Escorted
1 - Light

5+ years old
50
Edinburgh
Glasgow
Scotland
$1,350View Tour

164 reviews

Irish Highlights Winter 2019 2020

07

Days

Trafalgar

First Class

Escorted
1 - Light

5+ years old
50
Dublin
Dublin
Ireland
$1,227View Tour

164 reviews

Irish Highlights Summer 2020

07

Days

Trafalgar

First Class

Escorted
1 - Light

5+ years old
50
Dublin
Dublin
Ireland
$1,179View Tour

34 reviews

Contrasts of Switzerland Presale 2021

08

Days

Trafalgar

First Class

Escorted
1 - Light

5+ years old
50
Zurich
Zurich
Switzerland
$3,082View Tour

34 reviews

Contrasts of Switzerland Summer 2020

08

Days

Trafalgar

First Class

Escorted
1 - Light

5+ years old
50
Zurich
Zurich
Switzerland
$2,911View Tour

64 reviews

Best of Israel Summer 2020

08

Days

Trafalgar

First Class

Escorted
1 - Light

5+ years old
50
Tel Aviv
Tel Aviv
Israel
$2,775View Tour

64 reviews

Best of Israel Presale 2021

08

Days

Trafalgar

First Class

Escorted
1 - Light

5+ years old
50
Tel Aviv
Tel Aviv
Israel
$2,775View Tour

Castles and Manors Summer 2020

08

Days

Trafalgar

First Class

Escorted
1 - Light

5+ years old
50
Dublin
Dublin
Ireland
$2,592View Tour

Castles and Manors Presale 2021

08

Days

Trafalgar

First Class

Escorted
1 - Light

5+ years old
50
Dublin
Dublin
Ireland
$2,565View Tour

64 reviews

Best of Israel Summer 2020

08

Days

Trafalgar

First Class

Escorted
1 - Light

5+ years old
50
Tel Aviv
Tel Aviv
Israel
$2,375View Tour

9 reviews

Paris Explorer Presale 2021

08

Days

Trafalgar

First Class

Escorted
1 - Light

5+ years old
50
Paris
Paris
France
$2,362View Tour

12 reviews

London Explorer Summer 2020

08

Days

Trafalgar

First Class

Escorted
1 - Light

5+ years old
50
London
London
England
$2,358View Tour

9 reviews

Paris Explorer Summer 2020

08

Days

Trafalgar

First Class

Escorted
1 - Light

5+ years old
50
Paris
Paris
France
$2,358View Tour

12 reviews

London Explorer Presale 2021

08

Days

Trafalgar

First Class

Escorted
1 - Light

5+ years old
50
London
London
England
$2,295View Tour

Barcelona Explorer Summer 2020

08

Days

Trafalgar

First Class

Escorted
1 - Light

5+ years old
50
Barcelona
Barcelona
Spain
$2,289View Tour

9 reviews

Paris Explorer Summer 2020

08

Days

Trafalgar

First Class

Escorted
1 - Light

5+ years old
50
Paris
Paris
France
$2,231View Tour

140 reviews

European Highlights with Eurostar Summer 2020

08

Days

Trafalgar

First Class

Escorted
2 - Classic

5+ years old
50
Amsterdam
London
England, France, Germany, Netherlands, Switzerland
$2,146View Tour

12 reviews

London Explorer Winter 2019 2020

08

Days

Trafalgar

First Class

Escorted
1 - Light

5+ years old
50
London
London
England
$2,075View Tour

7 reviews

The Treasures of France including Normandy Presale 2021

08

Days

Trafalgar

First Class

Escorted
1 - Light

5+ years old
50
Paris
Paris
France
$2,047View Tour

1610 reviews

Best of Greece Summer 2020

08

Days

Trafalgar

First Class

Escorted
1 - Light

5+ years old
50
Athens
Athens
Greece
$1,975View Tour

1610 reviews

Best of Greece Presale 2021

08

Days

Trafalgar

First Class

Escorted
1 - Light

5+ years old
50
Athens
Athens
Greece
$1,975View Tour

28 reviews

The Treasures of France including Normandy Summer 2020

08

Days

Trafalgar

First Class

Escorted
1 - Light

5+ years old
50
Paris
Paris
France
$1,950View Tour

140 reviews

European Highlights with Eurostar Extension Winter 2019 2020

08

Days

Trafalgar

First Class

Escorted
2 - Classic

5+ years old
50
Amsterdam
London
England, France, Germany, Netherlands, Switzerland
$1,935View Tour

Best of Greece Reverse Summer 2020

08

Days

Trafalgar

First Class

Escorted
1 - Light

5+ years old
50
Athens
Athens
Greece
$1,925View Tour

Barcelona Explorer Summer 2020

08

Days

Trafalgar

First Class

Escorted
1 - Light

5+ years old
50
Barcelona
Barcelona
Spain
$1,919View Tour

140 reviews

European Highlights with Eurostar Summer 2020

08

Days

Trafalgar

First Class

Escorted
2 - Classic

5+ years old
50
Amsterdam
London
England, France, Germany, Netherlands, Switzerland
$1,910View Tour

Riviera Explorer Summer 2020

08

Days

Trafalgar

First Class

Escorted
1 - Light

5+ years old
50
Nice
Nice
France
$1,891View Tour

Riviera Explorer Presale 2021

08

Days

Trafalgar

First Class

Escorted
1 - Light

5+ years old
50
Nice
Nice
France
$1,885View Tour

1610 reviews

Best of Greece Summer 2020

08

Days

Trafalgar

First Class

Escorted
1 - Light

5+ years old
50
Athens
Athens
Greece
$1,850View Tour

12 reviews

London Explorer Summer 2020

08

Days

Trafalgar

First Class

Escorted
1 - Light

5+ years old
50
London
London
England
$1,845View Tour

Rome Explorer Winter 2019 2020

08

Days

Trafalgar

First Class

Escorted
1 - Light

5+ years old
50
Rome
Rome
Italy
$1,775View Tour

8 reviews

Enchanting Emerald Isle Summer 2020

08

Days

Trafalgar

First Class

Escorted
1 - Light

5+ years old
50
Dublin
Dublin
Ireland
$1,687View Tour

8 reviews

Enchanting Emerald Isle Presale 2021

08

Days

Trafalgar

First Class

Escorted
1 - Light

5+ years old
50
Dublin
Dublin
Ireland
$1,687View Tour

24 reviews

Simply Italy Winter 2019 2020

08

Days

Trafalgar

First Class

Escorted
1 - Light

5+ years old
50
Rome
Rome
Italy
$1,675View Tour

32 reviews

Best of Devon and Cornwall Presale 2021

08

Days

Trafalgar

First Class

Escorted
1 - Light

5+ years old
50
London
London
England
$1,665View Tour

32 reviews

Best of Devon and Cornwall Summer 2020

08

Days

Trafalgar

First Class

Escorted
1 - Light

5+ years old
50
London
London
England
$1,593View Tour

1610 reviews

Best of Greece Winter 2019 2020

08

Days

Trafalgar

First Class

Escorted
1 - Light

5+ years old
50
Athens
Athens
Greece
$1,525View Tour

16 reviews

Christmas Markets of Austria, Germany and Switzerland

08

Days

Trafalgar

First Class

Escorted
3 - Explorer

5+ years old
50
Vienna
Zurich
Austria, Germany, Liechtenstein, Switzerland
$1,433View Tour

7 reviews

German Christmas Markets

08

Days

Trafalgar

First Class

Escorted
1 - Light

5+ years old
50
Frankfurt
Berlin
Germany
$1,410View Tour

34 reviews

Sound of Music with Oberammergau Summer 2020

09

Days

Trafalgar

First Class

Escorted
2 - Classic

5+ years old
50
Munich
Vienna
Austria, Germany
$3,225View Tour

4 reviews

Best of Norway Presale 2021

09

Days

Trafalgar

First Class

Escorted
1 - Light

5+ years old
50
Oslo
Oslo
Norway
$2,965View Tour

4 reviews

Best of Norway Summer 2020

09

Days

Trafalgar

First Class

Escorted
1 - Light

5+ years old
50
Oslo
Oslo
Norway
$2,800View Tour

Pearls of the Adriatic Southbound Main Deck Summer 2020

09

Days

Trafalgar

First Class

Escorted
1 - Light

5+ years old
50
Zagreb
Dubrovnik
Croatia
$2,664View Tour

London and Paris Explorer Summer 2020

09

Days

Trafalgar

First Class

Escorted
2 - Classic

5+ years old
50
London
Paris
England, France
$2,571View Tour

60 reviews

Wonderful France Summer 2020

09

Days

Trafalgar

First Class

Escorted
1 - Light

5+ years old
50
Paris
Paris
France
$2,520View Tour

60 reviews

Wonderful France Presale 2021

09

Days

Trafalgar

First Class

Escorted
1 - Light

5+ years old
50
Paris
Paris
France
$2,425View Tour

London and Paris Explorer Presale 2021

09

Days

Trafalgar

First Class

Escorted
2 - Classic

5+ years old
50
London
Paris
England, France
$2,425View Tour

34 reviews

Sound of Music Summer 2020

09

Days

Trafalgar

First Class

Escorted
2 - Classic

5+ years old
50
Munich
Vienna
Austria, Germany
$2,381View Tour

56 reviews

Best of Switzerland Presale 2021

09

Days

Trafalgar

First Class

Escorted
2 - Classic

5+ years old
50
Zurich
Zurich
Italy, Switzerland
$2,362View Tour

56 reviews

Best of Switzerland Summer 2020

09

Days

Trafalgar

First Class

Escorted
1 - Light

5+ years old
50
Zurich
Zurich
Italy, Switzerland
$2,337View Tour

Capitals of Scandinavia Presale 2021

09

Days

Trafalgar

First Class

Escorted
2 - Classic

5+ years old
50
Copenhagen
Helsinki
Denmark, Finland, Norway, Sweden
$2,295View Tour

22 reviews

Rome and Tuscan Highlights Presale 2021

09

Days

Trafalgar

First Class

Escorted
1 - Light

5+ years old
50
Rome
Rome
Italy
$2,245View Tour

London and Paris Explorer Summer 2020

09

Days

Trafalgar

First Class

Escorted
2 - Classic

5+ years old
50
London
Paris
England, France
$2,196View Tour

London and Paris Explorer

09

Days

Trafalgar

First Class

Escorted
2 - Classic

5+ years old
50
London
Paris
England, France
$2,196View Tour

Capitals of Scandinavia Summer 2020

09

Days

Trafalgar

First Class

Escorted
2 - Classic

5+ years old
50
Copenhagen
Helsinki
Denmark, Finland, Norway, Sweden
$2,188View Tour

22 reviews

Northern Italy Including Cinque Terre Summer 2020

09

Days

Trafalgar

First Class

Escorted
1 - Light

5+ years old
50
Milan
Milan
Italy
$2,122View Tour

22 reviews

Rome and Tuscan Highlights Summer 2020

09

Days

Trafalgar

First Class

Escorted
1 - Light

5+ years old
50
Rome
Rome
Italy
$2,120View Tour

12 reviews

Best of the Italian Lakes Presale 2021

09

Days

Trafalgar

First Class

Escorted
1 - Light

5+ years old
50
Milan
Milan
Italy
$2,092View Tour

6 reviews

Great Iberian Cities Presale 2021

09

Days

Trafalgar

First Class

Escorted
1 - Light

5+ years old
50
Barcelona
Lisbon
Portugal, Spain
$2,025View Tour

12 reviews

Best of the Italian Lakes Summer 2020

09

Days

Trafalgar

First Class

Escorted
1 - Light

5+ years old
50
Milan
Milan
Italy
$1,976View Tour

460 reviews

Spanish Wonder End Madrid Summer 2020

09

Days

Trafalgar

First Class

Escorted
1 - Light

5+ years old
50
Madrid
Madrid
Spain
$1,965View Tour

460 reviews

Spanish Wonder Summer 2020

09

Days

Trafalgar

First Class

Escorted
1 - Light

5+ years old
50
Madrid
Barcelona
Spain
$1,965View Tour

6 reviews

Great Iberian Cities Summer 2020

09

Days

Trafalgar

First Class

Escorted
1 - Light

5+ years old
50
Barcelona
Lisbon
Portugal, Spain
$1,933View Tour

16 reviews

Delights of London and Paris Winter 2019 2020

09

Days

Trafalgar

First Class

Escorted
2 - Classic

5+ years old
50
London
Paris
England, France
$1,912View Tour

460 reviews

Spanish Wonder Presale 2021

09

Days

Trafalgar

First Class

Escorted
1 - Light

5+ years old
50
Madrid
Barcelona
Spain
$1,885View Tour

68 reviews

Real Britain Summer 2020

09

Days

Trafalgar

First Class

Escorted
2 - Classic

5+ years old
50
London
London
England, Scotland, Wales
$1,865View Tour

1610 reviews

Best of Greece with One Day 3 Island Cruise Winter 2019 2020

09

Days

Trafalgar

First Class

Escorted
1 - Light

5+ years old
50
Athens
Athens
Greece
$1,850View Tour

Colors of Sicily Summer 2020

09

Days

Trafalgar

First Class

Escorted
1 - Light

5+ years old
50
Catania
Palermo
Italy
$1,848View Tour

68 reviews

Real Britain Presale 2021

09

Days

Trafalgar

First Class

Escorted
3 - Explorer

5+ years old
50
London
London
England, Scotland, Wales
$1,822View Tour

460 reviews

Spanish Wonder Summer 2020

09

Days

Trafalgar

First Class

Escorted
1 - Light

5+ years old
50
Madrid
Barcelona
Spain
$1,803View Tour

460 reviews

Spanish Wonder Winter 2019 2020

09

Days

Trafalgar

First Class

Escorted
1 - Light

5+ years old
50
Madrid
Barcelona
Spain
$1,675View Tour

68 reviews

Real Britain Summer 2020

09

Days

Trafalgar

First Class

Escorted
2 - Classic

5+ years old
50
London
London
England, Scotland, Wales
$1,567View Tour

68 reviews

Real Britain Winter 2019 2020

09

Days

Trafalgar

First Class

Escorted
2 - Classic

5+ years old
50
London
London
England, Scotland, Wales
$1,355View Tour

15 reviews

Best of Italy and Greece Summer 2020

10

Days

Trafalgar

First Class

Escorted
2 - Classic

5+ years old
50
Rome
Athens
Greece, Italy
$2,983View Tour

15 reviews

Best of Italy and Greece Presale 2021

10

Days

Trafalgar

First Class

Escorted
2 - Classic

5+ years old
50
Rome
Athens
Greece, Italy
$2,902View Tour

36 reviews

Contrasts of Italy Summer 2020

10

Days

Trafalgar

First Class

Escorted
1 - Light

5+ years old
50
Rome
Venice
Italy
$2,844View Tour

46 reviews

Greek Island Hopper Summer 2020

10

Days

Trafalgar

First Class

Escorted
1 - Light

5+ years old
50
Athens
Athens
Greece
$2,795View Tour

46 reviews

Greek Island Hopper Presale 2021

10

Days

Trafalgar

First Class

Escorted
1 - Light

5+ years old
50
Athens
Athens
Greece
$2,795View Tour

36 reviews

Contrasts of Italy Presale 2021

10

Days

Trafalgar

First Class

Escorted
1 - Light

5+ years old
50
Rome
Venice
Italy
$2,767View Tour

204 reviews

Great Italian Cities Summer 2020

10

Days

Trafalgar

First Class

Escorted
1 - Light

5+ years old
50
Rome
Venice
Italy
$2,762View Tour

10 reviews

Gladiators Gondolas and Gold Presale 2021

10

Days

Trafalgar

First Class

Escorted
1 - Light

5+ years old
50
Rome
Venice
Italy
$2,677View Tour

72 reviews

Highlights of France and Barcelona Presale 2021

10

Days

Trafalgar

First Class

Escorted
2 - Classic

5+ years old
50
Paris
Barcelona
France, Spain
$2,632View Tour

12 reviews

Iconic Ireland and Ashford Castle Presale 2021

10

Days

Trafalgar

First Class

Escorted
1 - Light

5+ years old
50
Dublin
Dublin
Ireland
$2,632View Tour

28 reviews

Italian Discovery Presale 2021

10

Days

Trafalgar

First Class

Escorted
1 - Light

5+ years old
50
Rome
Rome
Italy
$2,605View Tour

204 reviews

Great Italian Cities Presale 2021

10

Days

Trafalgar

First Class

Escorted
1 - Light

5+ years old
50
Rome
Venice
Italy
$2,587View Tour

10 reviews

Gladiators Gondolas and Gold Summer 2020

10

Days

Trafalgar

First Class

Escorted
1 - Light

5+ years old
50
Rome
Venice
Italy
$2,571View Tour

72 reviews

Highlights of France and Barcelona Summer 2020

10

Days

Trafalgar

First Class

Escorted
2 - Classic

5+ years old
50
Paris
Barcelona
France, Spain
$2,545View Tour

28 reviews

Italian Discovery Summer 2020

10

Days

Trafalgar

First Class

Escorted
1 - Light

5+ years old
50
Rome
Rome
Italy
$2,545View Tour

124 reviews

European Dream Summer 2020

10

Days

Trafalgar

First Class

Escorted
2 - Classic

5+ years old
50
Rome
London
England, France, Italy, Switzerland
$2,507View Tour

124 reviews

European Dream Presale 2021

10

Days

Trafalgar

First Class

Escorted
2 - Classic

5+ years old
50
Rome
London
England, France, Italy, Switzerland
$2,497View Tour

12 reviews

Iconic Ireland and Ashford Castle Summer 2020

10

Days

Trafalgar

First Class

Escorted
1 - Light

5+ years old
50
Dublin
Dublin
Ireland
$2,492View Tour

12 reviews

Iconic Ireland and Ashford Castle Summer 2020

10

Days

Trafalgar

First Class

Escorted
1 - Light

5+ years old
50
Dublin
Dublin
Ireland
$2,486View Tour

204 reviews

Great Italian Cities Summer 2020

10

Days

Trafalgar

First Class

Escorted
1 - Light

5+ years old
50
Rome
Venice
Italy
$2,443View Tour

186 reviews

Best of Holland Belgium and Luxembourg Presale 2021

10

Days

Trafalgar

First Class

Escorted
3 - Explorer

5+ years old
50
Amsterdam
Brussels
Belgium, Luxembourg, Netherlands
$2,425View Tour

6 reviews

Castles And Kilts Presale 2021

10

Days

Trafalgar

First Class

Escorted
2 - Classic

5+ years old
50
London
Edinburgh
England, Scotland, Wales
$2,425View Tour

186 reviews

Best of Holland Belgium and Luxembourg End Amsterdam Summer 2020

10

Days

Trafalgar

First Class

Escorted
2 - Classic

5+ years old
50
Amsterdam
Amsterdam
Belgium, Netherlands
$2,422View Tour

186 reviews

Best of Holland Belgium and Luxembourg Summer 2020

10

Days

Trafalgar

First Class

Escorted
2 - Classic

5+ years old
50
Amsterdam
Brussels
Belgium, Netherlands
$2,422View Tour

48 reviews

Southern Italy and Sicily Presale 2021

10

Days

Trafalgar

First Class

Escorted
1 - Light

5+ years old
50
Rome
Palermo
Italy
$2,407View Tour

54 reviews

European Traveler Presale 2021

10

Days

Trafalgar

First Class

Escorted
3 - Explorer

5+ years old
50
London
Rome
England, France, Italy, Switzerland
$2,407View Tour

Shamrocks and Leprechauns Summer 2020

10

Days

Trafalgar

First Class

Escorted
1 - Light

5+ years old
50
Dublin
Dublin
Ireland, North Ireland
$2,400View Tour

48 reviews

Southern Italy and Sicily Summer 2020

10

Days

Trafalgar

First Class

Escorted
1 - Light

5+ years old
50
Rome
Palermo
Italy
$2,316View Tour

Shamrocks and Leprechauns Presale 2021

10

Days

Trafalgar

First Class

Escorted
1 - Light

5+ years old
50
Dublin
Dublin
Ireland, North Ireland
$2,295View Tour

310 reviews

Imperial Europe Summer 2020

10

Days

Trafalgar

First Class

Escorted
3 - Explorer

5+ years old
50
Munich
Munich
Austria, Czech Republic, Germany, Hungary, Slovakia
$2,243View Tour

204 reviews

Great Italian Cities Winter 2019 2020

10

Days

Trafalgar

First Class

Escorted
1 - Light

5+ years old
50
Rome
Venice
Italy
$2,227View Tour

98 reviews

Britain and Ireland Highlights Presale 2021

10

Days

Trafalgar

First Class

Escorted
3 - Explorer

5+ years old
50
London
London
England, Ireland, North Ireland, Scotland, Wales
$2,227View Tour

310 reviews

Imperial Europe Presale 2021

10

Days

Trafalgar

First Class

Escorted
3 - Explorer

5+ years old
50
Munich
Munich
Austria, Czech Republic, Germany, Hungary, Slovakia
$2,182View Tour

124 reviews

European Dream Winter 2019 2020

10

Days

Trafalgar

First Class

Escorted
2 - Classic

5+ years old
50
Rome
London
England, France, Italy, Switzerland
$2,175View Tour

54 reviews

Best of Ireland Presale 2021

10

Days

Trafalgar

First Class

Escorted
1 - Light

5+ years old
50
Dublin
Dublin
Ireland
$2,155View Tour

Ireland's Legendary North Presale 2021

10

Days

Trafalgar

First Class

Escorted
1 - Light

5+ years old
50
Dublin
Dublin
Ireland, North Ireland
$2,155View Tour

124 reviews

European Dream Summer 2020

10

Days

Trafalgar

First Class

Escorted
2 - Classic

5+ years old
50
Rome
London
England, France, Italy, Switzerland
$2,150View Tour

Martin Luther Reformation Presale 2021

10

Days

Trafalgar

First Class

Escorted
1 - Light

5+ years old
50
Berlin
Frankfurt
Germany
$2,137View Tour

98 reviews

Britain and Ireland Highlights

10

Days

Trafalgar

First Class

Escorted
3 - Explorer

5+ years old
50
London
London
England, Ireland, North Ireland, Scotland, Wales
$2,120View Tour

204 reviews

Great Italian Cities Summer 2020

10

Days

Trafalgar

First Class

Escorted
1 - Light

5+ years old
50
Rome
Venice
Italy
$2,104View Tour

54 reviews

Best of Ireland Summer 2020

10

Days

Trafalgar

First Class

Escorted
1 - Light

5+ years old
50
Dublin
Dublin
Ireland
$2,103View Tour

54 reviews

European Traveler Summer 2020

10

Days

Trafalgar

First Class

Escorted
2 - Classic

5+ years old
50
London
Rome
England, France, Italy, Switzerland
$2,095View Tour

68 reviews

Best of Morocco Presale 2021

10

Days

Trafalgar

First Class

Escorted
1 - Light

5+ years old
50
Casablanca
Casablanca
Morocco
$2,092View Tour

Irelands Legendary North Summer 2020

10

Days

Trafalgar

First Class

Escorted
1 - Light

5+ years old
50
Dublin
Dublin
Ireland, North Ireland
$2,082View Tour

18 reviews

European Traveller Winter 2019 2020

10

Days

Trafalgar

First Class

Escorted
2 - Classic

5+ years old
50
London
Rome
England, France, Italy, Switzerland
$2,050View Tour

48 reviews

Amazing Britain Presale 2021

10

Days

Trafalgar

First Class

Escorted
3 - Explorer

5+ years old
50
London
London
England, Scotland, Wales
$2,047View Tour

54 reviews

European Traveler Summer 2020

10

Days

Trafalgar

First Class

Escorted
2 - Classic

5+ years old
50
London
Rome
England, France, Italy, Switzerland
$2,030View Tour

48 reviews

Amazing Britain Summer 2020

10

Days

Trafalgar

First Class

Escorted
2 - Classic

5+ years old
50
London
London
England, Scotland, Wales
$2,018View Tour

196 reviews

Prague, Vienna and Budapest Presale 2021

10

Days

Trafalgar

First Class

Escorted
2 - Classic

5+ years old
50
Prague
Budapest
Austria, Czech Republic, Hungary, Slovakia
$1,975View Tour

310 reviews

Imperial Europe Winter 2019 2020

10

Days

Trafalgar

First Class

Escorted
3 - Explorer

5+ years old
50
Munich
Munich
Austria, Czech Republic, Germany, Hungary, Slovakia
$1,950View Tour

310 reviews

Imperial Europe Summer 2020

10

Days

Trafalgar

First Class

Escorted
3 - Explorer

5+ years old
50
Munich
Munich
Austria, Czech Republic, Germany, Hungary, Slovakia
$1,937View Tour

196 reviews

Prague, Vienna and Budapest

10

Days

Trafalgar

First Class

Escorted
3 - Explorer

5+ years old
50
Prague
Budapest
Austria, Czech Republic, Hungary, Slovakia
$1,933View Tour

28 reviews

Highlights of Turkey Presale 2021

10

Days

Trafalgar

First Class

Escorted
1 - Light

5+ years old
50
Istanbul
Istanbul
Turkey
$1,825View Tour

196 reviews

Prague Vienna and Budapest Summer 2020

10

Days

Trafalgar

First Class

Escorted
2 - Classic

5+ years old
50
Prague
Budapest
Austria, Czech Republic, Hungary, Slovakia
$1,803View Tour

196 reviews

Prague, Vienna and Budapest

10

Days

Trafalgar

First Class

Escorted
2 - Classic

5+ years old
50
Prague
Budapest
Austria, Czech Republic, Hungary, Slovakia
$1,650View Tour

28 reviews

Highlights of Turkey Summer 2020

10

Days

Trafalgar

First Class

Escorted
1 - Light

5+ years old
50
Istanbul
Istanbul
Turkey
$1,565View Tour

1610 reviews

Best of Greece with Santorini Extension Summer 2020

11

Days

Trafalgar

First Class

Escorted
1 - Light

5+ years old
50
Athens
Athens
Greece
$3,519View Tour

Secrets of Greece including Corfu Presale 2021

11

Days

Trafalgar

First Class

Escorted
1 - Light

5+ years old
50
Athens
Athens
Greece
$3,275View Tour

Best of Greece with Santorini Extension Presale 2021

11

Days

Trafalgar

First Class

Escorted
1 - Light

5+ years old
50
Athens
Athens
Greece
$3,250View Tour

Holy Italian Pilgrimage Summer 2020

11

Days

Trafalgar

First Class

Escorted
1 - Light

5+ years old
50
Rome
Venice
Italy
$2,955View Tour

54 reviews

Italian Concerto Presale 2021

11

Days

Trafalgar

First Class

Escorted
1 - Light

5+ years old
50
Rome
Venice
Italy
$2,902View Tour

54 reviews

Italian Concerto Summer 2020

11

Days

Trafalgar

First Class

Escorted
1 - Light

5+ years old
50
Rome
Venice
Italy
$2,847View Tour

Secrets of Greece including Corfu Summer 2020

11

Days

Trafalgar

First Class

Escorted
1 - Light

5+ years old
50
Athens
Athens
Greece
$2,783View Tour

135 reviews

Italy Bellissimo Summer 2020

11

Days

Trafalgar

First Class

Escorted
1 - Light

5+ years old
50
Rome
Rome
Italy
$2,741View Tour

16 reviews

Wonders of Italy Preview 2021

11

Days

Trafalgar

First Class

Escorted
1 - Light

5+ years old
50
Rome
Rome
Italy
$2,632View Tour

10 reviews

Best of Croatia and Slovenia

11

Days

Trafalgar

First Class

Escorted
3 - Explorer

5+ years old
50
Zagreb
Dubrovnik
Bosnia, Croatia, Slovenia
$2,592View Tour

16 reviews

Wonders of Italy Summer 2020

11

Days

Trafalgar

First Class

Escorted
1 - Light

5+ years old
50
Rome
Rome
Italy
$2,571View Tour

10 reviews

Best of Croatia and Slovenia Presale 2021

11

Days

Trafalgar

First Class

Escorted
2 - Classic

5+ years old
50
Zagreb
Dubrovnik
Croatia, Slovenia
$2,565View Tour

Highlights of Ireland and Scotland Presale 2021

11

Days

Trafalgar

First Class

Escorted
2 - Classic

5+ years old
50
Dublin
Edinburgh
Ireland, North Ireland, Scotland
$2,475View Tour

135 reviews

Italy Bellissimo Presale 2021

11

Days

Trafalgar

First Class

Escorted
1 - Light

5+ years old
50
Rome
Rome
Italy
$2,400View Tour

48 reviews

Irish Experience Summer 2020

11

Days

Trafalgar

First Class

Escorted
1 - Light

5+ years old
50
Dublin
Dublin
Ireland, North Ireland
$2,381View Tour

48 reviews

Irish Experience Summer 2020

11

Days

Trafalgar

First Class

Escorted
1 - Light

5+ years old
50
Dublin
Dublin
Ireland, North Ireland
$2,381View Tour

Highlights of Ireland and Scotland Summer 2020

11

Days

Trafalgar

First Class

Escorted
2 - Classic

5+ years old
50
Dublin
Edinburgh
Ireland, North Ireland, Scotland
$2,337View Tour

48 reviews

Irish Experience Presale 2021

11

Days

Trafalgar

First Class

Escorted
5+ years old
50
Dublin
Dublin
Ireland, North Ireland
$2,317View Tour

Georgia and Armenia Uncovered Presale 2021

11

Days

Trafalgar

First Class

Escorted
2 - Classic

5+ years old
50
Tbilisi
Yerevan
Armenia, Georgia
$2,295View Tour

24 reviews

Northern Spain Presale 2021

11

Days

Trafalgar

First Class

Escorted
1 - Light

5+ years old
50
Barcelona
Madrid
Spain
$2,272View Tour

16 reviews

Wonders of Italy Summer 2020

11

Days

Trafalgar

First Class

Escorted
1 - Light

5+ years old
50
Rome
Rome
Italy
$2,215View Tour

24 reviews

Northern Spain Summer 2020

11

Days

Trafalgar

First Class

Escorted
1 - Light

5+ years old
50
Barcelona
Madrid
Spain
$2,188View Tour

Georgia and Armenia Uncovered Summer 2020

11

Days

Trafalgar

First Class

Escorted
2 - Classic

5+ years old
50
Tbilisi
Yerevan
Armenia, Georgia
$2,167View Tour

16 reviews

Wonders of Italy Winter 2019 2020

11

Days

Trafalgar

First Class

Escorted
1 - Light

5+ years old
50
Rome
Rome
Italy
$2,146View Tour

6 reviews

Best of Poland Presale 2021

11

Days

Trafalgar

First Class

Escorted
1 - Light

5+ years old
50
Warsaw
Warsaw
Poland
$2,115View Tour

135 reviews

Italy Bellissimo

11

Days

Trafalgar

First Class

Escorted
1 - Light

5+ years old
50
Rome
Rome
Italy
$2,104View Tour

141 reviews

Best of Portugal Presale 2021

11

Days

Trafalgar

First Class

Escorted
1 - Light

5+ years old
50
Lisbon
Lisbon
Portugal
$2,002View Tour

6 reviews

Best of Poland Summer 2020

11

Days

Trafalgar

First Class

Escorted
1 - Light

5+ years old
50
Warsaw
Warsaw
Poland
$1,997View Tour

141 reviews

Best of Portugal Summer 2020

11

Days

Trafalgar

First Class

Escorted
1 - Light

5+ years old
50
Lisbon
Lisbon
Portugal
$1,976View Tour

10 reviews

Best of Croatia and Slovenia

11

Days

Trafalgar

First Class

Escorted
3 - Explorer

5+ years old
50
Zagreb
Dubrovnik
Bosnia, Croatia, Slovenia
$1,826View Tour

141 reviews

Best of Portugal

11

Days

Trafalgar

First Class

Escorted
1 - Light

5+ years old
50
Lisbon
Lisbon
Portugal
$1,688View Tour

141 reviews

Best of Germany with Oberammergau Summer 2020

12

Days

Trafalgar

First Class

Escorted
1 - Light

5+ years old
50
Frankfurt
Frankfurt
Germany
$3,725View Tour

310 reviews

Imperial Europe with Oberammergau

12

Days

Trafalgar

First Class

Escorted
3 - Explorer

5+ years old
50
Munich
Munich
Austria, Czech Republic, Germany, Hungary, Slovakia
$3,350View Tour

72 reviews

Highlights of France and Barcelona with Madrid Extension Summer 2020

12

Days

Trafalgar

First Class

Escorted
2 - Classic

5+ years old
50
Paris
Madrid
France, Spain
$3,315View Tour

Highlights of France and Barcelona with Madrid Extension Presale 2021

12

Days

Trafalgar

First Class

Escorted
5+ years old
50
Paris
Madrid
France, Spain
$3,168View Tour

10 reviews

WWI and WWII Battlefields Summer 2020

12

Days

Trafalgar

First Class

Escorted
2 - Classic

5+ years old
50
London
Amsterdam
Belgium, England, France, Netherlands
$3,029View Tour

10 reviews

WWI and WWII Battlefields Presale 2021

12

Days

Trafalgar

First Class

Escorted
3 - Explorer

5+ years old
50
London
Amsterdam
Belgium, England, France, Netherlands
$2,875View Tour

14 reviews

Balkan Delight Summer 2020

12

Days

Trafalgar

First Class

Escorted
3 - Explorer

5+ years old
50
Zagreb
Zagreb
Bosnia, Croatia, Montenegro
$2,698View Tour

141 reviews

Best of Germany Presale 2021

12

Days

Trafalgar

First Class

Escorted
1 - Light

5+ years old
50
Frankfurt
Frankfurt
Germany
$2,695View Tour

14 reviews

Balkan Delight

12

Days

Trafalgar

First Class

Escorted
3 - Explorer

5+ years old
50
Zagreb
Zagreb
Bosnia, Croatia, Montenegro
$2,655View Tour

141 reviews

Best of Germany

12

Days

Trafalgar

First Class

Escorted
1 - Light

5+ years old
50
Frankfurt
Frankfurt
Germany
$2,545View Tour

Days of Devotion Presale 2021

12

Days

Trafalgar

First Class

Escorted
2 - Classic

5+ years old
50
Barcelona
Lisbon
France, Portugal, Spain
$2,295View Tour

Days of Devotion Summer 2020

12

Days

Trafalgar

First Class

Escorted
2 - Classic

5+ years old
50
Barcelona
Lisbon
France, Portugal, Spain
$2,188View Tour

Best of Israel and Jordan with Dead Sea Extension Summer 2020

13

Days

Trafalgar

First Class

Escorted
2 - Classic

5+ years old
50
Tel Aviv
Amman
Israel, Jordan
$5,075View Tour

Best of Israel and Jordan Summer 2020

13

Days

Trafalgar

First Class

Escorted
2 - Classic

5+ years old
50
Tel Aviv
Amman
Israel, Jordan
$4,750View Tour

Best of Israel and Jordan Presale 2021

13

Days

Trafalgar

First Class

Escorted
2 - Classic

5+ years old
50
Tel Aviv
Amman
Israel, Jordan
$4,750View Tour

Best of Israel and Jordan with Dead Sea Extension Summer 2020

13

Days

Trafalgar

First Class

Escorted
2 - Classic

5+ years old
50
Tel Aviv
Amman
Israel, Jordan
$4,725View Tour

204 reviews

Great Italian Cities with Oberammergau Summer 2020

13

Days

Trafalgar

First Class

Escorted
2 - Classic

5+ years old
50
Rome
Munich
Austria, Germany, Italy
$4,525View Tour

46 reviews

Switzerland and Austria with Oberammergau Summer 2020

13

Days

Trafalgar

First Class

Escorted
3 - Explorer

5+ years old
50
Zurich
Zurich
Austria, Germany, Italy, Liechtenstein, Switzerland
$4,475View Tour

Best of Israel and Jordan Summer 2020

13

Days

Trafalgar

First Class

Escorted
2 - Classic

5+ years old
50
Tel Aviv
Amman
Israel, Jordan
$4,395View Tour

6 reviews

Land of the Gods Presale 2021

13

Days

Trafalgar

First Class

Escorted
2 - Classic

5+ years old
50
Tel Aviv
Amman
Israel, Jordan
$4,050View Tour

57 reviews

Scotland's Highlands, Islands and Cities Reverse

13

Days

Trafalgar

First Class

Escorted
1 - Light

5+ years old
50
Glasgow
Edinburgh
Scotland
$3,510View Tour

20 reviews

Italian Glory Preview 2021

13

Days

Trafalgar

First Class

Escorted
1 - Light

5+ years old
50
Milan
Rome
Italy
$3,442View Tour

548 reviews

Best of Italy Presale 2021

13

Days

Trafalgar

First Class

Escorted
1 - Light

5+ years old
50
Rome
Rome
Italy
$3,352View Tour

20 reviews

Italian Glory Summer 2020

13

Days

Trafalgar

First Class

Escorted
1 - Light

5+ years old
50
Milan
Rome
Italy
$3,293View Tour

46 reviews

Switzerland and Austria Summer 2020

13

Days

Trafalgar

First Class

Escorted
2 - Classic

5+ years old
50
Zurich
Zurich
Austria, Italy, Liechtenstein, Switzerland
$3,283View Tour

548 reviews

Best of Italy Summer 2020

13

Days

Trafalgar

First Class

Escorted
1 - Light

5+ years old
50
Rome
Rome
Italy
$3,272View Tour

Mediterranean Highlights Presale 2021

13

Days

Trafalgar

First Class

Escorted
2 - Classic

5+ years old
50
Madrid
Rome
France, Italy, Spain
$3,235View Tour

4 reviews

European Wonderland Summer 2020

13

Days

Trafalgar

First Class

Escorted
2 - Classic

5+ years old
50
Rome
London
England, France, Italy, Switzerland
$3,166View Tour

132 reviews

Best of France Presale 2021

13

Days

Trafalgar

First Class

Escorted
1 - Light

5+ years old
50
Paris
Paris
France
$3,145View Tour

4 reviews

European Splendor Summer 2020

13

Days

Trafalgar

First Class

Escorted
2 - Classic

5+ years old
50
Rome
London
England, France, Italy, Switzerland
$3,123View Tour

Mediterranean Highlights Summer 2020

13

Days

Trafalgar

First Class

Escorted
2 - Classic

5+ years old
50
Madrid
Rome
France, Italy, Spain
$3,102View Tour

Mediterranean Highlights Summer 2020

13

Days

Trafalgar

First Class

Escorted
2 - Classic

5+ years old
50
Madrid
Rome
France, Italy, Spain
$3,102View Tour

57 reviews

Scotlands Highlands Islands and Cities Summer 2020

13

Days

Trafalgar

First Class

Escorted
1 - Light

5+ years old
50
Edinburgh
Glasgow
Scotland
$3,075View Tour

28 reviews

Best of Germany and Austria Presale 2021

13

Days

Trafalgar

First Class

Escorted
2 - Classic

5+ years old
50
Frankfurt
Vienna
Austria, Germany
$3,015View Tour

57 reviews

Scotlands Highlands Islands and Cities Presale 2021

13

Days

Trafalgar

First Class

Escorted
1 - Light

5+ years old
50
Edinburgh
Glasgow
Scotland
$2,992View Tour

4 reviews

Highland Trail inspired by Outlander Presale 2021

13

Days

Trafalgar

First Class

Escorted
1 - Light

5+ years old
50
Edinburgh
Glasgow
Scotland
$2,992View Tour

132 reviews

Best of France Summer 2020

13

Days

Trafalgar

First Class

Escorted
1 - Light

5+ years old
50
Paris
Paris
France
$2,970View Tour

28 reviews

Best of Germany and Austria

13

Days

Trafalgar

First Class

Escorted
2 - Classic

5+ years old
50
Frankfurt
Vienna
Austria, Germany
$2,885View Tour

4 reviews

Highland Trail inspired by Outlander Summer 2020

13

Days

Trafalgar

First Class

Escorted
1 - Light

5+ years old
50
Edinburgh
Glasgow
Scotland
$2,847View Tour

548 reviews

Best of Italy Summer 2020

13

Days

Trafalgar

First Class

Escorted
1 - Light

5+ years old
50
Rome
Rome
Italy
$2,821View Tour

548 reviews

Best of Italy Winter 2019 2020

13

Days

Trafalgar

First Class

Escorted
1 - Light

5+ years old
50
Rome
Rome
Italy
$2,695View Tour

160 reviews

Highlights of Spain and Portugal Presale 2021

13

Days

Trafalgar

First Class

Escorted
1 - Light

5+ years old
50
Madrid
Madrid
Portugal, Spain
$2,605View Tour

160 reviews

Highlights of Spain and Portugal Summer 2020

13

Days

Trafalgar

First Class

Escorted
1 - Light

5+ years old
50
Madrid
Madrid
Portugal, Spain
$2,460View Tour

160 reviews

Highlights of Spain and Portugal Summer 2020

13

Days

Trafalgar

First Class

Escorted
1 - Light

5+ years old
50
Madrid
Madrid
Portugal, Spain
$2,307View Tour

160 reviews

Highlights of Spain and Portugal Winter 2019 2020

13

Days

Trafalgar

First Class

Escorted
2 - Classic

5+ years old
50
Madrid
Madrid
Portugal, Spain
$2,195View Tour

Best of Israel and Jordan with Dead Sea Extension Presale 2021

14

Days

Trafalgar

First Class

Escorted
2 - Classic

5+ years old
50
Tel Aviv
Amman
Israel, Jordan
$5,075View Tour

Secrets of Greece including Corfu with Santorini Extension Summer 2020

14

Days

Trafalgar

First Class

Escorted
1 - Light

5+ years old
50
Athens
Athens
Greece
$4,475View Tour

Secrets of Greece including Corfu with Santorini Extension Presale 2021

14

Days

Trafalgar

First Class

Escorted
1 - Light

5+ years old
50
Athens
Athens
Greece
$4,475View Tour

98 reviews

Scenic Scandinavia and its Fjords Presale 2021

14

Days

Trafalgar

First Class

Escorted
2 - Classic

5+ years old
50
Copenhagen
Stockholm
Denmark, Norway, Sweden
$3,685View Tour

98 reviews

Scenic Scandinavia and its Fjords Summer 2020

14

Days

Trafalgar

First Class

Escorted
2 - Classic

5+ years old
50
Copenhagen
Stockholm
Denmark, Norway, Sweden
$3,591View Tour

231 reviews

European Whirl with Eurostar Extension Winter 2019 2020

14

Days

Trafalgar

First Class

Escorted
3 - Explorer

5+ years old
50
London
London
Austria, Belgium, England, France, Germany, Italy, Netherlands, Switzerland
$3,585View Tour

231 reviews

European Whirl Summer 2020

14

Days

Trafalgar

First Class

Escorted
3 - Explorer

5+ years old
50
London
Paris
Austria, Belgium, England, France, Germany, Italy, Netherlands, Switzerland
$3,538View Tour

231 reviews

European Whirl Presale 2021

14

Days

Trafalgar

First Class

Escorted
3 - Explorer

5+ years old
50
London
Paris
Austria, Belgium, England, France, Germany, Italy, Netherlands, Switzerland
$3,442View Tour

15 reviews

Highlights of Austria Slovenia and Croatia Presale 2021

14

Days

Trafalgar

First Class

Escorted
2 - Classic

5+ years old
50
Vienna
Zagreb
Austria, Croatia, Slovenia
$3,325View Tour

15 reviews

Highlights of Austria Slovenia and Croatia end Vienna Summer 2020

14

Days

Trafalgar

First Class

Escorted
2 - Classic

5+ years old
50
Vienna
Vienna
Austria, Croatia, Slovenia
$3,310View Tour

15 reviews

Highlights of Austria Slovenia and Croatia Summer 2020

14

Days

Trafalgar

First Class

Escorted
2 - Classic

5+ years old
50
Vienna
Zagreb
Austria, Croatia, Slovenia
$3,310View Tour

231 reviews

European Whirl Winter 2019 2020

14

Days

Trafalgar

First Class

Escorted
3 - Explorer

5+ years old
50
London
Paris
Austria, England, France, Germany, Italy, Netherlands, Switzerland
$3,175View Tour

231 reviews

European Whirl Summer 2020

14

Days

Trafalgar

First Class

Escorted
3 - Explorer

5+ years old
50
London
Paris
Austria, Belgium, England, France, Germany, Italy, Netherlands, Switzerland
$3,140View Tour

16 reviews

Amazing Ireland Summer 2020

14

Days

Trafalgar

First Class

Escorted
2 - Classic

5+ years old
50
Dublin
Dublin
Ireland, North Ireland
$3,075View Tour

15 reviews

Treasures of Spain and Portugal Summer 2020

14

Days

Trafalgar

First Class

Escorted
1 - Light

5+ years old
50
Madrid
Barcelona
Portugal, Spain
$3,075View Tour

15 reviews

Treasures of Spain and Portugal End Madrid Summer 2020

14

Days

Trafalgar

First Class

Escorted
2 - Classic

5+ years old
50
Madrid
Madrid
Portugal, Spain
$3,075View Tour

16 reviews

Amazing Ireland Presale 2021

14

Days

Trafalgar

First Class

Escorted
2 - Classic

5+ years old
50
Dublin
Dublin
Ireland, North Ireland
$2,992View Tour

15 reviews

Treasures of Spain and Portugal Presale 2021

14

Days

Trafalgar

First Class

Escorted
2 - Classic

5+ years old
50
Madrid
Barcelona
Portugal, Spain
$2,965View Tour

52 reviews

Best of Britain Presale 2021

14

Days

Trafalgar

First Class

Escorted
3 - Explorer

5+ years old
50
London
London
England, Scotland, Wales
$2,875View Tour

42 reviews

Bohemian Highlights Presale 2021

14

Days

Trafalgar

First Class

Escorted
3 - Explorer

5+ years old
50
Berlin
Frankfurt
Austria, Czech Republic, Germany, Hungary, Poland, Slovakia
$2,835View Tour

Balkan Adventure Summer 2020

14

Days

Trafalgar

First Class

Escorted
3 - Explorer

5+ years old
50
Bucharest
Belgrade
Albania, Bosnia, Bulgaria, Macedonia, Montenegro, Romania, Serbia
$2,770View Tour

52 reviews

Best of Britain Summer 2020

14

Days

Trafalgar

First Class

Escorted
2 - Classic

5+ years old
50
London
London
England, Scotland, Wales
$2,715View Tour

Balkan Adventure Presale 2021

14

Days

Trafalgar

First Class

Escorted
3 - Explorer

5+ years old
50
Bucharest
Belgrade
Albania, Bosnia, Bulgaria, Macedonia, Montenegro, Romania, Serbia
$2,695View Tour

42 reviews

Bohemian Highlights Summer 2020

14

Days

Trafalgar

First Class

Escorted
3 - Explorer

5+ years old
50
Berlin
Frankfurt
Austria, Czech Republic, Germany, Hungary, Poland, Slovakia
$2,677View Tour

24 reviews

Capitals of the North Presale 2021

15

Days

Trafalgar

First Class

Escorted
2 - Classic

5+ years old
50
Copenhagen
Moscow
Denmark, Finland, Norway, Russia, Sweden
$4,297View Tour

24 reviews

Capitals of the North Summer 2020

15

Days

Trafalgar

First Class

Escorted
2 - Classic

5+ years old
50
Copenhagen
Moscow
Denmark, Finland, Norway, Russia, Sweden
$4,058View Tour

231 reviews

European Whirl with Eurostar Summer 2020

15

Days

Trafalgar

First Class

Escorted
3 - Explorer

5+ years old
50
London
London
Austria, Belgium, England, France, Germany, Italy, Netherlands, Switzerland