Luxury Expedition Cruises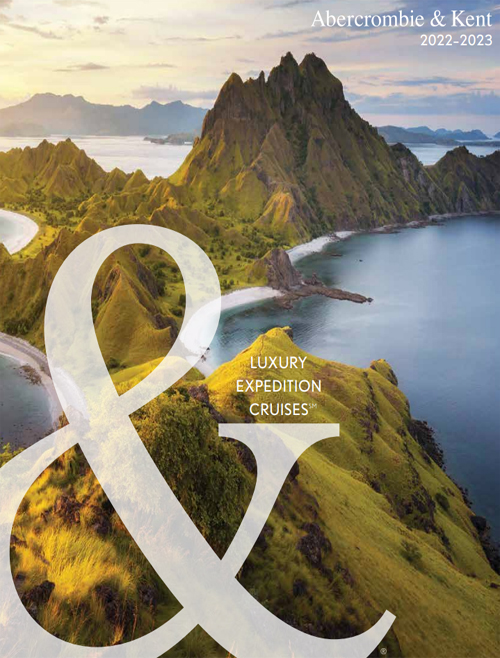 Call Us For Award-winning Value and Service on Abercrombie Kent Vacations - Luxury Expedition Cruises
NEW! 2022 Now Open for Sale! A&K Luxury Expedition Cruises reveal the far-flung corners of the Antarctic, Arctic and Japan like no other journeys. Chartered vessels with a maximum group size of 199 guests.
Escorted Tour
AffordableTours.com offers escorted tours to all of your favorite countries around the world. Escorted tours normally include hotel stays, transportation, most meals, sightseeing and cultural activities. They are led by a tour director who will be with your group from the beginning to end of the tour and they handle all of the logistics, check ins, attraction tickets and local guides that are included on your trip. People that enjoy escorted tours are travelers who don't have time or the knowhow to plan an all-encompassing, multiday overseas trip, people who travel in luxury or like to save money, and people who like to see the must-see sites while also experiencing the local culture. Escorted tours range in group size, pace, and age, so there is an escorted tour for every type of traveler. From solo travelers to groups of friends, to multi-generational families and adventure seekers, we have the escorted tour for you!
Small Ship Cruising
Small ship cruises take travelers to destinations that big ships cannot visit due to size restrictions, such as to the exotic Galapagos Islands, small ports along the Mediterranean and Adriatic and island hopping in Greece to name a few. Small ships are able to maneuver in small coves and channels, and can dock at more intimate ports, making for a fascinating travel experience. Small ship cruising is also perfect for travelers who want to visit bigger destinations, but want more personalized, one on one service onboard. While small ships might not feature the same activities on board, they do offer a relaxed and intimate experience for cruisers.
Tour Itinerary
Days
Operator
Quality
Style
Starts
Ends
Price

2023 Adriatic Voyage: Croatia, Montenegro & Greece

08

Days

Abercrombie Kent

Luxury

Small Ship Cruising
2 - Classic

148
Venice
Athens
Croatia, Greece, Italy, Montenegro
$10,995View Tour

Book With Flexibility

2023 European Coastal Cruise: Portugal, Spain & France

09

Days

Abercrombie Kent

Luxury

Small Ship Cruising
2 - Classic

148
Lisbon
London
England, France, Portugal, Spain
$10,995View Tour

Book With Flexibility

2023 Cruising the Greek Isles

10

Days

Abercrombie Kent

Luxury

Small Ship Cruising
Athens
Athens
Greece
$12,995View Tour

Book With Flexibility

2023 Cruising Scandinavia & the Baltic Sea

10

Days

Abercrombie Kent

Luxury

Small Ship Cruising
3 - Explorer

10+ years old
148
Copenhagen
Helsinki
Denmark, Estonia, Finland, Latvia, Lithuania, Poland, Sweden
$13,995View Tour

Book With Flexibility




2022 Cruising the Greek Isles

10

Days

Abercrombie Kent

Luxury

Small Ship Cruising
Athens
Athens
Greece
$12,495View Tour

Book With Flexibility

2023 Kimberley Cruise: Australias Last Frontier

13

Days

Abercrombie Kent

Luxury

Small Ship Cruising
2 - Classic

148
Broome
Darwin
Australia, Indonesia
$15,995View Tour

Book With Flexibility

2023 Antarctic Cruise Adventure

13

Days

Abercrombie Kent

Luxury

Small Ship Cruising
1 - Light

199
Buenos Aires
Ushuaia
Argentina
$16,995View Tour

Book With Flexibility




2022 Italy Cruise: Hidden Treasures from Florence to Venice

13

Days

Abercrombie Kent

Luxury

Small Ship Cruising
Florence
Venice
France, Italy
$14,995View Tour

Book With Flexibility




2022 Antarctic Cruise Adventure: A Changing Landscape

13

Days

Abercrombie Kent

Luxury

Small Ship Cruising
2 - Classic

10+ years old
199
Buenos Aires
Ushuaia
Antarctica, Argentina
$15,995View Tour

Book With Flexibility

2023 Wonders of Japan Cruise: Cherry Blossom Season

14

Days

Abercrombie Kent

Luxury

Small Ship Cruising
2 - Classic

10+ years old
199
Osaka
Sapporo
Japan, South Korea
$22,995View Tour

Book With Flexibility

2023 French Polynesia to Easter Island Expedition

14

Days

Abercrombie Kent

Luxury

Small Ship Cruising
1 - Light

199
Papeete
Easter Island
Chile, French Polynesia
$16,495View Tour

Book With Flexibility

2023 Cruising the Seychelles & Coastal Tanzania

14

Days

Abercrombie Kent

Luxury

Small Ship Cruising
2 - Classic

148
Zanzibar
Mahe
Seychelles, Tanzania
$16,495View Tour

Book With Flexibility




2022 Cruising the Enchanted Isles: Scotland, Ireland & England

14

Days

Abercrombie Kent

Luxury

Small Ship Cruising
1 - Light

10+ years old
148
Edinburgh
London
England, Ireland, Scotland
$17,995View Tour

Book With Flexibility

2024 Antarctica Discovery: Beyond the Antarctic Circle

15

Days

Abercrombie Kent

Luxury

Small Ship Cruising
2 - Classic

199
Buenos Aires
Ushuaia
Antarctica, Argentina
$21,495View Tour

Book With Flexibility

2023 Arctic Cruise Adventure: In Search of the Polar Bear

15

Days

Abercrombie Kent

Luxury

Small Ship Cruising
3 - Explorer

10+ years old
199
Oslo
Reykjavik
Iceland, Norway
$20,495View Tour

Book With Flexibility




2023 Antarctica Discovery: Beyond the Antarctic Circle

15

Days

Abercrombie Kent

Luxury

Small Ship Cruising
2 - Classic

10+ years old
Buenos Aires
Ushuaia
Antarctica, Argentina
$20,495View Tour

Book With Flexibility




2022 Arctic Cruise Adventure: In Search of the Polar Bear

15

Days

Abercrombie Kent

Luxury

Small Ship Cruising
3 - Explorer

10+ years old
199
Oslo
Reykjavik
Iceland, Norway
$19,495View Tour

Book With Flexibility

2023 Indonesia Voyage: Komodo, Papua & Great Barrier Reef

17

Days

Abercrombie Kent

Luxury

Small Ship Cruising
2 - Classic

148
Bali
Cairns
Australia, Indonesia, Papua New Guinea
$20,495View Tour

Book With Flexibility




2022 South Pacific Voyage: Komodo, Papua & Great Barrier Reef

17

Days

Abercrombie Kent

Luxury

Small Ship Cruising
1 - Light

10+ years old
148
Bali
Cairns
Australia, Indonesia, Papua New Guinea
$19,995View Tour

Book With Flexibility

2024 Antarctica, South Georgia & Falklands Expedition

18

Days

Abercrombie Kent

Luxury

Small Ship Cruising
2 - Classic

199
Buenos Aires
Ushuaia
Antarctica, Argentina, South Georgia and Sandwich
$24,995View Tour

Book With Flexibility




2023 Antarctica, South Georgia & Falklands: Photography Adventure

18

Days

Abercrombie Kent

Luxury

Small Ship Cruising
2 - Classic

10+ years old
Buenos Aires
Ushuaia
Antarctica, Argentina, Falkland Islands, South Georgia and Sandwich
$23,995View Tour

Book With Flexibility

2023 Antarctica, South Georgia & Falklands: Holiday Voyage

18

Days

Abercrombie Kent

Luxury

Small Ship Cruising
2 - Classic

199
Buenos Aires
Ushuaia
Argentina, South Georgia and Sandwich
$24,995View Tour

Book With Flexibility




2022 Antarctica, South Georgia & Falklands: Holiday Voyage

18

Days

Abercrombie Kent

Luxury

Small Ship Cruising
2 - Classic

10+ years old
199
Buenos Aires
Ushuaia
Antarctica, Argentina, Falkland Islands
$23,495View Tour

Book With Flexibility




2022 The Northwest Passage: from Greenland to the Bering Sea

24

Days

Abercrombie Kent

Deluxe

Small Ship Cruising
Montreal
Vancouver
Canada, Greenland, United States
$36,995View Tour

Book With Flexibility

2023 The Northwest Passage: From Greenland to the Bering Sea

25

Days

Abercrombie Kent

Luxury

Small Ship Cruising
2 - Classic

199
New York, NY
Nome, Alaska
Greenland, United States
$39,495View Tour

Book With Flexibility