Greetings Travelers! I'd like to talk to you about a new program we've kicked off this month. April saw the launch of our brand new social media campaign dubbed the Monthly Social Club. Every month we pick a travel related theme and center all of our events and activities around that theme. To start, May is CRUISE month! Our Monthly Social Club is our three channel approach to spreading travel related information that we gather from you and everywhere around the internet. We want you to think of our Social Club as a little lunch date with you and your friends talking about your next destination or other industry news – all without the hassle of leaving the comfort of your own home! As an extra bonus, we're giving away free prizes every month just for participating! Anyone can join in and contribute. Learn more about our events below.

Facebook Cover Photo Contest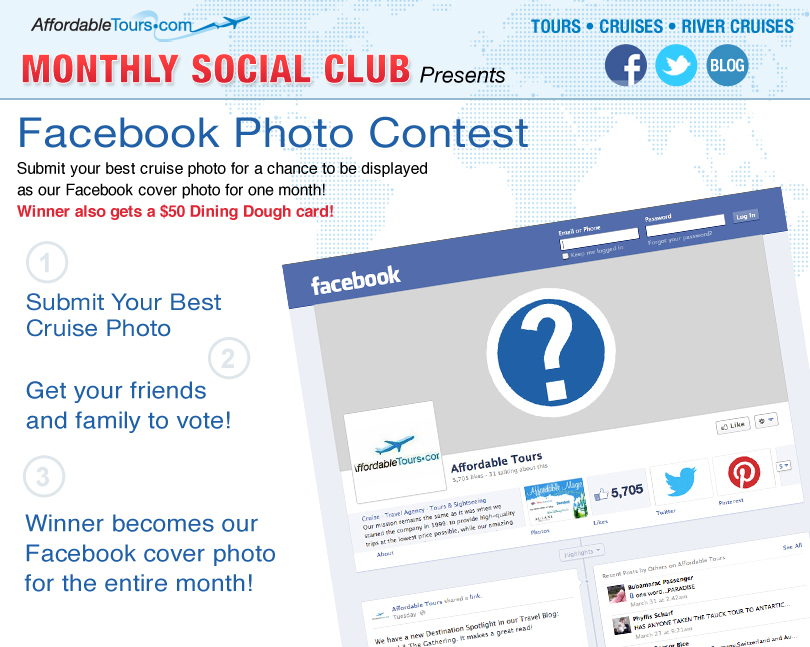 Here's your chance to get that beautiful photo you took displayed to thousands! Every month, we'll ask you to submit a photo related to the theme of the month (May is cruise month!). Your photo will go head to head with other submissions and whichever picture has the most votes by the end will be chosen as our cover photo for the month! On top of that, we'll send you a $50 Dining Dough gift card! Just make sure you meet all the contest rules and you're good to go. Share the link for friends and family to help vote for your picture to increase your chances of winning!
Social Club Twitter Travel Chat – #ATSOCIAL
Starting May 2013, every 2nd Friday of the month we'll be having a (Twitter) party! No need to bring food or drinks, get dressed up, or commute too far: it's right in your living room! Based around the theme for the month, we'll be hosting a 45 minute travel chat session on Twitter to talk directly with you. Come share your knowledge and help us answer questions or get your own questions answered. We'll have experts on hand to help facilitate and moderate as well as answer your questions. To participate, follow these
easy steps:
1. Sign up or login to your Twitter account
2. Follow us on Twitter @affordabletours
3a. To tweet us a question, include #ATSOCIAL in your tweet.
3b. To spectate the chat and see whats going on or to find questions to answer, search the hashtag #ATSOCIAL and keep refreshing the results. You can then tweet and retweet questions and answers (remember to have #ATSOCIAL in your tweet!).
What about party favors, you ask? We've got it covered! During our 45 minute chat session, we'll be giving away three (3) $50 Visa Gift Cards at random to participants every 15 minutes! The more you participate and the more active you are, the more chances you have of winning.
Don't forget, May's chat topic will be all things cruises. We'll be having our first #ATSOCIAL travel chat on May 10, 2013 at 1:00pm CST!
AffordableTours Travel Blog
The AffordableTours Travel Blog is your source for travel related articles. Here, you will be able to dive into the exoctic travel stories from staff adventures, read featured travel advice such as getting ready for your first escorted tour or browse through the photos of far away places. With frequent updates to travel articles, you'll be able re-live each individual adventure as you please!