Carnival Venezia
Carnival Venezia will lead you to discover the most evocative corners of Istanbul, among gold domes and flavors of tradition. Fall in love with these unique locations with excursions now longer than ever before.
Maiden Voyage: 2022
Tonnage: 135,500 tons
Length: 1,061.00 feet
Avg Speed: 22.50
Passenger Capacity: 5,078
Normal Crew Size: 1,278
Cabin Features

Hairdryer
Telephone
Television
Youth Program

Special Requests

Fitness Facilities

Services

Beauty Salon
1 Casinos
Internet Access
Movie Theatre
Spa
Dining
Teppanyaki Restaurant
Sushino at Costa
Pizzeria Pummid'Oro
La Fiorentina Steak House
Burger Bar
KikiPoke
Samsara Restaurant
Dim Sum Chinese dumplings/Noodle Bar
Age Restrictions
On Board Baby-Sitting
Caribbean: Group baby-sitting for children age 3 (out of diapers) and older. The babysitting schedules can be found in the Daily Program distributed onboard (private in-stateroom babysitting is not available). There will also be two "Parents Night Out" during the cruise where parents have the opportunity to enjoy the evening worry free while their children will be entertained with special activities, including their own buffet or pizza party. Best of all these special nights are offered at no extra charge.
In Port Children's Program
Caribbean: In Port program offers children a variety of activities onboard to entertain them. Parents will receive information pertaining to scheduled activities at the beginning of the cruise. Ask about specially priced shore excursions for children 12 years and under.

Europe: A comprehensive children's program throughout our Europe cruise season. The months of July and August are the most popular traveling times for families with children. Activities vary by ship and itinerary.
Minors Policy
Guests under the age of 21 must be accompanied by a parent or guardian. On selected seasonal departures, guests 21 to 24 years old must have one person at least 25 years old in the same stateroom.
Medical Care
There is a physician and nurse available 24 hours a day while at sea and during scheduled hours of the day while in port. All Costa ships are equipped with an infirmary. Professional services, care and medications are available at a reasonable cost. The medical staff can also provide medication to relieve any symptoms of seasickness. If you require prescription medications, bring an ample supply. Some prescription medications, might not be available onboard or ashore.
Tipping
It is customary for our guests to extend gratuities to the shipboard staff in appreciation for their hard work and exceptional service. 100% of your gratuities are distributed to the crew who you interact with, such as your stateroom attendants, dining and culinary services staff, as well as others who work behind the scenes to enhance your overall cruise experience. Applying this charge automatically streamlines the recognition process and ensures our crew will share in your generosity.  


 To help you plan, we have provided the recommended guidelines:
Standard Staterooms: 

 

$13.99 USD per person, per day *
Suite Staterooms: 

 

$15.99 USD per person, per day *

 
*Effective with all cruises departing on or after May 1, 2022, Carnival is making adjustments to thier recommended onboard gratuity guidelines, as follows:
Standard Staterooms: $14.50 USD per person, per day

Suite Staterooms: $16.50 USD per person, per day
 You may pay this daily gratuity in two different ways:
Pre-Pay
Gratuities can be added at the time of booking or anytime up to the sail date. Guests who booked directly with Carnival may add their pre-paid gratuities on Carnival.com. If a guest booked with a travel agent, they may contact their travel professional to add pre-paid gratuities to their booking. Prepaid gratuities are reflected in the 'Miscellaneous Charge' field on the confirmation and in the guest's E-Documents. 
Sail & Sign®
If guests have not pre-paid their gratuities, the recommended, per person, amount will be posted to their Sail & Sign account on the second to last day of the cruise. Should a guest not be satisfied with the service they receive, they can contact the Guest Services desk while on board. This will allow us to address their concerns in a timely and appropriate fashion. At the discretion of the guest, gratuities may be adjusted after they have been posted on the guest's account, while on board. Gratuities, as posted on a guest's Sail & Sign account, will be considered final after a guest disembarks and no changes will be made after the cruise.
Additional Information
Gratuities are assessed on all guests, with the exception of children under the age of 2.

Gratuities apply regardless of the dining options selected, such as eating at the casual dining restaurant or open seating dining.

For beverage purchases, an 18% service charge will be added to the bill.

An 18% service charge will be added to the cover charge for the Chef's Table and Bonsai Teppanyaki as well as the nominal à la carte fee at Bonsai Sushi, Emeril's Bistro 1396, Guy's Pig & Anchor Smokehouse | Brewhouse and Seafood Shack; additional gratuities can be added at the guest's discretion.

A gratuity may be extended to room service staff as service is rendered.
Thank you for your generous recognition of Carnival's onboard team. The Carnival crew works hard to provide you with a great vacation and takes pride in being part of the best team in the cruise industry.
Inside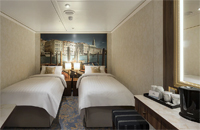 Category Code(s): IC,IP
Two twins that convert to queen-size
Closet space
Private bath with shower
Seating area
Desk
Sofa bed
Vanity
Television
Phone
Hairdryer
Mini bar
Safe
Oceanview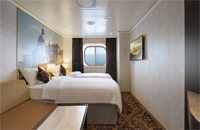 Category Code(s): EC,EP
Two twins that convert to queen-size
Window
Closet space
Private bath with shower
Seating area
Desk
Sofa bed
Vanity
Television
Phone
Hairdryer
Mini bar
Safe
Balcony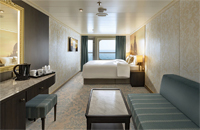 Category Code(s): BC,BP
Twin beds that convert to king
Balcony
Private bath with shower
Closet
Safe
Mini bar
Phone
Television
Sitting area with chair and coffee table
Sofa
Hair dryer
Bathrobes
Two patio chairs and table
MiniSuite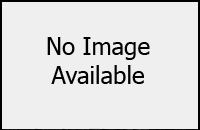 Category Code(s): MS
Two twins that convert to queen-size
Large panoramic windows with glass doors
Private veranda
Closet space
Private bath with shower
Seating area
Desk
Sofa bed
Vanity
Television
Phone
Hairdryer
Mini bar
Safe
Suite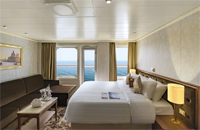 Category Code(s): S
Two twins that convert to queen-size
Large panoramic windows with glass doors
Private veranda
Closet space
Private bath with whirlpool tub and shower
Expanded seating area
Desk
Sofa bed
Vanity
Television
Phone
Hairdryer
Mini bar
Safe
Dining

Burger Bar
By the pool, a take away lunch or a delicious snack, try our burgers, hot dogs and fries! It will be a tasty break, to share with your friends and your family.

Dim Sum Chinese dumplings/Noodle Bar
Chinese food tonight? Taste the best of China between Noodles and Ravioli, with a menu based on meat, fish or vegetarian.

KikiPoke
A restaurant with breathtaking views, it is perfect to enjoy one of the hottest dishes of the moment: the Poke Bowl, inspired by traditional Hawaiian cuisine.

La Fiorentina Steak House
"La Fiorentina Steak House" welcomes you with the best Italian meats such as Florentine T-bone and Piedmontese fassona steak, but also Irish Black Angus and organic chicken.

Pizzeria Pummid'Oro
Pizza & mozzarella with selected ingredients and traditional cooking recipes.

Samsara Restaurant
From Asian to South American ingredients and recipes, originally prepared with and Italian inspiration.

Sushino at Costa
Sushino at Costa is our first sushi bistro on board and is designed to bring you an authentic Japanese experience that includes nigiri, maki, sashimi, and mochi.

Teppanyaki Restaurant
A different type of experience, spend a night in a soft environment in an Oriental style, where you can observe the craftsmanship of Japanese chefs.
Spa and Beauty

Beauty Saloon
The perfect place for a special pampering and for your beauty: hairdresser and barber... all always with sea view.

Solemio Spa
Everything you need for your beauty: facial masks to refresh and tone you, hair removal and manicure, to always be at your best.
Onboard Activities

Rope Garden Adventure Park
The Rope Garden Adventure Park is for brave and agile hearts, because here you travel suspended on the sea between Tibetan bridges, platforms and cableways.

Theatre
Every evening at the theater spectacular shows await you: musicals, comedy shows, acrobats, games and much more ... there is something for everyone!

Video Arcade
The area where young and old can be entertained with a variety of games and video games suitable for all ages.
Casino

Casino
Experience the excitement of the baize table, the on-board casino: try your luck at the slot machines or blackjack and the intoxicating thrill of the roulette wheel!
Night Life

Aperol Spritz Bar
An Aperol Spritz is an invitation to smile for the day in an atmosphere of serenity, an expression of joy on your Costa holiday.

Birreria
f you are looking for an authentic Italian taste experience on board, come and discover one of our most interesting novelties: the Brewery.

Campari Bar
The Campari Bar will offer a portfolio of Campari liqueur varieties and popcorn flavored with Campari or caramel.

Il Bacaro Venetian Bar
Experience the typical Venetian aperitif. Between tasty savoury delicacies and drinks prepared by experienced bartenders, relive the atmosphere of the most characteristic Italian taverns of the North East in a new, floating lagoon.
Youth Activities
Outdoor Peppa Pig Area
A completely dedicated area for family gaming moments. Children will have the opportunity to have fun with their parents in a place entirely dedicated to them.

Squok Club
Children between 3 and 11 years old can have fun at the Squok with our entertainers between games and delicious snacks, while you can relax during your cruise.
Teens Lounge
An area dedicated to teenagers, but also to those with a passion for video games. Ready for the next challenge?
Sports and Fitness

Gym
If you are sporty, you can keep in shape in the gym equipped with the latest equipment and large windows that overlook the sea.

Minigolf
Are you competitive? Test yourself with Minigolf for exciting challenges with family or friends.

Outdoor Jogging Track
Keep fit even on vacation! Run along the jogging path and enjoy a breathtaking sea view.

Outdoor Soccer Table Area
Who said that soccer table is child's play? Get ready to challenge your friends and organize tournaments.

Sport Area
On board there are multi-sport fields for football, volleyball, basketball or tennis.
Shopping

Galleria Shops
You can purchase beautiful gifts on board, and everything that you may need for your cruise.

My Moments Photo Store
Make your cruise unforgettable: photos, magnets, original gadgets and many other objects to frame your vacation.
Pools

Aqua Park
A pool dedicated to children, including colors, water games and fun in total safety. All around, the view of the horizon and the comfort of spaces suitable for the whole family.

La Laguna Aqua Park
From speedy bends to fast descents, you can test the courage of your friends or play with the whole family. Have fun on our slides, refreshed from the sun in the cool water.

Swimming Pool
The pools on board are the place of entertainment and meeting point par excellence, where you can make new friends while sipping a drink.
Health and Safety Protocols
In addition to Carnival's existing rigorous daily cleaning regimen and standards, Carnival has established additional sanitation/disinfection/cleaning measures:
More frequent sanitizing of tables, chairs, menus and other surfaces in restaurants and bars before use.
More frequent open deck sanitation of sun loungers, outdoor furniture, mini-golf, sports equipment, handrails, etc.
Additional sanitizing of frequently hand-touched surfaces in all public areas and lounges, all restaurants, lobbies, elevators, handrails, public phones, counters, public displays, medical centers, gangways, casino chips, games, slot machines, fitness machines, children's toys, and security screening equipment, among others.
Wherever possible, staff is serving guests at food stations, including the Lido buffet and ice cream machines. Where not possible due to layout restrictions or other locations such as condiment set-ups and salsa bars, dedicated personnel are posted to monitor these stations and service and ensure they are cleaned and sanitized in a timely manner. In any self-service areas that remain, serving utensils are replaced on a more frequent basis.
Stateroom surfaces and fixtures are thoroughly cleaned up to twice daily with particular attention to bathrooms and surfaces frequently touched. All guest corridors including handrails and stateroom door handles are frequently sanitized. During instances that guests display flu-like symptoms, the stateroom will receive additional deep cleaning.
Hand-washing sinks and/or hand sanitizing applications are available at the entrances to all dining rooms and the Lido buffet. A roster of guest communications detailing proper hand-washing techniques are visible throughout the ships and reiterated by staff and officers onboard.
Additional hand sanitizers/dispensers have been placed in highly trafficked locations where there may not be hand-wash sinks available.
The temperature in the ships' washers and dryers has been increased for enhanced disinfection of laundered goods, including bedding, tablecloths, towels, napkins, etc.
At night, a deep cleaning and disinfection process is conducted utilizing electro-static applications through specialized machines in highly-trafficked public areas (including all restaurants, the fitness center, spa, lido deck areas, promenade, casino, medical center, public restrooms, lounges, bars, lobbies, elevators, atrium, youth activity centers, arcade and all crew public areas).
Carnival's onboard Medical Centers are staffed to handle a wide variety of staff and crew medical situations. Any guest or crew member who exhibits symptoms of influenza or upper respiratory infection with fever is strongly encouraged to visit the medical center for a complimentary medical consultation.