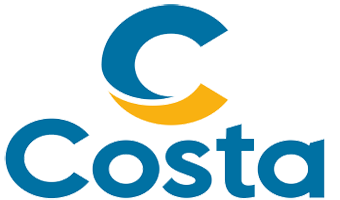 Start Sailing From Under $300
Promotion Details
Book your next Costa cruise today and you can start sailing from under $300. There's no better time than now to book that Costa cruise you've been dreaming of. This offer only comes once a year, and when it's gone, it's gone. Book today before the rates increase. Speak with our Travel Consultants for more information.
Must Book By Sun, Dec 31, 2023
View Promotion Terms & Conditions ›
Available to residents of the 50 United States, D.C., Canada, and the Caribbean basin. Offer is capacity controlled based on available inventory. Third and fourth adult and child guests quoted at time of booking. Offer may close at any time prior to expiration date without notice. This PROMO fare is a restricted fare type, and no beverage package is included. Not valid on group or reduced rate fares. Offer is subject to availability and can be withdrawn or closed at any time without notice. Government taxes and fees are additional per person and range from $51.86-$320.34. Additional restrictions and blackout dates apply.
Hurry. Call 1-800-627-3753 today and mention promo code
PC7477
Sail Date
Cruise Line
Ship
Destination
Departs
Length
Price
You Save
Discounts
Dec 10, 2023
Costa
Serena
Asia
Bombay
Bombay
5

Nights

Cochin, India
$628

Up To $100 Onboard Credit

 
Dec 24, 2023
Costa
Serena
Asia
Bombay
Bombay
5

Nights

Cochin, India
$628

Up To $100 Onboard Credit

Onboard Credit!

Dec 24, 2023
Costa
Serena
Asia
Bombay
Bombay
8

Nights

Cochin, India
$985

Up To $150 Onboard Credit

 
Dec 29, 2023
Costa
Serena
Asia
Bombay
Bombay
3

Nights

$444

Onboard Credit!

Jan 19, 2024
Costa
Serena
Asia
Port Kelang
Port Kelang
3

Nights

Penang Pulau Pinang, Malaysia | Phuket, Thailand | Port Kelang
$194

Onboard Credit!

Jan 22, 2024
Costa
Serena
Asia
Port Kelang
Port Kelang
3

Nights

Penang Pulau Pinang, Malaysia | Phuket, Thailand | Port Kelang
$194

Onboard Credit!

8 reviews
Dec 13, 2023
Costa
Fortuna
Caribbean
Fort-De-France
Fort-De-France
8

Nights

Bridgetown, Barbados | Castries, St. Lucia | Dominica | Fort-De-France, Martinique | Pointe A Pitre | Scarborough, Tobago | St. Georges, Bermuda
$688

Up To $150 Onboard Credit

 

8 reviews
Dec 15, 2023
Costa
Fortuna
Caribbean
Pointe-A-Pitre
Pointe-A-Pitre
7

Nights

Bridgetown, Barbados | Dominica | Fort-De-France, Martinique | Pointe A Pitre | Scarborough, Tobago | St. Georges, Bermuda
$610

Up To $150 Onboard Credit

Onboard Credit!

8 reviews
Dec 15, 2023
Costa
Fortuna
Caribbean
Pointe-A-Pitre
Pointe-A-Pitre
14

Nights

Basse Terre, Guadeloupe | Bridgetown, Barbados | Dominica | Fort-De-France, Martinique | Philipsburg, St. Maarten | Pointe A Pitre | Scarborough, Tobago | St. Georges, Bermuda | St. Johns, Antigua | Tortola, B.V.I.
$1,507

Up To $250 Onboard Credit

Onboard Credit!

8 reviews
Dec 22, 2023
Costa
Fortuna
Caribbean
Pointe-A-Pitre
Pointe-A-Pitre
7

Nights

Basse Terre, Guadeloupe | Fort-De-France, Martinique | Philipsburg, St. Maarten | Pointe A Pitre | St. Johns, Antigua | Tortola, B.V.I.
$1,013

Up To $200 Onboard Credit

 

8 reviews
Dec 22, 2023
Costa
Fortuna
Caribbean
Pointe-A-Pitre
Pointe-A-Pitre
14

Nights

Basse Terre, Guadeloupe | Bridgetown, Barbados | Castries, St. Lucia | Fort-De-France, Martinique | Philipsburg, St. Maarten | Pointe A Pitre | Scarborough, Tobago | St. Georges, Bermuda | St. Johns, Antigua | Tortola, B.V.I.
$1,958

Up To $300 Onboard Credit

 

8 reviews
Dec 28, 2023
Costa
Fortuna
Caribbean
Fort-De-France
Fort-De-France
7

Nights

Bridgetown, Barbados | Castries, St. Lucia | Fort-De-France, Martinique | Pointe A Pitre | Scarborough, Tobago | St. Georges, Bermuda
$1,234

Up To $200 Onboard Credit

Onboard Credit!

8 reviews
Dec 29, 2023
Costa
Fortuna
Caribbean
Pointe-A-Pitre
Pointe-A-Pitre
7

Nights

Bridgetown, Barbados | Castries, St. Lucia | Fort-De-France, Martinique | Pointe A Pitre | Scarborough, Tobago | St. Georges, Bermuda
$1,234

Up To $200 Onboard Credit

 

8 reviews
Dec 29, 2023
Costa
Fortuna
Caribbean
Pointe-A-Pitre
Pointe-A-Pitre
14

Nights

Bridgetown, Barbados | Castries, St. Lucia | Fort-De-France, Martinique | Kingstown, St. Vincent | Philipsburg, St. Maarten | Pointe A Pitre | Scarborough, Tobago | St. Georges, Bermuda | St. Johns, Antigua | Tortola, B.V.I.
$2,409

Up To $500 Onboard Credit

Onboard Credit!

8 reviews
Jan 04, 2024
Costa
Fortuna
Caribbean
Fort-De-France
Fort-De-France
7

Nights

Fort-De-France, Martinique | Kingstown, St. Vincent | Philipsburg, St. Maarten | Pointe A Pitre | St. Johns, Antigua | Tortola, B.V.I.
$793

Up To $150 Onboard Credit

Onboard Credit!

8 reviews
Jan 05, 2024
Costa
Fortuna
Caribbean
Pointe-A-Pitre
Pointe-A-Pitre
7

Nights

Fort-De-France, Martinique | Kingstown, St. Vincent | Philipsburg, St. Maarten | Pointe A Pitre | St. Johns, Antigua | Tortola, B.V.I.
$793

Up To $150 Onboard Credit

 

8 reviews
Jan 05, 2024
Costa
Fortuna
Caribbean
Pointe-A-Pitre
Pointe-A-Pitre
14

Nights

Curacao, Netherlands | Fort-De-France, Martinique | Kingstown, St. Vincent | Kralendijk, Netherlands | Oranjestad, Aruba | Philipsburg, St. Maarten | Pointe A Pitre | St. Georges, Bermuda | St. Johns, Antigua | Tortola, B.V.I.
$1,517

Up To $250 Onboard Credit

 

8 reviews
Jan 11, 2024
Costa
Fortuna
Caribbean
Fort-De-France
Fort-De-France
7

Nights

Curacao, Netherlands | Fort-De-France, Martinique | Kralendijk, Netherlands | Oranjestad, Aruba | Pointe A Pitre | St. Georges, Bermuda
$793

Up To $150 Onboard Credit

 

8 reviews
Jan 12, 2024
Costa
Fortuna
Caribbean
Pointe-A-Pitre
Pointe-A-Pitre
7

Nights

Curacao, Netherlands | Fort-De-France, Martinique | Kralendijk, Netherlands | Oranjestad, Aruba | Pointe A Pitre | St. Georges, Bermuda
$793

Up To $150 Onboard Credit

Onboard Credit!

8 reviews
Jan 12, 2024
Costa
Fortuna
Caribbean
Pointe-A-Pitre
Pointe-A-Pitre
14

Nights

Bridgetown, Barbados | Castries, St. Lucia | Curacao, Netherlands | Fort-De-France, Martinique | Kralendijk, Netherlands | Oranjestad, Aruba | Pointe A Pitre | Scarborough, Tobago | St. Georges, Bermuda
$1,517

Up To $250 Onboard Credit