Dates & Prices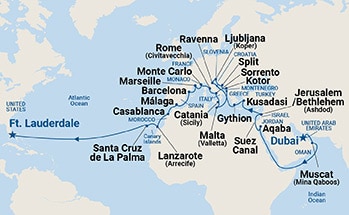 Up to $1000 onboard credit (spending cash) per cabin on this sailing
Mention Promo Code: PC-AT100

Up to $1000 onboard credit (spending cash) per cabin on this sailing
The Love Boat Sale, $100 Credit + $1 Deposits & More
Mention Promo Code: PC-49765

The Love Boat Sale, $100 Credit + $1 Deposits & More
The Love Boat Sale, $100 Credit + $1 Deposits & More
Promotion Details
Get ready for romance on the high seas and book The Love Boat Sale to receive drinks, Wi-Fi and crew appreciation included + $100 shore excursion credit - a $765 value per guest on a 7-day cruise and now with $1 deposit. (Applies to 2023 cruises and beyond, blackout dates apply.)
Must Book By Wed, Oct 05, 2022
View Promotion Terms & Conditions ›
GENERAL TERMS APPLICABLE TO ALL OFFERS IN THIS ADVERTISEMENT ("Offer(s)"): Unless otherwise indicated in an Offer's terms, Offers only available to legal residents of North America. Offers only available for new bookings, on select cruises, on a limited availability, are capacity controlled (regardless of stateroom availability), and may not be combined with other offers or promotions (aside from those listed herein). Other exclusions may apply; void where prohibited. Changes or refunds may not be permitted. Offers and their parts (if any) are not transferable, not substitutable, and not redeemable for cash. Princess Cruise Lines, Ltd. ("PCL") is not responsible or liable for any printing errors. Offers may be changed or revoked at any time. A deposit is required for all stateroom guests and amount of deposit varies according to the cruise length, stateroom type, and number of stateroom guests. Please refer to princess.com for terms, conditions, and details that apply to all bookings.

General Princess Plus Terms (applicable to all portions of Princess Plus) – Available to legal residents of the 50 United States, D.C., Canada, and Puerto Rico. One guest's participation in Princess Plus may be dependent on the other guest in his/her stateroom's participation, as determined by booking method. Princess Plus is contingent on ship capacity and only available on select voyages, while capacity lasts. Princess Plus and its parts are non-transferable, are not redeemable for cash and may not be combinable with other offers. Drinks, Wi-Fi, and Crew Appreciation are not applicable to land portion of cruisetours, and expire at the end of each cruise. Plus Beverage Package is valid only for guests who are 21 years or older. Guests under 21 booked under Princess Plus will receive the Coffee & Soda Package and will not receive any refund for the difference. The Plus Beverage Package includes all beverages priced up to $12.00 each as listed on Princess' menu(s). Any bottle of wine, one-liter bottles of water, canned soda and bottled juices purchased on board with the Plus Beverage Package will receive a 25% discount. The Plus Beverage Package does not include mini bar items, beverages offered via self-service or vending machines, tobacco, food items or souvenir glassware. A daily limit on alcoholic beverages will apply. Bar service charge is only included in the package and is paid on behalf of the guest for qualifying beverages included in the Plus Beverage Package. Exclusions apply, full terms & conditions for Plus Beverage Package. Wi-Fi included for one device per guest. All internet usage subject to standard Wi-Fi policies, which may limit browsing of sites due to network security and bandwidth usage. Crew Appreciation paid on behalf of the guest varies based on stateroom type (up to 4 guests per stateroom). Princess Plus does not include other service charges.

†$100 Shore Excursion credit per guest will be applied as an onboard credit. Offer is applicable to all guests (up to 4) in a stateroom. Guests with single occupancy will receive double the per guest credit amount. Shore Excursion credit may be used on a single voyage only, is not redeemable for cash, cannot be used in the casino, expires at the end of that voyage and is not applicable during the land portion of cruisetours. Shore Excursion credit is based on the ship's onboard currency.

$1 deposits applies to full, standard deposits only and shall not further reduce already reduced or discounted deposits. Discount already reflected on listed/advertised deposits. Offer valid on new bookings made between September 30, 2022 and October 5, 2022. Cruises in which final payment is required are not eligible for this offer.

Up to 30% off is based on a discount off applicable Launch Fares on a space-available basis at time of booking on select categories and sailings. Launch Fares are offering fares and may not have been in effect for the past 90 days or resulted in actual sales in all categories. Intermediate discounts may have been taken and fares may remain at discounted levels after this promotion.

*Fares are per guest and apply to minimum lead-in categories on a space-available basis at time of booking. Fares for other categories may vary. Fares are non-air, cruise- or cruisetour-only, based on double occupancy and apply to the first two guests in a stateroom only. These fares do not apply to singles or third/fourth-berth guests. TFPE are additional. Fares quoted in USD.

Love Boat Sale reference promotion code: N9E/N9D/NR9. Offer is available on cruises and cruisetours sailing Jan 1, 2023 and beyond and must be booked by October 31,2022.

$1 Deposit reference promotion code: MRI. Offer is available on select cruises and cruisetours sailing January 4, 2023 and beyond and must be booked by October 5, 2022.
| Day | Port | Arrival | Departure |
| --- | --- | --- | --- |
| | Dubai, U.A.E. | | |
| | Dubai, U.A.E. | | |
| | Muscat, Oman | | |
| | | | |
| | | | |
| | | | |
| | | | |
| | | | |
| | Aqaba, Jordan | | |
| | Suez Canal | | |
| | Suez Canal | | |
| | Ashdod, Israel | | |
| | | | |
| | Kusadasi, Turkey | | |
| | Gythion, Greece | | |
| | | | |
| | Ravenna, Italy | | |
| | Ravenna, Italy | | |
| | Koper, Slovenia | | |
| | Split, Croatia | | |
| | Kotor, Montenegro | | |
| | | | |
| | Valletta, Malta | | |
| | Catania, Sicily | | |
| | Naples, Italy | | |
| | Civitavecchia, Italy | | |
| | Villefranche, France | | |
| | Marseille, France | | |
| | Barcelona, Spain | | |
| | | | |
| | Malaga, Spain | | |
| | Casablanca, Morocco | | |
| | | | |
| | Lanzarote, Spain | | |
| | La Palma, Spain | | |
| | | | |
| | | | |
| | | | |
| | | | |
| | | | |
| | | | |
| | | | |
| | Ft. Lauderdale, Florida | | |
Book With Flexibility
Cruise With Confidence
Making It Easier to Change Plans - Cancel Up To 30 days before you sail
Great Service
Award-winning service, low prices, client satisfaction
Health and Safety Protocols
Princess is actively working with public health officials and medical experts in an effort to do everything possible to prevent illness, including COVID-19, onboard Princess ships. Here are some actions that Princess is taking to ensure our guests can sail confidently and safely with Princess.
Changing Itineraries
Princess is constantly monitoring the global health map and cancel or modify itineraries to impacted areas. Princess also prevents guests and crew who have recently traveled through these high-risk locations from boarding.
Enhancing Health Requirements
Princess will deny boarding to guests and crew if they:
Have been in contact with a suspected or confirmed case of COVID-19 or a person being monitored for COVID-19.
Are suffering from a fever or flu-like symptoms prior to embarkation.
Stepping Up Screenings
At embarkation, Princess will require all guests and crew to participate in mandatory health screenings, which may include a thermal scan to check temperatures, and in some cases secondary screenings. Depending on the results, Princess will deny certain individuals boarding if they feel they could pose a risk to others.
Enhancing Sanitation Procedures in Embarkation Terminals
Enhancing Sanitation Procedures in Embarkation Terminals Beginning in select terminals on March 7, 2020, highly touched surfaces throughout each embarkation terminal will be sanitized continuously, and terminals will be thoroughly sanitized and, where possible, fogged before and after each embarkation and debarkation.
Cleaning Everywhere!
In addition to the rigorous daily cleaning regimen they already have, Princess is establishing additional sanitation measures on all of their ships, which include sanitizing frequently touched surfaces in all public areas – from tables and chairs to casino chips and fitness machines – even more often than they did before.
Free-flowing Hand Sanitizer
Princess already has hand-washing sinks or hand sanitizer dispensers in front of entrances to all dining venues and the buffet. Crew will monitor entrances to all venues to encourage all guests wash their hands before entering. Princess is also adding additional hand sanitizer dispensers in high-traffic areas around the ship.
Keeping Crew Healthy
Each day, Princess is raising awareness daily of how to maintain a healthy environment on board by reinforcing frequent hand-washing, avoiding hand contact, reporting guests who present signs of illness and more. Princess will also more actively enforce crew hand-washing and provide more hand sanitizers in crew areas.
Revising Medical Protocols & Staying Prepared
Every Princess ship sails with a highly capable medical team that will receive special training for COVID-19. Any guest or crew member who exhibits symptoms of respiratory illness will strongly be encouraged to visit the Medical Center for a complimentary consultation and, if appropriate, screening for COVID-19.
24/7 Monitoring and Preparedness
Princess' team monitors world health developments from state-of-the-art Fleet Operations Center in Santa Clarita, California, and offices around the world 24-7. Princess is also in close contact with major health agencies, medical experts and partners in the travel industry so Princess can act quickly to revise plans and protocols as the situation evolves.
Ship Information

Question: When should I arrive at the port?
We suggest that you arrive at least 2 hours before the scheduled departure time.
Question: How can I communicate with my family and friends at home when I am on the cruise?
Telephone service can be quite expensive and the service may be spotty. However, Wi-Fi services are also becoming the standard though access may come with a fee. You can view rates once you register for the cruise. Some stateroom categories and loyalty program benefit levels will offer a generous amount of "Wi-Fi Time", access to the ship's internet cafe or both.
Your agent Kia Young has been helping us for many years, she continues to offer exceptional service. We are most pleased and have already booked a cruise for 2023 through her. 
Despite the situation with the coronavirus and the upcoming shutdown of Princess, the crew of the Island Princess were very good with the service and their general interaction with the guests. Guests were kept informed of the situation at each port and it was good to know what was happening.
This was a great trip with a wonderful itinerary.
Everything met my expectations
Booking this trip was easy with Megan's professional help. Every detail was clearly explained. The cruise itself was everything we expected.
The Princess Cruise was so much fun! The staff was unbelievable! Definitely would book with Affordable Tours again!
We were even given a free upgraded stateroom!
Very easy to work with and things happened exactly as planned.
The only thing we were unhappy about is the cabin. We paid for a window and all we saw was a life boat. Other than that the trip was wonderful. Thank you and thank you for the wine. It was a pleasant surprise. Cathy and Joe
Loved the cruise. However, if you have any food restrictions this is not the cruise line for you. We don't eat pork and almost 50% of the food had pork in it =[
Princess is a great cruise company! Food was exceptional, stuff friendly and professional, the ship was very nice, entertainment on board and shore excursions were of the high quality. We enjoyed it very much and would plan to go on another cruise this year.
Dawn always heips us get the best value in our travels. She is great at explaining issues we have and will go out of her way to make our travels perfect.
The Island Princess is a comfortable smaller size ship, may be the second or the third smaller ship of the Princess fleet. The food in the dining rooms is great, especially the meat dishes. However the food at the Horizon Court is ordinary and extremely crowded. The cabins are nicely designed with dressing area. The comforter provided is too heavy even with the AC unit at full blast. The theater is large but still not enough seats especially for the early show. There are three outstanding musical shows for a seven day cruise. But for this 22 day cruise, the shows are repeated. The Cruise Director is very energetic and friendly. On the whole the service on board the ship is above average is comparison with many other cruise lines.
We have booked our vacations with Affordable Tours and have always been very satisfied with their professionalism and knowledge. Will always go through this company in planning our vacations.
very comfortable & pleasant trip.
Everything was very organized -- from embarkation to disembarkation on the final day. The ship is beautiful, and the meals were very good.
The trip and crew were wonderful, but the couch in our mini-suite was worn out and uncomfortable to sit on. They should replace furniture before it reaches this state. We heard that the ship is soon to go into dry dock soon, but that did not help us. We paid for a mini-suite in order to be able to relax in our stateroom without having to sit on the beds and to have a little more room. We appreciated the additional room, but were disappointed in the state of the furniture in the sitting area. Overall our trip was wonderful and we loved the itinerary.
The bus ride to Princess Hotel in Denali, the Denali tour, then the next day 9-hour train ride return was too much to be down within 24 hours. I would recommend a two night stay at Princess Hotel Denali.
We booked a Princess CruiseTour through AffordableTours.com. The CruiseTour we booked started in Vancouver and ended in Fairbanks, seven nights on the Island Princess and three nights at land-based hotels owned or operated by Princess. From Vancouver airport to the Fairbanks airport, all details of our transportation, luggage handling and lodging were taken care of by Princess and everything went just as expected. From the Tour Director on the ship to the guides along the way, the personnel were highly qualified and talented individuals who knew their business and had engaging personalities. It is nice to know that AffordableTours.com books tours with classy companies who won't leave you high and dry and wondering how you got into that mess! Three tours we've booked with Affordable Tours went off without a hitch and with lots of memories of places we've not been before.
I thoroughly enjoyed this cruise however I do have a few complaints. The any time dining is not true to its word. we called evry morning at 8 (no later than 8:05) and got either 5:45 or 6 or 7:45 or later. Only once did we get 7 which is our preference. Very disappointed in this system. Also there are not near enough deck chairs. Relaxing by the pool was stressful as you had to stress about finding a chair . Also not enough activities that do not have a charge. Aerobics even had a fee ! Ridiculous. The room stewards were exceptional and the food presetation as well.
We could not have asked for a more professional,courteous, or helpful cruise consultant. Todd Kolek was fantastic and I would certainly advise others to book through him.
Everything exceeded our expectations! It was great. Thanks for all your help
Some of he shore tours which I booked on the ship did not match my expectations. Some tour guides were not so good, for example in Costa Rica and Jamaica. In Nicaragus and Fort Lauderdale, however, the tour guides were very good. I disliked that on most tours we were trapped to spend precious time in boring shopping places. I would like to suggest that Princess should offer more tours where you can go on your own, like it was offered in Guatemala (just transportation) but - unfortunately - the stop there was cancelled due to a local transportation strike. 
Note: AffordableTours.com is a travel agent for Princess. Brochure Price is based on the itinerary's highest brochure price. Our price reflects our base price for the same departure as Brochure Price. All prices, itineraries, accommodations and dates are subject to change without notice and at any time. All prices are USD per person and based on double occupancy. Availability is limited and must be reconfirmed at time of booking. All prices change frequently and our website prices are not guaranteed until a deposit has been received by us. The prices on our website are intended to serve as a guide only and may not accurately reflect current prices. We are not responsible for errors, omissions, or changes in these prices until a booking has been confirmed by one of our agents. Please call us toll free at 1-800-627-3753 to confirm current prices and availability. Prices listed are per person, cruise only, and based on double occupancy. Prices include port charges but not surcharges or taxes.
How It Works
Vacationing has never been easier or cheaper with the help of a dedicated travel consultant from AffordableTours.com
1. Free Quote
Find your perfect trip on our website and simply request a free quote. Need to speak to a live person? Call us 7 days a week at 1-800-627-3753. No robots here!
2. Dedicated Travel Consultant
Your personal travel consultant will reach out and be your point of contact for your entire travel experience from start to finish. Did we mention you'll be working with an award winning team? Sweet!
3. Lowest Price Guaranteed
Because we're one of the largest sellers of travel, we're able to give you a discount on your vacation package. No one beats our prices!
4. Stress Free Travel
Knowing you got the best deal, all that's left is for you to pack your bags and enjoy your vacation!