Dates & Prices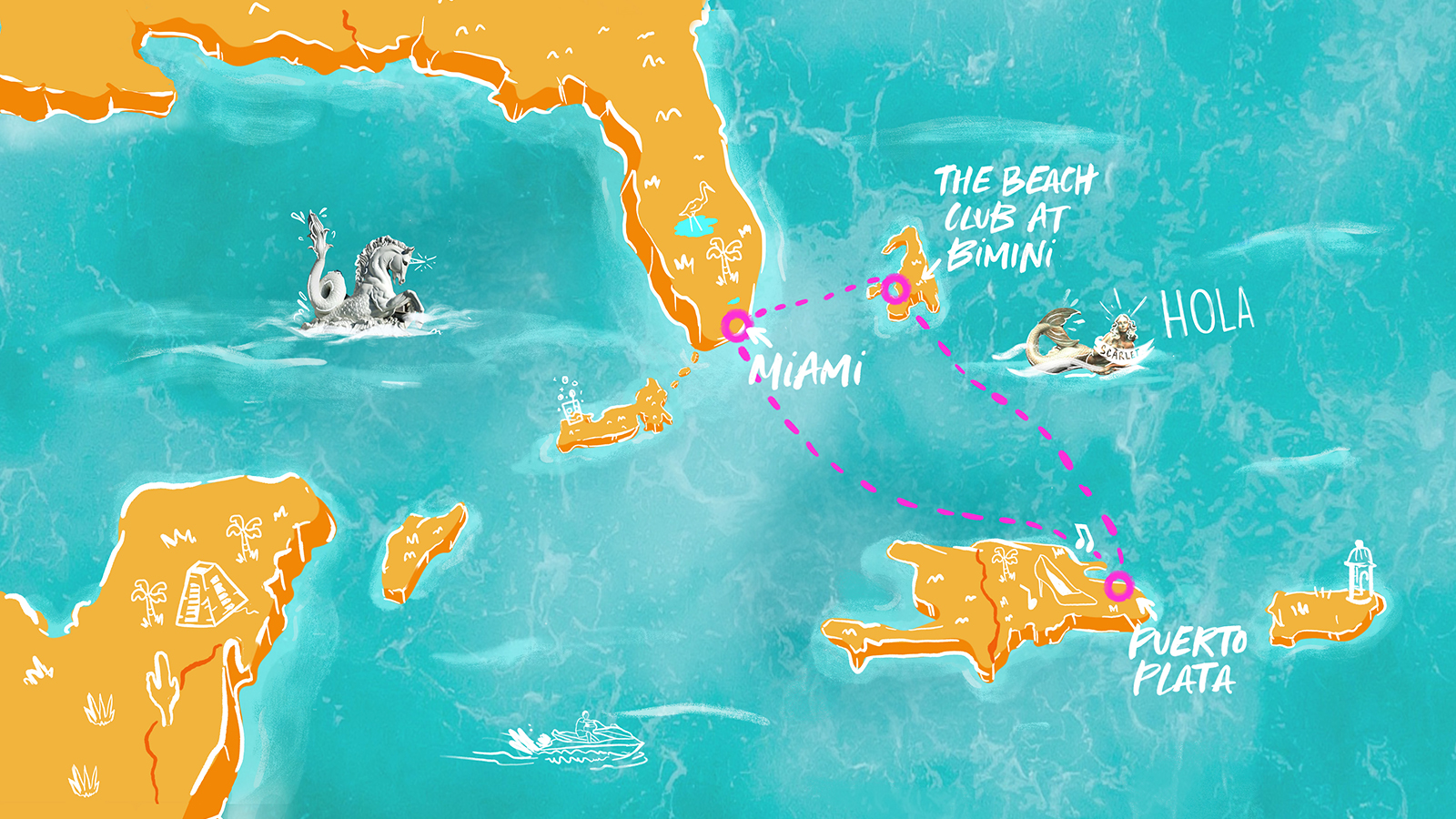 Sea-Blazers Program
Mention Promo Code: PC-44380
Sea-Blazers Program
Sea-Blazers Program
Promotion Details
Sailors who voyage with Virgin Voyages in 2021 will be part of a group of Sailors who will help turn an already gorgeous sailing experience into an unmatched and transformative way to explore the world. And in doing so, if you're up for giving a quick bit of feedback that will help shape the future, you'll be rewarded with unrivaled perks in your future.

As a Sea-Blazer, you'll get:

• An extra $125 when you purchase a $300 pre-paid bar tab — a promotion that will never go away for Sea-Blazers and will apply for as long as you sail with Virgin Voyages
• $300 off your next sailing in 2022 — no matter what offers you combine it with, including the 10% pay-in-full discount or the exclusive My Next Virgin Voyage discount (which is available on board only)
• An exclusive, limited-run welcome gift — just for Sea-Blazers
Must Book By Thu, Dec 30, 2021
View Promotion Terms & Conditions ›
The Sea-Blazers Program provides benefits to Sailors who purchase a voyage and embark in 2021 as a way to say "thank you" for being among the first to sail. ELIGIBILITY: Any person sailing as a paying passenger (or "Sailor" in our branding voice) in the calendar year 2021 will become a Sea-Blazer and qualify for Sea-Blazer benefits. EXCLUSIONS: Sailors traveling on Friends and Family, gifted, or charter voyages, or who travel on a deeply discounted voyage fare (i.e., voyage fares under $100/day) are excluded from the Sea-Blazer program. Shipload of Love offer, and First Mates', no-charge access keys, Casino Sailors, as well as paid upgrades of those access keys, are excluded. Persons boarding for solely pier-side events do not qualify. The terms detail the Sea-Blazer program's "Bar Tab" Offer. Sea-Blazer-Sailors have the opportunity to buy $300 Bar Tab increments, to which Virgin Voyages will then add a bonus $125 U.S. dollar credit to that Sailor's folio. This applies for every $300 Bar Tab increment purchased. Bar Tabs may be purchased up to midnight EST following the day before the voyage sets sail. $125 in Bar Tab Bonus (Sailor Loot) Sea-Blazer Bar Tab Bonus applies when the Sailor sails for the first time -- and it lasts as long as you keep an account. Voyage Eligibility: any paying Sailor embarking SCARLET LADY in a 2021 voyage (Sailors on charter voyages, "Friends & Family" voyages, and who travel on deeply discounted fares are not eligible). Combinability: The Sea-Blazer Bar Tab is combinable with everything except other Bar Tab Bonuses--you get $125 Bar Tab Bonus no matter what, even if we are publicly running $50 or $100 Bar Tab Bonus. The $125 bonus does not stack with other Bar Tab Bonuses. The Bar Tab can only be used on drink purchases (a) onboard the ships or (b) at The Beach Club at Bimini. It may not be transferred to pay for other experiences e.g. Spa or shore excursions. Any unused Bar Tab credit (both purchased and bonus) will not be refunded to the Sailor at the end of the voyage. It may not be transferred to another user (though one may purchase bar drinks for another Sailor). Bar Tab may be cancelled, with a refund, until 24 hours from the voyage sail date. Should the voyage sail date change, the Bar Tab may be transferred to the new voyage. Bar Tab is likely not insurable.
Paying Sailors booked and traveling in 2021 will receive a $300 discount off their (base) voyage fare before any promotions, discount FVCs, etc., for a 2022 voyage. This is per Sailor. Qualifying Voyages: (that is, voyages that will EARN this as part of The Sea-Blazers Program): Scarlet Lady: voyages departing August 5, 2021 through December 29, 2021. Sailors on 2021 charter voyages, 2021 "Friends & Family" voyages, and who travel on deeply discounted fares in 2021 are not eligible. Beneficiary Voyages: (that is, voyages the discount FVC may be used on)
Scarlet Lady: voyages departing January 2, 2022 through December 27, 2022

Valiant Lady: voyages departing March 18, 2022 through December 30, 2022

Resilient Lady: voyages departing July 24, 2022 through December 30, 2022

Charters are excluded
Combinability: Combinable with all other discount FVCs, promotions, etc. However, only one Sea-Blazer $300 discount may be used per future reservation in 2022. Sea-Blazer Sailors will receive a gift for being a Sea-Blazer when they embark on a 2021 voyage. Voyage Eligibility: Scarlet Lady: August 6, 2021 through December 29, 2021
. Sailors on Friends & Family and Charter voyages are excluded.
Fair and Flexible Booking
Mention Promo Code: PC-49403

Fair and Flexible Booking
Fair and Flexible Booking
Promotion Details
For sailings through May 2, 2022, you'll be able to take advantage of the flexible booking policy — which allows you to cancel up to 15 days before the voyage date and receive Future Voyage Credit. Let Virgin Voyages worry about handling changes, while you focus on having something to look forward to.
Must Book By Wed, Dec 15, 2021
View Promotion Terms & Conditions ›
For Voyages departing from November 1st, 2021 through May 2nd, 2022:
For Reservations booked starting 01 September 2021 through midnight Eastern Standard Time following 15 December 2021: (You must be booked -- that is, deposit for the voyage accepted by Virgin Voyages -- by this deadline for this policy to apply to you. After this, our standard cancellation policy in our Ticket Contract applies.)
You may cancel a scheduled voyage up to 15 days before the scheduled departure time of your voyage (the "Eligible Cancellation Window") and receive 100% Future Voyage Credit (FVC)
You may move your booking free of charge to any of our voyages then on sale, up to 15 days before the scheduled departure time of your voyage
You may move your booking to a voyage of higher or lower value (note -- not just of a higher value, as is usually the case) up to 15 days before the scheduled departure time of your voyage
This flexible policy also applies to group travel (i.e., non-contracted "Circles" in our brand parlance).
| Day | Port | Arrival | Departure |
| --- | --- | --- | --- |
Health and Safety Protocols
The Voyage Well plan was created in partnership with expert advisors consisting of scientists, doctors and clinicians. Referred to as the Voyage Well Expert Advisory Group, this team is composed of partners at AtmosAir Solutions, EcoLab, Dr. Heymann with Vikand, Global Public Health Services, and close collaboration with the CDC as well as frequent reviews of WHO best practices and guidelines.
On top of a uniquely designed HVAC system that pumps fresh air through the new ship's public spaces and cabins to effectively remove recirculated air, Virgin Voyages will be among the first in the industry to invest in the installation of a 100% fresh air, 'bow to stern' air purification system. In partnership with AtmosAir Solutions, Scarlet Lady and her sister ships will be equipped with an air purification system that also disinfects air on board by leveraging bi-polar ionization technology that has been shown to kill 99.9% of viruses. In addition, recent tests performed by Microchem Laboratory, one of the world's preeminent laboratories for testing EPA- and FDA-registered sanitizing products, has reported that this HVAC device is more than 99.9% effective in neutralizing Coronavirus.
In addition, Virgin Voyages has developed a comprehensive plan, with key points that work to address all safety standards before, during, and after a voyage.
Key pillars of the Voyage Well Plan include:
Rapid and effective COVID-19 testing for all Sailors and Crew prior to embarking
Post-voyage notification process through which Sailors and Crew can report on becoming unwell within 14 days of leaving the ship* (through an ethical health tracking app)
Advanced pre-boarding health checks and screenings for both our Crew and Sailors
Thermal Camera technology in terminals and on board to monitor our Crew and Sailors' temperatures
Fair and flexible booking policies - from moving the final payment dates to 60 days (from 120 days) before sailing, ability to cancel up to 48 hours before and receive a 100% Future Voyage Credit for sailings through December 16th, 2020
Implementing best practices around sanitation, physical distancing, limited occupancy, and health checks for everyone on board
Installing the latest technology from AtmosAir Solutions - an air purification system that disinfects air on board. Leveraging bi-polar Ionization technology that has been shown to kill 99.9% of viruses
Managing overall ship occupancy so appropriate physical distancing is possible across all public spaces
Leveraging digital onboard technology to limit contact; The Band (for contactless payment), Service Chat (for assistance digitally) and Virtual Queues (for getting in lines for onboard experiences without actually getting in physical lines)
As has always been a part of the Virgin Voyages experience since first introducing the brand, there will be no communal food sharing, buffets or large dining halls, allowing for hygienic service of fresh food
Ship Information

Question: When should I arrive at the port?
We suggest that you arrive at least 2 hours before the scheduled departure time.
Question: How can I communicate with my family and friends at home when I am on the cruise?
Telephone service can be quite expensive and the service may be spotty. However, Wi-Fi services are also becoming the standard though access may come with a fee. You can view rates once you register for the cruise. Some stateroom categories and loyalty program benefit levels will offer a generous amount of "Wi-Fi Time", access to the ship's internet cafe or both.
Note: AffordableTours.com is a travel agent for Virgin Voyages. Brochure Price is based on the itinerary's highest brochure price. Our price reflects our base price for the same departure as Brochure Price. All prices, itineraries, accommodations and dates are subject to change without notice and at any time. All prices are USD per person and based on double occupancy. Availability is limited and must be reconfirmed at time of booking. All prices change frequently and our website prices are not guaranteed until a deposit has been received by us. The prices on our website are intended to serve as a guide only and may not accurately reflect current prices. We are not responsible for errors, omissions, or changes in these prices until a booking has been confirmed by one of our agents. Please call us toll free at 1-800-627-3753 to confirm current prices and availability. Prices listed are per person, cruise only, and based on double occupancy. Prices include port charges but not surcharges or taxes. Some discounts may come in the form of a rebate or onboard credit.
How It Works
Vacationing has never been easier or cheaper with the help of a dedicated travel consultant from AffordableTours.com
1. Free Quote
Find your perfect trip on our website and simply request a free quote. Need to speak to a live person? Call us 7 days a week at 1-800-627-3753. No robots here!
2. Dedicated Travel Consultant
Your personal travel consultant will reach out and be your point of contact for your entire travel experience from start to finish. Did we mention you'll be working with an award winning team? Sweet!
3. Lowest Price Guaranteed
Because we're one of the largest sellers of travel, we're able to give you a discount on your vacation package. No one beats our prices!
4. Stress Free Travel
Knowing you got the best deal, all that's left is for you to pack your bags and enjoy your vacation!