Santa Cruz II
Designed to operate in remote areas, hosting just 90 guests in 45 staterooms, guests on Viking's new Galápagos voyages will sail on board Santa Cruz II, a vessel chartered exclusively for Viking and renovated to reflect the clean, elegant Scandinavian design for which Viking is known.
Maiden Voyage: 2002
Tonnage: 2,664 tons
Length: 235.00 feet
Avg Speed: 10.50
Passenger Capacity: 90
Cabin Features

Special Requests

Fitness Facilities

Services
Dining
The Beagle Dining Room is casual yet elegant and features regional specialties. Enjoy buffet breakfast, local entrees for lunch and a five-course meal for dinner. Dinner attire is evening casual. Breakfast is from 7 to 9 am, Lunch is 12 to 2 pm and dinner is 5:30 to 7:30 pm.
 
Age Restrictions
Due to the nature of the cruise itineraries, Viking Cruises does not maintain facilities or services for children aboard cruise vessels. On all cruises and cruise journeys, minors under the age of 18 must be accompanied and share a cabin with a parent, legal guardian or other responsible adult over the age of 21. Viking reserves the right to limit the number of minors under the age of 18 years on board. The carrier reserves the right not to accept passengers who are in an advanced state of pregnancy either upon commencement of or at any time during the river or ocean cruise.
Tipping
It is customary to give cruise gratuities, subject to your satisfaction of services rendered. Gratuities on board and on land are not included in your full fare.
Oceanview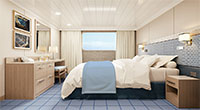 Category Code(s): OV1,OV2,OV3
Stateroom size: 163 sq ft
Ocean-view stateroom with large picture window
Hotel-style bed (with optional twin-bed configuration); linens & pillows
110/220 volt outlets & USB ports
Safe, hair dryer & individual climate control
Private bathroom with a glass-enclosed shower +Premium eco-friendly toiletries
Fresh water replenished daily +Stateroom steward & twice-daily housekeeping +Space under bed for storing suitcases +Wardrobe with wooden hangers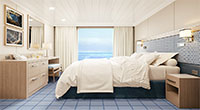 Category Code(s): DX1
Stateroom size: 192 sq ft
Ocean-view stateroom with large picture window and comfortable sofa
Hotel-style bed (with optional twin-bed configuration); linens & pillows
110/220 volt outlets & USB ports
Safe, hair dryer & individual climate control
Private bathroom with a glass-enclosed shower +Premium eco-friendly toiletries
Fresh water replenished daily +Stateroom steward & twice-daily housekeeping +Space under bed for storing suitcases +Wardrobe with wooden hangers
Suite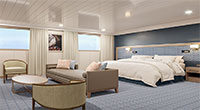 Category Code(s): JR1
Suite size: 325 sq ft
Ocean-view junior suite with large picture window & separated sitting room with comfortable sofa
Hotel-style bed (with optional twin-bed configuration); linens & pillows
110/220 volt outlets & USB ports
Safe, hair dryer & individual climate control
Private bathroom with glass-enclosed shower & separate toilet area
Premium eco-friendly toiletries
Fresh water replenished daily
Stateroom steward & twice-daily housekeeping
Space under bed for storing suitcases
Wardrobe with wooden hangers