Belarus is a unique country with significant influence from neighboring countries like Russia and Poland, so you'll experience a melting pot of culture and history. Belarussians are very proud of their identity and friendly for tourists interested to learn more about it. You'll have a fantastic time exploring the historical attractions and modern cities. Belarus tours are the best way to add a stop in the awe-inspiring country. With tour operator volume buys plus our low everyday prices you can save up to 40% versus assembling the same itinerary on your own! Book your Belarus tour today with AffordableTours.com, your discounted tour headquarters.
Belarus Travel Guide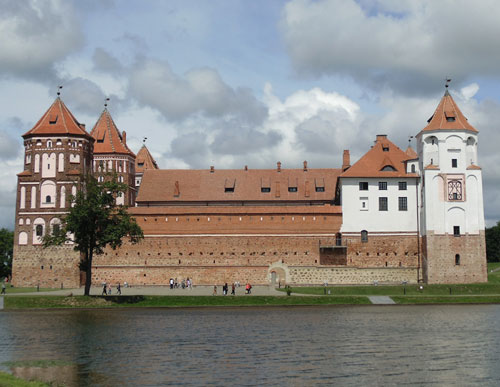 Showing 1 - 20 Tours
Sorry, we were unable to find a tour for you.
If you've not chosen a criteria, then please do so; otherwise you need to broaden your search criteria to find matches.
Belarus Travel Guide
Belarus Tours Highlights
Take a walk through the recently restored Minsk Old Town.
Attend a holiday celebration in Victory Square.
Visit the National Opera and Ballet of Belarus to witness an incredible live performance.
Pay tributes to fallen soldiers at the Island of Tears.
Explore the symbolic monuments in the Khatyn Memorial to reflect on Belarus' dark past.
Admire the unique and colorful architecture of the Mir Castle.
View the giant "Courage" Monument installed within the walls of the Brest Fortress.
Go for an adventure inside the Belovezhskaya Pushcha National Park for a chance to see the European Bison.
Walk the gardens of the 15th century Nesvizh Castle to see one of the most beautiful castles in Belarus.
Belarus Tours Travel Tips
Don't expect to speak English in Belarus. Belarus speaks a combination of languages, including Belarussian, Russian, and Polish – depending on where you are in the country – but English is not widely used.
Pack appropriately. The weather in Belarus can change rapidly – a sunny day can quickly turn into a heavy downpour. It also has intense winters with the possibility of snow from November to April. Plan accordingly for unexpected weather, and be sure to have a jacket.
Belarus has a low cost of living than other European countries, which gives you great value for your money.
Belarus has an efficient public transportation system for getting around. Major cities like Minsk and Brest have metros, and there are trains that run between major cities.
Many of the attractions and cities showcase significant Soviet influence from their past. You will see many sites commemorating the Great Patriotic War, which the Western world calls World War II.
Be prepared to eat lots of potatoes. Potato is the main dish served with almost all the local cuisine.
You can't travel directly from Russia to Belarus due to the lack of borders. Only locals can travel freely between the countries.
Belarus Tours Things To Do
Take a walk through the recently restored Minsk Old Town

Minsk is the largest city in Belarus, and east of the Svislach River is considered the Old Town. It was the first developed area of the city and showcases a lot of the original charm. One thing to note is that much of the city was destroyed during WWII, but a lot of the original buildings were reconstructed to restore the area. Minsk Old Town features several landmark attractions like Liberty Square, City hall, and the oldest church in Minsk. Liberty Square is a central location for people-watching, sightseeing the statues, or checking out the souvenir stalls. The area has lots of historic pubs and restaurants.

Best Time To Visit

Visit Minsk Old Town during the summer season when the weather is nice, and the area is livelier. It's a popular hangout for locals – it hosts lots of public events like concerts.

Attend a holiday celebration in Victory Square

Victory Square is one attraction you can't miss when visiting Minsk. It's the main square in downtown that serves as a public gathering spot and a symbolic site. Victory Square is located at a vehicle roundabout accessible via the pedestrian underpass. The large square is surrounded by buildings featuring the phrase "Heroic deed of the people is immortal" in red letters on top. The central monument in the square is the Victory Monument, standing over 40 meters tall. It includes several Belarus and Soviet military relics and symbolism. The monument, built in 1954, honors Soviet Army soldiers during the Great Patriotic War (WWII).

Best Time To Visit

Victory Square is famous for its local holidays and other celebrations. It's a frequent site for parades and beautifully decorated during the Christmas holiday.

Pay tributes to fallen soldiers at the Island of Tears

The Island of Tears is appropriately named as a memorial commemorating fallen soldiers from the Afghan War. The long war resulted in many causalities serving duty, so the island captures the essence of the sentiments. The Island of Tears is a man-made island in the middle of the Svislach River. The main monument on the island consists of several mourning nuns and women grieving over soldiers who never returned home. Also, on the island is a weeping angel.

Best Time To Visit

The Island of Tears is always open for visitors, accessible via a footbridge from the riverbanks. It's an excellent place for remembrance or relaxation with views of downtown Minsk.

Visit the National Opera and Ballet of Belarus to witness an incredible live performance

The National Opera and Ballet of Belarus is home to the Belarusian theatre company, a world-renowned touring performance group. The theatre is one of Minsk's best architectural buildings, designed by a Belarusian architect in a Soviet-style. National Opera and Ballet of Belarus is a landmark white building in the middle of a park that features lots of exterior details, including statues and bas reliefs. It was built in the 1930s, although the interior was renovated to a modern look. Guided tours are available to learn about the history of the opera house and see notable parts of the venue.

Best Time To Visit

Check the local listings for shows during your Minsk visit. Attending a show is the best way to experience the opera house – it's hosted notable performances, including Swan Lake, Nutcracker, and Sleeping Beauty.

Explore the symbolic monuments in the Khatyn Memorial to reflect on Belarus' dark past

Khatyn Memorial is just outside of Minsk, where the former Khatyn village was located. The village was lost in tragedy during The Great Patriotic War when the village was burned down and all villagers executed. The memorial pays tribute to the events and commemorates nearly three million Belarussians who died during the war. The memorial complex features several symbolic sites. The memorial's central figure is a six-meter tall bronze statue of the "Unconquered Man," holding a child lost in the fire. Other features include 26 chimneys topped with bells on the sites of the former houses, a Memory Wall, and 186 gravesites representing all the villages forever lost during the war.

You Should Know

Khatyn Memorial is located a short drive from Minsk. It's typically not crowded, although it's a worthwhile place to visit for tourists looking to get a glimpse at some of the country's dark history. It's a well-designed memorial site to commemorate the events.

View the giant "Courage" Monument installed within the walls of the Brest Fortress

Brest is one of the most historic cities in Belarus that suffered significant damage during the Great Patriotic War (WWII). The Brest Fortress was an instrumental fortress for protecting the region and is now a popular tourist attraction to retrace history. Brest Fortress was built in the 19th century. It has a unique star-shaped fortification design with lots of structures within it remaining. Some of the points of interest include the massive Courage Monument, the museum of defense, and other artifacts.

You Should Know

Brest Fortress is free to enter but has many features worth exploring that can take an entire day to see them all. This site is a place for national pride and grief for wartimes in Belarus.

Admire the unique and colorful architecture of the Mir Castle

Mir Castle is one of the last remaining structures built during the rule of the Kingdom of Poland, which included what's now considered the city of Mir. The castle complex was built in the 16th century as a residence and eventually converting into a Jewish ghetto during WWII. It's a must-visit historical castle and UNESCO World Heritage Site. Mir Castle showcases a Polish-gothic architectural style, making it stand out from other castles in the region. Visitors can explore the castle grounds and enter the museum or take a guided tour. The complex's courtyard includes a restaurant, café, and souvenir shop.

You Should Know

Mir Castle is also a local accommodation venue with rooms for rent – it will be one of the most unique stays in Belarus to experience life in a castle.

Go for an adventure inside the Belovezhskaya Pushcha National Park for a chance to see the European Bison

Belarus is full of beautiful natural environments - Belovezhskaya Pushcha National Park is one of four national parks and a UNESCO World Heritage Site where visitors can enjoy outdoor recreation and sightseeing. Established in 1932, Belovezhskaya Pushcha National Park covers over 1,500 square kilometers, extending to the Belarus-Poland border. It's the only remaining section of the primeval forest from the European woodlands. It has lots of incredible landscape scenery, including lush forests and lakes.

You Should Know

Some of the favorite visitor activities in the Belovezhskaya Pushcha National Park include hiking and biking – it has several routes for exploring the park where you might come across the elusive European Bison. The park also has a tram ride around various sections for sightseeing.
Belarus Tours When To Visit
Belarus is a charming country that transforms every few months with the seasons, so you will have a different experience every time you go. You will get all four seasons in Belarus, although the winters last significantly longer than the warmer summer months. Snow is common in the country, lasting up until April. The favorite travel season is mid-May to mid-September when the weather is nicest
Summer – June to august – Best/Peak Season

The summer is the peak travel season in Belarus. It's the time of year when you can experience more of the country while enjoying the outdoors. The summer typically has sunny days and average in the mid- to high 60s, so the weather is perfect for walking around the cities or adventuring in nature.

Fall – September to November – Good Season

Early fall is the ideal time to visit Belarus to avoid the upcoming weather. September maintains a lot of the warm weather from the summer as it begins to transition. October is typically wet and cold, and there is a high chance of snow in November.

Winter – December to February – Low Season

Belarus gets very few travelers in the winter compared to the summer. The wintertime is very cold, with temperatures able to drop below freezing. There is also lots of snow, which lasts upwards of 5-6 months out the year.

Spring – March to May – Good Season

Spring temperatures are similar to the fall – the best weather is in late spring when it's closer to the summer. Spring is a popular travel time to take advantage of off-season pricing and get fewer tourist crowds.
Belarus Tours Frequently Asked Questions
What are Belarus Tours?

Belarus Tours offers travel experiences across Belarus. Add the country to your bucket list as you embark on a journey in Eastern Europe. Belarus tours explore the major cities like Minsk and Brest, taking visitors to the top sights and attractions. You'll see all the must-visit destinations before continuing the trip to neighboring countries.

Is Belarus safe to travel?

Belarus experiences a lot of political activity, but it's mostly safe for travelers. Traveling to Belarus takes some preparation, such as knowing where you can travel from and arranging your visa, but once you're in, you'll have an amazing time. Just avoid talking about politics! Belarus has everything you could want in a vacation – sightseeing, delicious food, friendly people, nightlife, and more!

What's included in a Belarus Tour?

Belarus is a small country, so most tours include stops in Poland, Ukraine, Russia, and other Eastern European destinations. You'll get to tour the main tourist destinations in Belarus – Minsk, Brest, Nesvizh, Mir, etc. The tours provide excursions in each location to see historic towns, commemorative monuments, old castles, and a primeval forest. Belarus tours make sure to cover the best of the country in one trip!

Is Belarus worth traveling to?

If you're traveling in Eastern Europe, you'll definitely want to make a stop in Belarus. Belarus is a very cool country to explore with attractions like you've never seen. You'll get to see some of the region's best castles, taste unique dishes, and see exciting traditions. Taking a trip to Belarus is a good idea for all travelers!
Reviews for Belarus Tours and Vacations
Thanks. Our trip ran smoothly.
Rosemar G
Our trip director, L Chauvin, was exceptional, assuring our comfort, needs and a terrific travel experience. The tour was well organized and the coach services exceeded my expectations. Thanks,
Karen H
Xavier was an outstanding guide. One of the best I've had
Karen K
Departure
Lengths
Styles
Specialities
Price
How It Works
Vacationing has never been easier or cheaper with the help of a dedicated travel consultant from AffordableTours.com
1. Free Quote
Find your perfect trip on our website and simply request a free quote. Need to speak to a live person? Call us 7 days a week at 1-800-935-2620. No robots here!
2. Dedicated Travel Consultant
Your personal travel consultant will reach out and be your point of contact for your entire travel experience from start to finish. Did we mention you'll be working with an award winning team? Sweet!
3. Lowest Price Guaranteed
Because we're one of the largest sellers of travel, we're able to give you a discount on your vacation package. No one beats our prices!
4. Stress Free Travel
Knowing you got the best deal, all that's left is for you to pack your bags and enjoy your vacation!