Hong Kong is one of the best places to visit in Asia. Home to wonderful city life and even great temples and theme parks, there are tons of great things to do here. On a Hong Kong tour, you honestly won't be bored with the number of fun things to do here! With tour operator volume buys plus our low everyday prices you can save up to 40% versus assembling the same itinerary on your own! Book your Hong Kong tour today with AffordableTours.com, your discounted tour headquarters. View Hong Kong Tour Deals and Discounts
Hong Kong Travel Guide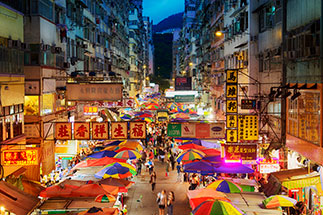 Hong Kong Travel Guide
Hong Kong Tours Highlights
Visit Tian Tan Buddha, the Big Buddha.
Ride some rides at Hong Kong Disneyland.
Shop at the Temple Street Night Market.
Ride the Peak Tram up The Peak, the tallest spot in all of Hong Kong Island.
Explore Venice of Hong Kong, also known as the Tai O Fishing Village.
Have fun at Hong Kong Ocean Park.
Take a trip to the Wong Tai Sin Temple.
Witness the fantastic Dragon Boat Festival.
Explore the 10,000 Buddhas Monastery.
See the monkeys at Kam Shan Country Park.
Adventure through Tung Ping Chau's rocks.
Grab a souvenir at Mong Kok Ladies' Market.
Hong Kong Tours Travel Tips
Convert some of your money into the local currency when you visit because not every place will accept credit or debit cards. It's best always to be prepared when traveling!
Yes, the city is fantastic, but be sure also to go out and visit some of the natural sights too! You won't regret it.
If you plan on using a lot of public transportation, be sure to purchase an Octopus Card. It allows you to tap on when you hop on any public transport here and automatically deduct the money.
Make sure you pack a strong pair of walking shoes. Hong Kong is giant and also has lots of hills, so you'll want to be prepared when visiting.
Know that the weather here is known for being unpredictable. Be sure to check the weather every morning when you wake up.
Try some local cuisines at least once during your visit, especially dim sum, which is one of the traditional foods here.
Hong Kong Tours Things To Do
Visit the Big Buddha

The Big Buddha, officially called the Tian Tan Buddha, is a massive bronze Buddha statue monument in Hong Kong! It was officially built in 1993 and is right near the Po Lin Monastery. It's one of the most popular sites in all of Hong Kong and stands at 112 feet tall. The easiest way to get up to the statue is to walk 268 stairs. The other option is to ride a vehicle up to the top, but know that the street is very windy, and you could quickly get carsick on the way up! There's also a cable car option if you want a unique trip to the Buddha.

Best Time To Visit

Visit when the Big Buddha first opens to avoid all the crowds.

Have fun at Hong Kong Disneyland

Because Disney has theme parks worldwide, why not visit Hong Kong Disneyland and cross another theme park off your list? This theme park first opened in 2005 and is located right in Penny's Bay on Lantau Island. It's inside the Hong Kong Disneyland Resort and is the largest theme park in Hong Kong. There are tons of different rides inside and fun restaurants and cafes that you can eat while visiting. Be sure to take the time to go to the many various shows throughout the park too!

You Should Know

Purchase your tickets ahead of time to guarantee admittance and avoid waiting in line when you get there.

Shop at Temple Street Night Market

Temple Street Night Market is one of the busiest night markets in all of Hong Kong. It's located right on Temple Street, which, during the day, is also one of the busiest streets here! The market is most well known for its fashion vendors, but there are also vendors selling everything from arts and crafts to books and furniture. No matter what you're looking for, you'll be able to find it at Temple Street Night Market. Even if you're not looking to purchase anything, this is a great place to explore for free at night.

Best Time To Visit

The market is always busy, so just embrace it when you visit!

Ride the Peak Tram up The Peak

The Peak is the highest point in all of Hong Kong and therefore offers one of the very best views you can get in the whole city. The most fun way to get up to The Peak is to hop on the Peak Tram, a fun cable car for all ages! The ride to the top is just under 5 minutes. Yes, it's that fast! There are six different stations that the Peak Tram stops at, so you can choose any of them to get on for your way up. Keep in mind that this is one of the oldest trams globally, so it's even a historical experience!

You Should Know

This ride is exceptionally steep. Try to sit farther back so you won't be looking directly down on the way up!

Explore Tai O Fishing Village

Tai O Fishing Village is a quaint fishing town in Lantau Island in Hong Kong. Many people here have built houses that sit directly on top of the water held up by stilts, so the architecture here is unlike other places in Hong Kong! While these stilt houses are the most popular thing to see when visiting Tai O Fishing Village, there are also many other places worth exploring here. Be sure to see the Dragon Boat Water Parade if it's happening during your trip to Hong Kong!

You Should Know

The village is located nearby the Tian Tan Buddha so that you could see both on the same day.

Have fun at Hong Kong Ocean Park

Hong Kong Ocean Park is a theme park located in Hong Kong. It's not as big as Hong Kong Disneyland, but it is the second-biggest theme park in the city! It's considered an amusement park and an animal theme park, so you truly can see a wide variety of things here and participate in lots of activities. Because the theme park is so big, make sure that you plan when visiting here. You'll probably want to spend the full day at Hong Kong Ocean Park, so plan your time wisely!

You Should Know

Similar to Hong Kong Disneyland, you'll want to purchase your tickets ahead of time.

Visit Wong Tai Sin Temple

Wong Tai Sin Temple is one of the most famous shrines to visit in all of Hong Kong. It's a Taoist Temple that was dedicated to the god of healing. It is architecturally gorgeous and is covered in bright colors like blue, green, orange, and yellow. You couldn't miss it if you tried while you were in the area! The temple dates back to the 19th century but was officially opened to the public in 1934. It was destroyed slightly during World War II but was restored and was barely harmed about the other places in the city.

You Should Know

This is a place of worship, so be respectful when visiting the Wong Tai Sin Temple.

Attend the Dragon Boat Festival

The Dragon Boat Festival is a popular holiday that happens for three different days annually in China but only takes place for one day in Hong Kong. This traditional holiday is usually held in the month of June. During this holiday, boats are raced in the water and are decorated to the nines. They're decorated in particular to look like older canoes and can hold up to 80 different people at times! The Stanley Race is the biggest race every year and is also the most-watched. It's even aired on TV!

You Should Know

This is one of the busiest times of year to visit Hong Kong.

Explore the 10,000 Buddhas Monastery

The 10,000 Buddhas Monastery dates back to the 20th century and is located right in Hong Kong. Just like its name suggests, the monastery is filled with around 10,000 different golden buddhas spread throughout the whole place. The Buddhas are of all different sizes and are incredibly unique and quirky. Some of the Buddha temples are even life-size! Make sure you take the time to explore this temple and bring your camera because you'll regret it if you don't.

You Should Know

Visit right when the temple opens at 10 A.M. to avoid the crowds as best as possible.
Hong Kong Tour Packages
While the summer is the most popular time to visit Hong Kong for tourists, it's truly a great destination to go on a tour no matter the time of year! Be sure to pay attention to the festival calendar when visiting, too, because you might be able to join in on one.
Spring and Fall - September to November and March to May - Shoulder Season

The spring and fall seasons are the shoulder seasons in Hong Kong, which means that they still have pretty great weather but aren't as popular as visiting during the summer. In the spring, the average high temperature is 77°F, while it's approximately 82°F in the fall.

Summer - June to August - High Season

The summer is the most popular time to visit Hong Kong, despite the high temperatures. This is the busiest time of the year, so prices for accommodations tend to be the highest. The average high temperature is approximately 87°F.

Winter - December to February - Low Season

Winter is the least popular time to visit Hong Kong. The average high temperature during this time is 66°F. Because not many people visit during this time, you could easily snag a fantastic deal on your lodging versus visiting in the summer.
Hong Kong Tours Frequently Asked Questions
What are Hong Kong Tours?

If you are the type of traveler who wants the majority of your trip thoroughly planned out for you, then this is the best type of travel for you! Hong Kong tours are the best way to get introduced to the city. Plus, you'll have access to a travel director and an excellent tour group who will be with you every step of the way.

What's included on a Hong Kong Tour?

Most Hong Kong tours include accommodation, housing, and transportation. It varies from tour to tour. The real highlight of Hong Kong tours is that they include a tour director who will be with you the whole trip. The tour director will keep you and your group on track for your itinerary and will be there to answer any of your questions. You might even have access to different local tour guides along the way who will make your tour experience even better.

What's the best Hong Kong Tour?

Honestly, each Hong Kong tour is so different, so it's hard to say which one is necessarily the best. It depends on what you're looking for. Are there certain places in Hong Kong that you want to explore? Do you have a preferred vacation length? What's your budget? These are all essential things to ask yourself when planning your Hong Kong tour experience. Feel free to call one of our tour experts if you want extra help narrowing down your search.

How much do Hong Kong Tours cost?

Hong Kong tours vary in prices because of tour operators, inclusions, and places on the itinerary. Some will cost around $90 a day, while others will cost up to $150 a day. It truly depends! So, make sure you do your research before booking your Hong Kong tour to make sure that it's exactly what you want. You can save up to 40% off by booking through Affordable Tours!
Learn More About Hong Kong Tours

Why Travel Is Worthwhile: Creating Lifelong Memories

Traveling is an incredible way to enrich our lives and create memories that will last forever. Whether you're exploring new cultures, trying new foods, or taking in breathtaking sights, traveling offers experiences that can change us in profound ways. In today's fast-paced world, it's easy to get caught up in our daily routines and forget…
Reviews for Hong Kong Tours and Vacations
The trip was well-designed and well-executed. The Chief Experience Officer was very knowledgeable and had great contacts on the ground that provided flexibility when needed. This is a very active trip and was accurately described in the pre-trip materials. This was our first trip with g adventures, but there were several members of our group who had taken multiple trips with g adventures. We would strongly consider additional trips with them
Mary T
This tour offered a wonderful, immersive experience into many aspects of life in China. (Our tour group was even in the home of a Chinese woman.) The accommodations were consistently first-class. Our tour director was excellent. He was a good blend of being organized and in charge, and caring and compassionate. Our United flight from Chicago was delayed 5 1/2 to 6 hours, and we got in around 10:00 p.m. We were happy to see someone waiting for us at the airport. Our only dissatisfaction with the trip was with United Airlines. They should have made an effort to notify us of such a long delay. Also, on the return flight from Hong Kong the movies were in Chinese, with subtitles in Chinese. United seemed to make no effort to minimize the weariness of a long flight.
Barbara D
I did not like the whole process of tipping. It was too much of a hassle.
Harish V
Departure
Lengths
Styles
Specialities
Price
How It Works
Vacationing has never been easier or cheaper with the help of a dedicated travel consultant from AffordableTours.com
1. Free Quote
Find your perfect trip on our website and simply request a free quote. Need to speak to a live person? Call us 7 days a week at 1-800-935-2620. No robots here!
2. Dedicated Travel Consultant
Your personal travel consultant will reach out and be your point of contact for your entire travel experience from start to finish. Did we mention you'll be working with an award winning team? Sweet!
3. Lowest Price Guaranteed
Because we're one of the largest sellers of travel, we're able to give you a discount on your vacation package. No one beats our prices!
4. Stress Free Travel
Knowing you got the best deal, all that's left is for you to pack your bags and enjoy your vacation!