Indonesia represents a vast number of islands. In fact, the country, which lies in the Pacific and Indian Oceans and between Oceania and Southeast Asia, makes up over 17,000 islands. Some of the well-known isles include Java, Borneo, New Guinea, and Sulawesi. Therefore, trips to Indonesia, feature travels by boat, and once-in-a-lifetime tropical excursions. If you are seeking adventure or wish to truly escape, an escorted island tour is something to strongly consider. Plus, you don't have to necessarily travel to the main islands on your trip. There are plenty of adventures waiting in the lesser-known island locales. With tour operator volume buys plus our low everyday prices you can save up to 40% versus assembling the same itinerary on your own! Book your Indonesia tour today with AffordableTours.com, your discounted tour headquarters. View Indonesia Tour Deals and Discounts
Indonesia Travel Guide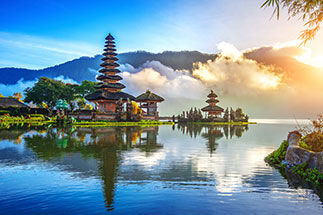 Showing 1 - 20 Tours
Sorry, we were unable to find a tour for you.
If you've not chosen a criteria, then please do so; otherwise you need to broaden your search criteria to find matches.
Indonesia Travel Guide
Indonesia Tours Highlights
Become acquainted with the ancient temples and mountain landscape of Java.
Trek up Mt. Rinjani on Lombok
Dive into the waters of Raja Ampat, one of the best places to scuba dive in the world.
View the largest lizards in the world in Komodo National Park.
Gaze over the vast rice fields of Sumba
Cool off in the clear and glistening waters of the Gili Islands
Take a cooking class, and prepare island specialties.
Watch traditional island dances while savoring the local cuisine.
Bike and explore everyday life in a local village.
Indonesia Tours Travel Tips
The climate in Indonesia is tropical and subtropical. Therefore, wear clothes that keep you cool and wick away moisture, so you will remain comfortable.
Use a light cover-up, such as a rash vest, to protect yourself from the sun when scuba diving or taking part in similar water activities.
If you plan to surf or dive, take out a medical policy that will cover you in case of an accident. Make sure the policy covers medical evacuation.
Give a copy of your travel itinerary to friends and loved ones, in case of an emergency or they need to contact you.
To stay connected in your hotel or onboard ship, carry a universal adapter.
Learn a little bit about the islands before you go to make your trip more interesting.
You cannot drink the tap water in Indonesia, including the water you get from your hotel's tap. However, you can use the water for showers or washing. Most of the hotels will provide you with bottled water, purified water, or mineral water. You can also get bottled water from the local supermarket or convenience store.
Indonesia Tours Things To Do
Gili Trawangan

Gili Trawangan, which lies off the coast of Lombok, is one of the three Gili Islands. You can easily get to the isle from Bali by speed boat or sailboat. Known as Gili T, Gili Trawangan is the largest of the three Gili Islands.

Best Time To Visit

According to Rough Guides, it is best to visit Indonesia in May, June, or September, when the weather is drier and better for hiking or water sports. At these times, Gili T is less crowded as well. May, June, and September are considered the shoulder season of travel for Indonesia. The peak season falls in July and August. During these months, the average temperature during the day can climb to 87 degrees Fahrenheit or 30 degrees Celsius.

You Should Know

This travel destination becomes lively at night, with its themed events and live music. During the days, you can sunbathe on its sandy shores or participate in activities, such as visiting a coconut grove or snorkeling. One of the must-sees is the sunken ship, near Mentigi Beach, at Wreck Point. You can also go on a glass-bottom boat tour if you wish.

Gili Air

Gili Air is the second largest of the Gili Isles in Lombok, and is more peaceful than Gili Trawangan, although a bit busier than Gili Meno, the smallest of the Gilis. If you wish to escape the party atmosphere on Gili Trawangan, Gili Air is for you.

Best Time To Visit

Visit Gili Air during the less crowded times of the year, or during May, June, or September. It is not as warm and therefore better for sight-seeing, cycling, hiking, or swimming.

You Should Know

Gili Air is a great place to scuba dive and snorkel, as you can find some pretty coral off-shore. You will also see turtles and maybe a whale shark occasionally. If you like scenic paths, you will love walking on this island. Restaurants, along the waterfront, also serve fresh seafood, which is cooked over hot coals.

Nusa Penida

Located close to the island of Bali, Nusa Penida is linked to the busier island of Nusa Lembongan by way of a bridge. Some people choose Nusa Pendia over Nusa Lembongan, as they want to totally get off the grid while visiting Indonesia. This remote island offers both serenity and calm, as it does not get much of a Wi-Fi signal, and there really is no nightlife.

Best Time To Visit

Plan to visit this peaceful isle during the shoulder season of May, June, or September. It is easier to hike and have time to yourself when it is less crowded.

You Should Know

The island offers snorkelers and scuba divers a great opportunity to explore the surrounding waters. Nusa Penida is also home to peaceful sandy beaches and seaweed farms. If you truly want an island escape, this is the place to go. You can dive with the turtles and rays, who stay closer to the island's beach because there are fewer people.

Samosir

Situated on the island of Sumatra in the middle of Lake Toba, Samosir sits on the largest crater lake in the world. The lake lies in an extinct volcano that is filled with water flowing from an underground spring.

Best Time To Visit

Mark your calendar for a visit to Samosir during May, June, or September, which are better months for water sports, sight-seeing, and hiking.

You Should Know

Swim in Lake Toba or take a boat tour around the lake. You can also explore traditional Batak island villages, or see the ornate tombs of Batak kings at the island's cemetery. An afternoon soak in the hot springs, located in the hills of the island, is always a refreshing break.

Lembeh Island

While many islands in Indonesia give you the opportunity to scuba dive, Lembeh Island is known for its muck diving opportunities. Located in Sulawesi and close to the town of Bitung, the waters around Lembeh are filled with natural sediment and underwater creatures. Macro photographers can take some great pictures of some of the creatures they find here.

Best Time To Visit

Visibility for muck diving is affected from December to January because it is the wet season. However, that does not mean drivers don't visit during these times. You just won't find as many. The best time to dive or see is from October to December. However, you will be able to spot more micro critters during July and August.

You Should Know

Muck diving entails patiently sifting looking black sand for marine creatures that inhabit the sediment. In turn, you will be rewarded with finds of unique sea creatures, some of which you might see on the cover of a dive magazine. Species often discovered during a muck dive include crabs, cuttlefish, and nudibranchs. You may also spot a whale shark or dugong during a dive. Dugongs look like manatees except they display a forked tail.

Raja Ampat

A major Indonesian archipelago, Raja Ampat lies off West Papua, New Guinea, close to the northwestern tip of the Bird's Head Peninsula. The island chain is made up of hundreds of jungle-forested islands – islands that are known for their coral reefs and beautiful beaches.

Best Time To Visit

Visit Raja Ampat from early June through October, when you will experience less chance of rain. The average temperature is also slightly cooler during these months – around 77 degrees Fahrenheit or 25 degrees Celsius.

You Should Know

Raja Ampat represents one of the best places to scuba dive in Indonesia because of the rich marine life living on the coral in its surrounding waters. Misool Island, in the island group, displays caves and rock paintings while the crimson bird of paradise can be seen on Waigego Island. The other main islands in the archipelago include Salawati and Batanta.

Komodo National Park

A UNESCO World Heritage site, Komodo National Park is home to the Komodo dragon. The park comprises three primary islands – Komodo, Rinca, and Padar, including the waters that divide them with their rich marine life. The park is so-named because it is home to the endangered Komodo dragon, a large lizard that looks like it stepped out of a scene from Jurassic Park, the movie.

Best Time To Visit

According to trip planners, June and July are ideal months to visit the park. That is when the weather is the calmest and driest. However, May and October are also good travel times, as you will avoid the rainy season.

You Should Know

Sightings, at the park, of the Komodo Dragon, while not guaranteed, are common. The large lizard, also called the Komodo monitor, grows up to 10 feet in length and can weigh up to 150 pounds. Its bite is said to be venomous. The lizard's diet mainly is made up of Timor deer, although it also eats a large amount of carrion. If you sight the lizard, stay at a safe distance, as it has been known to occasionally attack humans.

Gili Meno

The smallest of the three Gili islands, Gili Meno is a popular honeymoon isle – designed for anyone wanting to get away from it all. Like all the Gili Islands, there are no cars, so you need to rent a bike, walk, or go by horse or cart to get around the island.

Best Time To Visit

Visit during May, June, or September.

You Should Know

The seas around the small island are crystal clear, which makes it easy to spot marine life, such as turtles or rays. You can walk around the island in only a few hours. Also, calm waters are ideal for snorkeling. Access is easy to Gili Meno from larger islands, such as Bali or Lombok.

Bali

Most tours to Indonesia will include a stop in Bali. The popular island is known for its beaches, coral reefs, rice paddies, and wooded mountains. Popular resort towns on the island include Nusa Dua, Sanur, and Seminyak. Bali is as lively as it is peaceful.

Best Time To Visit

Enjoy the sights and explore Bali during the shoulder months of May, June, or September.

You Should Know

The island is home to the Uluwatu Temple, a Hindu religious site. The island is also well-known for its retreats that feature yoga and meditation.
Indonesia Tour Packages
While it is best to visit Indonesia during its dry season, or in May, June, or September when you visit also depends on where you plan to travel and what you plan to do. For example, if you plan to muck dive off the coast of Lambeh Island, you might plan a visit during January. While the rains reduce visibility, this really does not affect macro divers, who scour the sediment for sea creatures and photograph them at deeper depths.
Rainy Season - November to March

If muck diving is your plan, when it is rainier you will have more of the ocean to yourself, as fewer divers take to the waters during this period. However, the visibility picks up from October to December. You can spot more creatures during July or August. With that said, not everybody plans to muck dive. Maybe you have set your sights on a visit to Komodo National Park. If so, travel experts recommend you visit during June or July.

Dry Season - April to October

Overall, as noted, it is best to explore Indonesia and its islands during the dry times of May, June, or September. At these times, you will also experience fewer crowds, which will make it easier to hike or see the sights. You will also pay less for tours. Because peak season runs from July to August, expect the average temperature, during the day, to be around 87 degrees Fahrenheit (30 degrees Celsius).
Indonesia Tours Frequently Asked Questions
What are Indonesia Tours?

Indonesia tours cover about 10 days of travel and frequently include the islands of Bali, Lombok, and the 3 Gili Islands. Because Indonesia represents a large archipelago of thousands of islands, you can find tours that will lead off the grid a bit. One of the popular destinations is Komodo National Park, home to the endangered giant lizard, the Komodo Dragon.

What's Included in an Indonesia Tour?

Because Indonesia is comprised of islands, tour costs include the cost of boat transport, accommodations, admission prices for attractions, and the services of a professional travel guide. Hotel and airport transfer fees are included as well.

What's the Best Indonesia Tour?

Everyone has their own preferences when it comes to visiting Indonesia. While some travelers like to stay at resorts and enjoy a lively nightlife, other trip-goers prefer to find a remote island and to spend their days hiking or exploring. Therefore, the best Indonesia tour is the one you discover that meets your trip preferences and budget, as well as your availability for travel.

How Much Do Indonesia Tours Cost?

What you pay for an Indonesia tour will depend on the length of the trip, its amenities, whether it is a private or group Indonesia tour, and the time of year you choose to travel. For a luxury trip that lasts about 12 days, which also includes ocean cruising, plan to spend about $5,000 per person. This price will go down if you take a trip during the shoulder season or you choose all-inclusive discounted packages. In this case, you can spend half of what you would spend on a trip that features upgraded amenities.
Learn More About Indonesia Tours

It's Time For a Wellness Vacation

Wellness Tours and Why They Are Growing in Popularity Wellness is a selling point for so many companies, and when it comes to feeling good; you want to be one of the many taking advantage of them. Wellness tours are one of the newest types of tours on the market, and they are offering the…
Reviews for Indonesia Tours and Vacations
The trip hit all the highlights of what we wanted to see, provided us lots of options we loved. I would highly recommend to anyone. The guide was amazing and so caring and helpful, would not have been as enjoyable without him. The accommodation was a little on the cheep side from how much the tour costs and how far your money goes in Indonesia but I was still very content with the places we stayed at. Thanks for an awesome experience!
Chelsea C
More Power to Globus!!! I would high;y recommend Globus to all my friends.
Evelyn L
During this trip, I lost my money belt which contained most of my money, passport, driver's license and credit cards. The operator had me file a police report and arranged for a local handler to help guide me through the process of getting a money transfer from the USA, getting a new passport from the US Embassy and making arrangements to leave the country. I thought the operator ( Intrepid ) did an excellent job for me in a difficult situation.
Thomas P
Departure
Lengths
Styles
Specialities
Price
How It Works
Vacationing has never been easier or cheaper with the help of a dedicated travel consultant from AffordableTours.com
1. Free Quote
Find your perfect trip on our website and simply request a free quote. Need to speak to a live person? Call us 7 days a week at 1-800-935-2620. No robots here!
2. Dedicated Travel Consultant
Your personal travel consultant will reach out and be your point of contact for your entire travel experience from start to finish. Did we mention you'll be working with an award winning team? Sweet!
3. Lowest Price Guaranteed
Because we're one of the largest sellers of travel, we're able to give you a discount on your vacation package. No one beats our prices!
4. Stress Free Travel
Knowing you got the best deal, all that's left is for you to pack your bags and enjoy your vacation!