The capital city, Dublin, is home to important sights such as St. Patrick's Cathedral, Dublin Castle, Trinity College, and Temple Bar. Beer aficionados won't want to miss a visit to the Guinness Storehouse at St. James Gate and whiskey lovers can't pass up the old Jameson Distillery. Fans of nature will love the Cliffs of Moher, Ring of Kerry, and Killarney National Park. Explore all the cities Ireland has to offer like, Galway, Cork, Belfast, Limerick and Waterford. With tour operator volume buys plus our low everyday prices you can save up to 40% versus assembling the same itinerary on your own! Book your Ireland tour today with AffordableTours.com, your discounted tour headquarters.
Ireland Travel Guide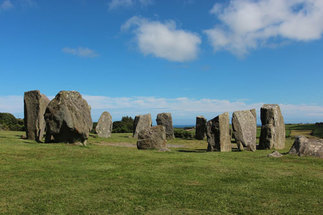 Ireland Travel Guide
Ireland Tours Highlights
Fall in love with the Irish people, their culture, and their land.
Enjoy delicious local cuisine.
Marvel at the Cliffs of Moher.
Sing and dance with buskers on Grafton Street.
Receive "The Gift of Gab" from the Blarney Stone.
Drive the famous Ring of Kerry.
Explore Trinity College and view The Book of Kells.
See St. Patrick's Cathedral.
Drink a truly 100% authentic Guinness beer at the Guinness brewery in Dublin.
Take in the sprawling landscapes while your motorcoach driver takes you from one destination to another.
Ireland Tours Travel Tips
Ireland uses the Euro so exchange your currency appropriately.
Pack layers as the weather can change in a moment's notice.
Depending on where and when you go, it'll be a good idea to bring rain gear.
Drinking is a large part of the Irish culture so don't mind the party atmosphere when you're out.
The people are super nice so do not hesitate to ask someone a question if needed.
If traveling on an escorted tour with one of our partners, you won't have to worry about tickets to attractions or sightseeing. If you're planning to travel on your own, it's recommended to buy tickets early as Ireland is hugely popular!
Ireland Tours Things To Do
Stand in Awe at the Cliffs of Moher

No trip to Ireland is complete without stopping to see the enchantment of the Cliffs of Moher. This UNESCO Global Geopark is home of glacially-smoothed limestone hills with a stark contrast of the dramatic sea cliffs that tower over the majestic Atlantic coast. Soaring to 702 feet tall on the westernmost edge of the island, the stone reaches a staggering height. What's even more staggering is the beautiful views at the top. One of the most unique and precious aspects of the cliffs is the local wildlife that calls them home. Walking along the magical landscape, you'll soon realize why these cliffs are so famous.

Best Time To Visit


This outdoor sight is usually busy when the weather is the best, during the summer months. Peak travel times are between 11am and 4pm. Be sure to check the weather because it's not unusual for a dense fog to roll in and block the view. Since the cliffs face west, if you're looking for the best time to take a picture, the afternoon and evening offer the best lighting.

You Should Know

Mind the barriers, it is very windy and slippery at the top of cliffs and they are there for your safety.
Bird watchers from all over the world come to see the sad-eye puffins and to hopefully catch a glimpse of peregrine falcons.

Kiss the Blarney Stone

Located in the famous Blarney Castle, the Blarney Stone is situated 85 feet up on the east wall. The famous Blarney Stone is officially called the Stone of Eloquence because according to legend, kissing the Blarney stone is said to give "The Gift of Eloquence" or as some simply put it, "The Gift of Gab". Kissing the stone isn't as easy as it sounds- one must hold on to rails, bend backward over a drop from the castle's tower and flip upside down while puckering up. To kiss the Blarney Stone or to not kiss, that is the question!

You Should Know

Make sure you have a strong friend to guide you if you decide to pucker up to the rock.
The stone was set into a tower of the castle in 1446.
In addition to the stone, the 600-year-old castle also has an array of gorgeous gardens and several interesting rock formations.

Experience the Nightlife Temple Bar

For travelers looking for Dublin's nightlife district, this area of town will have all the "craic". They have tourist-focused nightclubs, bars, and restaurants. During the day, there are art galleries, theaters, and museums for you to explore. This popular area is a great place to soak up local culture in a fun atmosphere.

You Should Know

Don't miss out on hearing some live performances of 'The Fields of Athenry' and 'It's a Long Way to Tipperary' played by high quality traditional Irish musicians.
Ask your travel director what pub the locals like to frequent.

View the Book of Kells at Trinity College

The Book of Kells is one of Ireland's greatest treasures and is also a European cultural icon. It was created by Celtic monks around the year 800 but was never finished for unknown reasons. The book contains manuscripts of the four Gospels of the New Testament (Matthew, Mark, Luke, and John) in Latin, along with other various texts and illuminations. Two of the four volumes of the Book of Kells are on public display.

You Should Know

The volumes and pages of the Book of Kells shown are regularly changed.
Trinity library is the only place in the UK where publishers in Ireland must deposit a copy of all their publications for free.

Walk Across Ha'penny Bridge

Built in May of 1816 and spanning the width of the River Liffey over which it crosses, Ha'penny Bridge was an expensive replacement from the ferry service that operated across the river previously. The costs were recuperated through the half penny toll, which gave the bridge its popular name, Ha'penny Bridge. In 1916, the bridge was handed over to the Dublin Corporation and three years later, the tolls were abolished. For over 180 years, the bridge remained the city's only pedestrian bridge over the Liffey the Millennium Bridge was constructed in 1999.

You Should Know

Today, 30,000 people a day walk across the famous bridge.
The bridge is made out of cast iron in England.

Visit St. Patrick's Cathedral

Built in honor of Ireland's patron saint, St Patrick's Cathedral, it was constructed in early English gothic style in 1191 on the site of an ancient well. Nearly 200 monuments and statues, as well as the beautiful stained glass, make the building a treasure trove of those who love history and art. This medieval gothic place of worship has been at the core of Irish history for over 800 years and is today the National Cathedral of the Church of Ireland.

You Should Know

The large cathedral tower, Minot's Tower, you see today isn't the original tower, as it was rebuilt in the 14th century following its collapse.
St. Patrick's is the tallest and largest church in Ireland.

Tour the Waterford Crystal Factory

In the heart of Waterford City in Southeast Ireland, you'll find The House of Waterford Crystal, world renowned for their lead crystal stemware, time pieces and exquisite chandeliers. During your visit, from blowing to cutting, you'll get a chance to see The House of Waterford Crystal's most skilled craftsmen at work using a century's old, red-hot manufacturing process. If you're looking to indulge your passion for the world's most famous crystal, visit the lavish retail store. From sporting trophies to seahorse statement pieces, you'll be in absolute awe of the glimmering beauty around you.

You Should Know

It houses the largest collection of Waterford Crystal found anywhere in the world and it is a sight to see itself.
There was no production of glass in the city of Waterford until after WWII.
For New Years in Times Square in New York, the ball that lowers is specially commissioned from Waterford Crystal.

Learn About Beer At The Guinness Storehouse

More than a million travelers a year tour this famous factory to learn how to pour the perfect pint of this Irish beer. (Hint: It involves holding the glass at a 45-degree angle!) Not only is this the place to learn about the 'black stuff' brewing process, but the top floor Gravity Bar is arguably the best view of the city. During your tour, sniff the raw ingredients, learn about the history of Guinness advertising and, of course, sample some of their beer.

You Should Know

The storehouse is 7 floors and they suggest at least an hour and a half to explore the whole facility.
If beer isn't your thing, the Jameson Distillery is also located in Dublin.

Take in the Beauty Giant's Causeway

As a result of an ancient volcanic fissure eruption, 40,000 interlocking basalt columns make up the area of Giant's Causeway located on the north coast of Northern Ireland. Its unique rock formations have, for nearly sixty million years and has stood against many North Atlantic storms.

Best Time To Visit

Early in the morning or later in the evening is the best time to avoid the crowds. Since it is an outdoor, natural area, dress for the weather. The winds can be strong so a windbreaker is necessary during the colder months. Keep in mind this is a famous sight and there will always be people there exploring the area.

You Should Know

Most of the columns are hexagonal, although there are also some with four, five, seven or eight sides.
It was declared a World Heritage Site by UNESCO in 1986.
Enjoy the walking trails around the area for great views.

Learn About History at the Titanic Belfast

Opened in 2012, this visitor attraction is a monument to Belfast's maritime heritage and is most well known for being where the Titanic was designed and built. Visitors will learn all about her maiden voyage in 1912 and about the events leading up to when she hit the iceberg and later sank. Explore galleries that tell the story and dive deep into the ocean where she now rests through many interactive features. Titanic Belfast is open year-round with varying hours depending on the time of year. Please note that the center is closed on Christmas Eve and Christmas Day.

You Should Know

Titanic Belfast is the world's largest Titanic visitor experience.
They opened their doors exactly 100 years after the Titanic first sailed.
Titanic had 2 sister ships, RMS Olympic and RMS Britannic.
Ireland Tours When To Visit
With so much to experience in Ireland, any month is a good time to visit the Emerald Isle! Depending on your interests, you may determine there is a certain month that fits your travel needs more than another. Read about the lure of each season.
Between June and September, rainfall will be at the lowest and temperatures will be the most comfortable. This is usually when travelers tend to go to Ireland, so some activities and sites might be more crowded during this time.
When the weather is cooler, the probability of rainfall will also be higher. From November to February is usually considered the low season, so keep in mind some attractions can be closed because of the weather.
March and April, and September and October can bring nice weather, but there might be extreme temperatures. This shoulder season can be a good time to travel if you are flexible with the weather.
While you could visit
Ireland
year-round, decide which activities and sites you would like to see, and plan your visit around that. Since Ireland has so much to offer, even on days where the weather isn't perfect, travelers can explore indoor sites like Trinity College, St. Patrick's Cathedral, the Guinness Storehouse, or the Titanic Museum. No matter when you go, make sure you pack appropriate clothing and footwear.
Spring

The Irish greenery really comes to life in the spring. Picture landscapes bursting with colors and stunning sweeping vistas as far as the eye can see. There are plenty of art and literature festivals that take part during this time of year. Check out the Cuirt International Festival of Literature in April or the Cathedral Quarter Arts Festival in May.

Summer

Because the island is located at such a high latitude, visiting Ireland during the summer you will get to experience many extra hours of sunlight. Take advantage of all the 18 hours of daylight and spend some time at one of the many equestrian festivals held all over the country. The temperature usually doesn't get above 70F, even in the warmest months of July and August. Keep in mind the crowds are in full swing during these months.

Fall

Autumn has the most relaxed atmosphere with less hustle and bustle. This is the perfect season to take a stroll around a park to watch the vibrant green foliage turns to rich golds, purples, and reds. There will be fewer people lining up to kiss the Blarney Stone and you'll have your pick of the best cafes and traditional music performances.

Winter

Ireland winter temperature averages are in the upper 40Fs, so bring a good pair of shoes and a warm jacket. With the cooler weather, a lot of local pubs host campfires to keep you warm and add to the ambiance. Towards the end of winter, St Patrick's Day is celebrated. They host a major parade with marching bands in Dublin and festivals and events are spread all over the country.
Ireland Tours Frequently Asked Questions
Learn More About Ireland Tours

Review: Focus On Ireland With Insight Vacations

Luscious green countryside and dramatic coastal scenery made this Focus on Ireland with Insight Vacations tour an exceptional journey.


What Are The Best Insight Vacation Experiences?

Makes your voyage even more memorable by participating in Insight Vacation Experiences and Authentic Dining opportunities in all of their destinations.


Watch: Local Experiences With Trafalgar

Trafalgar ensures their guests connect with locals who are passionate about their culture and proud to share their unique knowledge and experiences with you. From staying in charming hotels to uncovering the destination's best kept secrets, here are some ways Trafalgar makes sure their guests get an inside view of the culture. Watch the top local…

Review: From Ireland's Ancient East To The Wild Atlantic Way by Globus

By: Francis Larmore, CTA and Senior Travel Consultant My wife Susan and I went on a great new trip titled From Ireland's Ancient East to the Wild Atlantic Way by Globus. We arrived two days early so that we could have more walking-around time in Dublin's city center. We were able to visit the National Gallery…


Review: Iconic Ireland and Ashford Castle With Brendan Vacations

By: Darlena Hernandez, Travel Consultant Iconic Ireland is just absolutely amazing! From the numerous shades of green, to the Wild Atlantic Way, there is something that is sure to mesmerize you! I have to say, the people of Ireland are most welcoming, filled with pride for their country, and are so willing to tell you…
Reviews for Ireland Tours and Vacations
The trip was wonderful. This is our second CIE tour and totally enjoyed both and highly recommend.
Charles K
Our tour guide Helen is excellent, she is very knowledgeable in history and explain things very clear. She is caring and did a very good job and made this trip memorable and the groups are easier going and made a great difference for this trip. Thank you for your services and certainly I will recommend my friends and I hope in near future l will make another trip with you and your company. Thank you.
Susanna L
Our tour director (Bob) and driver (Joe)) we're truly outstanding. The itinerary was great. Highly recommend.
Daniel R
Departure
Lengths
Styles
Specialities
Price
How It Works
Vacationing has never been easier or cheaper with the help of a dedicated travel consultant from AffordableTours.com
1. Free Quote
Find your perfect trip on our website and simply request a free quote. Need to speak to a live person? Call us 7 days a week at 1-800-935-2620. No robots here!
2. Dedicated Travel Consultant
Your personal travel consultant will reach out and be your point of contact for your entire travel experience from start to finish. Did we mention you'll be working with an award winning team? Sweet!
3. Lowest Price Guaranteed
Because we're one of the largest sellers of travel, we're able to give you a discount on your vacation package. No one beats our prices!
4. Stress Free Travel
Knowing you got the best deal, all that's left is for you to pack your bags and enjoy your vacation!