Latvia Tours & Vacation Packages 2023/2024
Save up to 40% on Latvia Tours & Vacation Packages 2023/2024
Latvia Travel Guide
Freshly foraged food, festivals, and color all welcome you when you choose to take a Latvia Tour. If you are considering visiting this area, then you should look into the tours you can take. Not only can you go to many of the main areas and points of interest, but you can ask questions and fully immerse yourself in the traditions, culture, and excitement that surrounds you. Find out more about the available Latvia Tours that you can take to find out what they have available for you to go on. With tour operator volume buys plus our low everyday prices you can save up to 40% versus assembling the same itinerary on your own! Book your Latvia tour today with AffordableTours.com, your discounted tour headquarters. View Latvia Tour Deals and Discounts
Latvia Travel Guide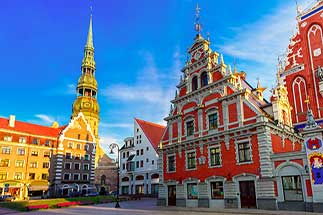 Showing 1 - 20 Tours
Tour Itinerary
Days
Operator
Quality
Style
Starts
Ends
Price

The Baltic States & Scandinavia 2024

39 reviews
14

Days

Cosmos

Budget

Escorted
Copenhagen
Stockholm
Denmark, Estonia, Finland, Germany, Latvia, Lithuania, Poland, Sweden
$2,349View Tour

Best Price Guaranteed

Book With Flexibility




12 Day Classic Baltics with Krakow - Friday Departure

20 reviews
12

Days

Gate1

First Class

Escorted
Tallinn
Krakow
Estonia, Latvia, Lithuania, Poland
$1,549View Tour

Best Price Guaranteed

Book With Flexibility

The Baltic States & Scandinavia 2023

39 reviews
14

Days

Cosmos

Budget

Escorted
Copenhagen
Stockholm
Denmark, Estonia, Finland, Germany, Latvia, Lithuania, Poland, Sweden
$2,399View Tour

Best Price Guaranteed

Book With Flexibility

The Baltic States & Scandinavia 2025

39 reviews
14

Days

Cosmos

Budget

Escorted
Copenhagen
Stockholm
Denmark, Estonia, Finland, Germany, Latvia, Lithuania, Poland, Sweden
$2,499View Tour

Best Price Guaranteed

Book With Flexibility

Warsaw & The Baltic States - Small Group

08

Days

Insight Vacations

First Class

Escorted
5+ years old
24
Warsaw
Tallinn
Estonia, Latvia, Lithuania, Poland
$2,813View Tour

Best Price Guaranteed

Book With Flexibility

Warsaw & The Baltic States - Classic Group

08

Days

Insight Vacations

First Class

Escorted
5+ years old
40
Warsaw
Tallinn
Estonia, Latvia, Lithuania, Poland
$2,430View Tour

Best Price Guaranteed

Book With Flexibility

Northern Capitals - Classic Group

14

Days

Insight Vacations

First Class

Escorted
5+ years old
40
Berlin
Warsaw
Denmark, Estonia, Finland, Germany, Latvia, Lithuania, Poland, Sweden
$4,607View Tour

Best Price Guaranteed

Book With Flexibility

Northern Capitals - Small Group

14

Days

Insight Vacations

First Class

Escorted
5+ years old
24
Berlin
Warsaw
Denmark, Estonia, Finland, Germany, Latvia, Lithuania, Poland, Sweden
$5,394View Tour

Best Price Guaranteed

Book With Flexibility

Baltic Adventure

2 reviews
13

Days

G Adventures

First Class

Escorted
2 - Classic

12+ years old
16
Vilnius
Helsinki
Estonia, Finland, Latvia, Lithuania
$2,599View Tour

Best Price Guaranteed

Book With Flexibility




10 Day Classic Baltics - Sunday Departure

4 reviews
10

Days

Gate1

First Class

Escorted
Tallinn
Warsaw
Estonia, Latvia, Lithuania, Poland
$1,499View Tour

Best Price Guaranteed

Book With Flexibility

Classic Baltics

1 reviews
08

Days

Intrepid Travel

Budget

Guided/Hosted
2 - Classic

15+ years old
12
Vilnius
Tallinn
Estonia, Latvia, Lithuania
$2,060View Tour

Book With Flexibility

Scandinavia & Baltic Circuit

35

Days

Intrepid Travel

Budget

Guided/Hosted
2 - Classic

15+ years old
12
Copenhagen
Vilnius
Denmark, Estonia, Finland, Germany, Latvia, Lithuania, Norway, Poland, Sweden
$11,745View Tour

Book With Flexibility




Oslo to Vilnius

26

Days

Intrepid Travel

Budget

Escorted
2 - Classic

15+ years old
12
Oslo
Vilnius
Estonia, Finland, Latvia, Lithuania, Norway, Sweden
$9,150View Tour

Book With Flexibility

Baltic Experience

15

Days

Intrepid Travel

Budget

Guided/Hosted
2 - Classic

15+ years old
12
Helsinki
Vilnius
Estonia, Finland, Germany, Latvia, Lithuania, Poland
$3,180View Tour

Book With Flexibility

Premium Baltics

10

Days

Intrepid Travel

First Class

Escorted
2 - Classic

15+ years old
12
Tallinn
Vilnius
Estonia, Latvia, Lithuania
$4,630View Tour

Book With Flexibility




12 Day Classic Baltics with Krakow - Friday Departure

20 reviews
12

Days

Gate1

First Class

Escorted
2 - Classic

Tallinn
Krakow
Estonia, Latvia, Lithuania, Poland
$1,849View Tour

Best Price Guaranteed

Book With Flexibility




10 Day Classic Baltics - Friday Departure

10

Days

Gate1

First Class

Escorted
Tallinn
Warsaw
Estonia, Latvia, Lithuania, Poland
$1,199View Tour

Best Price Guaranteed

Book With Flexibility




10 Day Classic Baltics - 10 Day Classic Baltics

10

Days

Gate1

First Class

Escorted
Tallinn
Warsaw
Estonia, Latvia, Lithuania, Poland
$1,199View Tour

Best Price Guaranteed

Book With Flexibility




12 Day Classic Baltics with Krakow - Wednesday Departure

12

Days

Gate1

First Class

Escorted
Tallinn
Krakow
Estonia, Latvia, Lithuania, Poland
$1,649View Tour

Best Price Guaranteed

Book With Flexibility




10 Day Classic Baltics - Wednesday Departure

10

Days

Gate1

First Class

Escorted
Tallinn
Warsaw
Estonia, Latvia, Lithuania, Poland
$1,299View Tour

Best Price Guaranteed

Book With Flexibility
Latvia Travel Guide
Latvia Tours Highlights
Look at some of the best Baroque complexes, palaces, and buildings that have been standing for years.
The city of Riga is a big attraction and worth the time you spend there.
The beautiful white sandy beaches that you can layout on.
Spend the night in a castle while you are in the area.
Look at the former Soviet Union nuclear bunker that provides a glimpse into the past.
Visit during one of the festivals or times of the year when a large gathering is taking place.
Take some of the foodie tasting tours that are happening on the side to the sightseeing tours, as this can provide more to do and enjoy.
Latvia Tours Travel Tips
Make sure to find out where the tour is going to be going since you want to plan ahead if at all possible.
Wear something comfortable on your feet because some of the roads are tough to navigate and you want to make sure you're wearing something comfortable and sturdy.
Leave valuables at home if possible because you are going to be in a foreign location, and you want to make sure you don't lose anything.
You can move between the member countries and areas with just one visa while you are visiting the area.
Make sure to keep your passport with your stuff but have an ID on you at all times.
They use the Euro and while it is not necessary to have it, it might be ideal to have some cash before you leave to the area.
There is a lot of history that you will find around every corner, so be prepared to hear quite a history lesson when you show up.
Latvia Tours Things To Do
Town Hall Square

You can walk down the roadways of the Town Hall Square and see many of the sights that hold themselves up high. You can find that history is also welcoming when you come to the center of the city where the business is ran. The Baroque clock tower is one of the best places to visit.

Best Time To Visit

Visit this area when the weather is nice outside, as you have to walk around outside. You want to make sure you're comfortable and not too hot or cold, and also not being poured on by rain.

You Should Know

This area can become quite busy not only during the tourist season but also during some of the rush hours. Make sure to plan ahead and accordingly to beat both sets of traffic.

Seaside Open Air Museum

This is one of the coolest museums that you are going to come across in Latvia. You will find that the museum is set right on the side of the sea, but also that you can walk through the windmills, the buildings, and a lot of the older things that were once often used. After, layout by the beach and watch the surf.

Best Time To Visit

Tour the museum during the summer months and during the day. You can enjoy the sunshine that comes and beams down from above, but also the warmer air since you're going to be by the water.

You Should Know

Make sure the tour group goes to this area, as you want to find out what beaches are on the list of places to explore while you are in a group.

Ligatne Bunker

This was originally built for the communist party located in Latvia, and you can tell that it was used quite often. They wanted to protect themselves from any nuclear attacks that might have happened. The original items that were stored in the bunker are still on display for you to view during your time there.

Best Time To Visit

Visit the bunker at any time. You don't have to go during any specific weather time, but you should check the times that the bunker is open and see if it is on the list of places your group is going to visit.

You Should Know

You can actually eat a meal here like it is a restaurant because it has become such a popular tourist attraction. They serve traditional Latvia food.

Bauska Castle

This is one of the best-looking castles you are going to come across. Not only do they have something to showcase on the outside but walking through the inside is just as nice. With pieces of the past left behind and since the castle is so well preserved, there is a lot to walk through and take in.

Best Time To Visit

There is no right or wrong time to visit, but if you are visiting during one of the chillier months then it is recommended that you bring a sweatshirt or coat because the castles are not insulated.

You Should Know

There are actually two castles that you can visit when you show up here. You don't have to visit just one. You can get more of a tour when you visit the newer castle, as it is not just ruins.

Latvia National Opera

If you want to take in a show or just feel extremely fancy, then make sure to see the opera happening inside the opera house. With plenty to offer you during your visit, you are going to be disappointed if you don't stop in. Make sure to check the schedule to see what shows are happening during your time on the tour.

Best Time To Visit

The best time is during the nighttime hours when there is a show happening. You can find that they have plenty of shows to take in during this time, too.

You Should Know

There are around 200 performances that take place here, so it is important to think about what you are going to watch when you show up to the area.

Aerodium

This is the first wind tunnel that was installed and one that you can actually use if you show up and get in. The tunnel is vertical, and it gives you the illusion that you are flying when you are inside it. This is what brings a lot of people in. The wind is so powerful and strong that it lifts you right off the ground and propels you into the air above.

Best Time To Visit

Visit during the times they are open, so make sure to check their hours before going. You also want to see if the group is going there, and how much admission is.

You Should Know

Depending on how much you want to fly, the ride can last from 2 to 6 minutes. Make sure to keep this in mind when you are there and signing up to fly around.

Turaida Museum Reserve

Taking in a bit of the history of the land is never a bad thing. This reserve is made up for you to do just that. With ruins, buildings, and artifacts that are laid out for you to view, learn more from, and also ask questions about. The outside gardens are just as beautiful, and they give you a great place to walk through.

Best Time To Visit

The best time to go is during the warmer months of the year. You want to make sure you have time to walk through the gardens since there are a big part of the tour.

You Should Know

There is a memorial that is located on the land that is there in memory of a young woman who sacrificed herself during ancient times. It is now considered to be a place of love and beauty because of her sacrifice.

Sauna Museum

If you want to learn and know more about the saunas that are used throughout the area, then what better way to do it than through a museum that is able to teach you everything you need and want to know. There are six different traditional bathhouses that you can walk through and learn more about the history of the ancient art of heat and steam.

Best Time To Visit

There is no right or wrong time to visit, as much of the museum is inside. You can also have treatments done inside, so keep this in mind.

You Should Know

You can experience the stones when it comes to getting more from the steam and comfort. This is one of the best places to make into a day trip.
Latvia Tour Packages
Knowing the best time to visit Latvia can help you plan out your trip even better. You can enjoy being able to get more from the use of the guide when you visit but planning ahead is always ideal. Many say the best time to visit is between April and September. This is because the weather is more comfortable and milder, and you don't have to worry about fighting birds that might be migrating to the area. The autumn months are great for watching the foliage change color and those who like bird watching can watch for birds during these months, as well.
Latvia Tours Frequently Asked Questions
What are Latvia Tours?

Latvia tours are tours that provide the best experience when you want to walk through an area that is welcoming. You can learn more about the area as the tour guide brings you to many sights, but also cities within Latvia to see.

What's Included in a Latvia Tour?

These tours include the guide, the transports and sometimes even some meals and admission, as well as hotel costs. However, it is important to check into this before moving forward with them, so you know exactly what to expect when you book a Latvia tour. You want to make sure you have everything arranged, and generally, they do a good job at doing this.

What's the Best Latvia Tour?

The best Latvia tour is dependent on what the person would like to get from the tour itself. Each one offers something different and depending on your budget and length of time you want to be away; you can find everything you are looking for right here. Consider checking out Globus, Tauck Tours, or Trafalgar. All of these tour companies are highly rated and provide the best possible way to see the area around you.

How Much Do Latvia Tours Cost?

The cost of these tours is relatively affordable depending on what it is that you want to get from the tour itself. You can find that they have plenty to see and do in the area, but also that you can include some extras in the price. Expect to pay between $1,800 to $4,500 depending on the length and what is included in the tour. You can find the right and best one to fit your needs when you do a bit of research into each of them.
Learn More About Latvia Tours

5 Natural Wonders In Europe You've Never Heard Of

There is more to Europe than world-class shopping, sidewalk cafés, and castles. For outdoorsy types, here are 5 natural wonders in Europe.


The Best Outdoor Spots In Europe With Intrepid

When you think "European Vacation", the first images that probably spring to mind are art galleries, museums, churches and great restaurants. There's no doubt that a trip to Europe is heaven for culture buffs and foodies, but there's one aspect that is often overlooked – Europe is also a great place to get active! From…
Reviews for Latvia Tours and Vacations
We enjoyed this trip. Everyone was so nice, friendly, and helpful. Our tour director was wonderful and our driver was excellent. These countries are so beautiful. We definitely recommend this tour.
Kendra C
It's important to understand the type of trip this tour is which involves a lot of travelling and is usually very packed with little time to explore. Once you manage your expectations, I think you will be ok. I use these trips as a taster for countries that are different from my own so I can understand how things work and the culture a little, and I can go back on my own to explore if I think I want to. Gate 1 is very efficient and things run smoothly for the most part. I would travel with them again.
Sonja S
Will definitely book for future trips, had a wonderful enjoyable vacation.
Cristina V
Departure
Lengths
Styles
Specialities
Price
How It Works
Vacationing has never been easier or cheaper with the help of a dedicated travel consultant from AffordableTours.com
1. Free Quote
Find your perfect trip on our website and simply request a free quote. Need to speak to a live person? Call us 7 days a week at 1-800-935-2620. No robots here!
2. Dedicated Travel Consultant
Your personal travel consultant will reach out and be your point of contact for your entire travel experience from start to finish. Did we mention you'll be working with an award winning team? Sweet!
3. Lowest Price Guaranteed
Because we're one of the largest sellers of travel, we're able to give you a discount on your vacation package. No one beats our prices!
4. Stress Free Travel
Knowing you got the best deal, all that's left is for you to pack your bags and enjoy your vacation!