If you're considering a Lithuanian Tour, then you want to know more about the area. Right next to Denmark and Sweden, you know you're getting the best out of the time you spend in this European country. With plenty to see and do throughout the entire area, you are sure to find just about everything and anything you can think of. Lithuania has so much to offer, but also those living here are welcoming of tourists or anyone who wants to learn more about their country and homeland. Never have to worry about not being able to know what to do or where to go with the best tours throughout Lithuania out here. Check out and learn more about the tours to find out if they are the right choice for you. Lithuania awaits! With tour operator volume buys plus our low everyday prices you can save up to 40% versus assembling the same itinerary on your own! Book your Lithuania tour today with AffordableTours.com, your discounted tour headquarters. View Lithuania Tour Deals and Discounts
Lithuania Travel Guide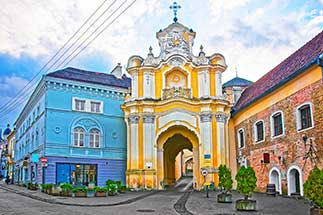 Showing 1 - 20 Tours
Sorry, we were unable to find a tour for you.
If you've not chosen a criteria, then please do so; otherwise you need to broaden your search criteria to find matches.
Lithuania Travel Guide
Lithuania Tours Highlights
The hill of crosses is a place you must see in person to believe it. It is definitely eerie but also interesting.
There is a lot of history and culture that you can take in and learn from while you are there.
There are a lot of different therapies that you can try while you are visiting to increase serotonin in the body.
Make sure to try all of the local food choices because they are different but delicious.
There are three World Heritage sites that you can visit and learn more from right in the area.
Vilnius is full of bustling people, things to do, things to see, and taste that you will want to make sure that you check this area out.
They are friends with Iceland, and everyone loves Iceland, making Lithuania one of the best places to visit and get more from.
The history of Lithuania is one of the most diverse and deepest, so for those who are history buffs, this is an ideal place to visit.
Lithuania Tours Travel Tips
The prices at restaurants are low and they also include tips, but you're welcome to leave small amounts of extra for an additional tip.
There is no smoking inside buildings, there are designated smoking areas for this.
Make sure to follow all of the rules and posted information in the parks and public areas, as well as not trespassing into private land. This can lead to being jailed or deported.
There is a low crime rate, so you don't have to worry about being mugged while you are there and you can actually enjoy the time spent.
Of course, this also means you need to keep common sense about you because you are in a tourist area.
Many of the people who live here do speak English, so you don't have to worry about asking for directions.
The people are friendly and are helpful when it comes to asking them anything.
Make sure to exchange some of your cash for Euros before you go to the country. It can be expensive to do the exchange there, and some of the ATMs and street people cost a lot and will rip you off.
The people of the area are proud, so if you learn a bit of Lithuanian before going and use it, they will be happy to hear you took the time to learn something before coming. It will give them pride and joy.
Lithuania Tours Things To Do
Trakai Island Castle

Built in the 14th century, this castle is located right on the island of Trakai. You can visit by going on a short boat ride. Almost everything is still located inside the castle for you to see. It was restored in the past years and then a museum was created.

Best Time To Visit

You can visit at any time that you are in the area. However, when it is a bit chilly out you might want to bring a sweatshirt because inside the castle can become chilly while you are there.

You Should Know

This castle is one that held great strategic importance for the Soviet Communists and those who were fighting the wars in the past.

Hill of Crosses

There is no story of why the crosses have been left on this hill and they continue to be added too throughout the years. However, when it comes to adding, it is thought that the first crosses ended up there in 1831 after the Uprising battle. There are also rosaries, effigies, Virgin Mary statues, and more.

Best Time To Visit

The best time to go is when it is comfortable outside, but also when it is not raining since the crosses are on a hill outside and you might not want to be poured on.

You Should Know

There are over 100,000 crosses that are located on the hill, but the exact number is unknown by those who have visited.

Gates of Dawn

This is the major site of Catholic pilgrimage located in Lithuania. You can find that you will be able to walk the streets and take in all of the things to do and places to visit. With history and culture that comes together, there is plenty for everyone.

Best Time To Visit

There is no right or wrong time to visit since this is inside. If you want to be a part of history and enjoy a part of something beautiful, then visiting this church whenever is ideal.

You Should Know

There is Holy mass and prayer that happens in this church from time to time, so it is important to think about visiting during one of these times or just listening to them.

St. Anne's Church

Established back in 1495, the church is one of the oldest places that you can visit and is still standing and being used in Lithuania. There are Gothic styles throughout that you can take in while you visit. As a big landmark, it is a must-see for so many who come through this area.

Best Time To Visit

There is no right or wrong time to visit. If you want to admire a lot of the church outside, then coming while it is not raining is ideal, but you can always go inside.

You Should Know

This is one of the sites that is listed on the UNESCO World Heritage list and shown as something as such.

Museum of Occupations

This museum is for those who fought for freedom in the country. It is a monument, museum, and place to bring your good thoughts and vibes to send to those who did a great thing. The documents and artifacts that are collected have to do with the 50+ year occupation in Lithuania by the Soviet Union.

Best Time To Visit

Make sure to check the hours of the museum to find out when to visit since they are opened and closed during specific times throughout the year and week.

You Should Know

The museum was once the Museum of Genocide Victims but has since changed names in the early '90s to incorporate more into the museum.

Kaunas Castle

This medieval castle is the second largest castle that you can come across in the area. It is a Gothic style and provides the quality that you need and want from something like this. It is partially standing, but you can see inside and outside the castle. It has a lot to offer those who are visiting it, which ensures that you have something to look forward to when it comes to spending downtime inside the castle.

Best Time To Visit

You want to go when the weather is nice because they are ruins, so you are going to be spending time outside a decent amount. Check the weather ahead of time.

You Should Know

Make sure to go towards the top of the castle because you can see down into the rest of the town below.

Gintaro Muziejus

The Lithuanian art, culture, and amber museum is one of the biggest museums that showcase some of the best features that are found throughout the country. It is definitely a place you want to stop in and view. This museum can take some time to get through and depending on if you like art, it may or may not be something you're interested in.

Best Time To Visit

Visit at any time since it is all inside, but you want to check the hours first since it is not open all the time.

You Should Know

The museum can take a bit to get through and there is a small fee to get inside, but it is worth it. Consider leaving a donation to keep the museum running.

Gruto Parkas

This park exhibits and holds a number of old Soviet sculptures and statues that you can walk through. Some information is provided on these statues. This allows you to get a bit more about the history of the area, but also enjoy the weather and park that you are walking through.

Best Time To Visit

The best time is during the warmer months and when it is not raining because it is more comfortable to walk through. You want to enjoy your time in the park.

You Should Know

This can definitely be a sad area, but it is also a park. You can bring a lunch or some snacks and sit down under a tree and actually enjoy your time and the weather there.
Lithuania Tour Packages
Lithuania has cooler temperatures like most baltic states. The summers are not as hot as in other European countries, so this is the best and most pleasant time to travel to Lithuania. It is not recommended to travel in the Winter since there could be heavy snow and very cold uncomfortable temperatures, but if you want to see winter in Lithuania, it is best to visit in February since the days are longer.
Spring/Summer - March to May & June to August

The late spring or early summer is the best time to visit Lithuania, but it is also the time when most tourists are coming at the same time. This could mean that things are a bit more expensive and crowded than some might like. You have to think about this before you set up your trip and take your tour.

Fall/Winter - September to November & December to February

If you want to choose to move around this, then visit in the other months surrounding these seasons. Keep in mind though, the winters are definitely cold and if you want to do things and actually be comfortable during them, then the winter is definitely not the best time, but the other times might be the most ideal when spending some time there.
Lithuania Tours Frequently Asked Questions
What is a Lithuania Tour?

A Lithuania Tour is a tour that provides a great experience for those who do not want to choose where to go but want someone who can show them the best places for the area. You can learn more about the area, have everything rolled into one, and ensure that you see the most important areas.

What is Included in a Lithuania Tour?

Transport, meals, and admission are usually included in the tour, but you want to check to make sure that you are getting the best tour that includes what you need and want. The guide does everything for you, so you don't have to plan anything, and you can check out tours that have some of the places you want to visit on them, and then go with those. There is little you have to do but pay and go on the tour yourself.

What's the Best Lithuania Tour?

The best tour depends on the person, what they want from the tour, and what the tour comes with. However, there are some recommended tours that others have said they enjoyed. Globus and Tauck Tours both provide incredible tours worth spending some time at.

How Much Does a Lithuania Tour Cost?

The cost of a tour can also depend on your budget, what is included, how long the tour is, and more factors. You will want to do some research prior to booking to find out which is the best. You can expect to spend between $300 and $2,000. The prices change so much because of the type of tour, what is included, and more. You want to look into the options out there and then go with the one that fits your needs and budget.
Learn More About Lithuania Tours

The Best Outdoor Spots In Europe With Intrepid

When you think "European Vacation", the first images that probably spring to mind are art galleries, museums, churches and great restaurants. There's no doubt that a trip to Europe is heaven for culture buffs and foodies, but there's one aspect that is often overlooked – Europe is also a great place to get active! From…
Reviews for Lithuania Tours and Vacations
We enjoyed this trip. Everyone was so nice, friendly, and helpful. Our tour director was wonderful and our driver was excellent. These countries are so beautiful. We definitely recommend this tour.
Kendra C
It's important to understand the type of trip this tour is which involves a lot of travelling and is usually very packed with little time to explore. Once you manage your expectations, I think you will be ok. I use these trips as a taster for countries that are different from my own so I can understand how things work and the culture a little, and I can go back on my own to explore if I think I want to. Gate 1 is very efficient and things run smoothly for the most part. I would travel with them again.
Sonja S
Departure
Lengths
Styles
Specialities
Price
How It Works
Vacationing has never been easier or cheaper with the help of a dedicated travel consultant from AffordableTours.com
1. Free Quote
Find your perfect trip on our website and simply request a free quote. Need to speak to a live person? Call us 7 days a week at 1-800-935-2620. No robots here!
2. Dedicated Travel Consultant
Your personal travel consultant will reach out and be your point of contact for your entire travel experience from start to finish. Did we mention you'll be working with an award winning team? Sweet!
3. Lowest Price Guaranteed
Because we're one of the largest sellers of travel, we're able to give you a discount on your vacation package. No one beats our prices!
4. Stress Free Travel
Knowing you got the best deal, all that's left is for you to pack your bags and enjoy your vacation!