Malta is a popular tourist destination located between Sicily and the North African Coast. This archipelago in the central Mediterranean is known for its historic sites, including temples and fortresses. A vacation to Malta is like nothing you've ever experienced before, and it's sure to leave you with some unforgettable memories! With tour operator volume buys plus our low everyday prices you can save up to 40% versus assembling the same itinerary on your own! Book your Malta tour today with AffordableTours.com, your discounted tour headquarters. View Malta Tour Deals and Discounts
Malta Travel Guide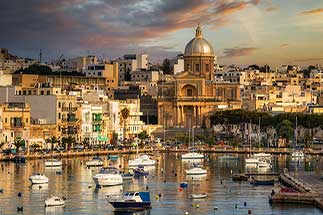 Showing 1 - 6 Tours
Tour Itinerary
Days
Operator
Quality
Style
Starts
Ends
Price

Sicilian Escape with Malta 2023

10

Days

Globus

First Class

Escorted
Palermo
St. Julian's
Italy, Malta
$2,049View Tour

Best Price Guaranteed

Book With Flexibility

Easy Pace Malta - Classic Group

06

Days

Insight Vacations

First Class

Escorted
5+ years old
40
Valletta
Valletta
Malta
$2,350View Tour

Best Price Guaranteed

Book With Flexibility

Sicily in Depth - With 6 Days Malta Option, Small Group

13

Days

Insight Vacations

First Class

Escorted
5+ years old
24
Catania
Valletta
Italy, Malta
$4,525View Tour

Best Price Guaranteed

Book With Flexibility




Highlights of Malta & Gozo

07

Days

Intrepid Travel

Budget

Escorted
2 - Classic

15+ years old
12
Valletta
Valletta
Malta
$2,223View Tour

Book With Flexibility




14 Day Discover Sicily & Malta - Tuesday Departure

14

Days

Gate1

First Class

Escorted
22
Palermo
Luqa
Italy, Malta
$5,299View Tour

Best Price Guaranteed

Book With Flexibility

14 Day Discover Sicily & Malta - Tuesday Departure

14

Days

Discovery By Gate1

First Class

Escorted
22
Palermo
Luqa
Italy, Malta
$5,299View Tour

Best Price Guaranteed

Book With Flexibility
Malta Travel Guide
Malta Tours Highlights
Discover the beauty of St. John's Co-Cathedral.
Swim around and explore nature on the Maltese island of Comino.
Check out the stunning sea caverns in the Blue Grotto.
Wander through the stunning Upper Barrakka Gardens.
Get your history lesson at the Grandmaster's Palace.
Explore the ancient religious site of Hagar Qim.
Watch the boats sail into Grand Harbour.
Discover the unique gem of the Hal Saflieni Hypogeum.
Malta Tours Travel Tips
Especially if you're visiting in autumn or winter, be prepared for some rain. The weather can be somewhat unpredictable, so you'll want to be ready for anything. Durable shoes and a reliable rain jacket are always good bets.
Sample some authentic Maltese cuisine! Baked pasta and pork stew are common entrée options, and if you're really feeling adventurous, you can try the traditional rabbit meal called fenkata.
Don't be surprised if there aren't a ton of attractions on your daily itinerary. Malta's traffic can get pretty bad, so it takes a while to get from place to place.
Expect to see lots of construction. Malta is becoming more industrialized, so you'll see lots of crews around and will have lots of noise to contend with.
When you swim, always stay aware of your surroundings. Watch out for sea urchins and jellyfish, only swim in specifically designated areas, and avoid walking along the edges of cliffs.
Malta Tours Things To Do
St. John's Co-Cathedral

St. John's Co-Cathedral was built in 1577 and remains one of the most stunning attractions in Valletta, Malta. It is dedicated to Saint John the Baptist and is widely considered one of the finest examples of high Baroque architecture in all of Europe.

Best Time To Visit

The cathedral is open to visitors year-round. Their hours for guests are Monday through Friday from 9:30 a.m. until 4:30 p.m. and Saturday from 9:30 a.m. until 12:30 p.m. Guests are not allowed on Sundays. It's recommended to visit before 11 a.m. for the smallest crowds. You will likely need at least 2 hours to explore the cathedral to the fullest.

You Should Know

Take the time to go up to the balcony for a simply unmatched view. Before you enter the cathedral, remove any headgear, ensure your shoulders and knees are covered, and move your backpack to the front of your body if applicable. Guests are not permitted to wear thin high heels such as stilettos. The church offers audio guides in Maltese, English, Spanish, German, French, Italian, Japanese, and Russian.

Comino

Comino is a tiny island measuring just 1.4 square miles. It's part of the Maltese archipelago and is situated between the islands of Gozo and Malta. This destination is particularly attractive to nature lovers, as it is a nature reserve and bird sanctuary. Luckily, it's easy to get to Comino from Malta on a quick ferry ride and enjoy a day trip in this stunning sanctuary.


You Should Know

Currently, this island has just three permanent residents. A fourth resident that had lived on the island passed away in 2017. Attractions on the island include the Comino Chapel, Saint Mary's Tower, and Saint Mary's Battery. Visitors are welcome to dine at the hotel on the island even if they're not hotel guests. The island of Comino is named for the cumin plant that grows all around the island.

Grandmaster's Palace

Officially called The Palace, the Grandmaster's Palace is an incredible attraction in the city of Valletta. The Office of the President of Malta is located here. Visitors are welcome to tour through the Palace State Rooms and Palace Armoury that are open as a museum. You can view one of the greatest arms collections in the world, as well as the sole complete set of 18th century French Gobelins tapestries.

You Should Know

The Palace allegedly sees its fair share of ghosts. Visitors have reported hearing cats and dogs fighting and seeing a cat jump through a window and vanish. When you're visiting The Palace, you'll also be able to explore two courtyards: Prince Alfred's Courtyard and Neptunes Courtyard. Guests are welcome Monday through Friday from 10 a.m. until 4:30 p.m. and Saturday and Sunday from 9 a.m. until 4:30 p.m.

Grand Harbour

Also called the Port of Valletta, the Grand Harbour offers an unbelievable view of Malta's capital city. Though it has adapted over the years, it's believed that the Harbour has been in use even since prehistoric times. The Harbour has seen many battles over the years in events like the Great Siege of Malta.

You Should Know

The Harbour faces northeast, and it's bound to the north by Saint Elmo Point. There is also an isolated breakwater here. It's bound to the south by Ricasoli Point. The area near the harbor has greatly increased in population, especially in Floriana, a suburb of Valletta. Floriana is currently one of Europe's most densely populated cities. Malta's Northern and Southern Harbour Districts house almost half of Malta's population. The Order of Saint John was based at the Grand Harbour from 1530 to 1798.

Hagar Qim

Those interested in prehistory will be thrilled by a visit to Hagar Qim, a megalithic temple complex that are some of the world's most ancient religious sites. The attraction was recognized as a UNESCO World Heritage Site in 1992 and has been praised as "unique architectural masterpieces" by the World Heritage Sites committee.

You Should Know

There are no burials inside the temple or in the area surrounding it. No human bones have ever been found here, though discoveries have been made of sacrificial animals. The main temple of the Hagar Qim complex was built between 3600 and 3200 MC. There are also three additional structures next to this primary temple. Some of the carvings and sculptures on display here are incredibly large, with one megalith even weighing a breathtaking 20 tons!

Hal Saflieni Hypogeum

One of the best remaining examples of the Maltese temple building culture is the Hal Saflieni Hypogeum, which dates back to around 4000 BC. It is believed to have been abandoned by 2500 BC and was excavated both in the early 1900s and in the 1990s. The remains of over 7,000 people have been discovered here, leading archeologists to believe the Hypogeum served as both a sanctuary and a necropolis. Guests can explore the underground complex with three levels of interconnecting chambers.

You Should Know

Workers accidentally discovered the Hypogeum in 1902 while they were cutting cisterns for upcoming housing development. They broke through the roof of the Hypogeum and tried to hide the temple in the beginning, but it was eventually found. It first opened to visitors in 1908. Preservation efforts began in 1991, and the Hypogeum was closed for a decade. Since then, programs have been put in place to monitor its decay and improve the environmental management system.

Blue Grotto

Looking to get in the water during your trip to Malta? The Blue Grotto is an incredible destination for diving, snorkeling, and swimming. This attraction consists of seven caves to explore on the southern coast on Comino. It got its name in the 1950s from a British soldier who compared the area to Capri's Grotta Azzura.

Best Time To Visit

Many recommend visiting the Blue Grotto in the summer months in early morning to midday. These times are when you'll get the best position of the sun into the caves, so the water is absolutely gorgeous.

You Should Know

The complex of caves was formed by erosion over many years. Waves have persistently crashed into the hard face of the cliff, resulting in the arch-like grotto and other nearby rock formations. Of course, the water is a stunning blue, but you'll also see greens, purples, and oranges coming off of the cave walls. If your tour has the option for a dive, take it! It's an amazing experience that takes you to some very famous Mediterranean dive sites.

Upper Barrakka Gardens

If you want a panoramic view of the Grand Harbour, the Upper Barrakka Gardens is the place to be. This, along with the Lower Barrakka Gardens, is a relaxing destination perfect for getting off your feet for a bit. The Gardens were created in 1661 and opened to the public in 1824.

You Should Know

Visitors are welcome to the Gardens from 7 a.m. until 10 p.m. daily. Take the time to stroll through the Gardens and see the statues, busts, and plaques throughout the area. Head to the terrace for the best view!
Malta Tour Packages
Malta is a gorgeous vacation destination no matter when you visit, but most people recommend coming between October and May. There aren't a ton of crowds during this time, since many choose to visit during the summertime. You'll also experience milder temperatures perfect for enjoying the many outdoor activities that Malta has to offer.
Summer Summer - June to August

If you visit in the autumn or spring, you can still enjoy the water. Malta is known for its beaches, and they're a wonderful destination in these shoulder seasons. You'll also have more room on the shore since there aren't as many crowds. Keep in mind, though, that the weather can be varied and you're likely to experience some rain.

Fall Season - September to November

It's best to avoid visiting Malta in the summer if you can. The weather can get incredibly hot, and the large tourist crowds just make it worse. The country is small, so with more crowds, you'll experience longer wait times and a generally more rushed experience.
Malta Tours Frequently Asked Questions
What is a Malta Tour?

A Malta tour will take you throughout the stunning nation of Malta. You'll spend about a week exploring the beautiful beaches, learning about the country at the historic sites, and dining on authentic Mediterranean food for every meal.

What's Included on a Malta Tour?

Your Malta tour will include accommodations for every night of the trip, as well as many meals while you're in the country. You may be allowed the opportunity to secure some lunches and dinners for yourself. The cost of your tour will include excursions to some of Malta's most popular sites, and depending on the company you tour with, your arrival and departure costs may be included as well.

What's the Best Tour for a Malta Tour?

Several group tour companies that service Europe will include tour options that visit Malta. Some examples include Tauck Tours, Goway, Tripmasters, Soleto Travel, and Explore! These companies are known for providing small group tours that cater to the interests of all and provide a unique look into the culture and attractions of Malta.

How Much Does a Malta Tour Cost?

A typical Malta tour will cost around $800-$1,000 per person for a 6-day or 7-day tour. Many companies offer tours of multiple countries including Malta, and these programs tend to be longer and more expensive. It's common to find multi-country tours that cost around $1,200 per person for 9 to 10 nights. Some Malta tours can even last as long as 22 days, and prices increase for these trips as well.
Reviews for Malta Tours and Vacations
I have been on 4 trips with Insight and will continue to use them. They are a wonderful company
Karen S
Very much enjoyed this tour. It was a small group and worked out very well. I liked the small group as we were able to do things and go to places that a large group would not have been able to do. Staying together and keeping pace with the tour leader on excursions was much easier. One exception to my satisfaction is the tipping to different tour leaders at each destination and several bus drivers, then our daily tour director and bus driver-it gets very out of hand.
Joe W
We had a great time...
Rose S
Departure
Lengths
Styles
Specialities
Price
How It Works
Vacationing has never been easier or cheaper with the help of a dedicated travel consultant from AffordableTours.com
1. Free Quote
Find your perfect trip on our website and simply request a free quote. Need to speak to a live person? Call us 7 days a week at 1-800-935-2620. No robots here!
2. Dedicated Travel Consultant
Your personal travel consultant will reach out and be your point of contact for your entire travel experience from start to finish. Did we mention you'll be working with an award winning team? Sweet!
3. Lowest Price Guaranteed
Because we're one of the largest sellers of travel, we're able to give you a discount on your vacation package. No one beats our prices!
4. Stress Free Travel
Knowing you got the best deal, all that's left is for you to pack your bags and enjoy your vacation!