Golden sand dunes, ancient architecture, delicious cuisine, and rich culture are what Morocco is known for. This beautiful Arab country in North Africa with French as a primary language is a splendid combination of multiple cultures. Hollywood fans are all aware of the masterpiece of the 1940s called "Casablanca", whose story revolves around the Moroccan city of Casablanca which was a French colony back then. This otherwise desert country has such a colorful vibe to it that you can never get anywhere else in the world. With tour operator volume buys plus our low everyday prices you can save up to 40% versus assembling the same itinerary on your own! Book your Morocco tour today with AffordableTours.com, your discounted tour headquarters. View Morocco Tour Deals and Discounts
Morocco Travel Guide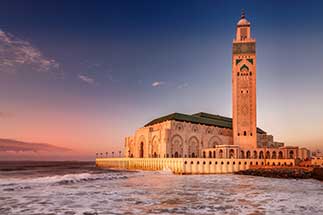 Showing 1 - 20 Tours
Sorry, we were unable to find a tour for you.
If you've not chosen a criteria, then please do so; otherwise you need to broaden your search criteria to find matches.
Morocco Travel Guide
Morocco Tours Highlights
Take a trip into the hundreds of years old Arab history while visiting the traditional Bedouin villages of Morocco.
Enjoy a refreshing swim into the sea which will sweep all of your worries away.
Ride on the back of a camel in the North African deserts.
Enjoy the sunset on the bank of river Bouregred while having a cup of Arabic kehwa tea.
Spend a night with the nomads in a Bedouin village.
Take a tour into the bazaars of Marrakech, flooded with the aroma of freshly ground spices.
Go for a walk at the Legzira beach and be mesmerized by a view that you will remember forever.
Morocco Tours Travel Tips
Morocco is an entirely safe country, but it is still advised to visit only the areas that are marked as safe for travelers by your tour guide.
Due to its inclination towards the French, Morocco is a relatively liberal country but keeping in view that it is a Muslim majority, one should ensure to dress conservatively with regards to the local sentiments.
Although, there are train lines going to most of the major cities, hiring a car for your Morocco tour will make your stay more pleasurable because this is the type of country in which you should definitely go on a road trip.
Morocco is a well-known spot amongst the foodies and if you are one of them, you should certainly expect to be taken away by the delicious cuisine that this country has to offer.
When shopping for a souvenir, one should expect that there will not be any price tags on most of the items that are up for sale and you are supposed to bargain and get a fair price.
There are a lot of areas in the country where you can go for a hike and meet and greet the locals on your way, so don't miss this opportunity and bring your hiking gear along with you.
This country is mostly bustling with tourists so you don't need to worry about the language or the currency, most of the people in urban cities can speak English and you can also find an ATM pretty easily in the cities.
Morocco Tours Things To Do
Marrakech

Marrakech, also known as the cultural capital of Morocco, is a city that is full of life. You will never feel alone in this city that always seems to be on the go. Vibrant colorful buildings and exquisite cuisine along with the most welcoming people, this city will surely blow your mind away.

Best Time To Visit

You should always plan to visit Marrakech either in autumn or in spring because it is the most desirable weather for traveling and wandering around in Marrakech.

You Should Know

The city has an open-air souk – local bazaar – which should be your first stop as soon as you get to Marrakech because the aroma and the colors of the fresh spices will give you a nice little welcome into this culturally rich tourist hot spot.

Rabat

Rabat, the capital city of Morocco, is rich with heritage and ancient historical sites. It has a pre-Islamic ruined city of Chellah which will take you back into the time and you will be able to feel the essence of an abandoned city during your visit to Rabat. The capital of Morocco has so much to offer with regards to ancient Arab history, you can never ever be able to fully explore it, no matter how long you stay in Rabat.

Best Time To Visit

The best time to tour Rabat is from April to November, these months are usually warm and due to the long days of summer, you will have plenty of time to visit various sites that are only open to tourists during the day.

You Should Know

Most of the buildings in Rabat are multi-colored with some being white and indigo while others being sand-colored and the beautiful way to feel the vibe of this is by taking a stroll in the alleys of old Rabat.

Casablanca

One of the most popular tourist destinations in Morocco is the Mediterranean city of Casablanca. This city is considered the industrial and economic backbone of the country. The charming street cafes and Mediterranean cuisine of Casablanca provides an immensely wonderful experience for the tourists.

Best Time To Visit

Casablanca is blessed with the Mediterranean climate, which means it has much more pleasant winters along with summers that are not unbearably hot. You can visit Casablanca at any time of the year but the cold winds in the winters may make you a little uncomfortable so it is better to avoid visiting in midwinters.

You Should Know

There is a tram service in Casablanca that takes you into most parts of the city so you don't have to worry too much about how you would be traveling inside the city. But in case you missed the tram, you can also use the 'Red Taxi' service which is a sharing based taxi that takes up to four passengers at a time and splits the charges in between them.

Fez

Home to one of the world's largest urban car-free zone, Fez is an ancient city built in the 8th century. This city carries a lot of importance in Islamic civilization. You must visit this city if you are into history and want to witness how different cultures evolve over time.

Best Time To Visit

Fez is a city that you should visit during the beginning of summers so that you don't encounter its cold winters which may become a cause of annoyance for some, and they may not be able to enjoy the trip to the fullest.

You Should Know

Make sure to only take a licensed guide with you on your trip to Fez and in case you want to explore the city on your own, you can also do that, just get a map of the city and it's pretty easy to find your way through the city with help of the many gates that it has.

Chefchaouen

The blue pearl of Morocco, Chefchaouen is the city that has a huge influx of tourists due to its location at the backdrop of Mountain Rif and the beautiful white houses with a shade of indigo. This city has a relaxing serenity to it and if you want to take a break from your everyday hassle this is a good place to do.

Best Time To Visit

The best time to travel to Chefchaouen is usually during spring and autumn. Although, it is not very crowded with tourists during spring and autumn the only problem is that there is a chance of rain during that time of the year so you have to be prepared.

You Should Know

This city is well known because of its marijuana plantations and you must beware of the scams on the streets trying to sell you marijuana. There are many cafes in the city that offer great tea where you can sit and enjoy the evening.

Essaouira

Essaouira is a city that has a very different vibe to it than the rest of Morocco. It is a coastal city dominated by beaches. The strong winds over its seafront make it paradise for water sports lovers. If you are into windsurfing and kite surfing then pack your bags and head out to this beautiful city on the coast of the Atlantic Ocean.

Best Time To Visit

If you don't want to miss the World Music Festival, held in June every year, and want to enjoy the perfect weather for water sports, then you should visit from April to August.

You Should Know

The main cuisine of Essaouira is of course fish, and fishermen sell their fresh catches which you can get cooked at a nearby stall. The prices can be a bit high but if price is a matter of concern then there are many small cafes around the city that sell average-priced foods like sandwiches as well.

Meknes

Meknes is a neighbor city of Fez and it is one of the four imperial cities of Morocco. It is relatively quieter than most Moroccan cities that you will travel to. So if you are looking for a little secluded spot to have some time away from other crowded destinations than Meknes is really the place to stop by for a while.

Best Time To Visit

The best time to travel to Meknes is usually around April and October as the weather is quite pleasant during that time and you can have a great trip if you visit during those days. Although some travelers also choose to travel during June and August it can be a little hot as its mid summers from June to August in Meknes.

You Should Know

Visit the Mausoleum of Moulay Ismail to enhance your trip by admiring the Moroccan architectural craftsmanship. You can enjoy a really good Arabic meal for lunch in Meknes before taking a ride on a horse-drawn carriage around the city.
Morocco Tour Packages
Morocco is located right along the coast of the Mediterranean sea and it has a lot of impact on its weather. With humid and rainy summers and cold windy winters, Morocco's climate is at its best during the spring and winter seasons, when the rainfall has not started yet and the cold winds have passed away. Most of the festivals in Morocco are also celebrated during these seasons, which bring a lot of tourism into the country during that time of the year. Furthermore, spring brings out the true colors of Morocco when the flowers are blossoming and are in contrast with the vibrant blue color of the country.
Morocco Tours Frequently Asked Questions
What are Morocco Tours?

Morocco tours are land expeditions into the beautiful North African Arab country. Tours into this beautiful nation are going on all around the year because of its booming tourism industry. You can escape into the world of Arab heritage and history on your tour to Morocco. An itinerary of this tour would usually cover the major tourist attractions of the entire country and on a tour like this you will get the real feel of what Morocco is all about.

What's included in a Morocco Tour?

Tours to Morocco usually include the cost of accommodation, guide, transport, and two or three meals per day. These services must always be included in the package because even if a single one of these is missing you will have a hard time enjoying the trip and it may also increase the cost of your travel. In-bound and Out-bound flights along with the visa cost are usually not included in the basic packages of the Morocco tour.

What's the Best Morocco Tour?

There are several travel and tour services providing readymade and customizable packages for Morocco tour and choosing the best one is really subjective, considering the fact that preferences of individuals vary from person to person. According to our research, some of the best options for you to choose from are Intrepid Travel, Timeless Tours, Trafalgar, and Travel Talk.

How Much Do Morocco Tours Cost?

Morocco is a tourist hotspot, which is why prices for Morocco tours vary from season to season. Prices during the peak season are usually very high and it is also somehow difficult to book a spot for your Morocco tour during peak time. Prices of various tours range somewhere in between $300 and $5000. Much of the variation in the price usually comes from the length of stay and number of destinations, so if you are going for 3 days and visiting 2 cities, your package will cost way less than what it would cost if you want to travel for 15 days and take a tour of 7 cities.
Learn More About Morocco Tours

Top Culinary Destinations Around The World

Finding exceptional flavors should not be hard to do, so we have put together some of the top culinary destinations around the world. However, if you've not traveled much then you may not know where to go for all the amazing food. Learning a bit more about these areas, what they offer, their different tastes,…


Review: Best Of Morocco With Trafalgar

I highly recommend the Best of Morocco with Trafalgar for the first time visitors. The experiences you'll have will make you want to return to Africa.


Dining Etiquette From Around The World

Travelers can be unfamiliar with local dining customs. Here is a handy guide to help you navigate dining etiquette wherever you in the world.

Review: The Best of Morocco With Trafalgar

By: Sara Beth Bowen, Senior Travel Consultant & CTA The Best of Morocco with Trafalgar was mysterious, alluring and a fantastic trek through old and new. It was cosmopolitan at times, contrasting with simple, indigenous, nomadic Berber culture. Our adventure began upon arrival in Casablanca with a superb Welcome Reception and fabulous Moroccan cuisine at…
Reviews for Morocco Tours and Vacations
When I considered this tour, I realized that there would be a lot of time on the bus. However, to visit three countries in 16 days required this amount of travel. I felt entirely safe on the bus, and while walking alone during the free time. The only feature that seemed too long was the visit to the scent factory. I wish that we had visited the museum of St. Yves Laurent. He seemed like a very interesting person. I especially appreciated the visit to the family in the Oureka Valley in Morocco. Overall, the tour guide and the city guides were knowledgeable, and I learned a lot about 3 European countries. All hotels were excellent,
Nancy W
Our guide in Morocco was excellent! He was personable, knowledgeable, helpful and enthusiastic about Morocco. We appreciated the way he celebrated special occasions, always going above and beyond. He always had good recommendations for places and restaurants that we could visit on our own. He made our trip special!
Janice L
The Tour director/coordinator did a fantastic job. Everything was well coordinated.
Seeree S
Departure
Lengths
Styles
Specialities
Price
How It Works
Vacationing has never been easier or cheaper with the help of a dedicated travel consultant from AffordableTours.com
1. Free Quote
Find your perfect trip on our website and simply request a free quote. Need to speak to a live person? Call us 7 days a week at 1-800-935-2620. No robots here!
2. Dedicated Travel Consultant
Your personal travel consultant will reach out and be your point of contact for your entire travel experience from start to finish. Did we mention you'll be working with an award winning team? Sweet!
3. Lowest Price Guaranteed
Because we're one of the largest sellers of travel, we're able to give you a discount on your vacation package. No one beats our prices!
4. Stress Free Travel
Knowing you got the best deal, all that's left is for you to pack your bags and enjoy your vacation!