Nicaragua is the largest country amongst the republics of Central America. This country whose economy is mostly dependant on its agriculture sector has a vast history of an autocratic form of government. Even the name of this country is derived from Nicarao, who was the chief of the trip that lived around the lake which is situated in present-day Nicaragua. This country has a unique history of colonization by both British and Spanish, hence, when you will be visiting Nicaragua you will be able to experience a flavor of both British and Spanish. The western half of the country is full of pasturelands, low mountains, and several volcanoes, which is the reason why this half is the most visited part of the country. With tour operator volume buys plus our low everyday prices you can save up to 40% versus assembling the same itinerary on your own! Book your Nicaragua tour today with AffordableTours.com, your discounted tour headquarters. View Nicaragua Tour Deals and Discounts
Nicaragua Travel Guide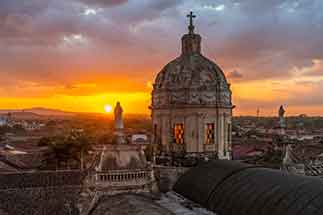 Showing 1 - 20 Tours
Sorry, we were unable to find a tour for you.
If you've not chosen a criteria, then please do so; otherwise you need to broaden your search criteria to find matches.
Nicaragua Travel Guide
Nicaragua Tours Highlights
Take a tour of the colonial city of Leon in Nicaragua and learn the diverse colonial history of this country.
Visit the coffee plantations in Matagalpa which is one of the major coffee-growing regions in Nicaragua.
Take a peek over the Masaya Volcano and look into the impressive volcanic mountain which is constantly emitting smoke and gasses.
Enjoy a boat trip of the beautiful Lake Nicaragua.
A visit to the former monastery of El Convento de San Francisco is a must, where you can see an impressive collection of pre-Columbian sculptures.
You will get to meet very talented people who have been living in this country and making their living by making beautiful pottery.
Get mesmerized while witnessing the lava pool in the crater of Masaya Volcano.
Nicaragua Tours Travel Tips
Since Nicaragua is a very hot country, you don't have to pack too much while planning your trip to Nicaragua. But it is very important that you bring you electronic gear like a camera, charger, and tripod with because you will probably be doing a lot of adventurous trips into the non-urban parts of the country, so you would definitely not want your phone or camera run out of juice when you need it the most.
Nicaragua is a safer country as compared to other Central American countries. Although the protests of 2018 caused a little instability in the country despite all that tourists were pretty much safe even during that time. The time of the protests has passed a long time ago and the country's tourism is in its full swing again. Now, you just need to take the same precautions while visiting Nicaragua, as you would with any other country.
Healthcare in this country is very much affordable but it is very important that you take care of your own health and avoid things like, drinking tap water, visiting the country unvaccinated and not bringing your mosquito repellant with you etc.
Street food in Nicaragua is very cheap and you can have a pretty heavy meal without paying more than $2. The cuisine in Central America is usually fried foods, which can make a very tasty snack as well. One of the very good things about Nicaragua is that there is a brewery in San Juan del Sur, which offers a very great choice of beers.
If your tour doesn't include basic facilities like travel and accommodation, you don't have to worry about it because Nicaragua has everything available at a very cheap price and you can easily get accommodation, food or even car rentals at very affordable prices.
You need to make your mind that the internet in Nicaragua can be very slow and you might have difficulties connecting to social media, the way you would in your home country. Although there is free Wi-Fi available at a lot of public spots but it can be very slow and you shouldn't rely on it.
Chicken Busses are a very common sight in most of the Central American countries. These tiny little colorful busses are very cool to travel in the country. Although they are not the most comfortable bus you have traveled in, still, it's a very affordable mode of transportation.
Nicaragua Tours Things To Do
Granada

This city is one of the best climates in the country with warm weather all around the year. Granada is the city where you can enjoy most of the activities at Lake Nicaragua. Architecture from the colonial era in Granada will give you an essence of the rich heritage of this city. Not only this you but you can also have a great shopping experience in this city.

Best Time To Visit

December is the month when you should definitely visit this city because during this month you will not have to worry about the rainy season of Nicaragua and the sunshine is very warm for you to enjoy during this time.

You Should Know

For historians visiting Nicaragua, this city is a must-visit because it is rich with history and heritage. This city was the first European city in mainland America. If you are bored of eating the traditional cuisine in Nicaragua then you can visit the Garden Café for a lunch that tastes better than most of the things that you regularly eat in this region.

Leon, Nicaragua

Leon is the birthplace of most of Nicaragua's poets and artists which is why it has always been considered the center for intellect in this country. The city has marvelous architecture on display. Just like in all American countries there is always a city that brought the revolution for the country; Leon is also home to the revolution of modern-day Nicaragua.

Best Time To Visit

The best time to travel to Leon is during the winter when there is almost no rainfall and you can easily stroll in the streets and visit the nearby mountainous regions.

You Should Know

The best way to visit Leon is through a car rental because the views on your way to Leon could be very captivating and could enhance your traveling experience. If you are driving from Granada then the distance is almost 80 miles via the highway. The beaches near Leon are very beautiful and accessible.

Ometepe Island

This unique island looks like the shape of an hourglass due to its distinct location in the middle of two volcanoes. This is an island that is a must sight if you are in Nicaragua because the landscape of this island is unmatchable. When looking at the island for the first time you will not be able to take your eyes off of the perfectly cone-shaped active volcanoes surrounding this island. These volcanoes have clouds of gas and smoke covering their peaks almost all of the time.

Best Time To Visit

The climate on this island is tropical and the weather is mostly very hot with a lot of humidity. Usually, tourists visit this place in the winter, which is usually considered the best time to enjoy this island.

You Should Know

It is better to visit this place in the winters but in case if you are visiting Ometepe during or before summers then the best thing to do to cool off is to take a dip in Oja de Aqua, which is a natural spring and has tropical plants all around it. The water at Oja de Aqua natural spring is one of the cleanest that you will ever find in Nicaragua. The best way to travel the island is by renting a bike and exploring its natural beauty on those two wheels.

San Juan Del Sur

This part of Nicaragua is famous for its Pacific beaches. This is a very chill city in this country and you can have a very relaxing evening but if you are one of those who like to party more and restless then you can also go to one of the city's famous beach parties. This city also offers many surfing opportunities for water sports lovers.

Best Time To Visit

You should visit San Juan del Sur from July to December, during this time of the year the weather is ideal for surfing on the waves of the ocean. The scenes of Ridley turtles laying eggs on the beach of San Juan Del Sur can also be witnessed during the second half of the year.

You Should Know

San Juan del Sur is very popular for its beaches and its party scene. The two must-do things if you are visiting this city are surfing on the ocean and partying on the beachside. You can take a horse ride in the city which lets you explore this historic city in its indigenous way. If you are looking for a surfing experience then the best option for you would be to visit nearby surf beaches like Playa Hermosa.

Lake Nicaragua

Lake Nicaragua is the largest lake in Central America. Nicaragua has several names Cocibolca, La Mar Dulce (the sweet pea). It is known for the freshwater lake containing oceanic animal life, including sharks, swordfish, and tarpon. Lake Nicaragua is famous for its beauty and it has beautiful landscapes.

Best Time To Visit

The best time to go to this lake is during the dry season which runs usually through December to February. During this time the lake is pretty calm and days are quite warm so you don't have to be worried about the weather at all.

You Should Know

This is a very beautiful place to go and enjoy your trip by kayaking. A lot of people also visit this place to enjoy a beautiful and quiet sunset while boating in the lake. The view of the sunset on the lake is very well complimented by the naturally beautiful landscape around this lake.

Managua

Managua is the largest city and its center of commerce and culture. Managua produces a variety of small manufactures, including metal, furniture, meat, textiles, and contain oil refinery too. Vast agricultural fields surround the city. These fields are mostly utilized for coffee plantation, cotton, and corn (maize). Managua is famous for its beaches and includes luxurious or rustic tourist infrastructures.

Best Time To Visit

The best time to travel to Managua is in spring or early winter as you will have a warm temperature. Wind in Managua is usually calm. If you are planning to visit in winter you should be prepared for some precipitation.

You Should Know

Managua is a very tourist-friendly place. There are some places including modern malls, ambitious infrastructure projects, promenade parks along the lakeshore that are giving Managua back to its life and the growing number of tourists is a reason to stay and explore. Managua is filled with amazing natural beauty and extremely warm people.

Rivas

Rivas Nicaragua is a land between Lake Nicaragua and the Pacific Ocean. It is a commercial and manufacturing center in an agricultural area that includes tanneries, dairies, and plants manufacturing rubber items are located. It has many natural and historic attractions, it contains two most famous and visited destinations: San Juan del Sur (with several beaches) and the volcanic island of Ometepe. Rivas is known for its beaches (either for its beauty and waves) in Nicaragua.

Best Time To Visit

January until December is considered the best time as you will experience mixed temperatures including warm and rainfall. Many tourists visit Rivas in the hot season so that they can visit the beaches, colorful plazas so that they can enjoy the colors of old charm of that place and explore.

You Should Know

You can go to the downtown area in search of historic museums and boutiques. Riva's is known for its old-world charm, as it has beautiful and colorful plaza's and surrounds by historic buildings. It has a history of mango trees and chattering parakeets. People love to visit Rivas because of its breathtaking scenery and relatively inexpensive real estate. Its new construction is growing very fast from new homes to luxury hotels.
Nicaragua Tour Packages
The weather varies a little bit between the eastern and the western halves of the country. The country's climate is mostly cool, with some wet moths. Majority of the frequent travelers to this country suggest that dry months of winter provide way more opportunities for the tourists than the much more wet months of summer because of the fact that most travelers visit Nicaragua because of its serene beauty of volcanic mountains, which will otherwise not be visible due to the clouds if you are visiting during the rainy season.
Nicaragua Tours Frequently Asked Questions
What are Nicaragua Tours?

These tours are designed for travelers who have been planning to visit this Central American nation that is otherwise not very much known to the mainstream audience of tourists. You can have a lot of variations in these tours and these tours provide a great opportunity for you to socialize with the locals with the help of the local guides that are provided to you in the tour package in most cases.

What's included in a Nicaragua Tour?

These tours, in most cases, include all the basic facilities that you are going to need during your stay in Nicaragua such as food, accommodation, transport, and a tour guide. This country is relatively very cheap so in case if one of these facilities is missing in your package, you can easily get it by yourself.

What's the Best Nicaragua Tour?

There are many operators that provide customized packages for Nicaragua. You can also customize a package according to your preference. Some of the Nicaragua tours which are rated very well by the travelers are Vive Travels, Receptivo Aborigen Tours, Intrepid Travels, and Marvelus Travel.

How Much Does a Nicaragua Tour Cost?

There are many tours which cost in the range of $500 to $1500. These tours depend on the number of places you will be visiting and the number of days that you will be staying in this country.
Reviews for Nicaragua Tours and Vacations
Much more difficult bike riding than expected. If I had known it was a mountain bike trip, I might not have booked it. The tour was challenging, but I wish our guide would of shared more info about the countries. He did offer great restaurant options. Several things were left out of the itinerary, without explanation. Like a walking tour...no mention of it. Also wished our guide would of been more customer focused, versus about his own accomplishments or up coming athletic challenges. It struck me odd, that in the first night, he did not give the group a chance to introduce themselves. I'm glad I did this trip, but liked the tour and cycling of the Vienna to Budapest Intrepid tour better.
Laura R
Best trip EVA!!! Exciting and relaxing at the same time with the best tour guide in Central America Marial.
Thomas L
The Central America tour runs starting any day someone books it, so the chance of more than 1 couple choosing the same day is low. And the tour doesn't run as a conventional tour with fewer than 15 people. 2 of us booked and then my partner got hurt and couldn't go. There was a single supplement not only for the hotel room but because I ended up with private guides in 4 of the countries so the supplement was huge. Having a private guide added flexibility and had advantages, but if that's what I required, I wouldn't have signed up for a group tour. And when I didn't have a private guide. The tour experience was at the other end of the spectrum, a roughing it experience or piecemeal tours. In Costa Rica every day I joined a different one day tour group. I was given a paper at the airport that told me when to be ready each day. The other tourists on those tours paid nothing compared to what I paid per day. Then I was driven to the worst organized border crossing I have seen in over 60 countries and was pointed to the first place to pay fees. No one prepared me for all the steps I had to take and I had no idea if the 3 payments I had to make were bribes or legitimate fees. When I got into Nicaragua, I had no idea who was to pick me up or where to meet a guide amongst all the hustlers and roadside stands there. It was terrifying. The guide wasn't there and for 45 minutes I waited amongst throngs of locals all trying to sell me something or take me somewhere. I had to repel so many people. The company never gave me much info about how I was to be handed off between any of the guides or what to expect I the next country as far as meeting a tour guide. And if I had had a problem (medical, stolen passport etc), there was no tour director help at all. The guide in Nicaragua was terrific. Again leaving to El Salvador I was completely in the dark as to what would happen after the plane landed. The guide picked me up okay and I had a private guide again. He was informative but read emails as he drove constantly. With the Wild West driving in the country, this was super dangerous. And again when he finished the guiding in Honduras, he left me alone to catch a public bus, which was 4 hrs late and no one there spoke English. The tour company gave me no voucher for the bus and didn't explain I would have to change buses or how to get to my hotel at the end of the second ride. The previous guide happened to mention he'd received a copy of a voucher, but I had to ask for a copy. Without it, I would have been totally lost. Then last bus stopped in front of my locked hotel at 2 a.m. For the money I paid, I didn't expect to be left in this position. The sights I saw were great and pretty well planned out. If there had been 15 of us to get a tour director, I think all would have been well. Why the tour company insisted I had to take the early plane from Managua to San Salvador (necessitating getting up at 4 a.m.), I don't know. On arrival there was a 2.5 hour tour, that could easily have started after the arrival of the mid day flight. That would have been a more reasonable itinerary plan. The hotels were okay. None had an elevator and the last one didn't have any air conditioning. Some were located so that one could easily do something with the ample free time, but some hotels were in the middle of no where. If you aren't a group of 15, I wouldn't risk taking this cobbled together tour or risk a SITA tour again.
Lillian R
Departure
Lengths
Styles
Specialities
Price
How It Works
Vacationing has never been easier or cheaper with the help of a dedicated travel consultant from AffordableTours.com
1. Free Quote
Find your perfect trip on our website and simply request a free quote. Need to speak to a live person? Call us 7 days a week at 1-800-935-2620. No robots here!
2. Dedicated Travel Consultant
Your personal travel consultant will reach out and be your point of contact for your entire travel experience from start to finish. Did we mention you'll be working with an award winning team? Sweet!
3. Lowest Price Guaranteed
Because we're one of the largest sellers of travel, we're able to give you a discount on your vacation package. No one beats our prices!
4. Stress Free Travel
Knowing you got the best deal, all that's left is for you to pack your bags and enjoy your vacation!