Panama, located at the tip of Central America, is known for its breathtaking landscapes, that are varied from region to region. Regardless of what part of the country you are in you will have gorgeous views of incredible mountain ranges on one side, and tranquil beaches on the other. Where else can you wake up and have breakfast while gazing out on the Caribbean, and then have lunch overlooking the Pacific Ocean? The wildlife is plentiful, the nature preserves are gorgeous, and the people are friendly, so what more could you want in a vacation destination? If you pair all of these wonderful things together in a glorious package then you have our Panama Tours. With tour operator volume buys plus our low everyday prices you can save up to 40% versus assembling the same itinerary on your own! Book your Panama tour today with AffordableTours.com, your discounted tour headquarters. View Panama Tour Deals and Discounts
Panama Travel Guide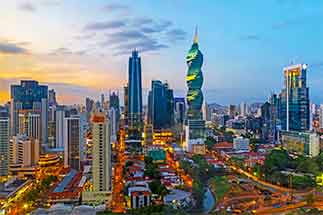 Showing 1 - 7 Tours
Tour Itinerary
Days
Operator
Quality
Style
Starts
Ends
Price

Independent Panama 2024

06

Days

Globus

First Class

Independent
8+ years old
Panama City
Panama City
Panama
$1,589View Tour

Best Price Guaranteed

Book With Flexibility

Independent Panama with the Pacific Coast 2024

09

Days

Globus

First Class

Independent
8+ years old
Panama City
Panama City
Panama
$2,389View Tour

Best Price Guaranteed

Book With Flexibility




Costa Rica & Panama Discovery

16 reviews
13

Days

Intrepid

Budget

Guided/Hosted
2 - Classic

15+ years old
16
San Jose
Panama City
Costa Rica, Panama
$1,211View Tour

Book With Flexibility




Best of Central America

44

Days

Intrepid

Budget

Guided/Hosted
2 - Classic

15+ years old
16
Playa del Carmen
Panama City
Belize, Costa Rica, El Salvador, Guatemala, Honduras, Mexico, Nicaragua, Panama
$4,203View Tour

Book With Flexibility




Ultimate Central America

59

Days

Intrepid

Budget

Escorted
2 - Classic

15+ years old
16
Mexico City
Panama City
Belize, Costa Rica, El Salvador, Guatemala, Honduras, Mexico, Nicaragua, Panama
$5,793View Tour

Book With Flexibility




Amazing Central America

29

Days

Intrepid

Budget

Escorted
2 - Classic

15+ years old
16
Antigua
Panama City
Costa Rica, El Salvador, Guatemala, Honduras, Nicaragua, Panama
$2,673View Tour

Book With Flexibility

Classic Panama

09

Days

Intrepid

First Class

Escorted
15+ years old
12
Panama City
Panama City
Panama
$2,975View Tour

Book With Flexibility
Panama Travel Guide
Panama Tours Highlights
Enjoy a flight to the archipelago of Bocas del Toro, the island is covered mostly in rainforests and amazing beaches
Lots of incredible opportunities to snorkel, scuba dive, or lounge around and relax on the beaches during your trip
Taste some of the most interesting and unique food that you will find anywhere
Enjoy scenic boat tours of the various islands that make up Panama's coast
Come face to face with many various exotic animals and birds
Visit Boquete and take part in a wide variety of outdoor activities including hiking and whitewater rafting
Take a tour of a local coffee plantation and learn about the process that the beans go through before they reach your local coffee shop
Marvel at the amazing Panama Canal and learn all about its construction and purpose
Visit the on-site museum of the Panama Canal to learn more about its history
Panama Tours Travel Tips
Many places in Panama work with a barter system in place, meaning that the cost of something might be negotiable. Know what the item is worth before trying to haggle too hard, but be ready to try to barter a bit
Embrace the bus system while in Panama. Their bus system is how people travel in Panama, and they have quite a complex system. Regardless, it is the safest and most convenient way to travel while here
Carry small change on you. Most of the various taxis and small shops won't accept larger bills, so be sure to have smaller change on you
The water that comes from the tap is completely safe to drink so we suggest to fill up reusable water bottles before starting each day to ensure that you stay hydrated and are not purchasing bottles of water in excess
During Happy Hours in Panama beer is about $1USD, while mixed drinks will cost a little bit more. We suggest sticking to beer while in Panama to really save some money
Embrace the local stands for foods. While we do suggest sitting down for a meal once in a while, we suggest embracing the food stands that you will come across on your travels around Panama. They tend to be cheaper, and the food is just as good as a dine-in restaurant
Be sure to travel in the offseason. Traveling is cheaper during their rainy season, which is between April and November, and you will be able to do a lot more with the little time that you will have
Panama Tours Things To Do
The Panama Canal

If you go to Panama and don't visit the Panama Canal then you will have missed out. The canal is an incredible manmade feature that has been functional for many years and is the main reason that so much trade is possible in Panama. When you arrive you can book a tour in order to get a closer look at everything that goes on in the canal and learn about the history. However, you can just as easily head here on your own to view the canal at now cost to yourself and learn about the history on your own time. It truly is remarkable to watch all the ships passing through.

Best Time To Visit

The canal is a very cool item to see in Panama, however, it may be a little boring if there aren't ships passing through. Be sure to check the schedule online of when the ships will be passing through so that you get to see the canal in action.

Enjoy Some Delicious Coffee in Boquete

While in Boquete you need to ensure that you have a cup or two of their incredible coffee. Boquete is known for its coffee, if you like a strong cup of coffee then you are in for a real treat. Because of its location, Boquete has a little cooler weather and it's often less humid, which makes perfect conditions for coffee plantations. You can book a tour of their coffee plantations and get an in-depth look at how everything is prepared before it hits your local coffee shop. Also, be sure to try their most famous coffee, the geisha coffee.

You Should Know

We suggest dressing in summer clothes, but to have a light jacket or sweater on for when you enter into the plantations. Due to the shade, and the cooler weather, you may feel a little chill.

Enjoy Live Jazz Music

While in Panama City you are sure to come across plenty of live jazz bands that like to play throughout the day and well into the evening. Take some time to stop and enjoy some of these musicians and their incredible skills. Whether you are outside walking the streets, or indoor at some of the amazing restaurants, you are sure to find jazz music in almost every venue that you choose.

You Should Know

Some of the musicians that are playing street-side appreciate any tips that you can offer, and for them, a little can go a long way. If you have any spare change that you don't mind parting with it will make their day!

Nightclubs and Bars in Panama City

The nightlife in Panama City is something that you won't want to miss out on. There are plenty of various nightclubs and bars that cater to many different music styles and have awesome beverages available as well. You are sure to find something that suits your needs. If you aren't into the club scene there are plenty of more chilled locations that you can choose from to have a nice evening of music, dancing, and drinks as well.

You Should Know

We suggest visiting Danilo's Jazz Club, inside the American Trade Hotel, at least once while you are here. The music is phenomenal, and it is a more down to earth club, with comfortable seating, and a welcoming environment.

Zipline in Boquete

If you are looking for a truly unique adventure while you are in Boquete then we suggest trying out their favorite adrenaline rushing activity; zip lining! Because of the gorgeous views of the highlands in Boquete, the residents realized that the best way to see it was from the sky, and they put zipline courses around their highlands so that you can get an amazing view, and a huge rush. The ziplines will go through a beautiful rainforest, and the tour that includes the zip line often takes roughly 3 hours to complete.

You Should Know

The zipline tour can be booked through agencies in town that have tours leaving at various times throughout the day. If you are going to be in Boquete and plan on doing some exploring on your own, we suggest this for sure.

Book a Historical Tour

The various cities that you will visit while in Panama are all home to many local histories, and we suggest taking the time to learn about as many as you possibly can. For example, did you know that Captain Morgan isn't just a man on a rum bottle, but an actual person? While in Panama City you can book a tour to learn all about Henry the Terrible (Captain Morgan), and his pillages in Panama City in the 1600s. You will learn so much on these tours, and many of them include some food and beverages along the way!

Best Time To Visit

Some of the tours are only available during their high season, while others are available all year round. Be sure to check with your tour agent prior to booking anything.

Book a Snorkle or Scuba Adventure

Panama has some of the best waters for snorkeling and diving, and you will want to take full advantage of it. There are different tours you can book while you are here, including reef snorkeling, and wreck dives. What better way to explore the waters of Panama than by strapping on a tank and diving into a wreck off the coast. You will see a wide variety of marine animals, some incredible underwater ecosystems, and who knows, maybe you'll even find a treasure!

You Should Know

The Caribbean waters are some of the clearest waters in the world and offer you an incredible underwater experience. Be sure to book at least one diving or snorkeling tour while on vacation so that you don't miss out.

Go Whale Watching

As we said, due to the location of Panama you have the luxury of being able to visit two oceans within a day. If you would like to see some whales while on vacation we suggest booking a whale watching tour while you are on the south/southeastern side of the country, along the coast of the Pacific. These waters are the perfect waters for your chance to view many marine animals including dolphins, sharks, and a few different species of whales.

You Should Know

Like many whale watching tours, you are not guaranteed to see a whale, however, the cruises themselves are often enjoyable and give you the opportunity to see many other species if the whales are not present.
Panama Tour Packages
Unlike other tropical destinations, the best time to visit Panama is between the months of April to November. Other destinations tend to be overcrowded during these months, but that is considered the down season for Panama. Obviously, the other months are great for travel as well, but you should expect a lot more crowds during the months from November to April. The weather during the busy season tends to be hot and dry giving you the heat you are looking for, with dry conditions giving you plenty of opportunities to venture out and see the country without the worry of rain. However, if you're not turned off by rain, then why not visit when the crowds are lessened?
Due to the heat, we do suggest having cool clothing options at the ready. We also suggest stocking up on sunscreen as the sun can be pretty intense.
Panama Tours Frequently Asked Questions
What is a Panama Tour?

A Panama Tour is the most relaxing and cost-effective way to see as much of the wonderful country of Panama you can within a certain time limit. While you could easily fly and travel around the city at your own cost, flights, hotel accommodations, and meals can add up quickly and can often make the entire experience much too expensive. By booking a Panama Tour you will receive some deals on accommodations, and you will have the chance to visit some of the most luxurious places that Panama is known for.

What is Included on a Panama Tour?

Depending on the tour that you choose some of the inclusions may change. To book one of our more affordable tours you will have no meals included in the original cost. However, you will have access to many various hotels, some of which offer continental breakfasts to get your day started off right. Any transportation that is required for the tour is completely covered by your original fee, including planes, local buses, and boats.

What is the Best Panama Tour?

The best tour is completely up to you and your wants and needs. If you are looking to book a Panama Tour we suggest viewing the ones that we have available and deciding which one will venture into the areas of Panama that you wish to see the most of. Some tours are different and you will receive different experiences depending on which you choose to go with. Be sure to do some research on the area and see what all can be covered by each individual tour.

How Much Does a Panama Tour Cost?

The price is completely dependent on the time of the year that you are choosing to visit, and the number of days that you wish to tour. We have some tours that are as low as $976 for 8 days, and some that go above $2000 for 14+ days. There are also plenty of things that can be booked and included with the tours that will increase the price. If you have any questions you can give our knowledgeable staff a call and we will be happy to help you plan out your next incredible adventure.
Reviews for Panama Tours and Vacations
Our itinerary was changed less than 2 weeks before departure, but the details were never changed. Great location, great weather, friendly people, great driver,and it is safe. Book everything yourself on line. We had to deal with 4 levels of bureaucracy to get things fixed, and that doesn't happen on Saturday. Christine at Affordable worked extremely quickly to get things fixed on Monday.
Gilbert C
The other group members in the tour knew that they can either do only Panama, or Costa Rica or both or add another 3 days to this itinerary. We did not know those options existed. We would like Shannon or other agents inform us the combinations in advance when you provide us the details about the tours. We also found out that people booked their flights even though air is included in the package thus avoiding additional stops in Miami. Overall we are happy with the tour.
Yimadabattuni R
Great trip packed with must-see venues.
Richard S
Departure
Lengths
Styles
Specialities
Price
How It Works
Vacationing has never been easier or cheaper with the help of a dedicated travel consultant from AffordableTours.com
1. Free Quote
Find your perfect trip on our website and simply request a free quote. Need to speak to a live person? Call us 7 days a week at 1-800-935-2620. No robots here!
2. Dedicated Travel Consultant
Your personal travel consultant will reach out and be your point of contact for your entire travel experience from start to finish. Did we mention you'll be working with an award winning team? Sweet!
3. Lowest Price Guaranteed
Because we're one of the largest sellers of travel, we're able to give you a discount on your vacation package. No one beats our prices!
4. Stress Free Travel
Knowing you got the best deal, all that's left is for you to pack your bags and enjoy your vacation!