Misty glens, glittering lochs, rugged mountains, and big skies – Scotland's landscape takes your breath away. Tour remote stretches of heather-laden moors, encounter spectacular wildlife, marvel at brooding castles, and wash it all down with a dram of single-malt whisky to experience all the flavors of this dreamy destination. With tour operator volume buys plus our low everyday prices you can save up to 40% versus assembling the same itinerary on your own! Book your Scotland tour today with AffordableTours.com, your discounted tour headquarters. View Scotland Tour Deals and Discounts
Scotland Travel Guide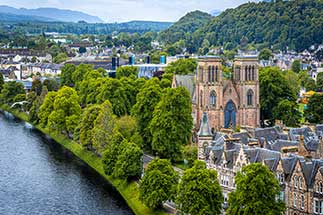 Showing 1 - 20 Tours
Tour Itinerary
Days
Operator
Quality
Style
Starts
Ends
Price

Bonnie Scotland 2024

128 reviews
07

Days

Globus

First Class

Escorted
Glasgow
Edinburgh
Scotland
$2,269View Tour

Best Price Guaranteed

Book With Flexibility

Scottish Highland Fling 2024

30 reviews
10

Days

Globus

First Class

Escorted
1 - Light

Edinburgh
Glasgow
Scotland
$3,119View Tour

Best Price Guaranteed

Book With Flexibility

2024 Scottish Dream - 8 Days/7 Nights

20 reviews
08

Days

CIE

First Class

Escorted
Glasgow
Edinburgh
Scotland
$2,445View Tour

Best Price Guaranteed

Book With Flexibility

Britain & Ireland in Depth 2024

68 reviews
24

Days

Globus

First Class

Escorted
London
London
England, Ireland, North Ireland, Scotland, Wales
$6,849View Tour

Best Price Guaranteed

Book With Flexibility

2024 Scots Irish Tour - 15 Days/14 Nights

6 reviews
15

Days

CIE

First Class

Escorted
2 - Classic

Edinburgh
Dublin
Ireland, North Ireland, Scotland
$4,295View Tour

Best Price Guaranteed

Book With Flexibility

Amazing Britain

54 reviews
10

Days

Trafalgar

First Class

Escorted
London
London
England, Scotland
$2,605View Tour

Best Price Guaranteed

Book With Flexibility

Essential Britain 2024

192 reviews
12

Days

Globus

First Class

Escorted
London
London
England, Scotland, Wales
$3,099View Tour

Best Price Guaranteed

Book With Flexibility

Highlights of Ireland & Scotland 2024

58 reviews
12

Days

Cosmos

Budget

Escorted
3 - Explorer

Dublin
Edinburgh
Ireland, North Ireland, Scotland
$2,369View Tour

Best Price Guaranteed

Book With Flexibility

Essential Britain & Ireland 2024

330 reviews
10

Days

Globus

First Class

Escorted
London
London
England, Ireland, North Ireland, Scotland, Wales
$2,689View Tour

Best Price Guaranteed

Book With Flexibility

Celtic Highlights 2024

216 reviews
13

Days

Globus

First Class

Escorted
Glasgow
Glasgow
England, Ireland, North Ireland, Scotland, Wales
$4,019View Tour

Best Price Guaranteed

Book With Flexibility

2024 Taste of Britain & Ireland - 14 Days/13 Nights

1 reviews
14

Days

CIE

First Class

Escorted
44
London
Dublin
England, Ireland, North Ireland, Scotland
$4,445View Tour

Best Price Guaranteed

Book With Flexibility

Scottish Outland Adventure 2024

3 reviews
07

Days

Cosmos

Budget

Escorted
1 - Light

8+ years old
50
Glasgow
Glasgow
Scotland
$1,494View Tour

Best Price Guaranteed

Book With Flexibility




14 Day England, Scotland & Ireland - Thursday Departure

2 reviews
14

Days

Gate1

First Class

Escorted
London
Dublin
England, Ireland, North Ireland, Scotland
$2,999View Tour

Best Price Guaranteed

Book With Flexibility

The Best of Britain & Ireland 2024

130 reviews
15

Days

Cosmos

Budget

Escorted
3 - Explorer

London
London
England, Ireland, Scotland, Wales
$2,869View Tour

Best Price Guaranteed

Book With Flexibility

2024 Scottish Isles & Glens - 13 Days/12 Nights

13

Days

CIE

First Class

Escorted
Glasgow
Edinburgh
Scotland
$3,895View Tour

Best Price Guaranteed

Book With Flexibility

Britain and Ireland Experience

30 reviews
15

Days

Costsaver

Budget

Escorted
London
London
England, Ireland, Scotland, Wales
$2,609View Tour

Best Price Guaranteed

Book With Flexibility

2024 Taste of Britain - 7 Days/6 Nights

3 reviews
07

Days

CIE

First Class

Escorted
44
London
Edinburgh
England, Scotland
$2,195View Tour

Best Price Guaranteed

Book With Flexibility

Britain Sampler 2024

332 reviews
09

Days

Globus

First Class

Escorted
3 - Explorer

London
London
England, Scotland, Wales
$2,369View Tour

Best Price Guaranteed

Book With Flexibility

2024 Taste of Scotland - 6 Days/5 Nights

8 reviews
06

Days

CIE

First Class

Escorted
Glasgow
Edinburgh
Scotland
$1,495View Tour

Best Price Guaranteed

Book With Flexibility

2024 Scottish & Irish Sampler - 7 Days/6 Nights

07

Days

CIE

First Class

Escorted
44
Edinburgh
Dublin
Ireland, North Ireland, Scotland
$2,095View Tour

Best Price Guaranteed

Book With Flexibility
Scotland Travel Guide
Scotland Tours Highlights
Visit the magnificent Edinburgh Castle which dominates the city's skyline and offers panoramic views.
Head to charming Inverness and go monster-hunting in the nearby Loch Ness.
Discover St. Andrews, a historic town best known for The Royal and Ancient Golf Club, widely acknowledged as the birthplace of golf.
Enjoy salmon fishing, water sports, and hiking in the spectacular Trossachs National Park and Loch Lomond.
Be mesmerized by the Isle of Skye with its towering mountains, lush green glens, thundering waterfalls, and golden sand beaches.
Explore the remote Northern Highlands, dotted with delightful coastal villages, ideal for hiking and biking.
Take the Burns Heritage Trail in Alloway for an insight into the life and times of Robert Burns, Scotland's most celebrated poet and author of Auld Lang Syne.
Marvel at the staggeringly beautiful Eilean Donan Castle, one of Scotland's most photographed structures.
Scotland Tours Travel Tips
Scotland is an independent nation that is part of the United Kingdom (the other countries in the UK are England, Wales, and Northern Ireland). The currency in Scotland is the British Pound. However, the banknotes look different than elsewhere in the UK. If you're heading from Scotland to the rest of the UK, know that shops outside Scotland may not accept Scottish banknotes even though they're legal tender throughout the UK. Credit and debit cards are widely accepted, even in rural areas.
The Scottish accent can be thick and you might struggle to understand it even if you're a native English speaker. Don't be embarrassed to ask the locals to slow down or repeat what they said.
The Scots love saying there's no such thing as bad weather, only poor choice of clothing. You can get all four seasons in one day in Scotland, and it rains… a lot. Don't leave home without a waterproof jacket (an umbrella might be useful in a light drizzle but won't do much good in strong winds). Dress in layers – it can get nippy even on summer evenings.
Instead of ordering a "scotch" at the bar and drinking it like a shot, ask for whisky and order a dram (a delightful Scottish term meaning a single serving or one-eighth of a fluid ounce). The Scots are incredibly proud of the history and culture of whisky production in their country. Ask the bartender for recommendations and savor each drop.
Scotland is best enjoyed at a slow pace. Don't try to squeeze in every loch you're heard about and rush through a list of must-sees. Instead, immerse yourself in the cinematic landscape and give yourself time to take it in.
May to September is midge season in Scotland (a midge is a small fly). Their bites are completely harmless and less severe than mosquito bites. However, we recommend bringing some insect repellant to be safe.
Scotland Tours Things To Do
Follow the Castle Trail from Aberdeen

With more than a dozen of Scotland's best-preserved and most dramatic castles, the Castle Trail in Aberdeenshire can be anything from a single day to a six-day sojourn. Marvel at the spectacular Craigievar Castle, a 15th-century masterpiece with oriental windows, towering gables, and conical rooftops. Or visit the fairytale-like Crathes Castle, standing amidst picturesque rolling hills and home to elaborately painted ceilings, fine antique furniture, and grand portraits.

You Should Know

The 311-mile Castle Trail from Stonehaven to Craigievar in the north of Scotland gives you the chance to discover 19 different castles and magnificent coastal and mountain scenery. If you're driving, follow the distinctive brown and white Castle Trail signs that can be spotted throughout Aberdeenshire.

Take a Distillery Tour on Islay

Islay (pronounced eye-luh) is a spectacularly beautiful island located off the west coast of Scotland in the Inner Hebrides. Islay's claim to fame is its fine single-malt Scotch whisky produced at nine distilleries, which have earned it the nickname of whisky island. The distilleries, located in picturesque secluded glens, welcome whisky aficionados for guided tours. Ardbeg, the most popular, and Bowmore, the oldest dating back to 1779, are both well worth a visit.

Best Time To Visit

The distilleries are open year-round but the best time to go to Islay is during the weeklong whisky festival held in the last week of May. It's a chance for visitors to taste the unique smoky, peaty whiskies with a hint of seaweed and salty sea air. There are also Celtic music concerts, ceilidhs (social events with traditional music and dance), cooking-with-whisky evenings, charity events, golf, and Gaelic lessons.

Experience Beautiful Edinburgh

Scotland's capital, Edinburgh, is one of Europe's most beautiful cities with majestic gardens, wonderfully preserved buildings, and narrow cobbled passageways that give it a rare charm. Browse the city's many fascinating museums, including the People's Story Museum to see how Scots lived in the middle ages or the Surgeon's Hall Museum to see the evolution of medicine. Or visit the grandiose Edinburgh Castle, a historic landmark that watches over the city the top of an extinct volcano.

Best Time To Visit

If you don't mind jostling with 250,000 other revelers, the Edinburgh Festival Fireworks Concert, held at the end of August, is not to be missed. It's the world's largest pyrotechnic display with 400,000 fireworks set off during a 45-minute show, accompanied by synchronized live music by the Scottish Chamber Orchestra. Pack a picnic and snag a vantage point from the many viewing spots scattered around the city. Needless to say, you'll have to get there early to bag a good spot.

Encounter Unique Wildlife

Scotland's rich and diverse landscape is home to a wide variety of animals and birds, some of which can't be found anywhere else in the world. Wildlife enthusiasts can spot graceful white-tailed sea eagles, fluffy red squirrels, playful dolphins, majestic humpback whales, bushy-tailed Scottish wildcats, and of course, the shaggy highland cows with protruding horns that have become synonymous with Scotland.

You Should Know

The Loch Garten Osprey Center, located about 10 miles from Aviemore, is a nature lover's paradise, home to red squirrels, red deer, crested tits, and the elusive white-bellied osprey, a species of fish-eating seahawks that can be viewed up close from a "hide" that is open from April to August.

Discover the Magnificent Isle of Arran

Dramatic mountain peaks, rolling moorlands, secluded beaches, and charming fishing harbors makes the Isle of Arran a startlingly beautiful place to visit all year round. Add to this delicious local produce and great cultural festivals, and you have a place that is something of a miniature Scotland. Taste local ice creams and cream cheeses, traditional oatcakes, and refreshing beers. Book a tour of the Arran Distillery and sample a dram of malt whisky or the creamy Arran Gold liqueur. And work off all that culinary indulgence with a bracing hike up Goatfell mountain, the island's tallest peak at just over 2,800 feet.

You Should Know

The ferry crossing from Ardrossan Harbor on the mainland (located 32 miles from Glasgow) to Brodick, the main village on the Isle of Arran, takes 55 minutes. If you're bringing your car, it's advisable to book the car ferry in advance. In the summer months, you can also sail from the Kintyre Peninsula to Lochranza in the north of Arran, which a shorter crossing and takes only 30 minutes.

Spend the Night in a Lighthouse

For a truly unique experience, you can spend the night at a lighthouse in Scotland. The Rua Reidh Lighthouse, located at the end of a 12-mile single-track road, is perched on top of black rocks, overlooking the churning North Atlantic with the Isle of Skye on the horizon. To spend a few days at this remote but breathtakingly scenic location, you don't have to give up modern conveniences. The keeper's quarters have been transformed into comfortable bedrooms with en-suite facilities. There is a self-catering apartment as well as a choice of guest rooms available on bed and breakfast and evening meal basis.

You Should Know

There is no mobile phone signal, TV, or wi-fi, so be prepared to leave the trappings of modern life behind and enjoy a digital detox. Rua Reidh is a great place to relax and revel in the peace and tranquility of the area. There are plenty of walking paths and abundant opportunities to spot wildlife in this stunning location.

Get Active in the Outer Hebrides

With just 12 inhabited islands and over 200 uninhabited islands, the Outer Hebrides in Scotland are a paradise waiting to be explored. Connected by bridges, causeways, and ferries, a journey through the islands is a fascinating experience. Imagine paddling to a deserted island and enjoying a barbeque on the beach with nary a soul in sight. This dreamy archipelago is best explored by water. Our recommendation? The crystal-clear waters are ideal for sea kayaking. If you don't have prior experience, local professionals can take you out.

Best Time To Visit

The best time to go to the Hebrides is April through October when the weather is mild. June, July, and August, in particular, are delightful with the wildflowers in bloom.

View the Spectacular Burrell Collection in Glasgow

Amassed by the shipping magnate, Sir William Burrell, the Burrell Collection is a magnificent cornucopia of objects from Asia and Europe representing five millennia of history and art. Located in the beautiful woodland setting of Pollok Country Park, the collection includes everything from Chinese ceramics and Islamic art to Rodin sculptures, impressionist works by Cézanne and Degas, a self-portrait by Rembrandt, and Bellini's Madonna and Child. Best of all, the museum has free entry.

You Should Know

The Burrell Collection is a 10- to 15-minute walk from the Pollokshaws West train station. The train journey from Glasgow Central to Pollokshaws West takes about 10 minutes.
Scotland Tour Packages
Scotland has cool weather all year round so if you like lower temperatures during your vacation this the place to be. However, there is almost always rain so you should pack a rain jacket and a light coat incase it gets too cold.
Spring/Fall - March to May & September to November - Best Season

The best time to visit Scotland is during the spring and fall seasons. The weather is cooler (average daytime temperatures 45 to 55F) but there are still long stretches of sunshine. It's a great time to explore Scotland without the summer rush of tourists.

Summer - June to August - High Season

The summer months are the warmest of the year with long hours of sunlight, especially in the far north. However, this is the most popular time for visitors to Scotland, so you'll have to book early. Accommodations and activities sell out months in advance, especially if you're visiting around the time of a major festival or event.

Winter - November to March

Winters in Scotland can be bitterly cold (average daytime temperatures 40F), and the unpredictable weather can make travel tricky. However, if you're willing to brave it, you'll be rewarded with spectacular winter scenery, lounging in front of roaring log fires, and shopping at charming Christmas markets.
Scotland Tours Frequently Asked Questions
Which side of the road do they drive in Scotland?

Road trips are a great way to experience Scotland. Driving in Scotland is on the left side of the road (opposite to the US). This means you need to focus a bit more. Sounds obvious, but if you're driving, don't stop suddenly to take photos. The views are sumptuous and you'll be tempted to admire them at every turn. However, it can be dangerous if you don't follow local traffic laws, including the proper use of single-track lanes. Better still, book yourself a Scotland tour and sit back and enjoy the views while your experienced local driver takes you around.

What's included on a Scotland tour?

Your Scotland tour includes accommodation, transportation, many meals, and lots of guided sightseeing, along with the services of an experienced tour director to ensure your comfort and safety.

How much do Scotland tours cost?

Scotland tours start at around $200 per person per day. Check our website for the latest offers and deals on Scotland vacations.

Which is the best Scotland tour?

It depends on your interests. If you love the outdoors, choose a Scottish Highlands tour or a tour of the glens and isles. If you'd like a mix of urban adventures and nature, we recommend a highlights of Scotland tour. Of course, you can combine your Scotland tour with Ireland, England, and Wales.
Learn More About Scotland Tours

Review: Real Britain With Trafalgar

Real Britain With Trafalgar will journey through the lush landscapes of Britain. See and taste the best of British culture!


Explore New Undiscovered Tours With Globus

Visiting unknown cities with undiscovered tours with Globus will capture the true experience of Italy or Britain through hidden gems.


9 Popular Places You've Probably Been Pronouncing Wrong

When experiencing a new part of the world, making an effort to take part in the customs, language and traditions is much appreciated by the locals. Whether you're discussing world events with a friend or about to embark on an adventure to a new country, it's always a good idea to make sure you are…
Reviews for Scotland Tours and Vacations
Gate 1 always provides a wonderful service. It is just as they say it will be. So much to see.
Martin W
It was a fantastic trip! Great value and attention to details.
Awymarie R
This was our first experience traveling on a tour and it exceeded our expectations. All of the details were taken care of and we were able to relax and enjoy our vacation.
Karen H
Departure
Lengths
Styles
Specialities
Price
How It Works
Vacationing has never been easier or cheaper with the help of a dedicated travel consultant from AffordableTours.com
1. Free Quote
Find your perfect trip on our website and simply request a free quote. Need to speak to a live person? Call us 7 days a week at 1-800-935-2620. No robots here!
2. Dedicated Travel Consultant
Your personal travel consultant will reach out and be your point of contact for your entire travel experience from start to finish. Did we mention you'll be working with an award winning team? Sweet!
3. Lowest Price Guaranteed
Because we're one of the largest sellers of travel, we're able to give you a discount on your vacation package. No one beats our prices!
4. Stress Free Travel
Knowing you got the best deal, all that's left is for you to pack your bags and enjoy your vacation!