Serbia Tours & Vacation Packages 2023/2024
Save up to 40% on Serbia Tours & Vacation Packages 2023/2024
Serbia Travel Guide
Landlocked in the middle of Southeast Europe, Serbia is a country of enormous natural beauty and great history. Serbs are a nation of resistance and at the same time very welcoming for the tourists. Serbia has suffered for a very long time and always came out of it as a victorious nation and that is the reason why your tour to Serbia will give you a great lesson into the history of this tough nation. The Serbian capital, Belgrade, is consistently emerging as Europe's most entertaining city because of its cool nightlife and mixed culture. Serbia is home to a number of museums and galleries where you can have a glimpse at the history of this country. With tour operator volume buys plus our low everyday prices you can save up to 40% versus assembling the same itinerary on your own! Book your Serbia tour today with AffordableTours.com, your discounted tour headquarters. View Serbia Tour Deals and Discounts
Serbia Travel Guide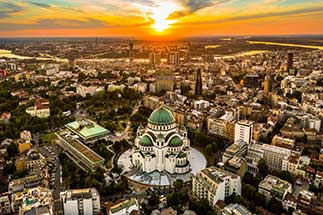 Showing 1 - 20 Tours
Tour Itinerary
Days
Operator
Quality
Style
Starts
Ends
Price

Balkan Adventure

14 reviews
14

Days

Trafalgar

First Class

Escorted
3 - Explorer

5+ years old
50
Bucharest
Belgrade
Albania, Bosnia, Bulgaria, Macedonia, Montenegro, Romania, Serbia
$3,375View Tour

Best Price Guaranteed

Book With Flexibility

12 Day Serbia, Croatia & Slovenia - Sunday Departure

12

Days

Gate1

First Class

Escorted
Belgrade
Dubrovnik
Croatia, Serbia, Slovenia
$2,099View Tour

Best Price Guaranteed

Book With Flexibility




11 Day Eastern Danube River Cruise with Bucharest Budapest to Giurgiu, Monarch Baroness

11

Days

Gate1

First Class

River Cruise
Budapest
Bucharest
Bulgaria, Croatia, Hungary, Romania, Serbia
$2,899View Tour

Best Price Guaranteed

Book With Flexibility

Balkan Adventure

14 reviews
14

Days

Trafalgar

First Class

Escorted
3 - Explorer

5+ years old
50
Bucharest
Belgrade
Albania, Bosnia, Bulgaria, Macedonia, Montenegro, Romania, Serbia
$3,450View Tour

Best Price Guaranteed

Book With Flexibility

Balkan Discovery 2023

09

Days

Globus

First Class

River Cruise
1 - Light

8+ years old
166
Budapest
Bucharest
Bulgaria, Croatia, Hungary, Romania, Serbia
$4,298View Tour

Best Price Guaranteed

Book With Flexibility

Treasures of the Balkans & Transylvania 2024

144 reviews
13

Days

Cosmos

Budget

Escorted
3 - Explorer

Budapest
Budapest
Bulgaria, Hungary, Romania, Serbia
$2,249View Tour

Best Price Guaranteed

Book With Flexibility

Active & Discovery on The Lower Danube 2024

08

Days

Globus

First Class

River Cruise
1 - Light

Bucharest
Belgrade
Bulgaria, Croatia, Romania, Serbia
$3,448View Tour

Best Price Guaranteed

Book With Flexibility

Balkan Discovery 2024

09

Days

Globus

First Class

River Cruise
1 - Light

8+ years old
166
Budapest
Bucharest
Bulgaria, Croatia, Hungary, Romania, Serbia
$3,448View Tour

Best Price Guaranteed

Book With Flexibility

Balkan Discovery with 1 Night in Budapest 2023

10

Days

Globus

First Class

River Cruise
1 - Light

8+ years old
166
Budapest
Bucharest
Bulgaria, Croatia, Hungary, Romania, Serbia
$4,577View Tour

Best Price Guaranteed

Book With Flexibility

Balkan Discovery with 1 Night in Budapest 2024

10

Days

Globus

First Class

River Cruise
1 - Light

8+ years old
166
Budapest
Bucharest
Bulgaria, Croatia, Hungary, Romania, Serbia
$3,727View Tour

Best Price Guaranteed

Book With Flexibility

The Danube from Germany to the Black Sea with 2 Nights in Prague 2024

18

Days

Globus

First Class

River Cruise
8+ years old
Prague
Bucharest
Austria, Bulgaria, Croatia, Czech Republic, Germany, Hungary, Romania, Serbia, Slovakia
$6,586View Tour

Best Price Guaranteed

Book With Flexibility

The Danube from Romania to Germany with 1 Night in Bucharest, 2 Nights in Transylvania & 2 Nights in Prague 2025

21

Days

Globus

First Class

River Cruise
1 - Light

8+ years old
166
Bucharest
Prague
Austria, Bulgaria, Croatia, Czech Republic, Germany, Hungary, Romania, Serbia, Slovakia
$7,636View Tour

Best Price Guaranteed

Book With Flexibility

From Romania to the North Sea 2025

24

Days

Globus

First Class

River Cruise
Oltenita
Amsterdam
Austria, Bulgaria, Croatia, Germany, Hungary, Netherlands, Romania, Serbia, Slovakia
$9,998View Tour

Best Price Guaranteed

Book With Flexibility

Iconic Rivers of Europe - the Rhine, Main & Danube 2024

23

Days

Globus

First Class

River Cruise
1 - Light

8+ years old
166
Amsterdam
Bucharest
Austria, Bulgaria, Croatia, Germany, Hungary, Netherlands, Romania, Serbia
$10,297View Tour

Best Price Guaranteed

Book With Flexibility

The Danube from the Black Sea to Budapest 2024

11

Days

Globus

First Class

River Cruise
1 - Light

8+ years old
166
Bucharest
Budapest
Bulgaria, Croatia, Hungary, Romania, Serbia
$4,248View Tour

Best Price Guaranteed

Book With Flexibility

The Danube from Germany to Romania with 1 Night in Bucharest and 2 Nights in Transylvania 2025

18

Days

Globus

First Class

River Cruise
8+ years old
Vilshofen
Bucharest
Austria, Bulgaria, Croatia, Germany, Hungary, Romania, Serbia, Slovakia
$6,847View Tour

Best Price Guaranteed

Book With Flexibility

The Danube from the Black Sea to Germany with 2 Nights in Transylvania 2024

20

Days

Globus

First Class

River Cruise
1 - Light

8+ years old
166
Bucharest
Deggendorf
Austria, Bulgaria, Croatia, Germany, Hungary, Romania, Serbia, Slovakia
$8,747View Tour

Best Price Guaranteed

Book With Flexibility

Iconic Rivers of Europe - the Rhine, Main & Danube with 2 Nights in Transylvania 2024

25

Days

Globus

First Class

River Cruise
Amsterdam
Bucharest
Austria, Bulgaria, Croatia, Germany, Hungary, Netherlands, Romania, Serbia
$11,047View Tour

Best Price Guaranteed

Book With Flexibility

Active & Discovery on The Lower Danube with 2 Nights in Transylvania 2024

10

Days

Globus

First Class

River Cruise
1 - Light

Bucharest
Belgrade
Bulgaria, Croatia, Romania, Serbia
$4,198View Tour

Best Price Guaranteed

Book With Flexibility

Balkan Discovery with 1 Night in Budapest & 1 Night in Bucharest 2025

10

Days

Globus

First Class

River Cruise
1 - Light

8+ years old
166
Budapest
Bucharest
Bulgaria, Croatia, Hungary, Romania, Serbia
$3,227View Tour

Best Price Guaranteed

Book With Flexibility
Serbia Travel Guide
Serbia Tours Highlights
Visit the Zlatibor mountain spa and take a deep breath to absorb all of the serenity
Witness the wildlife that you would have never expected in Uvac National Park.
Take a boat ride in the Uvac River to further amplify your experience.
Enjoy the nightlife in the heart of Belgrade and forget all of your worries.
Be mesmerized by the beauty of the artificial lakes of Bela Crkva.
Let yourself get lost in the historical fortress of Novi Sad.
Take a stroll in the streets of Golubac and explore various historical architectures.
Serbia Tours Travel Tips
Considering what the country has seen in the past, it is very safe for tourists and you shouldn't be worried about any major mishap happening to you in the streets of Serbia. The crime rate in Serbia is quite low with no terrorist attacks happening in recent years.
After your tour to Serbia finishes, you can also take a road trip to Serbia's southern neighbor called Montenegro, which is also popular as The Pearl of Mediterranean, and enjoy a memorable view of Serbia's exquisite landscape.
Serbia has a lot to offer in terms of sports and activities such as scuba diving, windsurfing, paragliding, bungee jumping, and much more. And if you are into sports this place will amaze you, therefore, don't forget to bring your sports gear before coming into Serbia.
Most of the festivals and events in Serbia occur during summers.
Serbia has a really good scene of food because of its huge variety of dishes and if you are a foodie visiting Serbia, you need to keep yourself hungry because on this trip you are going to be eating a whole lot and the good news is, even if you are vegetarian you need not worry because Serbian cuisine also offers one of the world's best vegetarian dishes.
Most cafes in Serbia have free Wi-Fi available and the Wi-Fi speed in Serbia is excellent. You will not face any problems streaming Netflix when you get back home from a tiring day of traveling around the city. In Serbia, there are also many free Wi-Fi hotspots in the parks that you can use in case you run out of cellular data.
The national language of Serbia is Serbian, which is somewhat similar to Bulgarian and if you have ever been to Bulgaria, you can easily detect the similarities. English is also widely spoken in Serbia and you will see many billboards and signs written in English, especially in the major cities.
Serbia Tours Things To Do
Belgrade

If you have ever visited Berlin, you will know how it's like to be in Belgrade. This vibrant city in the heart of the Balkans will surprise you with its dynamic nightlife. This city is a great mixture of the East and the West, where you will never get bored of exploring it. Belgrade is a city that is playing a vital role in the overall boom of tourism in Serbia. This city is full of energy and always on the move, so you need to go along or you might not be able to catch up.

Best Time To Visit

It is said that Belgrade has somewhat a semi-tropical climate and winters can be freezing but at the same time there is some chance of precipitation during the summers. Therefore the most enjoyable time to visit Belgrade is either from March to May or from September to October.

You Should Know

You can freely participate in public events designated to address the issues regarding the environment and culture but it is advised not to indulge in events that are political in nature. Belgrade is a city where you can negotiate the price to get a bargain for your goods and it is good to practice that, in order to protect yourself from being ripped off, although that is highly unlikely.

Sremski Karlovci

Sremski Karlovci is a town full of history and heritage. It used to be a Roman fortress and became a center of culture and spirituality in the 18th century. This town is well known in Serbia because of its tasty local wines, so if you are not going to be driving back by yourself it is recommended that you stopover for some wine tasting. Sremski Karlovci is also considered as the gateway for Fruska Gora National Park.

Best Time To Visit

The best time to travel to Sremski Karlovci is from May until September when the weather is not unbearably cold and you have ample time to enjoy the serenity on a warm sunny day.

You Should Know

This small town is home to just about 10,000 inhabitants and the size of the town is so small that you can easily visit the entire town on foot and you don't need to be worried about the public transport in this town. This town is a perfect one day trip and while you are at it, don't forget to visit the town center where the most significant building of the town from the 20th century is situated at.

Mokra Gora

Mokra Gora which literally means a wet mountain is a village located in the southwestern part of Serbia. This is a village that has fairytale natural views. This village is home to one of the most beautiful landscapes in all of Serbia and has some of the best steam engine museums. If you love trains then this is the place for you.

Best Time To Visit

The best time to tour this village in Serbia is during the summers in the months of June, July, and August as you will be able to enjoy the scenery only if the view is clear, which is usually possible during summers as winters can get really cold and might be an obstacle in the view.

You Should Know

The journey to Mokra Gora can take about 3 to 4 hours and the best option to get there is by a rented car. There is a lack of public transport in this village-like town but that is the beauty of it, you won't see too many tourists flocking this picturesque landscape because of the accessibility and as they say better things are often difficult to get.

Novi Sad

Novi Sad is also known as the Athens of Serbia, because of its long history and culture. This city has been a tourist attraction for a very long time because of its lively pedestrian scene. Cities like Novi Sad provide a great break from trips in smoky and polluted urban cities. You can go for stroll to any place within the city due to its well-connected streets and alleys.

Best Time To Visit

Spring and autumn are the two best seasons to visit Novi Sad. If you are into music then July would also be a good time to visit Novi Sad for you because Novi Sad hosts Serbia's largest music festival in the month of July.

You Should Know

In Novi Sad, you can easily find a place where you can live with the local families, and living with the locals is a great way to get to know the real-life and culture of the locals. Don't forget to cruise into the morning markets of Novi Sad, which is the best way to start a refreshing day in this city.

Zlatibor

Zlatibor is a mountain resort in the southwestern side of Serbia. It has captivating views that you will never want to get away from. Zlatibor has mountains in the North and rivers in the East and South. It has medium hills and a lot of fields, for which you will need to have a lot of time to wander around.

Best Time To Visit

Zlatibor is the most enjoyable, if visited from May to September because the weather is dry and warm during these months.

You Should Know

Zlatibor is a place where you will enjoy every moment of your life and there are a lot of hidden gems in this beautiful valley. There are waterfalls within the mountains that you can look for and if you are lucky you might be able to take a shower in a real waterfall in this awesome Serbian valley.

Djerdap National Park

Djerdap is Serbia's largest national park and it has a really dramatic scene to it due to the fact that it is situated right in the middle of a fortress and a river. The unique location of this national park makes it an attraction that is stretched from manmade architectures to natural landscapes. The main attraction of the park is its mighty iron gates, which make this national park, stand out from all other national parks in the country.

Best Time To Visit

Visit this attraction during spring or autumn because as you must be aware that Serbia's weather has extreme temperatures in the summers as well as winters.

You Should Know

On your trip to this park be prepared to witness the cliffs that have images carved into them. If possible, do take a boat ride in the Danube River and have a time of your life witnessing these amazing cliffs.

Golubac

Golubac is the fortress that is located in the vicinity of Djerdap National Park. This fortress was most likely built during the 14th century. It has three compounds which were all constructed in three different phases. This fortress is the reason why many people visit Djerdap National Park. Golubac has ten towers and it is such an extraordinary landmark that you will need to be extra careful while visiting it, so that you don't get lost wandering around it.

Best Time To Visit

In order to enjoy the sun over the Golubac Fortress, it is recommended that you visit during the spring when there is no rainfall and the cold winter days have passed.

You Should Know

Golubac is known as the guardian of Serbia; it stands tall and seems like its protecting the country from any harm that may come its way. The original founder and the date of its foundation still remain unknown. Golubac is just 130 km away from Belgrade, and it's only a 2-hour drive from the highway, so you can easily get to the fortress from the capital.
Serbia Tour Packages
Serbia is a good place to visit all around the year. Summers in the northern areas of the country are warm and you can enjoy your trip in the long sunny days that are not hot either. Winters are very cold and there is a lot of snowfall during the winters but at the same time winters in Serbia open up a lot of activities for tourists like Snow Ski and the season of the same starts from December and end in March. You may experience some rainfall if you are visiting during May and June.
Serbia Tours Frequently Asked Questions
What are Serbia Tours?

Serbia tours are tours that are designed for you to go on a vacation to the Southeast European country called Serbia. These tours can also be customized according to your own preferences. These tours usually take you on a trip to the most exquisite tourist destinations in Serbia

What's Included in a Serbia Tour?

The amenities that will be included in your Serbia tour vary from package to package. You mostly have a choice to go with the tours that only offer basic amenities like a tour guide, accommodation, transportation within the country, and meals or you can choose tours that also offer airfares and beverages along with the above-mentioned basic amenities.

What's the Best Serbia Tour?

There are many tours that are considered as the best for Serbia, by the tourists, such as Balkan Holidays, Victor Tours, and Serbia Tours Operator. It is not necessary that the best for other tourists is also best for you, so read the package carefully before choosing your Serbia tour.

How Much Do Serbia Tours Cost?

There are not too many tours for Serbia so the ones that are visiting Serbia are quite exquisite and the prices may vary from $300 to $2500. But if you don't like a tour that is being offered you can always go for a private, customized, tour to Serbia for a higher price.
Reviews for Serbia Tours and Vacations
Outstanding tour. Very happy with the experience.
Jennifer H
Wonderful guides and bus driver. Very knowledgeable and helpful. Ample amount of free time.
Margaret H
Can't go wrong with Tauck...outstanding!
Patricia N
Departure
Lengths
Styles
Specialities
Price
How It Works
Vacationing has never been easier or cheaper with the help of a dedicated travel consultant from AffordableTours.com
1. Free Quote
Find your perfect trip on our website and simply request a free quote. Need to speak to a live person? Call us 7 days a week at 1-800-935-2620. No robots here!
2. Dedicated Travel Consultant
Your personal travel consultant will reach out and be your point of contact for your entire travel experience from start to finish. Did we mention you'll be working with an award winning team? Sweet!
3. Lowest Price Guaranteed
Because we're one of the largest sellers of travel, we're able to give you a discount on your vacation package. No one beats our prices!
4. Stress Free Travel
Knowing you got the best deal, all that's left is for you to pack your bags and enjoy your vacation!