With a total area of just around 724 square kilometers, Singapore is smaller than you think. But it's not just the size of the country that matters, what matters is that how much of an impact this little island in South Asia has on the economy of the world. And with booming GDP, Singapore provides one of the best lifestyles to its residents than anywhere else in the world. It goes without a doubt that Singapore can be fully explored within a week or two, but what is important to note here is that once explored, Singapore is not the kind of a place that you would want to move out of, which is the reason why millions of ex-pats try their luck to move into this diamond-shaped island. With tour operator volume buys plus our low everyday prices you can save up to 40% versus assembling the same itinerary on your own! Book your Singapore tour today with AffordableTours.com, your discounted tour headquarters. View Singapore Tour Deals and Discounts
Singapore Travel Guide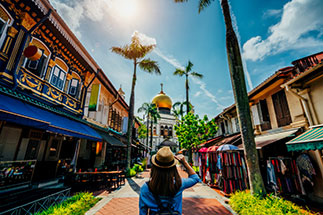 Showing 1 - 20 Tours
Sorry, we were unable to find a tour for you.
If you've not chosen a criteria, then please do so; otherwise you need to broaden your search criteria to find matches.
Singapore Travel Guide
Singapore Tours Highlights
Take a yacht to the smaller islands around Singapore to spend a day away from daily routine.
Go on a night safari and witness the wildlife closer than ever before.
Chill on Changi Beach while enjoying your favorite Margarita.
Explore the huge artificial trees which are solar-powered and admire the human capabilities.
Singapore has a mixed culture and you can easily socialize with anyone.
Take a dive into Asian history while visiting the Asian Civilization Museum.
Go for dinner on the cruise in the Marina.
Singapore Tours Travel Tips
Singapore is considered a very safe country and except for some extremely rare incidents of theft; there is no crime on this island. You can be very well assured that you will be safe during your Singapore tours.
Singapore has its own dollar as the national currency but you can use your US Dollars, Euros, or GB Pounds as well. Singapore is a vastly urbanized country and you will not have any trouble trying to find an ATM or getting your currency converted into Singapore Dollars.
English is widely spoken and understood in Singapore, therefore if you are an English speaker, you will easily be able to connect with locals and blend in, into the culture of Singapore.
The laws are very strict in Singapore and their implementation is insured religiously, so just like any other country, if you are in Singapore, you should always respect the local laws and cooperate with the authorities in all matters.
You will easily find all kinds of cuisines readily available in Singapore and you will see many restaurants with continental cuisines on their menu, along with that there are a lot of fast-food chains available for you to choose from.
Singapore has an excellent public transport system and you don't need to worry about how difficult it is going to be to travel within the country.
Singapore is considered one of the world's most expensive cities. Shopping in this city can be quite expensive and if you are on a limited budget then you should consider focusing on the cost of traveling and entertainment only because one shopping expedition in Singapore can easily exhaust your entire budget for the tour.
Singapore Tours Things To Do
Singapore Botanic Gardens

If you like trees and flowers then you will absolutely fall in love with this place. Singapore Botanic Gardens are some 150+ years old tropical gardens in Singapore. These gardens are home to some 10,000 different species of plants and trees. A short visit to Singapore Botanic Gardens can prove to be a refreshing start to your Singapore Tour.

Best Time To Visit

These gardens open at 5 am and close at midnight, so you have almost an entire day to visit Botanic Gardens during whatever time you want.

You Should Know

These gardens are a UNESCO World Heritage site and as a matter of fact, this is the only tropical garden that is on UNESCO's list of heritage sites. This is Asia's top-ranked park attraction and has won many accolades that make it a must-visit for anyone traveling to Singapore.

Universal Studios

This is an attraction that barely anyone would skip on their Singapore tour. Universal Studios theme park is the most popular tourist attraction in Singapore. It is located on Sentosa Island, and a trip to this theme park will take you away from the main island of Singapore and take you into the world of Hollywood. This theme park has so much to offer that you will never ever be able to experience it all in a single trip to Universal Studios.

Best Time To Visit

This theme park is open only from Thursday to Sunday, from 2 pm-9 pm. While planning your visit you should also consider the weather conditions and that they are not a hindrance in your accessibility to the park.

You Should Know

Universal Studios in Singapore has around seven different theme zones, 28 rides, a marine life park, a water park, a festive walk, and much more. Most of the time there are different events taking place in Universal Studios theme park in which you can participate and be entertained.

Singapore Flyer

Being Asia's largest giant observatory wheel Singapore Flyer stands a whopping 165 meters tall. This observatory offers the best panoramic views of the city overlooking Marina bay. Tourists from all around the world visit this place just to enjoy this site. Singapore Flyer has numerous restaurants and cafes, where you can have a meal or a cup of coffee while enjoying the view from this huge wheel

Best Time To Visit

The best time to tour this attraction is during sunset. Although this place is open from 8:30 am-10 pm, but the view of the sun setting over Singapore's horizon from this observatory would be extraordinary.

You Should Know

In a country where everything is built within a time span of just a few months, Singapore Flyer took a long 2.5 years to get constructed, which proves why it has so much importance in the country.

Pulau Ubin

Pulau Ubin is an island on the northeast of Singapore's main island. This island is one of the last rural settlements of Singapore. A visit to this island will tell you exactly how the real Singapore was before the massive immigration into the country that changed its entire cultural and social dynamics. Along with being a great source of learning, this island is also a good way to enjoy some time away from the urban lifestyle of Singapore.

Best Time To Visit

The best time to travel to this island is during the dry season which consists of most months from November to February because you will be probably be hiking in the mountains of Pulau Ubin, hence, you should visit this place when it's not raining at all.

You Should Know

This island is just a 15-minute boat ride away from the main ferry point and as soon as you hop off of the boat you will witness scenes that you have never seen before. This island is vast enough to be enjoyed on foot, so it is better to rent a bike for traveling on the island.

Changi Beach Park

Changi Beach Park is one of the oldest beach parks in Singapore. It is located at the Northern tip of Changi in the easternmost part of Singapore. The park is spread over to 28-hectares. This Beach Park is a great spot for a family picnic, BBQ, or a honeymoon date. If you are in the mood for a dip, this is a great place to go for a refreshing swim in the sea.

Best Time To Visit

Changi is a beach park so it is better to visit in the evening if you are here during the summers but if the season of your tour is in winter, any time of the day can be enjoyed very well at Changi Beach Park.

You Should Know

This tourist attraction is full of natural beauty and filled with dense trees that provide fresh air to breathe. To satisfy your hunger, there are plenty of restaurants serving exquisite cuisine, on this beach. Surprisingly, this place is not usually as crowded as one would anticipate it to be.

Fort Siloso

On the coast of Singapore, there is only one well-preserved fort, which is Fort Siloso. This fort served as part of the country's defenses. This fort has a museum that will take you into the historical world of Singapore's (which was a British colony back then) struggles to defend itself during World War II.

Best Time To Visit

Fort Siloso opens at 9:00 am and closes at 6:00 pm, so you should go to Fort Siloso and its museum is in the morning when there is not too much crowd and you can have some quiet time to absorb the information about Singapore's history.

You Should Know

Fort Siloso was constructed in the year 1878 to protect the trading system of Singapore that started to boom in the 19th century from the attacks by incomers. The guns displayed outside the Fort Siloso played a vital role in intimidating anyone who intended to attack the country.

Singapore Zoo

This zoo is one of the world's few, which offer an open concept in which you are free to explore the wildlife in such a way that you will feel like you are a part of it. It provides you and your family an opportunity to connect with nature. If you are accompanied by kids this zoo will provide an experience that the kids will always remember.

Best Time to Visit

Singapore zoo is open from 8:30 am till 6:00 pm and the best time to go to this zoo is during the morning hours of the day when all the inhabitants of the zoo are in the best mood to welcome you.

You Should Know

Singapore zoo has seen a lot of transformations which has only made it bigger and better. The size of the zoo is more than that of 23 football fields. In a country that itself has an area of less than 750 square kilometers, a zoo that big shows the government's commitment towards providing opportunities for its residents to learn and have fun.
Singapore Tour Packages
Singapore is a destination that you can visit at any time of the year without worrying much about the weather as it is neither too hot nor too cold, and you can visit this country during whatever time of the year that you want. However, the most optimal time to visit Singapore is still during its dry season because then you don't have to worry about any rainfall. Singapore doesn't see too much rainfall at any point of the year but still, if you are visiting for a week and it starts to rain during that very week, it will ruin your tour. Hence, it is recommended that you visit somewhere between November and March.
Singapore Tours Frequently Asked Questions
What are Singapore Tours?

Singapore tours are usually very short tours designed in such a way that you can visit most parts of the entire country within the time span of less than a week. After a Singapore tour, you will have a fair idea of what life in Singapore is all about. These short tours are a great way to optimize a long weekend with a tour of this tiny island nation which is unique and has a lot to offer.

What's Included in a Singapore Tour?

Most tour companies will offer meals, accommodation, and transportation in the tour package. When choosing for a Singapore tour, you should always make sure that your tour has included that you need.

What's the Best Singapore Tour?

We do have a list of some major Singapore tours. But we cannot say which one is the absolute best Singapore tour, as this is a very subjective statement and will vary from person to person. The list of major tour providers, according to our research, includes, Remaz Tours, Prime Holidays, and Sherpa Expedition and Trekking.

How Much Do Singapore Tours Cost?

Singapore tours are usually very shorter in length, starting from 2 days and up to 7 days. This is mainly the reason why Singapore tours do not cost as much as some other more expensive tours. The cost of a Singapore Tour would usually lie somewhere between $200 per person and $1500 per person.
Learn More About Singapore Tours

Here Are The Healthiest Countries In The World

One of the best parts of traveling is living and emulating the cultures of the country you are exploring. So, while you are discovering all the wonders of the world, or dipping your toes in every sea, you're also fully immersed in different cultures and lifestyles. A comprehensive study was done, researching living standards, based…
Reviews for Singapore Tours and Vacations
I had a memorable experience during the entire trip. I would highly recommend Gate 1 tour to my friends and family.
Willy C
Excellent services, reliable, informative, friendly
Maria A
During this trip, I lost my money belt which contained most of my money, passport, driver's license and credit cards. The operator had me file a police report and arranged for a local handler to help guide me through the process of getting a money transfer from the USA, getting a new passport from the US Embassy and making arrangements to leave the country. I thought the operator ( Intrepid ) did an excellent job for me in a difficult situation.
Thomas P
Departure
Lengths
Styles
Specialities
Price
How It Works
Vacationing has never been easier or cheaper with the help of a dedicated travel consultant from AffordableTours.com
1. Free Quote
Find your perfect trip on our website and simply request a free quote. Need to speak to a live person? Call us 7 days a week at 1-800-935-2620. No robots here!
2. Dedicated Travel Consultant
Your personal travel consultant will reach out and be your point of contact for your entire travel experience from start to finish. Did we mention you'll be working with an award winning team? Sweet!
3. Lowest Price Guaranteed
Because we're one of the largest sellers of travel, we're able to give you a discount on your vacation package. No one beats our prices!
4. Stress Free Travel
Knowing you got the best deal, all that's left is for you to pack your bags and enjoy your vacation!