South Africa tours enable you to visit major wildlife areas, such as Kruger National Park, and view a diversity of wildlife. See such towns as Johannesburg and Cape Town, or schedule a South Africa tour that allows you to see everyday village life up-close. Besides Kruger National Park, you often will visit Chobe National Park or side attractions, such as a crocodile farm or snake farm. You also have the opportunity to watch endangered African penguins, south of Cape Town, and view the migrations of hundreds of birds. The activities you choose for a tour can be customized to your likes and travel preferences. With tour operator volume buys plus our low everyday prices you can save up to 40% versus assembling the same itinerary on your own! Book your South Africa tour today with AffordableTours.com, your discounted tour headquarters. View South Africa Tour Deals and Discounts
South Africa Travel Guide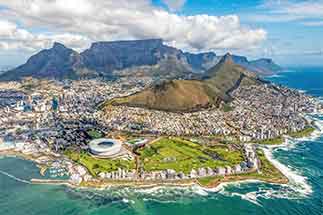 Showing 1 - 20 Tours
Tour Itinerary
Days
Operator
Quality
Style
Starts
Ends
Price

Cape Town, Kruger & Zimbabwe

13

Days

G Adventures

First Class

Escorted
2 - Classic

12+ years old
18
Cape Town
Victoria Falls
South Africa, Zimbabwe
$2,624View Tour

Best Price Guaranteed

Book With Flexibility

Dunes, Deltas & Falls Discoverer

18

Days

G Adventures

First Class

Escorted
2 - Classic

12+ years old
18
Victoria Falls
Cape Town
Botswana, Namibia, South Africa, Zimbabwe
$3,674View Tour

Best Price Guaranteed

Book With Flexibility




Southern Africa Family Journey: In Search of the Big Five

11

Days

G Adventures

First Class

Escorted
1 - Light

7+ years old
20
Cape Town
Victoria Falls
South Africa, Zimbabwe
$3,599View Tour

Best Price Guaranteed

Book With Flexibility

Highlights of Southern Africa

30

Days

G Adventures

First Class

Escorted
2 - Classic

12+ years old
18
Cape Town
Cape Town
Botswana, Namibia, South Africa, Zimbabwe
$6,149View Tour

Best Price Guaranteed

Book With Flexibility

Kruger, Falls & Zimbabwe: Mineral Pools & National Parks

2 reviews
08

Days

G Adventures

Budget

Escorted
3 - Explorer

18 - 39 years old
22
Victoria Falls
Johannesburg
South Africa, Zambia, Zimbabwe
$1,049View Tour

Best Price Guaranteed

Book With Flexibility




Kruger to Vic Falls

08

Days

Intrepid

Budget

Escorted
2 - Classic

15+ years old
12
Johannesburg
Victoria Falls
Botswana, South Africa, Zimbabwe
$1,942View Tour

Book With Flexibility

Botswana and Falls Overland: Wildlife Walks & Safari Drives

08

Days

G Adventures

Budget

Escorted
3 - Explorer

18 - 39 years old
22
Johannesburg
Victoria Falls
Botswana, South Africa, Zambia, Zimbabwe
$974View Tour

Best Price Guaranteed

Book With Flexibility

Cape and Namibia Adventure

2 reviews
12

Days

G Adventures

First Class

Escorted
2 - Classic

12+ years old
18
Cape Town
Windhoek
Namibia, South Africa
$2,024View Tour

Best Price Guaranteed

Book With Flexibility




Cape Town & Winelands

05

Days

Intrepid

Budget

Escorted
2 - Classic

5+ years old
12
Cape Town
Cape Town
South Africa
$1,102View Tour

Book With Flexibility




Southern Africa Encompassed

15

Days

G Adventures

Budget

Escorted
4 - Active

18 - 39 years old
22
Johannesburg
Johannesburg
Botswana, South Africa, Zimbabwe
$2,119View Tour

Best Price Guaranteed

Book With Flexibility

Southern Africa Overland: Canoes & Camp-Outs

15

Days

G Adventures

Budget

Escorted
4 - Active

18 - 39 years old
22
Victoria Falls
Victoria Falls
Botswana, South Africa, Zimbabwe
$2,119View Tour

Best Price Guaranteed

Book With Flexibility

Cape & Dunes Southbound: Desert Camping & Safari Drives

14

Days

G Adventures

Budget

Escorted
3 - Explorer

18 - 39 years old
22
Windhoek
Cape Town
Namibia, South Africa
$1,461View Tour

Best Price Guaranteed

Book With Flexibility

Southern Africa Southbound: Dunes, Deltas & Falls

21

Days

G Adventures

First Class

Escorted
3 - Explorer

18 - 39 years old
22
Victoria Falls
Cape Town
Botswana, Namibia, South Africa, Zimbabwe
$2,099View Tour

Best Price Guaranteed

Book With Flexibility

Serengeti, Falls & Cape Town Overland: Sunsets & Safaris

40

Days

G Adventures

First Class

Escorted
3 - Explorer

18 - 39 years old
22
Nairobi
Cape Town
Botswana, Kenya, Malawi, Namibia, South Africa, Tanzania, Zambia, Zimbabwe
$4,649View Tour

Best Price Guaranteed

Book With Flexibility

Kruger in Depth

08

Days

G Adventures

Budget

Escorted
2 - Classic

12+ years old
18
Johannesburg
Johannesburg
South Africa
$1,236View Tour

Best Price Guaranteed

Book With Flexibility




Okavango Experience

1 reviews
10

Days

Intrepid

Budget

Escorted
3 - Explorer

15+ years old
22
Johannesburg
Victoria Falls
Botswana, South Africa, Zimbabwe
$1,556View Tour

Book With Flexibility




Cape Town to Vic Falls

22

Days

Intrepid

Budget

Escorted
2 - Classic

15+ years old
22
Cape Town
Victoria Falls
Botswana, Namibia, South Africa, Zimbabwe
$2,444View Tour

Book With Flexibility




Kruger & Cape Town Short Break by Plane

11

Days

Intrepid

Budget

Guided/Hosted
2 - Classic

6+ years old
16
Johannesburg
Cape Town
South Africa
$3,217View Tour

Book With Flexibility




12 Day Classic South Africa with Robben Island - Tuesday Departure

12

Days

Gate1

First Class

Escorted
2 - Classic

8+ years old
42
Cape Town
Johannesburg
Eswatini, South Africa
$2,439View Tour

Best Price Guaranteed

Book With Flexibility




Kruger & Coast

09

Days

Intrepid

Budget

Escorted
3 - Explorer

15+ years old
16
Johannesburg
Durban
Eswatini, South Africa
$959View Tour

Book With Flexibility
South Africa Travel Guide
South Africa Tours Highlights
View African Game in places, such as Kruger National Park and Chobe National Park. See animals indigenous to Africa, including the crocodile, zebra, giraffe, elephant, hippo, eland, and impala.
View the endangered African pigeon in its natural habitat.
Listen to knowledgeable English speaking-guides share facts and details about places and local activities.
Sit back and relax on board, as you watch the passing lush and green riparian scenery.
See the stream crossings of the elephants who live in Chobe National Park.
Travel to Kasane, the gateway to Chobe National Park, and a hub for destinations to places, such as Kazungula village.
View beautiful Victoria Falls, the largest cascade in the world.
See the view from Table Mountain in Cape Town.
South Africa Tours Travel Tips
Arrive in your city of departure about two days early to get adjusted to the time zone so you can relax before your South Africa tour begins.
Review your tour itinerary so you can prepare for your trip.
Wear walk-friendly close-toed shoes or comfortable hiking boots with good tread.
Pack lightweight cotton-blend clothes that protect you from the harmful rays of the African sun.
Wear a wide-brimmed hat and apply sunscreen with a sun protection factor (SPF) of at least 15.
Share your travel schedule with family members and friends so they know where you will be if needed.
Carry a travel adapter to stay connected.
Check with your doctor about vaccinations or any malaria medicines that you will need before your trip.
Make sure all your travel documents are in order before you go on your South Africa tour.
South Africa Tours Things To Do
Cape Town, South Africa

Most South Africa tours begin in Cape Town, South Africa, a city that is as beautiful as it is unique. Located on South Africa's southwest coast, the city stretches beneath the plateau of Table Mountain, which can be accessed by cable car or on foot. If you arrive early for your trip, you can do a little exploring on your own, and visit places such as Camp's Bay, Sandy Bay, and Cosy Bay beaches or the Victoria and Albert waterfront.

Best Time To Visit

According to U.S. World Travel, the best time to travel to Cape Town is usually during the spring or fall. These times are less rainy, the temperatures are milder, and the prices are reduced. The city is surrounded by vineyards. Therefore, wine lovers often embark on side tours of the Winelands, about a 30-minute drive from Cape Town. Some of the most celebrated wine regions include Franschhoek, Stellenbosch, Paarl, and Durbanville.

Gansbaai and Dyer Island – Cage Diving with Great White Sharks

One of the rare experiences of a lifetime, cage diving with Great White sharks begins in the small town of Gansbaai on a South Africa tour. From there, participants take a boat to Dyer Island, which has one of the largest concentrations of Great White Sharks in the world.

Best Time To Visit

While you can go cage diving with the Great Whites in Gansbaai year-round, the water is clearer if you go between the months of March to September. Great white shark cage diving is also best pursued from February to September in South Africa's False Bay.

You Should Know

No one has been hurt when cage diving with the Great Whites, as the operators of the excursions make sure they provide a safe activity. While shark attacks happen to about 65 scuba divers, surfers, or swimmers each year, none of the attacks occurred during cage diving activities.

Chapman Peak's Drive

An interesting side excursion, Chapman's Peak Drive enables the tourist to see amazing rock formations and sea views. The drive, which hugs the mountain of Chapman's Peak offers spectacular viewpoints along the roadway of various natural sights. It is located on the Cape Peninsula on the western side, nestled between Hout Bay and Noordhoek. From the site, you can see spectacular vistas of Hout Bay, Sentinel Peak, and Noordhoek Beach.

Best Time To Visit

The road is scenic year-round. However, you can spot whales in Hout Bay from the middle of August to mid-November.

Watch the Penguins at Boulders Beach

Located in Table Mountain State Park, Boulders Beach is the place to go if you want to do some penguin-watching. The beach features the endangered African penguin and is the nesting site for this amazing bird.

Best Time To Visit

Visit the beach in the latter part of the day. That is when the penguins normally return home. The beach sees fewer crowds in April and May, with the exception of Holy Week.

You Should Know

Penguins are flightless. Their wings enable them to swim, while their feet are used for rudders.

Kasane

Known as the gateway to South Africa's Chobe National Park, Kasane sits in northeast Botswana. A wildlife corridor stretches between the waterfront town and Kazungula village.

Best Time To Visit

For game viewing, the best time to see the animals is from August to October. Otherwise, journey to Kasane between March and May to avoid the crowds and enjoy more tolerable temperatures.

You Should Know

The Hot Springs in Kasane are known for their healing powers. Also, check out the baobab tree, which can be found behind Kasane's police station. Its hollowed-out trunk once was used as a "holding cell" for prisoners.

Kazungula

A small settlement in Zimbabwe, Kazungula lies in close proximity to Botswana, Zambia, and Namibia. The name also refers to the border village of Kazungula in Botswana, which features a ferry service across the Zambezi River, to a town in Zambia, also known as Kazungula. A tarred road links the settlement to the magnificent Victoria Falls.

Best Time To Visit

You will experience fewer crowds and lower heat if you visit the Kazungula settlement or village during the spring.

You Should Know

Kazungula village, which lies close to Kasane, features a crocodile farm that children, 10 years of age and younger, can visit for free. The area's Kazungula Snake Park features about 50 species of snake.

Chobe National Park

One of the major attractions on South Africa tours, Chobe National Park is the place to go to see elephants. That is because the park has a high concentration of animals. The park, which is Botswana's third-largest park, features elephants, as well as leopards, tigers, gazelles, hippos, zebras, and giraffes. If you want to see rhinos, you will have to go elsewhere.

Best Time To Visit

You can see more animals from August to October. However, it's not as hot in the spring.

You Should Know

About 120,000 elephants live in Chobe National Park. During the dry season, or from May through November, you can see as many as 100 elephants along the Chobe River.

Kruger National Park

Located in the northeast of South Africa, Kruger National Park is one of the biggest game reserves in Africa. The park features Africa's Big 5: rhinos, leopards, elephants, lions, and buffalos. The park also features a diverse bird population, which includes storks and eagles.

Best Time To Visit

According to U.S. News World Travel, you should visit the park at the beginning or end of the area's dry season, which occurs between April and September. During the dry season in the park, nighttime temperatures average around 45 degrees Fahrenheit while daytime temperatures may reach, at times, as high as 85 degrees Fahrenheit. June to September is usually the best time to plan a safari.

You Should Know

The park, which is approximately the size of the country of Israel, serves as a home to 147 species of mammals, 114 reptiles, and 507 types of birds. Main roads in the park are tarred while the secondary roads comprise well-maintained dirt tracks.

Victoria Falls

Situated along the Zambezi River, Victoria Falls features 15 viewpoints in Zimbabwe and 4 viewpoints in Zambia for viewing. The falls, which were named in honor of Queen Victoria, was first discovered in 1855 by a missionary, David Livingstone.

Best Time To Visit

Visit the falls from February through May, after the seasonal rains.

You Should Know

If the Zambezi River dried up, Victoria Falls would stop flowing. The falls are just over 5,600 feet (1,708 meters) wide and 354 feet (108 meters) high.

Johannesburg

Also called Joburg by the locals, Johannesburg is the largest city in South Africa. Boasting 17 nature reserves and the world's largest man-made forest, the city offers visitors a mecca that combines the convenience of urban living with the planet's natural resources. The metropolitan area of the city is about the size of Los Angeles.

Best Time To Visit

As far as climate, the temperatures, on average, are not too hot or humid, and winters are short and mild. Also, the city receives daily year-round sunshine. Therefore, you can travel to the city just about any time. However, travel professionals suggest seeing the city during the early part of the spring or fall when it is less crowded and temperatures are cooler.

You Should Know

Historically, the city began as a mining town settlement. The man-made forest in Johannesburg features over 10 million trees. In addition, the city is home to one of the predominant archeological sites worldwide, which features 40% of the earth's human fossils.
South Africa Tour Packages
You really can visit South Africa just about any time. However, if you want to go on safari or view games, you should visit during the dry season, preferably from August to October. However, the temperatures can become sweltering during this period too. Therefore, to avoid excessive heat, you may want to plan an adventure in May, when it is cooler and you can avoid the rain.
Nevertheless, the cost may also be a consideration, which would lead you to choose a tour during the rainier times, such as March and April. That is when the temperatures are lower too. You can save on the tours at this time of the year, but cannot do as much exploring.
Therefore, when choosing a time to go, you need to consider what you believe you can handle temperature-wise and how far you wish to stretch your travel budget. You can get the advice you need by consulting a South Africa tour representative. He or she can clue you in on specific travel dates, any discounts that may be offered, and what you can expect to pay.
South Africa Tours Frequently Asked Questions
What are South Africa Tours?

South Africa tours span from a week to as many as 21 days. Many excursions include game viewing or safaris in places such as Chobe National Park and Kruger National Park. You can also take side trips to wineries or participate in activities where you can experience daily village life. Most South African tours include the cities of Cape Town and Johannesburg in their itineraries.

What's Included in a South Africa Tour?

South Africa Tours include travel in national parks where visitors can take part in safaris by vehicle or boat. All tours feature a schedule of activities and stops, making it easy to plan a South Africa holiday. Transfers, hotel stays, and admissions to attractions typically are included in a tour's price. You can either arrange a South Africa tour for a group or schedule a private tour for you and your family.

What's the Best South Africa Tour?

The best South Africa tour centers on a traveler's specific interests with respect to attractions, activities, hotels, and restaurants. To ensure that your trip is tailored to meet your South Africa tour needs, speak to a South Africa tour representative about the amenities included in all-inclusive South Africa tour packages.

How Much Do South Africa Tours Cost?

To determine what you will pay for South Africa tours, you need to determine the length of your stay, the activities you would like to plan, and when you can travel. A South Africa tour that lasts 7 days costs from $575 per person, depending on the amenities.
Learn More About South Africa Tours
Reviews for South Africa Tours and Vacations
I have found Gate1 to be very reliable and a company that offers a variety of itineraries.
Barbara S
Gate1 was exceptional in every way. From the itinerary to the tour Director, everything was exactly as advertised, or better. Would definitely go with Gate1 again and highly recommend.
Seth B
Departure
Lengths
Styles
Specialities
Price
How It Works
Vacationing has never been easier or cheaper with the help of a dedicated travel consultant from AffordableTours.com
1. Free Quote
Find your perfect trip on our website and simply request a free quote. Need to speak to a live person? Call us 7 days a week at 1-800-935-2620. No robots here!
2. Dedicated Travel Consultant
Your personal travel consultant will reach out and be your point of contact for your entire travel experience from start to finish. Did we mention you'll be working with an award winning team? Sweet!
3. Lowest Price Guaranteed
Because we're one of the largest sellers of travel, we're able to give you a discount on your vacation package. No one beats our prices!
4. Stress Free Travel
Knowing you got the best deal, all that's left is for you to pack your bags and enjoy your vacation!