Tanzania Tours & Vacation Packages 2023/2024
Save up to 40% on Tanzania Tours & Vacation Packages 2023/2024
Tanzania Travel Guide
Located in East Africa, Tanzania is known for its vast and beautiful wilderness areas - areas that include the Serengeti National Park and Kilimanjaro National Park. Serengeti National Park features the big 5 of former game animals - the elephant, leopard, lion, rhino, and buffalo. Mount Kilimanjaro, Africa's highest mountain, is located in Kilimanjaro National Park. Tanzania tours also include off-shore excursions to islands, such as Mafia, which is home to a marine park and whale sharks, and Zanzibar, with its Arabic traditions and influences. Tanzania tours feature themed trips, so travelers can find a Tanzania tour package that meets their interests and covers what they are seeking in accommodations and activities. With tour operator volume buys plus our low everyday prices you can save up to 40% versus assembling the same itinerary on your own! Book your Tanzania tour today with AffordableTours.com, your discounted tour headquarters. View Tanzania Tour Deals and Discounts
Tanzania Travel Guide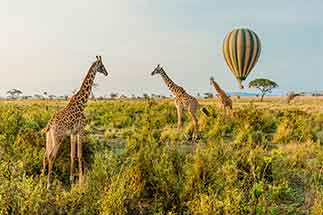 Showing 1 - 20 Tours
Tour Itinerary
Days
Operator
Quality
Style
Starts
Ends
Price

Kenya & Tanzania: The Safari Experience with Nairobi & Zanzibar 2024 - Small Group

3 reviews
17

Days

Globus

First Class

Escorted
2 - Classic

20
Nairobi
Dar es Salaam
Kenya, Tanzania, Zanzibar
$10,174View Tour

Best Price Guaranteed

Book With Flexibility




Kenya & Tanzania: The Safari Experience 2023 - Small Group

14

Days

Globus

First Class

Escorted
2 - Classic

20
Nairobi
Arusha
Kenya, Tanzania
$8,898View Tour

Best Price Guaranteed

Book With Flexibility

Kenya & Tanzania: The Safari Experience with Nairobi 2024 - Small Group

15

Days

Globus

First Class

Escorted
2 - Classic

Nairobi
Arusha
Kenya, Tanzania
$9,049View Tour

Best Price Guaranteed

Book With Flexibility

African Safari Adventure

14

Days

Trafalgar

First Class

Escorted
Nairobi
Kilimanjaro
Kenya, Tanzania
$8,850View Tour

Best Price Guaranteed

Book With Flexibility

Kenya & Tanzania: The Safari Experience 2024 - Small Group

19 reviews
14

Days

Globus

First Class

Escorted
1 - Light

20
Nairobi
Arusha
Kenya, Tanzania
$8,579View Tour

Best Price Guaranteed

Book With Flexibility

East Africa Private Safari 2023

11

Days

Globus

First Class

Escorted
3 - Explorer

8+ years old
Nairobi
Arusha
Kenya, Tanzania
$8,082View Tour

Best Price Guaranteed

Book With Flexibility

Tanzania Private Safari 2023

10

Days

Globus

First Class

Escorted
2 - Classic

8+ years old
Arusha
Arusha
Tanzania
$6,949View Tour

Best Price Guaranteed

Book With Flexibility




Kenya & Tanzania: The Safari Experience with Zanzibar 2023 - Small Group

16

Days

Globus

First Class

Escorted
2 - Classic

20
Nairobi
Dar es Salaam
Kenya, Tanzania, Zanzibar
$10,108View Tour

Best Price Guaranteed

Book With Flexibility




Kenya & Tanzania: The Safari Experience with Nairobi & Zanzibar 2023 - Small Group

17

Days

Globus

First Class

Escorted
2 - Classic

20
Nairobi
Dar es Salaam
Kenya, Tanzania, Zanzibar
$10,568View Tour

Best Price Guaranteed

Book With Flexibility

On Safari in Kenya & Tanzania 2024 - Small Group

2 reviews
11

Days

Cosmos

Budget

Escorted
3 - Explorer

20
Nairobi
Arusha
Kenya, Tanzania
$4,589View Tour

Best Price Guaranteed

Book With Flexibility

Kenya & Tanzania: The Safari Experience with Zanzibar 2024 - Small Group

3 reviews
16

Days

Globus

First Class

Escorted
2 - Classic

20
Nairobi
Dar es Salaam
Kenya, Tanzania, Zanzibar
$9,724View Tour

Best Price Guaranteed

Book With Flexibility




Tanzania: The Serengeti & Beyond 2023 - Small Group

09

Days

Globus

First Class

Escorted
1 - Light

20
Arusha
Arusha
Tanzania
$5,709View Tour

Best Price Guaranteed

Book With Flexibility

Tanzania Private Safari with Zanzibar 2023

12

Days

Globus

First Class

Escorted
2 - Classic

8+ years old
Arusha
Dar es Salaam
Tanzania, Zanzibar
$8,479View Tour

Best Price Guaranteed

Book With Flexibility

Tanzania: The Serengeti & Beyond 2024 - Small Group

7 reviews
09

Days

Globus

First Class

Escorted
1 - Light

20
Arusha
Arusha
Tanzania
$5,204View Tour

Best Price Guaranteed

Book With Flexibility

Tanzania: The Serengeti & Beyond with Serengeti extended stay 2024 - Small Group

11

Days

Globus

First Class

Escorted
1 - Light

8+ years old
Arusha
Arusha
Tanzania
$6,234View Tour

Best Price Guaranteed

Book With Flexibility

East Africa Private Safari with Nairobi 2023

12

Days

Globus

First Class

Escorted
3 - Explorer

8+ years old
Nairobi
Amboseli
Kenya, Tanzania
$8,462View Tour

Best Price Guaranteed

Book With Flexibility




Tanzania: The Serengeti & Beyond with Serengeti extended stay 2023 - Small Group

11

Days

Globus

First Class

Escorted
1 - Light

8+ years old
20
Arusha
Arusha
Tanzania
$7,169View Tour

Best Price Guaranteed

Book With Flexibility




Kenya & Tanzania: The Safari Experience with Nairobi 2023 - Small Group

15

Days

Globus

First Class

Escorted
2 - Classic

20
Nairobi
Arusha
Kenya, Tanzania
$9,388View Tour

Best Price Guaranteed

Book With Flexibility

East Africa Private Safari with Nairobi 2024

12

Days

Globus

First Class

Escorted
3 - Explorer

8+ years old
Nairobi
Arusha
Kenya, Tanzania
$8,359View Tour

Best Price Guaranteed

Book With Flexibility

East Africa Private Safari 2024

11

Days

Globus

First Class

Escorted
3 - Explorer

8+ years old
Nairobi
Arusha
Kenya, Tanzania
$7,949View Tour

Best Price Guaranteed

Book With Flexibility
Tanzania Travel Guide
Tanzania Tours Highlights
Observe the Great Migration in Serengeti National Park - watching as thousands of wildebeest, flanked by gazelles and zebras, thunder over the savannah.
Find yourself in the middle of Africa's wilderness on a camping safari, sitting and gazing up at the stars at night.
Visit exotic Zanzibar, also called Unguja - a place that embodies a magical and exotic atmosphere by its melange of Swahili, Middle Eastern, and Indian influences.
Enjoy underwater safaris at off-coast islands, such as Mafia, where it is not uncommon to encounter a whale shark.
Take a bike on a safari, which covers more ground than hiking, and gives you more of a sense of adventure and freedom.
Seek out the Big 5 with a Maasai guide.
Follow a hike up Mt. Kilimanjaro with a Chaga Villager and look upon the mountain's ice fields.
Visit the Ngorongoro Crater, one of the unique geological formations in southern Tanzania, and home to a diverse range of animals.
Plan stops at remote game reserves, such as the Selous Game Reserve - one of the world's largest.
See the chimpanzees at Gombe Stream National Park, made famous by a primatologist, Jane Goodall.
Tanzania Tours Travel Tips
Check with your doctor 8 weeks before your Tanzania tour to ensure you have all the proper vaccinations and medications. You may need to present a current yellow fever certificate to enter Tanzania.
Malaria occurs in Tanzania at altitudes below 6,561 feet or 2,000 meters. Therefore, you should ensure your health by taking antimalarial medicine. Also, wear lightweight long-sleeved shirts and slacks, and use mosquito netting.
Dengue fever (carried by mosquitoes) is present in Tanzania. Tse-tse flies produce a painful bite that leads to sleeping sickness as well. The flies like the color blue, so don't wear anything that hue.
Buy a comprehensive travel insurance plan if you plan to dive or climb in Tanzania. Include coverage that enables you to be evacuated if you cannot get adequate care at the local hospitals.
Don't add ice to drinks and only drink bottled water.
Tanzania is near the equator. Therefore, the sun's rays can be fierce in places, such as Kilimanjaro, where the altitude magnifies exposure. Wear sunscreen, a wide-brimmed hat, UV-blocking, high-quality sunglasses, and chapstick with SPF protection for your lips.
Altitude sickness can occur at half the height of Mount Kilimanjaro, which stands 5,895 meters, or 19,340 feet tall. The best cure for the sickness is to descend the incline. Younger and fitter climbers increase their risk of altitude sickness because they ascend more rapidly.
The highest point on Mt. Kilimanjaro is Uhuru Peak. You are more likely to make it to the top on a hike if you take an 8-day trail rather than a shorter one that covers 5 days.
Tanzania Tours Things To Do
Gombe Stream National Park - Seeing Chimpanzees

Jane Goodall, the primatologist, studied chimpanzees in the wild in Gombe Stream National Park. The chimps live on the wooded banks of Lake Tanganyika. You can find them by their shrieks or trails of discarded food.

Best Time To Visit

Avoid the long rains of Tanzania's "green season," which occurs during March, April, and May. After that time, it is best to go during drier times, such as June through July when more animals congregate at water holes. The climate is cooler from June to August.

You Should Know

Gombe Stream National Park is not normally included on Tanzania trip itineraries. If you can have it added, you will be glad you included this destination. You will only find wild chimpanzees in Africa. They live about 50 years in the wild or around 60 years in captivity. Chimpanzees walk on all fours, and their arms are longer than their legs. Therefore, they are called "knuckle walkers." Males stand about 4 feet tall and are 5 times stronger than humans. They are considered endangered, as only 170,000 to 300,000 remain in the wild.

Tarangire National Park

One of Tanzania's largest national parks, Tarangire National Park provides a sanctuary for a large population of elephants. Besides elephants, you can see a diversity of wildlife, including lions, leopards, and cheetahs.

Best Time To Visit

You will see more wildlife at the Tarangire River if you visit the park during the drier times, or from June to August.

You Should Know

An interesting feature of the park is its baobab trees. The ancient trees can live for over 3,000 years. When they die their insides rot away and they collapse. The trees are sturdy, as they can resist fires, termites, and drought conditions. Some people call them upside down trees because their branches resemble roots. Legend has it that if you pick a flower from the tree, you will be eaten by a lion, so keep away from the tree's flowers.

Lake Eyasi

Lake Eyasi is known more for the people who live there versus its wildlife. The lake area is home to the Datoga tribe. The body of water, which is a saltwater lake, lies on the floor of Africa's Great Rift Valley, at the foot of the Serengeti Plateau or south of Serengeti National Park. It also lies southwest of the Crater Highlands and the Ngorongoro Crater.

Best Time To Visit

Visit Lake Eyasi during the drier season of June through August.

You Should Know

The Datoga tribe members are distinguished by their circular tattoos that many of the tribal women display around their eyes. The tribe is known as hunter-gatherers. For hundreds of years, the Datoga people have lived on the food provided by nature.

Lake Manyara

Lake Manyara is a national park in Tanzania and serves as a home to flamingos - just one of the 380 types of birds that have been seen around the area's grasslands, waters, shrubs, and forests. You can also see large elephant herds, wildebeest, hippos, baboons, zebras, and giraffes.

Best Time To Visit

Plan an escape to Lake Manyara from June to August.

You Should Know

The natural area is also home to lions, who like the park's greenery. What is unique about the lions in the park is that they also climb the trees. Therefore, you can get a lot of great pictures of the cats cooling off up high in the shade of the canopies.

Mafia Island

This marine natural wonder is fairly quiet when it comes to visitors. The white sand beaches provide nesting sites for turtles, and the island's coral reefs make it a premier diving location. A secluded accommodation fits in naturally with the rest of the isle.

Best Time To Visit

Visit Mafia Island from June to August. Temperatures are cooler during August, so you can enjoy more of the island's attractions with fewer crowds.

You Should Know

The marine park features tropical forests as well as mangrove swamps. Some of the animals that live on the Tanzanian island include fruit bats, wild pigs, and monkeys.

Mount Kilimanjaro

Also known as Kili, Mount Kilimanjaro is the highest mountain in Africa, standing at 19,341 feet tall. People challenge themselves every season to reach the summit, at either Uhuru Point or Kibu Peak.

Best Time To Visit

Try out your hiking boots or climbing shoes during September or October - the best months to attempt a climb or hike up Mount Kilimanjaro.

You Should Know

Several routes across the barren and frigid slopes that lead to the mountain's ice fields and its 3 volcanic cones at the top. About 23,000 people attempt to reach the "roof of Africa" annually. Those who take longer routes finish more often than those who try to trek up the mountain in record time. Going too fast up the incline can lead to altitude sickness, which can only be remedied by turning around and descending the mountain.

Ngorongoro Crater

You might call this crater an earthen bowl filled with animals. Some of the animals seen at the site include the black rhino, bull elephants, and leopards. Also designated as a UNESCO World Heritage site, Ngorongoro Crater is one of the easier places to view the Big Five of Africa year-round.

Best Time To Visit

Temperatures are more tolerable during August.

You Should Know

The Olduvai Gorge, at the site, is home to some of the oldest human remains in the world, one of which is a skull that dates back 1.75 million years.

Ruaha National Park

Ruaha National Park is designed for the adventurous traveler. The Great Ruaha River bursts its banks, following the rains of March through May, and creates a flurry of wildlife activity. As the pools begin to shrink in the drier season, you can see lions to hyenas along the river banks.

Best Time To Visit

You will see more animals along the river from June to August.

You Should Know

The national park borders several game reserves, which makes it a wide wilderness area - an area that can also support large herds of elephants.

Selous Game Reserve

The Selous Game Reserve rivals the Serengeti with respect to size, as it is larger and more expansive. Its wildlife numbers also are greater than the popular Serengeti. The thousands of antelopes and elephants in the reserve make the park more of a haven for animals than tourists.

Best Time To Visit

Schedule a trip to the Selous Game Reserve from June to August, or after the rains of the "Green Season," from March to May.

You Should Know

The Selous Game Reserve is also home to wild dogs, usually not seen in northern Africa. You can take a boat cruise on Lake Tagalala to get an up close look at birds, crocodiles, and hippos. Only a few lodges can be found on the remote reserve.

Serengeti National Park

Not really needing an introduction, the Serengeti National Park and the Serengeti Plain are known for the Great Migration, an event that occurs when the wildebeest move into the northern Serengeti plains before crossing the Mara River.

Best Time To Visit

Although the best time to tour the Serengeti National Park is from January to February or June to September, you should plan your travel time around the Great Migration, which takes place from July to October, which is considered by many travel experts as the most desirable time to visit.

You Should Know

Also known as a gnu, a wildebeest represents a large antelope that measures about 50 inches at the shoulder and weighs from 300 to 600 pounds. The animal is about 5 to 8 feet in length and has a tail that is about 18 inches long.
Tanzania Tour Packages
If you plan to take a safari in Tanzania, the time you don't want to travel is between March through May. At that time the rains pour for a long time during what is known as the "Green Season." If you don't want to get caught in a downpour or get in the midst of a flood, you should avoid traveling during this part of the year.
To get the most out of your trip to Tanzania, traveling during the drier periods is best, especially if you choose to visit from June to August. If you want to see the Great Migration of the wildebeest over the Serengeti Plain, plan a trip from June to October. That is the best time to see thousands of wildebeest, along with gazelles and zebras, crossing the Mara River.
If you have plans to climb the great Mount Kilimanjaro, the best time to travel is during September and October, when the temperatures are not as hot and there are fewer climbers and hikers. In most instances, you can travel just about anytime outside of the "Green Season," or the rainy period that falls between March and May.
Tanzania Tours Frequently Asked Questions
What are Tanzania Tours?

Tanzania tours are African tours that take in most of the popular attractions of Tanzania, including Serengeti National Park, and the Great Migration, the Ngorongoro Crater, Mafia Island, Zanzibar, and Tarangire National Park.

What's Included in a Tanzania Tour?

A Tanzania tour includes visits to national parks and wildlife reserves, including river cruises and hikes. Tours are themed to draw the interests of specific travelers and include the accompaniment of an English-speaking and knowledgeable tour guide. An all-inclusive tour package includes most meals, the admission prices for attractions, airport and hotel transfers, and hotel or guesthouse accommodations. Your airfare is usually separate from the Tanzania tour price.

What's the Best Tanzania Tour?

The best Tanzania tour is a trip that meets your travel interests with respect to destinations and activities. It should be priced according to your budget and travel availability. To make sure your trip meets your expectations, contact an experienced tour representative to help you plan your once-in-a-lifetime trip.

How Much Do Tanzania Tours Cost?

What you pay for a Tanzania tour will depend on how long you wish to travel, where you plan to travel, and when you plan to embark on your trip. Generally, you will pay about $520 per person for a Tanzania tour covering one week.
Reviews for Tanzania Tours and Vacations
The tour is very good and hotel staff are all very friendly and efficient, we changed 3 tour directors during the trip, and each one is quite different and we need to adopt
Yiping C
First class tour with Globus. Exactly what they promised and more, staff from beginning to end were excellent.
James C
I definitely would book another tour with Affordable Tours especially using Aga Olewinska. She provided excellent customer service and very timely in her response to any of my inquiries. Really a joy to work with and I have even told our friends and neighbors about her.
Luisa E
Departure
Lengths
Styles
Specialities
Price
How It Works
Vacationing has never been easier or cheaper with the help of a dedicated travel consultant from AffordableTours.com
1. Free Quote
Find your perfect trip on our website and simply request a free quote. Need to speak to a live person? Call us 7 days a week at 1-800-935-2620. No robots here!
2. Dedicated Travel Consultant
Your personal travel consultant will reach out and be your point of contact for your entire travel experience from start to finish. Did we mention you'll be working with an award winning team? Sweet!
3. Lowest Price Guaranteed
Because we're one of the largest sellers of travel, we're able to give you a discount on your vacation package. No one beats our prices!
4. Stress Free Travel
Knowing you got the best deal, all that's left is for you to pack your bags and enjoy your vacation!