In east-central Africa is the gorgeous country of Uganda, home to many incredible histories, cultures, and species. The country itself is roughly the same size as Great Britain and is populated by dozens of ethnic groups. It is a landlocked country, meaning that you won't be near any major bodies of water during your stay in this country; however, some of their lakes and streams are just as majestic as the ocean views in other areas of Africa. The primary language spoken in Uganda is Swahili; however, they do speak something that is referred to as Uglish (which is Ugandan English). While not fluent, many people in Uganda can understand and speak enough English to aid you when they can. With tour operator volume buys plus our low everyday prices you can save up to 40% versus assembling the same itinerary on your own! Book your Uganda tour today with AffordableTours.com, your discounted tour headquarters. View Uganda Tour Deals and Discounts
Uganda Travel Guide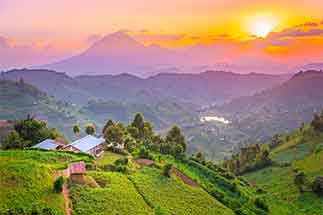 Showing 1 - 20 Tours
Tour Itinerary
Days
Operator
Quality
Style
Starts
Ends
Price



Culture & Wildlife of Uganda & Rwanda

08

Days

G Adventures

Budget

Escorted
5 - Challenging

15+ years old
12
Kampala
Kigali
Rwanda, Uganda
$3,411View Tour

Best Price Guaranteed

Book With Flexibility

Kenya & Uganda Gorilla Overland: Forests & Wildlife Spotting

15

Days

G Adventures

First Class

Escorted
4 - Active

18 - 39 years old
22
Nairobi
Nairobi
Kenya, Uganda
$3,119View Tour

Best Price Guaranteed

Book With Flexibility




Uganda Overland: Gorillas & Chimps

09

Days

G Adventures

Budget

Escorted
5 - Challenging

18 - 39 years old
22
Kampala
Kampala
Uganda
$2,399View Tour

Best Price Guaranteed

Book With Flexibility

East Africa Overland: Serengeti & Safari Drives

19

Days

G Adventures

Budget

Escorted
5 - Challenging

18 - 39 years old
22
Kampala
Stone Town
Kenya, Tanzania, Uganda
$4,079View Tour

Best Price Guaranteed

Book With Flexibility




East Africa In-Depth

16

Days

G Adventures

Budget

Escorted
4 - Active

15+ years old
14
Nairobi
Kigali
Kenya, Rwanda, Uganda
$6,549View Tour

Best Price Guaranteed

Book With Flexibility

Masai Mara & Gorilla Adventure

2 reviews
12

Days

G Adventures

Budget

Escorted
4 - Active

15+ years old
12
Nairobi
Kigali
Kenya, Rwanda, Uganda
$4,679View Tour

Best Price Guaranteed

Book With Flexibility

Ultimate Africa: Safari Drives & the Savannah

55

Days

G Adventures

First Class

Escorted
4 - Active

18 - 39 years old
22
Cape Town
Nairobi
Botswana, Kenya, Malawi, Namibia, South Africa, Tanzania, Uganda, Zambia, Zimbabwe
$7,999View Tour

Best Price Guaranteed

Book With Flexibility

Ultimate East Africa: Mountains & the Masai Mara

24

Days

G Adventures

First Class

Escorted
4 - Active

18 - 39 years old
22
Nairobi
Stone Town
Kenya, Tanzania, Uganda
$4,719View Tour

Best Price Guaranteed

Book With Flexibility

Kenya Overland: Safari Drives & National Reserves

06

Days

G Adventures

First Class

Escorted
3 - Explorer

18 - 39 years old
22
Nairobi
Kampala
Kenya, Uganda
$1,071View Tour

Best Price Guaranteed

Book With Flexibility




Johannesburg to Gorillas

52

Days

Intrepid Travel

Budget

Guided/Hosted
3 - Explorer

15+ years old
22
Johannesburg
Nairobi
Botswana, Kenya, Malawi, South Africa, Tanzania, Uganda, Zambia, Zimbabwe
$11,169View Tour

Book With Flexibility




Africa Encompassed Northbound

64

Days

Intrepid Travel

Budget

Escorted
3 - Explorer

15+ years old
22
Cape Town
Nairobi
Botswana, Kenya, Malawi, Namibia, Rwanda, South Africa, Tanzania, Uganda, Zambia, Zimbabwe
$11,216View Tour

Book With Flexibility

Africa Encompassed Southbound

63

Days

Intrepid Travel

Budget

Escorted
3 - Explorer

15+ years old
22
Nairobi
Cape Town
Botswana, Kenya, Malawi, Namibia, Rwanda, South Africa, Tanzania, Uganda, Zambia, Zimbabwe
$13,348View Tour

Book With Flexibility




Vic Falls to Gorillas

1 reviews
43

Days

Intrepid Travel

Budget

Guided/Hosted
3 - Explorer

15+ years old
22
Victoria Falls
Nairobi
Kenya, Malawi, Tanzania, Uganda, Zambia, Zimbabwe
$7,605View Tour

Book With Flexibility




Beaches, Game Parks & Gorillas

28

Days

Intrepid Travel

Budget

Guided/Hosted
3 - Explorer

15+ years old
22
Stone Town
Nairobi
Kenya, Rwanda, Tanzania, Uganda
$6,718View Tour

Book With Flexibility




Gorillas to Vic Falls

42

Days

Intrepid Travel

Budget

Guided/Hosted
3 - Explorer

15+ years old
22
Nairobi
Victoria Falls
Kenya, Rwanda, Tanzania, Uganda, Zambia, Zimbabwe
$10,220View Tour

Book With Flexibility




Remarkable Rwanda & Gorillas of Uganda

09

Days

Intrepid Travel

Budget

Escorted
3 - Explorer

15+ years old
12
Kigali
Kigali
Rwanda, Uganda
$5,210View Tour

Book With Flexibility




Gorillas & Game Parks

16

Days

Intrepid Travel

Budget

Escorted
3 - Explorer

15+ years old
22
Nairobi
Nairobi
Kenya, Uganda
$3,428View Tour

Book With Flexibility




Gorillas, Game Parks & Beaches

27

Days

Intrepid Travel

Budget

Escorted
3 - Explorer

15+ years old
22
Nairobi
Stone Town
Kenya, Tanzania, Uganda
$7,220View Tour

Book With Flexibility

Gorillas & East Africa Safari

18

Days

Intrepid Travel

First Class

Escorted
2 - Classic

15+ years old
16
Kigali
Arusha
Kenya, Rwanda, Tanzania, Uganda
$10,305View Tour

Book With Flexibility

Uganda Gorilla Short Break: Original

04

Days

Intrepid Travel

First Class

Escorted
3 - Explorer

15+ years old
12
Kampala
Kampala
Uganda
$3,090View Tour

Book With Flexibility
Uganda Travel Guide
Uganda Tours Highlights
View the incredible sights that this amazing landlocked country has to offer.
Indulge in some of the most unique food that you will find anywhere in the world.
Take time to know and understand the painful past of the Ugandan people, and learn their histories and cultures.
Enjoy incredible treks into the Impenetrable Forest to view gorillas in their natural habitat.
Go on Safari in Queen Elizabeth National Park where you will see lions, leopards, elephants, and buffalo roaming through the wild.
Try spotting and counting over 600 different species of birds that are all over this amazing country.
Hike the incredible Rwenzori Mountains and marvel at the incredible views while you ascend.
Enjoy the beach around Lake Victoria and take a moment to relax and take everything in.
Visit Rhinos in the Ziwa Rhino Sanctuary and learn all about the endangered species and what is being done to preserve them.
Uganda Tours Travel Tips
The tap water in Uganda should be boiled or purified before being consumed; however, bottled water is available everywhere and is fairly cheap.
Seek medical advice on what vaccinations you should have prior to traveling through Uganda and other parts of Africa.
We suggest wearing long sleeves as much as possible to avoid mosquito bites.
Food is generally meat-based stews and sauce dishes, accompanied with Ugali (which is a thick dough paste).
There is no minimum wage in Uganda, so many people are underpaid. We suggest a 10% tip in any restaurant and $10-15 per person per day to safari guides.
Foreign women, particularly white women, attract a lot of attention, so be prepared for people to want to talk to you, touch your skin, and invite you to their homes.
Be sure to exchange your currency to Ugandan Shillings prior to traveling.
Enjoy the local markets and be sure to grab some incredible souvenirs during your stay.
Uganda Tours Things To Do
Straddle the Equator

When will you ever get the chance to say that you had your feet firmly planted in both hemispheres of the globe at the same time? While you are in Uganda, we suggest taking the time to do that and grabbing a picture for proof. In Kayabwe of the Mpigi District is where you will find a small cluster of souvenir shops and restaurants and an equator landmark in Queen Elizabeth National Park. The landmark perfectly marks where you need to stand to have you straddling the equator.

Best Time To Visit

The park itself is a popular attraction, but regardless of the time that you visit, you shouldn't have to fight with any crowds at all.

Participate in a Ugandan Safari

If you do nothing else while you are in Uganda, then you need to at least go on a Ugandan Safari. How else are you going to get an in-depth look into the habitats of the various animals that call Uganda home? The safari guides know exactly where to take you depending on what animals you are hoping to see. You will have the chance to observe buffalos, elephants, giraffes, lions, antelopes, chimpanzees, and many other animals as well. The best part is that you are seeing them in their natural habitat, which is so much more majestic.

You Should Know

You will be outdoors for the entire Safari, and while you will be in a vehicle, we still suggest wearing long sleeves when you can. Be sure to bring water with you on safari and use the restroom prior to your departure.

See Where The Nile Begins

Many people know that the Nile River is the largest river in the world, but did you know that it originates in Uganda? While you are in Murchison Falls National Park, you will be close to a town called Jinja, where the Nile starts. While you are here, you can participate in some high adrenaline activities, as Jinja is considered the adrenaline capital of East Africa. Whether you want to try bungee jumping, mountain biking, kayaking, horseback riding, or even whitewater rafting in the Nile, they have it all.

You Should Know

Some of these activities are not for everyone, and at no point should you ever feel pressured to participate. Sometimes being the spectator can be just as rewarding.

Participate in a Gorilla Trekking Tour

One of the items on many people's bucket lists who visit Uganda is to see the mountain gorillas, and we believe that should be on your list as well. The mountain gorillas are an endangered species, and while much is being done to preserve these magnificent creatures, we suggest seeing them while you can. Uganda's Bwindi Impenetrable Forest happens to be the home to the largest number of mountain gorilla families, and there are treks to show them to you up close and personal.

You Should Know

Wildlife authorities in Uganda enforce strict rules for Gorilla Trekking, and as such, you will need a permit before joining up with an established trekking company.

Queen Elizabeth National Park

Since you are already going to be here to straddle the equator, why not find a few more things to do while visiting? One thing that always has people talking are the tree-climbing lions that have made Queen Elizabeth National Park their home. However, it's not all about the lions. There are plenty of other wildlife species that you will come across while in this magnificent park. There are also various ways to view the park, including hot air balloon rides, boat cruises, and scenic drives.

Best Time To Visit

The best time to see the lions is from 8 am to 6 pm when the lions are sleeping in the trees. They are generally nocturnal creatures, hunting at night and sleeping during the day.

Experience Traditional Culture

While in Uganda, you have to immerse yourself in their culture, and one way to do that is to expose yourself to the country's traditional dance and music. If you plan on taking it all in, we suggest visiting Nedere Centre in Kampala. Here you will find a 700-seat venue that will mesmerize you with the high-energy shows that they put on. You will be enthralled in their music and their dancing, and you will leave a better understanding of the people of Uganda.

Best Time To Visit

If the Nedere Centre is on your must-see list, it is only open on Wednesday, Friday, and Saturday evenings. Be sure to visit one of these days for an experience you will never forget.

Tour the Kasubi Tombs

If you're going to be in Kampala for the music and dancing, then you might as well take the time to learn about the Royal Kingdom of Uganda. The best way to do this is to tour the Kasubi Tombs, diving into the history of the royal family and the Buganda Kingdom, which was Uganda's largest tribal kingdom. The historic site features the remnants of a 35-building palace and the burial grounds of former Ugandan kings and their family members. With a guided tour, you can view artifacts, learn about the traditions and rituals, and see incredible architecture that was built with the local vegetation.

You Should Know

This area is a highly regarded historical site and is watched by guards. Staying with your tour group is highly advised.

Visit the Ssese Islands

If you love Lake Victoria, which everyone does, then you will absolutely want to visit the 84-island archipelago that is known as the Ssese Islands. These unspoiled islands are home to a wide variety of bird species and small forests that are home to chimpanzees. You can enjoy lounging around on the beautiful sandy beaches, or even go sailing, boating, or fishing while you are visiting the area. We also suggest taking the time to meet the Bantu people and learn about their customs and cultures.

You Should Know

The islands are unspoiled, and as such, they need to remain that way. You should be very careful about what you bring with you and ensure that you leave nothing behind.
Uganda Tour Packages
When choosing a time to visit Uganda, we suggest visiting between December and February, or between June and August. These are considered the dry seasons in Uganda and will give you many more opportunities to get out and explore. This is also the best time for any treks that will get you close to mountain gorillas and chimpanzees. These seasons also tend to be the best time for spotting game in the National Parks throughout Uganda. You will be amazed by the number of native species you will come in contact with during your time in this beautiful country.
Uganda Tours Frequently Asked Questions
What is a Uganda Tour?

A Uganda tour is the absolute best way to explore the amazing country of Uganda. When you book a tour, you are given a list of the exciting excursions and adventures that your tour group will be going on during your stay here, and you will be excited by all the incredible opportunities you are going to have. These tours are also a way to ensure that you get the most for your money, with most tours offering the majority of your meals and plenty of adventures for your given tour price.

What is Included on a Uganda Tour?

Many of the various tours have a wide inclusion list, giving you even more for your money. In many cases, your tours will include almost all meals. Breakfast is included every day, while lunches and dinners are more spread out, giving you time to indulge in the local cuisine on your own. All transportation costs while on tour are covered in the initial cost, as well as any treks and adventure that have been booked in accordance with the tour. Accommodations are not covered by the initial cost of the tour; however, there are deals offered to those traveling in our tour groups to make it much more affordable.

What is the Best Uganda Tour?

The best Uganda tour will depend on what you are hoping to see while visiting. There are a few tours that enter different parts of Africa that we would suggest for sure, while others focus strictly on Uganda. Either way, you are sure to find yourself immersed in a country that is rich in history, culture, and wildlife. Many of the tours include jungle treks where you can hope to see a wide variety of species native to the country of Uganda. Ensure that you have looked through each tour carefully and find the one that is best for you.

How Much Does a Uganda Tour Cost?

The price of a Uganda Tour will depend on what type of tour you are looking to get involved in. There are many tours to choose from that will go through Uganda and other parts of Africa, and each of them has something unique to them. It's up to you to decide on the type of adventure that you wish to have while enjoying your time in this amazing country. Some tours are as low as $2600 for a shorter tour, while others can extend up to $6700 for a 19-day adventure. The cost of the tour is totally up to you and all that you wish to see.
Reviews for Uganda Tours and Vacations
Superb experience and guides were great.
Helena S
Amazing trip! Gate 1 thought of every detail so you can enjoy your trip. Accommodations and tours are first class! Tour guides are knowledgeable and personable. They become your best friends after one day!
Sonja T
Eric was extremely helpful every step of the way.
Jason S
Departure
Lengths
Styles
Specialities
Price
How It Works
Vacationing has never been easier or cheaper with the help of a dedicated travel consultant from AffordableTours.com
1. Free Quote
Find your perfect trip on our website and simply request a free quote. Need to speak to a live person? Call us 7 days a week at 1-800-935-2620. No robots here!
2. Dedicated Travel Consultant
Your personal travel consultant will reach out and be your point of contact for your entire travel experience from start to finish. Did we mention you'll be working with an award winning team? Sweet!
3. Lowest Price Guaranteed
Because we're one of the largest sellers of travel, we're able to give you a discount on your vacation package. No one beats our prices!
4. Stress Free Travel
Knowing you got the best deal, all that's left is for you to pack your bags and enjoy your vacation!