The United Arab Emirates (UAE) is a collection of Emirates along the eastern coast of the Arabian Peninsula. The largest of the Emirates is Abu Dhabi, which has more than ¾ of the federation's total land area and is the center of the oil industry. The country houses many incredible cultures and histories and has some sights that you will not be able to find anywhere else in the world. This country is also the central hub to many multinational corporations throughout the world and is recognized as one of the business capitals of the world as well. The Emirates, similar to states, are spread out through the UAE and each have hidden gems within. During any one of the tours of the UAE, you will be graced with some incredible sights, amazing food, and interesting histories about the cultures and the area. With tour operator volume buys plus our low everyday prices you can save up to 40% versus assembling the same itinerary on your own! Book your United Arab Emirates tour today with AffordableTours.com, your discounted tour headquarters. View United Arab Emirates Tour Deals and Discounts
United Arab Emirates Travel Guide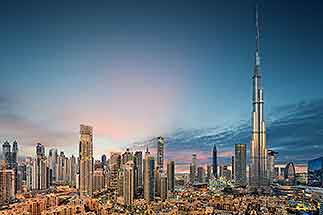 Showing 1 - 20 Tours
Sorry, we were unable to find a tour for you.
If you've not chosen a criteria, then please do so; otherwise you need to broaden your search criteria to find matches.
United Arab Emirates Travel Guide
United Arab Emirates Tours Highlights
Get to know everything there is to know about the United Arab Emirates.
Visit two of the largest cities that exist, Dubai and Abu Dhabi, which draw in millions of tourists each year.
Enjoy exploring Dubai, a regional business hub that is known for its sleek skyscrapers.
Visit the tallest building in the world and enjoy the panoramic views from its rooftop.
Enjoy some of the best food in the world during your travels in each Emirate that you visit.
Enjoy a helicopter tour of the coast and see some of the truly incredible architecture from a birds-eye-view.
Experience some of the best shopping markets around in Dubai and Abu Dhabi.
Take some time to explore the coastline and the emerald waters of the Gulf of Oman.
Marvel at the very busy Dubai Creek.
United Arab Emirates Tours Travel Tips
The official language is Arabic; however, English is the primary language spoken in the United Arab Emirates.
The dirham is the official currency, and you will need to exchange your currency prior to making any purchases through the United Arab Emirates.
Any US travelers will need to ensure that they have power adapters, as the sockets are similar to what is available in Britain.
Dress modestly, without wearing anything too revealing, in order to respect the cultural norms of those in the UAE.
Ask permission before taking any pictures of people, especially Muslim women. Never take photos of government buildings, airports, military institutions, etc.
Tipping isn't expected in Dubai, but it's a common practice. Most restaurants add a tip to your bill.
Be careful when consuming alcohol. Public drinking and drunkenness are illegal in Dubai, and you won't be able to purchase alcohol for your own use without a permit.
Public Displays of Affection are very offensive in the UAE. Refrain from holding hands or kissing while in public.
United Arab Emirates Tours Things To Do
Visit The World Islands

While Dubai is famous for its luxurious Palm Island, the true beauty can be found in the manmade archipelago known as The World Islands. The project was meant to create lots of manmade islands that would have the shape of the world to them. Covering 20 square miles of the Persian Gulf, the World Islands has a single manmade island for each country. While you are in the United Arab Emirates, we suggest taking the time to book a tour of The World Islands so that you can see what the vision was. To this day, there remains many islands that have yet to be developed further and are just islands of sand; however, some have been developed into something incredible

Best Time To Visit

The islands can get quite busy with many tourists wanting to see what all the fuss is about, so we suggest booking your tour in advance or finding one of our tours that have The World Islands included.

Ski Dubai

It sounds a little absurd that we are talking about skiing while you are in a Middle Eastern climate; however, we aren't joking around. While in Dubai, we suggest taking some time to visit the Mall of the Emirates. Within this mall is an entire ski mountain that you can book time on to hit the slopes. While some malls have roller coasters, the Mall of the Emirates is the only mall in the world that has an indoor ski slope. It is truly remarkable and something that you really don't want to miss.

You Should Know

If you are planning to ski, you don't need to worry about having the right clothing for it. The slope has everything that you will need to have an enjoyable time.

Masdar City

If you want to view something that is completely unique and remarkable, then we suggest visiting Masdar City, the world's first zero-carbon city. The plan of Masdar, a United Arab Emirates power company, was to have an entirely operational city that emitted absolutely no greenhouse gases. The planning and development were underway in early 2006, but due to the financial crisis of the 2000s, it was never fully completed. However, you can still visit this city and see for yourself just what had been envisioned. When you visit, only 5% of the original "green print" has been fully constructed, but it is incredible to see.

You Should Know

The city is a ghost town with no inhabitants actually living there, and the plan of zero-carbon has turned into a 50% carbon-neutral plan instead, which is still better than most cities in the world.

Singing Sand Dunes of Liwa

The Singing Sand Dunes of Liwa is a stretch of land in the south of the United Arab Emirates that is known as the Empty Quarter. The sands are said to be singing due to the low tone that you can hear while you are present. While many other places have their own versions of the singing sands, the sands in Liwa are said to be the loudest, giving off a very dominant sound similar to a didgeridoo or low-flying plane. While the sounds are created from particles of sand creating vibrations as they fall onto each other, legend has it that they are actually evil spirits whispering names to disorient travelers.

You Should Know

The Singing Sands are a short drive from Abu Dhabi or Dubai, south towards Liwa. The dunes surround the city which is made up of small buildings at the edge of the desert.

The Capital Gate Skyscraper

There is no building in the world that leans as much as The Capital Gate Skyscraper in the United Arab Emirates. The building, standing 525 feet, is the tallest in the city of Abu Dhabi; however, the height isn't what draws the eye. What is truly remarkable is the incline of the 35-story building. Work began on the building in 2007 and was completed in 2011. The building has an 18-degree incline to the west, which is four times the amount of the Leaning Tower of Pisa.

You Should Know

The building is next to the Abu Dhabi National Exhibition Centre, giving you even more of a reason to visit. It is a 15-minute drive from the airport and contains a five-star Hyatt hotel.

Fujairah Fort

The Fujairah Fort, near the coast of Fujairah, is the oldest and largest castle in the United Arab Emirates. The fort was constructed in the 16th century and played a significant role in colonial expansion. The fort covers a large area and was constructed using local materials such as rock, gravel and mortar, with mangrove poles and palm frond trunks making up the roofs. When you visit, you will get a glimpse into the ancient past filled with challenging obstacles, and you will get an absolutely incredible view of the city.

You Should Know

Entry into the fort is completely free. Down the road from the fort is the Museum and the Heritage Village, both of which offer incredible insight into the history of Fujairah.

Ferrari World

If you are looking to have a day at the amusement park, then The United Arab Emirates has one that you will want to check out: Ferrari World. This entire amusement park has a sports car theme and is home to one of the fastest roller coasters in the world. Within the park is an operating Ferrari factory that guests can visit, ride in a real Ferrari, and view over 70 different models of Ferrari's. Ferrari World has been dubbed one of the best tourist attractions in the Middle East.

Best Time To Visit

Ferrari World is a busy park regardless of the time of year or the time of day. We suggest making this an entire day's experience as you can expect longer lines for much of the rides and attractions.

Dubai Miracle Garden

If you have an interest in the flora of the world, then we suggest that you take the time to check out the Dubai Miracle Garden. This garden has been stated as being the largest natural flower garden in the world with 45 million flowers. While it is impressive to have that many flowers in any given space, it is equally impressive that all the species of flowers are thriving in this otherwise desert climate. The flowers have been planted in various shapes and patterns, offering you a wide variety of viewing pleasures. There are also free-standing formations with flowers planted among them to give a fairytale-like feel to much of the garden.

You Should Know

We suggest being prepared for the heat when you go to the garden, as much of it is outdoors with very little shade offered. However, it truly is something that you won't want to miss.
United Arab Emirates Tour Packages
We suggest visiting the United Arab Emirates during the months of October to April. During the summer months, the weather can be unbearably hot and has very high humidity levels. However, during the fall and winter months, the weather is comfortable, and with no rainy season, the winter is a pleasant time to visit. The United Arab Emirates does tend to fill up with tourists over these months, so be sure to book well in advance, and be prepared to make changes to your plans on the fly while here, in case certain venues are over capacity.
United Arab Emirates Tours Frequently Asked Questions
What is a United Arab Emirates Tour?

A United Arab Emirates Tour is the best way for you to get a first-hand look at everything that the UAE has to offer. Whether you are looking to experience a plethora of cultures or indulge in some of the best food in the world, this is the place that you want to be. The tours make it possible to see much of the country in a short period of time, giving you the best value for your money and offering you an enriching travel experience. Regardless of what your plans in the United Arab Emirates are, we suggest browsing through the many tours that we offer.

What is Included on a United Arab Emirates Tour?

The inclusions all depend on the tour that you choose; however, most are pretty straight forward across the board. In many cases for the United Arab Emirates tours, your airfare is included in the cost, as well as your accommodations. You can also expect to have 9 meals in total including 5 breakfasts, 2 lunches, and 2 dinners. You will need to make arrangements on your own for the other meals, which gives you time to explore and enjoy the local cuisine while you are here. Any sightseeing excursions are also covered by the initial cost, and any travel that needs to be done as well.

What is the Best United Arab Emirates Tour?

The best United Arab Emirates tour is totally dependent on your wants and needs while you are touring this incredibly diverse country. The majority of the tours deal with the major cities, including Dubai and Abu Dhabi; however, some tours will cover other areas as well and may even stretch into other countries if that piques your interest. For those that deal with the United Arab Emirates only, we suggest choosing one of the many tours that focus on the major cities.

How Much Does a United Arab Emirates Tour Cost?

The cost of the tour is dependent on your length of stay and where you choose to spend the majority of your time. Some of the tours can come rather cheap, starting around $700 for a 5-night stay in Dubai, while others can be more expensive. If you are looking for a tour that covers other countries as well, then the price will certainly increase but will have lots more involved to make the price worthwhile. We suggest figuring out exactly what kind of tour you are interested in booking, and then give our team a call and let us pick the perfect tour for you.
Learn More About United Arab Emirates Tours

Revealed: Top 7 Most Photographed Landmarks Around The World

Snapping pictures in front of places you've been is one of the best ways to remember your journey. Everyone loves to comb through pictures and share their best shots with their friends and family, to inspire them to travel as well. Research shows that more than half of travelers plan their next destination based on…
Reviews for United Arab Emirates Tours and Vacations
Our tour manager, Shalini, was professional, knowledgeable and extremely supportive on this Discovery 1 tour of Oman and Dubai.
Deborah G
Our tour manager, Shalini, was professional, knowledgeable and extremely supportive on this Discovery 1 tour of Oman and Dubai.
Deborah G
Great tour. Very informative. Well organized
Bonnie B
Departure
Lengths
Styles
Specialities
Price
How It Works
Vacationing has never been easier or cheaper with the help of a dedicated travel consultant from AffordableTours.com
1. Free Quote
Find your perfect trip on our website and simply request a free quote. Need to speak to a live person? Call us 7 days a week at 1-800-935-2620. No robots here!
2. Dedicated Travel Consultant
Your personal travel consultant will reach out and be your point of contact for your entire travel experience from start to finish. Did we mention you'll be working with an award winning team? Sweet!
3. Lowest Price Guaranteed
Because we're one of the largest sellers of travel, we're able to give you a discount on your vacation package. No one beats our prices!
4. Stress Free Travel
Knowing you got the best deal, all that's left is for you to pack your bags and enjoy your vacation!