Denmark Tours Over 14 Days 2023/2024
Save up to 40% on Denmark Tours Over 14 Days 2023/2024
Denmark Travel Guide
Denmark is a gorgeous Scandinavian country that's home to over 5.8 million people. It's filled with beautiful palaces, epic views, and medieval architecture that will leave you breathless. You'll truly have a grand time if you're lucky enough to be going on a Denmark tour! With tour operator volume buys plus our low everyday prices you can save up to 40% versus assembling the same itinerary on your own! Book your Denmark tour today with AffordableTours.com, your discounted tour headquarters. View Denmark Tour Deals and Discounts
Denmark Travel Guide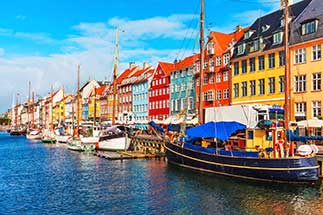 Showing 1 - 20 Tours
Tour Itinerary
Days
Operator
Quality
Style
Starts
Ends
Price

Scenic Scandinavia and its Fjords

144 reviews
14

Days

Trafalgar

First Class

Escorted
Copenhagen
Stockholm
Denmark, Norway, Sweden
$4,585View Tour

Best Price Guaranteed

Book With Flexibility

Grand Scandinavia - Classic Group

4 reviews
20

Days

Insight Vacations

First Class

Escorted
3 - Explorer

Copenhagen
Oslo
Denmark, Finland, Norway, Sweden
$6,753View Tour

Best Price Guaranteed

Book With Flexibility

The Baltic States & Scandinavia 2024

32 reviews
14

Days

Cosmos

Budget

Escorted
Copenhagen
Stockholm
Denmark, Estonia, Finland, Germany, Latvia, Lithuania, Poland, Sweden
$2,499View Tour

Best Price Guaranteed

Book With Flexibility

Spectacular Scandinavia & its Fjords - Classic Group

3 reviews
15

Days

Insight Vacations

First Class

Escorted
5+ years old
40
Copenhagen
Oslo
Denmark, Norway, Sweden
$5,782View Tour

Best Price Guaranteed

Book With Flexibility

The Baltic States & Scandinavia 2025

32 reviews
14

Days

Cosmos

Budget

Escorted
Copenhagen
Stockholm
Denmark, Estonia, Finland, Germany, Latvia, Lithuania, Poland, Sweden
$2,699View Tour

Best Price Guaranteed

Book With Flexibility

Nordic Adventure

20 reviews
20

Days

Trafalgar

First Class

Escorted
Copenhagen
Oslo
Denmark, Finland, Norway, Sweden
$6,205View Tour

Best Price Guaranteed

Book With Flexibility

Scenic Scandinavia and its Fjords

144 reviews
14

Days

Trafalgar

First Class

Escorted
Copenhagen
Stockholm
Denmark, Norway, Sweden
$5,450View Tour

Best Price Guaranteed

Book With Flexibility

Nordic Adventure

20 reviews
20

Days

Trafalgar

First Class

Escorted
Copenhagen
Oslo
Denmark, Finland, Norway, Sweden
$7,365View Tour

Best Price Guaranteed

Book With Flexibility

Northern Capitals - Classic Group

14

Days

Insight Vacations

First Class

Escorted
5+ years old
40
Berlin
Warsaw
Denmark, Estonia, Finland, Germany, Latvia, Lithuania, Poland, Sweden
$4,620View Tour

Best Price Guaranteed

Book With Flexibility

Scandinavian Heritage - Classic Group

28

Days

Insight Vacations

First Class

Escorted
Oslo
Oslo
Denmark, Finland, Norway, Sweden
$14,404View Tour

Best Price Guaranteed

Book With Flexibility

Grand Scandinavia - Small Group

20

Days

Insight Vacations

First Class

Escorted
5+ years old
24
Copenhagen
Oslo
Denmark, Finland, Norway, Sweden
$8,884View Tour

Best Price Guaranteed

Book With Flexibility

Spectacular Scandinavia & its Fjords - Small Group

15

Days

Insight Vacations

First Class

Escorted
5+ years old
24
Copenhagen
Oslo
Denmark, Norway, Sweden
$7,042View Tour

Best Price Guaranteed

Book With Flexibility

Scandinavian Heritage - Classic Group

28

Days

Insight Vacations

First Class

Escorted
Oslo
Oslo
Denmark, Finland, Norway, Sweden
$12,248View Tour

Best Price Guaranteed

Book With Flexibility

Northern Capitals - Small Group

14

Days

Insight Vacations

First Class

Escorted
5+ years old
24
Berlin
Warsaw
Denmark, Estonia, Finland, Germany, Latvia, Lithuania, Poland, Sweden
$6,175View Tour

Best Price Guaranteed

Book With Flexibility

Scandinavian Heritage - Classic Group

28

Days

Insight Vacations

First Class

Escorted
Oslo
Oslo
Denmark, Finland, Norway, Sweden
$13,484View Tour

Best Price Guaranteed

Book With Flexibility

Scandinavian Heritage - Classic Group

28

Days

Insight Vacations

First Class

Escorted
Oslo
Oslo
Denmark, Finland, Norway, Sweden
$15,841View Tour

Best Price Guaranteed

Book With Flexibility

Grand Scandinavia - Classic Group

4 reviews
20

Days

Insight Vacations

First Class

Escorted
3 - Explorer

Copenhagen
Oslo
Denmark, Finland, Norway, Sweden
$8,251View Tour

Best Price Guaranteed

Book With Flexibility

Grand Scandinavia - Small Group

20

Days

Insight Vacations

First Class

Escorted
5+ years old
40
Copenhagen
Oslo
Denmark, Finland, Norway, Sweden
$9,539View Tour

Best Price Guaranteed

Book With Flexibility

Complete Scandinavia

21

Days

Intrepid

Budget

Guided/Hosted
2 - Classic

15+ years old
12
Copenhagen
Helsinki
Denmark, Finland, Germany, Norway, Sweden
$7,866View Tour

Book With Flexibility

Scandinavia & Baltic Circuit

35

Days

Intrepid

Budget

Guided/Hosted
2 - Classic

15+ years old
12
Copenhagen
Vilnius
Denmark, Estonia, Finland, Germany, Latvia, Lithuania, Norway, Poland, Sweden
$10,642View Tour

Book With Flexibility
Denmark Travel Guide
Denmark Tours Highlights
Visit the iconic The Little Mermaid sculpture.
Check out the royal palace of Amalienborg.
Learn history at Frederiksborg Castle.
Stroll along the beautiful canals and buildings of Nyhavn.
Take a trip to Aarhus.
See the view from The Round Tower.
Have fun at the Tivoli Gardens amusement park.
Explore the Louisiana Museum of Modern Art.
Shop until you drop at Strøget.
Take a break and adventure along the paths at Møns Klint.
Walk around the breathtaking King's Garden.
Visit the historical Rosenborg Castle.
Denmark Tours Travel Tips
Denmark is pretty well-known for having exceptionally unpredictable weather. Because of that, you're going to want to pack lots of layers so that you can dress for any temperature at any given time. Don't forget rain gear either!
There's a huge biking culture in Denmark, especially in the city of Copenhagen. If you can, go on a bike tour or just rent a bike to explore areas on your own.
The country of Denmark is overall extremely safe, but that doesn't mean that you shouldn't watch your belongings and take standard safety precautions. No matter where you're traveling, be smart!
Try the local cuisine at least once if you can. Danish food is incredible, and you genuinely don't want to miss out on it.
Use your best manners when visiting Denmark. Danes are known for taking politeness seriously, so be respectful and polite during your trip.
Denmark Tours Things To Do
Learn history at Frederiksborg Castle

Frederiksborg Castle is a 17th-century royal residence located in Hillerød, Denmark. It was initially built for Christian IV, who ruled Denmark and Norway. It's made with the Renaissance style of architecture and is the most significant building of its kind in Scandinavia! What makes Frederiksborg Castle even more unique is that it's located on top of three different islands. There is also a vast garden that you can walk through and the Museum of National History.

You Should Know

You're welcome to take photos inside the castle, but no selfie sticks, tripod, or flash photography is allowed. Children under the age of 5 get free entry.

Stroll along Nyhavn

Nyhavn is the most picturesque spot in all of Copenhagen. It dates back to the 17th century and has a breathtaking canal running right in the middle of it, which you can hop on a sightseeing cruise on. This area is home to many brightly-colored historical townhouses, shops, and places to eat. It's also right next to the Royal Playhouse, one of the other must-visit places in Copenhagen. Nyhavn is famously known for being home to the famous writer Hans Christian Andersen.

Best Time To Visit

Nyhavn can be extremely busy, no matter the time of day. To get a photo without the least amount of people, try to visit earlier in the morning!

Explore the Louisiana Museum of Modern Art

The Louisiana Museum of Modern Art is a vast art museum located in Humlebaek, Denmark, which is not that far from Copenhagen. The museum opened in 1958 and holds art dating back to World War II up to modern days. Historically, the original property owner was a man named Alexander Brun, who decided to name the place after all three of his wives… they were all named Louise! The property was later taken over by a man named Knud W. Jensen, who turned it into the museum that it is today along with a few architects.

You Should Know

Many of the exhibits inside the museum are temporary, so if you were to visit again in the future, you would most likely see different art pieces! Be sure to stop by the epic sculpture garden which surrounds the museum.

Visit The Little Mermaid statue

The Little Mermaid statue is one of the most-visited spots in Copenhagen! It's located right on the harbourside by the Langelini Promenade. The statue was built by a man named Edvard Eriksen, and its created from bronze. The statue itself shows the transformation of a mermaid becoming a human. This is meant to relate to The Little Mermaid fairytale written by none other than Denmark's famed writer, Hans Christian Andersen, who lived in Copenhagen for quite some time.

You Should Know

The area near the statue is never overly busy, though it is a popularly-visited spot. If you find it's busy when you go to see it, just wait a few minutes, and it'll clear up so you can get a great photo!

Have fun at Tivoli Gardens

Tivoli Gardens is Copenhagen's premier amusement park! It's located right in the middle of the city and is truly great fun for all ages. This amusement park was opened in 1843 and is one of the oldest amusement parks still operating globally. It's ranked second for its age, only behind Denmark's other excellent amusement park, Klampenborg! There is a small fee to enter Tivoli Gardens, but then you also pay by ride. To save money, be sure to invest in a ride pass, so you can endlessly go on as many rides as you'd like. Try to visit at night to see the whole area all lit up! It's truly magical.

You Should Know

Plan on spending at least three to five hours exploring Tivoli Gardens, and possibly even more time if you plan on going on lots of rides.

Check out Amalienborg

Amalienborg is located in Copenhagen as well and is the official residence of Denmark's royal family. It was built in 1760 in the Rococo style of architecture. It's located right near Frederik's Church, so be sure to visit both places in the same day! One of the best things to see at Amalienborg is the changing of the Royal Guard. In Denmark, the Royal Guard is called Den Kongelige Livgarde. This can usually be witnessed around noontime, and it happens every single day.

You Should Know

The Amalienborg Museum is a great way to learn more about Denmark's royal history. To save money, consider purchasing a Copenhagen Card, which will grant you access to many of the city's top tourist attractions and free rides on public transportation.

See the view from the Round Tower

The Round Tower is a 17th-century tower right outside of Copenhagen's city center. Denmark's Christian IV constructed the building with the purpose of it being an observatory to look at the stars and study astronomy. The tower stands at 114 feet, and it was built in 1637. The inside of the building has an extremely minimal and unique architecture, which makes it worth visiting. Because the building was built with such a high height, you can quickly get some of Copenhagen's best views from the windows on the top of the Round Tower!

You Should Know

You truly won't need a whole lot of time to explore the Round Tower. The tower is connected to a beautiful library frequented by none other than Hans Christian Andersen, the famed Danish writer.

Take a trip to Aarhus

Aarhus is a beautiful city on the eastern coast of Denmark. It's one of the most beautiful cities in all of Denmark that is often overlooked even though it shouldn't be! It's essentially a smaller version of Copenhagen. Some of the must-see sights in Aarhus include Den Gamle By, the ARoS Aarhus Art Museum, and the Viking Museum. Aarhus also has its version of Tivoli Gardens called Tivoli Friheden that is filled with over 40 different fun rides!

Best Time To Visit

Arguably, take a trip to Aarhus is during the winter months because it's home to one of Denmark's famed Christmas markets.

Walk along the paths at Møns Klint

Møns Klint is a breathtaking set of chalk cliffs right along the coast that stretch on for just under 4 miles. It's one of the must-see natural sights in Denmark, and it will genuinely make you feel like you're not even on planet Earth! There are many trails and paths that go along Møns Klint, which you can walk, or you can opt to horseback ride them, which is another fun way to explore the area. If you aren't interested in adventuring through the area by trail, then opt to go on a boat tour of the area!

You Should Know

Møns Klint is one of Denmark's oldest spots, and it's often referred to as the country's birthplace. You'll have to visit to find out why!
Denmark Tour Packages
Denmark is beautiful year-round, though it's even more gorgeous during the spring and fall months. However, the summer and winter months are great too. Below, learn more about the different seasons to help you decide the best times to visit Denmark.
Spring and Fall - September to November and March to May - Shoulder Season

The shoulder seasons are often the best time to visit a country because the weather is fantastic, and prices are relatively reasonable. During this time, the temperature averages around 50°F in the spring and 55°F in the fall. Luckily, all tourist attractions will be open during this time, and there won't be huge lines.

Summer - June to August - High Season

So many people opt to visit Denmark during the summer because the weather is perfect. It averages around 65°F on most days, which is essentially the warmest that Denmark gets. However, prices usually are at their highest during this time for accommodations and flights.

Winter - December to February - Low Season

Winter months are the least busy time to visit Denmark because the weather is cooler. The temperature averages around 30°F, which isn't terrible compared to most other countries in Scandinavia. Prices will be at their lowest because there isn't such a significant influx of visitors. Some top tourist sites might have shortened hours during the winter months.
Denmark Tours Frequently Asked Questions
What are Denmark tours?

Are you the kind of person that loves having everything planned out for you? Then you'll honestly love going on a Denmark tour. With these tours, logistics and itineraries are entirely set up in advance, so all you have to do is hop on your plane and brace yourself for the time of your life. You'll have a tour guide/director with you for the entirety of your trip too!

What's included on a Denmark tour?

Denmark tours include accommodation, most meals, transportation, and a guide. You'll have your itinerary planned out for you as well, so you won't have anything to worry about during your trip except for enjoying yourself and the overall experience of visiting Denmark. Some of the Denmark tours even offer fun inclusions like skip-the-line tickets.

What's the best Denmark tour?

Every Denmark tour is so different, so you honestly can't say that one is better. The best Denmark tour for you depends on your budget, vacation length, and places you'd like to visit. Just make sure you do your research before booking so that you'll be happy on your tour!

How much do Denmark tours cost?

Denmark tours range drastically in price. Tours start around $150 a day because Denmark is a more expensive country, but these range in price depending on the length and the places included on the tour. Of course, booking through Affordable Tours, you'll be guaranteed a better price than you'd have if you were to plan the very same trip on your own, plus, there's a lot less hassle!
Learn More About Denmark Tours

Top Culinary Destinations Around The World

Finding exceptional flavors should not be hard to do, so we have put together some of the top culinary destinations around the world. However, if you've not traveled much then you may not know where to go for all the amazing food. Learning a bit more about these areas, what they offer, their different tastes,…


Top 8 Most Bike-Friendly Cities

Bike-friendly cities helps you tour and discover new destinations at the perfect pace. Here's a full list of the most bike-friendly cities.


Review: Scenic Scandinavia And Its Fjords With Trafalgar

By: Ana Pitiranggon, Employee Development Team Specialist Scandinavia has been on my bucket list ever since I became an avid fan of the TV series, "Vikings". With its breathtaking views in between and beyond the deep of fjords, and seeing such extreme natural beauty and learning about the heritage of the Vikings, this Scenic Scandinavia And Its…
Reviews for Denmark Tours and Vacations
Always a well organized Operator.
Ann P
We had a great guide and wonderful trip all around, highly recommend!
George R
Totally satisfied with the entire experience, my 1st tour w/ Gate1...our guide, made the experience worthwhile....will surely book another tour with my family in the future!
Jessica T
Departure
Lengths
Styles
Specialities
Price
How It Works
Vacationing has never been easier or cheaper with the help of a dedicated travel consultant from AffordableTours.com
1. Free Quote
Find your perfect trip on our website and simply request a free quote. Need to speak to a live person? Call us 7 days a week at 1-800-935-2620. No robots here!
2. Dedicated Travel Consultant
Your personal travel consultant will reach out and be your point of contact for your entire travel experience from start to finish. Did we mention you'll be working with an award winning team? Sweet!
3. Lowest Price Guaranteed
Because we're one of the largest sellers of travel, we're able to give you a discount on your vacation package. No one beats our prices!
4. Stress Free Travel
Knowing you got the best deal, all that's left is for you to pack your bags and enjoy your vacation!