Greece Tours 8 to 13 Days 2024/2025
Save up to 40% on Greece Tours 8 to 13 Days 2024/2025
Greece Travel Guide
With thousands of miles of spectacular coastline, Greece is best known for its idyllic beaches and azure waters. But there's a lot more to this European island nation. Ancient sun-drenched ruins, a vibrant culture, a deliciously fresh cuisine, and passionate people make Greece tours the stuff of dreams. With tour operator volume buys plus our low everyday prices you can save up to 40% versus assembling the same itinerary on your own! Book your Greece tour today with AffordableTours.com, your discounted tour headquarters. View Greece Tour Deals and Discounts
Greece Travel Guide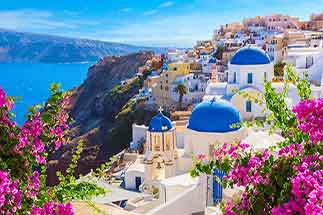 Showing 1 - 20 Tours
Tour Itinerary
Days
Operator
Quality
Style
Starts
Ends
Price

Greek Island Hopper 2024

120 reviews
10

Days

Globus

First Class

Tour & Cruise
Athens
Athens
Greece
$3,059View Tour

Best Price Guaranteed

Book With Flexibility

Classical Greece 2024

192 reviews
08

Days

Globus

First Class

Escorted
Athens
Athens
Greece
$2,339View Tour

Best Price Guaranteed

Book With Flexibility

Footsteps of Apostle Paul - Faith-Based Travel 2024

19 reviews
10

Days

Globus

First Class

Tour & Cruise
Athens
Athens
Greece, Turkey
$3,150View Tour

Best Price Guaranteed

Book With Flexibility

Best of Greece

120 reviews
08

Days

Trafalgar

First Class

Escorted
Athens
Athens
Greece
$1,628View Tour

Best Price Guaranteed

Book With Flexibility




10 Day Essential Greece with 3 Day Iconic Aegean Cruise -Cabin IA Inside

4 reviews
10

Days

Gate1

First Class

Escorted
Athens
Delphi
Greece
$1,399View Tour

Best Price Guaranteed

Book With Flexibility




10 Day Essential Greece with 3 Day Iconic Aegean Cruise -Cabin IB Inside

10

Days

Gate1

First Class

Escorted
Athens
Delphi
Greece
$1,449View Tour

Best Price Guaranteed

Book With Flexibility




13 Day Greek Islander with Crete - 13 Day Greek Islander with Crete (Monday Departure) -Plan B

1 reviews
13

Days

Gate1

First Class

Independent
Crete
Athens
Greece
$1,949View Tour

Best Price Guaranteed

Book With Flexibility

Best of Italy and Greece

14 reviews
10

Days

Trafalgar

First Class

Escorted
Rome
Athens
Greece, Italy
$3,774View Tour

Best Price Guaranteed

Book With Flexibility

Classical Greece with Iconic Aegean 4-Night Cruise 2024

164 reviews
13

Days

Globus

First Class

Tour & Cruise
Athens
Athens
Greece, Turkey
$3,700View Tour

Best Price Guaranteed

Book With Flexibility

The Best of Greece 2024

56 reviews
10

Days

Cosmos

Budget

Escorted
3 - Explorer

Athens
Athens
Greece
$1,799View Tour

Best Price Guaranteed

Book With Flexibility




12 Day Classic Greece with 6 Day Idyllic Aegean Cruise

4 reviews
12

Days

Gate1

First Class

Escorted
Athens
Thessaloniki
Greece
$2,399View Tour

Best Price Guaranteed

Book With Flexibility

Italy & Greece 2024

33 reviews
12

Days

Cosmos

Budget

Escorted
3 - Explorer

Rome
Athens
Greece, Italy
$2,499View Tour

Best Price Guaranteed

Book With Flexibility

Oh My Goddess!: Greece By Design, PLUS Aegean Cruise 2024

12

Days

Globus

First Class

Tour & Cruise
1 - Light

8+ years old
Athens
Athens
Greece, Turkey
$2,890View Tour

Best Price Guaranteed

Book With Flexibility

Highlights of Greece with 3-Day Aegean Cruise Moderate B

1 reviews
08

Days

Costsaver

Budget

Tour & Cruise
Athens
Athens
Greece, Turkey
$1,999View Tour

Best Price Guaranteed

Book With Flexibility

Greek Escape plus 2 nights in Santorini 2024

2 reviews
09

Days

Globus

First Class

Escorted
8+ years old
Athens
Athens
Greece
$1,659View Tour

Best Price Guaranteed

Book With Flexibility

Greek Island Hopper

64 reviews
10

Days

Trafalgar

First Class

Escorted
Athens
Athens
Greece
$4,350View Tour

Best Price Guaranteed

Book With Flexibility

Greek Island Adventure 2024

08

Days

Globus

First Class

Tour & Cruise
Athens
Athens
Greece
$2,229View Tour

Best Price Guaranteed

Book With Flexibility




10 Day Essential Greece with 3 Day Iconic Aegean Cruise -Cabin XB Outside

10

Days

Gate1

First Class

Escorted
Athens
Delphi
Greece
$1,599View Tour

Best Price Guaranteed

Book With Flexibility

Classical Greece with Iconic Aegean 3-Night Cruise 2024

164 reviews
12

Days

Globus

First Class

Tour & Cruise
Athens
Athens
Greece, Turkey
$3,570View Tour

Best Price Guaranteed

Book With Flexibility

Oh My Goddess!: Greece By Design 2024

08

Days

Globus

First Class

Escorted
1 - Light

8+ years old
Athens
Athens
Greece
$1,849View Tour

Best Price Guaranteed

Book With Flexibility
Greece Travel Guide
Greece Tours Highlights
Marvel at the grandeur of the Acropolis and Temple of Olympian Zeus in Athens.
Admire the scenery in Crete with its dramatic mountain gorges and hills carpeted in vineyards and olive groves.
Explore the charming Cyclades islands of Naxos, Paros, and Syros.
Be mesmerized by the majestic ruins at Delphi, a temple located on the precipitous cliffs of Mt. Parnassos, where Apollo made his fateful prophecies.
Visit Meteora, a surreal forest of giant rocky pinnacles and ancient monasteries and a magnet for hikers and rock climbers.
Relax on the secluded Navagio Beach in Zakynthos, accessible only by boat and protected by towering cliffs, home to what is perhaps the world's most famous shipwreck.
Wander the narrow streets of the charming village of Oia in Santorini.
Let your hair down on Mykonos, the island that never sleeps. It has some of the best beach parties anywhere in the world.
Greece Tours Travel Tips
In Greece, cash is king and many establishments don't accept cards, so make sure you have plenty of cash on you. ATMs are easy to find in Athens but can be a problem on smaller islands.
The Greeks drive rather aggressively, so be careful if you rent a car, especially in Athens. It's best to book a guided Greece tour and leave the driving to the experts.
During high season (July-August), Greece is an extremely popular vacation spot, so book early if you don't want to be disappointed.
Except on remote and isolated islands, Wi-Fi is freely available virtually everywhere in Greece, so don't be afraid to ask for the password in cafes, bars, and hotels.
Dial 171 from anywhere in Greece to get in touch with the Tourist Police who are fluent in many languages. They can help if you need to report a theft or other such issues. But remember, they are not tourist guides, so avoid calling them for information.
It's perfectly safe to drink tap water in Athens, but it's best to stick to bottled water on the islands (or ask before you drink from the tap).
Punctuality can be a hit or miss in Greece, so don't expect transportation to run like clockwork or restaurant service to be snappy. Instead, immerse yourself in the laidback Mediterranean lifestyle and go with the flow.
Greece Tours Things To Do
Experience the Acropolis

As one of the most important ancient sites in the world, the Acropolis towers over Athens like a sentinel and is visible from almost everywhere in the city. It's white marble gleams in the midday sun, becomes a sublime honey color at sunset, and stands brilliantly illuminated after dark. Any visit to Greece will be incomplete without a glimpse of this magnificent sight that is sure to lift your spirits.

You Should Know

The Acropolis is one of the most popular attractions in Greece, so go as early in the morning as possible and buy your tickets in advance. Double-check the opening hours which change seasonally. The Acropolis is closed on public holidays such as Christmas Day and Easter Sunday.

Watch the Sun Go Down in Oia

When you think of Greece, what comes to mind? We're guessing cascades of sun-baked white buildings, blue-domed churches, and verandahs bursting with bougainvillea. The best place to experience quintessential Greece is in the traditional village of Oia on the island of Santorini. Wander the picturesque narrow streets lined with charming cafes and shops, and stop to admire the dramatic views of the Aegean Sea (Oia is located on a precipitous cliff).

You Should Know

Oia is famous for its spectacular sunsets, said to be the most romantic in the world. Oia Castle is a popular point to view the sun go down, but it can get very crowded in peak season. However, it's worth it to see the whitewashed buildings glow in oranges, pinks, and yellows as the sun sinks below the horizon.

Party in Mykonos

The Greek island of Mykonos is blessed with beautiful beaches and picturesque villages, but it's best known for being a party island. If you're looking to dance the night away, Mykonos will not disappoint with its dynamic nightlife and uber-cool beach parties. Go nightclub-hopping to experience high-profile DJs, drink mouthwatering cocktails, and enjoy a wild night on the town with an eclectic crowd from around the world.

You Should Know

You'll need to book a table in advance to get into the top clubs in Mykonos. Local buses operate regularly between Fabrika in Mykonos Town to all the big clubs and major beaches.

Soak Up the Sun

There are breathtaking beaches around every corner of Greece. Spend a day relaxing on a heavenly patch of sand and playing in the electric blue waters of the Aegean. Most popular beaches have tons of water sports, bars, and restaurants to cater to the influx of tourists. Our recommendation? The surreal Red Beach (Kokkini Beach) in southwestern Santorini, which is ringed by dramatic lava cliffs that offset the clear blue waters of the sea.

Best Time To Visit

Beach season in Greece runs from late May to early October when the seawater is warm and the weather is perfect for sunbathing.

Discover Magnificent Meteora

Imagine soaring pillars of sandstone reaching for the heavens with monasteries perched precariously on the summits. That's Meteora for you. Built in the early 14th century this awe-inspiring stone forest is now a magnet for rock climbers who come from all over the world to test their mettle. The monasteries, six of which are open to visitors, were built for monks who climbed rope ladders to the top to flee persecution. Don't worry, you won't need acrobatic skills to visit the monasteries. There are now steps carved into the rockface.

You Should Know

Meteora is a popular attraction, so expect crowds. If you hate jostling with other tourists, book your Greece tour for the offseason when it's quieter. This part of Greece gets a lot of rain, so check the weather forecast and come prepared.

Explore Ancient Delphi

The ancient Greeks considered Delphi to be the center of the world. When you see the sun rays bathe the Sanctuary of Athena Pronea and gaze at the Gulf of Corinth, you'll understand why. Although only a few of the sanctuary's columns remain, they are well preserved and awe-inspiring. According to legend, it was here at the Temple of Apollo that the ancient Greeks asked questions and the Oracle answered them with prophecies that sent armies to battle.

You Should Know

The flight of steps leading up to the theater is well worth the climb. The rows of stone benches, which could accommodate 5,000 spectators, are magnificent, and the views of the entire site and surrounding mountains are breathtaking.

Meander Around Old Town Rhodes

With its twisting, cobbled streets, soaring arches, and lively squares, Rhodes' Old Town oozes atmosphere. Stroll around and you're sure to discover some hidden corners away from the crowds. And when your feet start complaining, sit down to listen to some lively traditional music and eat fresh seafood in a tiny taverna. Later, wander along the city walls for a bird's eye view of this atmospheric island.

You Should Know

If you want to escape the crowds of Faliraki Beach, there are several gorgeous beaches just a short drive away, such as Kolympia, Stegna, Afandou, and Lardos.

Join Easter Festivities in Patmos

The calendar in Greece is full of holidays and festivals but one of the biggest events is Easter. And the best place to join the festivities is on Patmos in the Dodecanese. The island erupts in celebration with spring flower decorations, dancing in the streets, fireworks, and free-flowing ouzo (a popular Greek aperitif). On Good Friday, a flower-bedecked bier representing Christ's body is carried through the capital in a moving candlelit procession. On Saturday, the churches are decorated for the resurrection service. And on Easter Sunday, vibrant red-dyed eggs are cracked to symbolize the cycle of nature.

You Should Know

Easter is the most important celebration for the Greek Orthodox Church and it's a busy weekend, but a fascinating time to visit. Make sure you book your accommodation and ferry tickets in advance.

Indulge in Greek Cuisine

The Greeks love sharing big, convivial meals with family and friends. The cuisine has an abundance of delicious foods made with fresh ingredients. On your Greece tour, don't miss the opportunity to sample authentic versions of the much-loved tzatziki dip, local olives cured in sea brine, and iconic Greek dishes like moussaka and souvlaki. Trying to work some weight off? When in Greece, fresh seafood and salads are a joy. Got a sweet tooth? Go for classic baklava.

You Should Know

The Greeks dine late, often after 10 p.m., and some restaurants may not open for dinner before 8. It's a good idea to make reservations in popular places.
Greece Tour Packages
Beach Vacation

Tourist season in Greece typically starts after Easter and ends around mid-October. July and August are the hottest months of the year in Greece with temperatures soaring into the 100s. During this time, you're virtually guaranteed good weather for a beach holiday with the seawater perfect for swimming and rain extremely rare.

Sightseeing Vacation

If you want to enjoy the marvelous archaeological sites in Greece without being shoved around by hordes of tourists, plan your Greece tour for May/June or September/October. You'll still get the benefit of warm summer weather but the attractions will be much less crowded than July and August.

Island Hopping

The best time to visit Greece for island hopping is the summer season from May to October. Avoid August, if possible, as it's the busiest month. After October, many businesses, especially on the smaller islands, close for the winter. Also, the accommodations, which are designed for the summer, can get surprisingly cold in the winter.

Budget Vacation

The off-season from October to April is a good time to visit Greece if you're on a budget. Accommodation is easier to find and often discounted, so you'll get more bang for your buck. However, be aware that some of the tourist infrastructures may be closed.
Greece Tours Frequently Asked Questions
What are Greece Tours?

If you would love to enjoy all that Greece has to offer but don't want the hassle of booking accommodations and ferry transfers between islands, a Greece tour is perfect for you. It's a guided tour where we take care of all the logistics, leaving you to enjoy the vacation of a lifetime.

What's included on a Greece Tour?

Your accommodations, transportation, and many meals are all included in the price of your Greece tour. In addition to guided sightseeing at all the major attractions, you'll also have the chance to experience Greek culture in-depth with culinary demonstrations and dance classes. Please note that some Greece tours may require a supplement for inter-island air travel.

What's the best Greece Tour?

You're spoilt for choice with several travel operators offering varying itineraries to suit every interest. If you want to see as much of this diverse country as possible, choose a Greek island-hopping tour. If love spending time on the water, combine your Greece tour with a cruise. If you're a history buff, there are several amazing classical Greece itineraries to tempt you. And if you're traveling to Greece for your honeymoon or milestone anniversary, why not add a few extra days in romantic Santorini?

How much do Greece Tours cost?

Greece tours start at under $150 per person per day, a great value vacation packed with magnificent views, awe-inspiring historical sites, delicious food and drinks, and the wonderful warmth of the Mediterranean climate.
Learn More About Greece Tours
Reviews for Greece Tours and Vacations
This was my first guided tour and in most cases it exceeded my expectations. I booked as a solo traveler even though I was with two friends who also booked as solo travelers. At the hotels and then the cruise cabin it was great to have the space to myself. We preceded our trip with three days in Istanbul, which we did on our own and was phenomenal. The hotels booked with Globus were very nice with appropriate amenities. The tour guides, were absolutely wonderful, and the group of 34 people we were traveling with were so much fun. We became one big happy family and I would love to travel with them all again. I think the only negative is the feeling of being rushed all the time. I wish we could have spent more time at some of the locations, but then again, when I think of all the places we visited, I am amazed at how much we saw and how much we did. It was a wonderful opportunity to be able to do this.
Inga F
The trip did not disappoint. Trafalgar was great; they took care of you, we did everything plus more than we expected on the itinerary, they were interesting, did everything that they could to make you happy and they were professional.
Debra J
This was a great tour that ran very organized and our agent took care of all the pre-trip details.
Dennis S
Departure
Lengths
Styles
Specialities
Price
How It Works
Vacationing has never been easier or cheaper with the help of a dedicated travel consultant from AffordableTours.com
1. Free Quote
Find your perfect trip on our website and simply request a free quote. Need to speak to a live person? Call us 7 days a week at 1-800-935-2620. No robots here!
2. Dedicated Travel Consultant
Your personal travel consultant will reach out and be your point of contact for your entire travel experience from start to finish. Did we mention you'll be working with an award winning team? Sweet!
3. Lowest Price Guaranteed
Because we're one of the largest sellers of travel, we're able to give you a discount on your vacation package. No one beats our prices!
4. Stress Free Travel
Knowing you got the best deal, all that's left is for you to pack your bags and enjoy your vacation!