Ireland Tours 1 to 4 Days 2024/2025
Save up to 40% on Ireland Tours 1 to 4 Days 2024/2025
Ireland Travel Guide
Most Ireland tours begin with the best sites in Dublin and proceed from there. Your journey will also take in all the best sights and attractions of this ancient and friendly country. Not only will you visit memorable historical sites and castles, but you can also enjoy the joviality of music-filled pubs and Irish eateries. Some of the attractions include Kinsale, the Cliffs of Moher, Trinity College, the Dingle Peninsula, and Galway. Many of the trips begin in Dublin and end there. Group tours feature motor coach transport escorted by a professional tour guide. With tour operator volume buys plus our low everyday prices you can save up to 40% versus assembling the same itinerary on your own! Book your Ireland tour today with AffordableTours.com, your discounted tour headquarters. View Ireland Tour Deals and Discounts
Ireland Travel Guide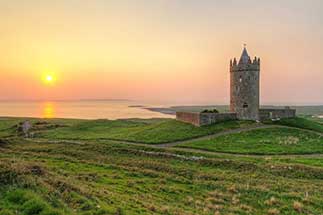 Ireland Travel Guide
Ireland Tours Highlights
Take a walking tour of Dublin and learn about the city's rich history.
Visit Trinity College and its Old Library, and take an illuminating look at the Book of Kells, a colorful medieval manuscript that highlights the four Gospels.
See street poets and musicians during your exploration of Dublin.
Visit Dublin Castle, the host site for the inauguration of the country's Presidents.
Have dinner in the picturesque harbor town of Kinsale, which is known as the gourmet capital of Ireland.
Take a scenic drive along the woods, lakes, and mountains of Killarney National Park.
Take a side jaunt to a working sheep farm.
Participate in activities, such as whiskey tasting or baking traditional Irish pastries.
See a crystal cutting demonstration by a master Irish craftsman.
Hire a bicycle and pedal the Dingle Loop on the Dingle Peninsula.
Savor a generous Irish breakfast of pork sausages, bacon rashers, fried eggs, black pudding, fried tomato, and brown soda bread.
Drive through County Clare to see the amazing Cliffs of Moher, which stand over the North Atlantic at 600 feet.
Enjoy a quiet dinner in Galway.
Ireland Tours Travel Tips
The currency in Northern Ireland is the pound sterling, not the Euro – something to keep in mind while visiting northern Ireland and venturing further south.
While Ireland does not have the same requirements for tipping as some places do, there are certain tipping rules you must follow. For example, if you have table service in a restaurant, you should leave a tip of 10% to 12%. Tip taxi drivers up to 10%, as long as they offer good service.
The Irish weather is changeable, so you need to dress in layers when visiting Ireland. Make sure you wear waterproof shoes too and carry a brolly (umbrella) for unexpected downpours.
City buses will not stop in Dublin unless you flag them down, even if you are standing at a stop. Therefore, make sure you stick out your arm and wave when you see a bus approaching. It is also considered common courtesy to thank the driver when you get to your destination.
Winter days are especially short in Ireland, with the sun setting around 4:00 p.m. On the other hand, some days in summer can be extremely long, with sunset occurring around 10:00 p.m.
Many places close on Sunday in Ireland. Those sites that do open do not open their doors until around 2:00 p.m. in the afternoon.
While Irish people do speak English, they do use a lot of slang terms when speaking, which can make communication difficult. Before you go on your trip, you may want to research some of the slang phrases they use. For example, courtin' translates to dating and houl yer whisht means please be quiet.
Ireland Tours Things To Do
Dublin Castle

Until 1922, Dublin Castle served as the seat for the English administration of the government in Ireland. While most of the current construction dates back to the 1700s, the origins of the structure go back to the days of King John, who was declared Ireland's first Lord in 1177.

Best Time to Visit

While June through September has the best weather, July and August have the warmest temperatures. During the latter part of summer, it tends to get more crowded and the climate becomes more humid.

You Should Know

Dublin Castle is the place where the inauguration of Ireland's Presidents is held. A popular Dublin attraction, Dublin Castle once was the site of a Danish Viking fortress in the tenth century, before becoming a Norman Fort in the 1100s. King John created a newer and stronger castle in 1230, so it could be used as a city defense.

Trinity College and The Old Library – The Book of Kells

Considered the most prestigious college in Ireland, Trinity College is an elite academic institution in Europe. It has been given special acclaim in the fields of literature, law, and the humanities. Its library features the Book of Kells – a beautiful medieval manuscript that highlights the four Gospels.

Best Time to Visit

Usually, the spring and fall are better times to see the sights. The Old Library is open from May through September and October through April, beginning at 9:30 a.m., and closes each day at 5:00 p.m., except October through April, when it closes at 4:30 p.m. on Sunday.

You Should Know

Normally, a tour of the college includes a visit to the Old Library and its famous exhibit of the Book of Kells. Besides the Book of Kells, the Old Library features a large collection of impressive manuscripts and books.

Kinsale

Located 176 miles from Dublin, the colorful harbor town of Kinsale sits on Ireland's southern coast in County Cork. The courthouse in town is home to the Kinsale Regional Museum, which includes information on the 1915 sinking of the Cunard passenger liner, the RMS Lusitania, during the First World War. A German submarine sank the ship off the Old Head of Kinsale. The event resulted in the deaths of 1,198 passengers, with 761 people surviving. Because American passengers lost their lives during the ship's sinking, it spurred the U.S. to get involved in the war.

Best Time to Visit

Visit during May, June, or September when the weather is more pleasant.

You Should Know

Besides its historical attractions, Kinsale is known for its love of gourmet cuisine. The town holds several yearly gourmet food festivals. Religious sites you will want to see include St. Multose's Church (Church of Ireland), built in 1190, and the St. John the Baptist Church, a Catholic denomination church built in 1839.

Killarney National Park

Near the town of Killarney in County Kerry, Killarney National Park has the distinction of being Ireland's first national park. The park was established in 1932 through the donation of the Muckross Estate to the Irish Free State. You can bike, hike, or drive through the park.

Best Time to Visit

Most travelers visit the park in the summer. However, if you want to go when it is less crowded plan a trip in May or September. The park is open year-round.

You Should Know

The park is made up of 25,425 acres. Within the site is the only herd of wild indigenous red deer. In 1970, the herd's population was only 11 but it has since expanded to around 700. About 141 different species of birds can be found in the park as well, some of which include pipits, peregrine falcons, nightjars, ospreys, and wood warblers. Main attractions include sites, such as Muckross House. Ross Castle, Torc Waterfall, and the O'Sullivan Cascade.

Dingle

Dingle is a small port town, which sits on Ireland's Dingle Peninsula in the southwest. The peninsula is known for its sandy beaches, rugged landscape, and hiking trails. At Dingle's waterfront is a statue of the dolphin, Fungie, a long-time resident of the harbor.

Best Time to Visit

Dingle can be visited anytime, but the best time to go and experience good weather and fewer crowds is May or September.

You Should Know

The Dingle Oceanworld Aquarium is home to otters, sharks, and penguins. To the southwest, you will find Dun Beag, a historic promontory fort. The peninsula itself is a great place to walk and view nature.

Cliffs of Moher

Located in County Clare, the Cliffs of Moher are one of the most popular sites in Ireland, attracting over one million travelers annually. The cliffs, which are 14K or 9 miles long, rise up to a height of 214 meters or 700 feet at the highest point, which is north of O'Brien's Tower.

Best Time to Visit

Visit the cliffs in March to view the puffins and from spring to summer to see the wildflowers blossoming.

You Should Know

At the end of March, the Atlantic puffins arrive at the cliffs, which begins the bird's nesting season. You can see hundreds of birds. During the spring and summer, you can spot seals and dolphins from the top of the cliffs, as well as hares. Feral goats live close to Hag's Head at the attraction.

Galway

A harbor city on the west coast of Ireland, Galway sits where the Atlantic Ocean and River Corrib meet. The main hub of the city is Eyre Square, which goes back to the eighteenth century. Shops and traditional pubs that feature Irish folk music line the square while stone-clad galleries and cafes in the Latin Quarter sit along winding streets beside medieval city walls.

Best Time to Visit

Mark your calendar for a visit from May to September. You'll see fewer crowds in May or September.

You Should Know

Galway has more pubs than any other place in Ireland – about 475. Also, it is home to the longest place name in the country, the townland of Muckanaghederdauhaulia. The city also boasts the largest Gaeltacht (Irish-speaking) area in Ireland.

Blarney Castle and the Blarney Stone

A place that motivates day trippers away from Cork, the Blarney Castle features keeps and battlements that date back to the 1200s. The bucket-list favorite Irish attraction displays some reconstructed areas as well as the neo-Gothic designed Blarney house, which stands next to the castle.

Best Time to Visit

Usually, the late spring, June, or early fall is the best time to see the site, as the crowds are fewer and the temperatures are more inviting.

You Should Know

Blarney Castle is home to the famous Blarney Stone. Legend says that you will be given the gift of Irish gab if you can kiss the stone. However, you must kiss the stone by leaning backward, or, basically, upside down from a great height. The block of limestone that represents the stone was built into Blarney Castle's battlements in 1446. Before you kiss it, and as you wish, the stone is wiped with an antimicrobial wipe.
Ireland Tour Packages
Ireland experiences various mood swings with respect to the winter. Therefore, the time you set aside for a visit to Ireland must be based on the average temperature of the places you will be visiting, and what exactly you will be doing. If you plan to visit a large number of sites indoors, then you can get by going on Ireland tours about any time of the year, provided you don't mind bundling up in the winter months.
Spring - February to April

If you would like to visit the Cliffs of Moher and watch the puffins arrive, you should plan a visit for the end of March. A trip in April and May is a good time to go to enjoy the flowering blooms. If you go during the spring, bring some waterproof shoes and an umbrella.

Summer - July to August

For most travelers, a visit to the Emerald Isle will take place in the summer, or from June to September. You just have to keep in mind that the weather tends to get more humid toward the end of summer. Otherwise, June is a good time to venture out and see the sights.
Ireland Tours Frequently Asked Questions
What are Ireland Tours?

Ireland tours typically begin in Dublin and return and end there. They usually cover the major attractions that tourists like to see, such as Dublin Castle, the Cliffs of Moher, and Killarney National Park. Towns and cities, such as Kinsale and Galway are also typically included in the itinerary.

What's Included in an Ireland Tour?

When you tour Ireland, your transportation, hotel stays, admission costs, transfers, and professional guide services are all part of the Ireland tour package. Some meals are also included, usually breakfast.

What's the Best Ireland Tour?

Once you determine how much you can spend, the best Ireland tour will be the one that meets your travel expectations and travel availability. Talk to a travel representative about the Ireland tours that are available in both the high and low travel seasons of the year.

How Much Do Ireland Tours Cost?

What you pay for an Ireland tour will depend on when you elect to travel and the length of the trip. You can find tours to Ireland that last 7 days that cost as low as $1,500 per person.
Learn More About Ireland Tours

Raise a Glass: Discovering the Best Bars in Ireland

When it comes to pub culture, few countries do it better than Ireland. For centuries, pubs have served as the cornerstone of Irish social life, providing a place for friends, family, and even strangers to gather over a pint of Guinness or a dram of whiskey. With so many pubs to choose from, it can…


Review: Focus On Ireland With Insight Vacations

Luscious green countryside and dramatic coastal scenery made this Focus on Ireland with Insight Vacations tour an exceptional journey.


What Are The Best Insight Vacation Experiences?

Makes your voyage even more memorable by participating in Insight Vacation Experiences and Authentic Dining opportunities in all of their destinations.

Watch: Local Experiences With Trafalgar

Trafalgar ensures their guests connect with locals who are passionate about their culture and proud to share their unique knowledge and experiences with you. From staying in charming hotels to uncovering the destination's best kept secrets, here are some ways Trafalgar makes sure their guests get an inside view of the culture. Watch the top local…


Review: From Ireland's Ancient East To The Wild Atlantic Way by Globus

By: Francis Larmore, CTA and Senior Travel Consultant My wife Susan and I went on a great new trip titled From Ireland's Ancient East to the Wild Atlantic Way by Globus. We arrived two days early so that we could have more walking-around time in Dublin's city center. We were able to visit the National Gallery…


Review: Iconic Ireland and Ashford Castle With Brendan Vacations

By: Darlena Hernandez, Travel Consultant Iconic Ireland is just absolutely amazing! From the numerous shades of green, to the Wild Atlantic Way, there is something that is sure to mesmerize you! I have to say, the people of Ireland are most welcoming, filled with pride for their country, and are so willing to tell you…
Reviews for Ireland Tours and Vacations
We had a great trip. Thanks so much!
Julie P
Our tour manager was wonderful--attentive, knowledgeable, patient, and entertaining. He had several "extra" adventures for us to enjoy throughout the trip, which added to the fun. The accommodations were comfortable and top-notch and our driver was a true pro. Our group had time to explore, shop, or eat as desired and the planned tours were professional throughout. It was truly a wonderful trip.
Jane K
The driver/guide was and is the gold standard for a director. Knows his stuff, knows how to heard cats and kept the trip interesting the entire time. Loved him!!
Adam R
Departure
Lengths
Styles
Specialities
Price
How It Works
Vacationing has never been easier or cheaper with the help of a dedicated travel consultant from AffordableTours.com
1. Free Quote
Find your perfect trip on our website and simply request a free quote. Need to speak to a live person? Call us 7 days a week at 1-800-935-2620. No robots here!
2. Dedicated Travel Consultant
Your personal travel consultant will reach out and be your point of contact for your entire travel experience from start to finish. Did we mention you'll be working with an award winning team? Sweet!
3. Lowest Price Guaranteed
Because we're one of the largest sellers of travel, we're able to give you a discount on your vacation package. No one beats our prices!
4. Stress Free Travel
Knowing you got the best deal, all that's left is for you to pack your bags and enjoy your vacation!