Malawi Tours 8 to 13 Days 2023/2024
Save up to 40% on Malawi Tours 8 to 13 Days 2023/2024
Malawi Travel Guide
Malawi Tours Divided by the Great Rift Valley and massive Lake Malawi, Malawi sits in southeastern Africa. The southern part of the country lies in Lake Malawi National Park, which serves as a shelter for wildlife, all the way from baboons to fish. The clear waters of Lake Malawi make it a popular destination for boaters and hikers as well. Cape Maclear, in the small country, is known for its beach activities and resort accommodations. When touring Malawi, travelers may go on safari, bike, birdwatch, or hike. Water sports activities also abound in the form of swimming, diving, snorkeling, and canoeing. Whether you want to see village life up-close or wish to hike through a baobab forest, you will find a Malawi tour that will meet with your travel plans and budget. With tour operator volume buys plus our low everyday prices you can save up to 40% versus assembling the same itinerary on your own! Book your Malawi tour today with AffordableTours.com, your discounted tour headquarters. View Malawi Tour Deals and Discounts
Malawi Travel Guide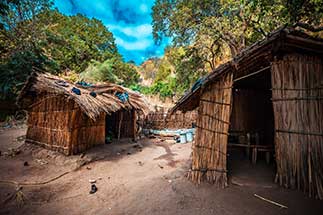 Showing 1 - 20 Tours
Sorry, we were unable to find a tour for you.
If you've not chosen a criteria, then please do so; otherwise you need to broaden your search criteria to find matches.
Malawi Travel Guide
Malawi Tours Highlights
Participate in game viewing in Liwonde National Park. See uncommon mammals as well as animals indigenous to Africa, including the crocodile, elephant, hippo, impala, and zebra.
Take a river cruise down the Shire River, giving you a new way to see the wild animals and terrain.
Journey to Cape Maclear, passing remote Malawi villages along the way.
Enjoy water sport activities, including snorkeling, canoeing, and water-skiing.
Take an escorted tour of a Malawi village, and learn more about everyday village life.
Visit remote Mumbo Island and stay in an en suite tent.
Watch pools of brilliantly colored fish swimming in Lake Malawi.
Explore a baobab and miambo forest.
Malawi Tours Travel Tips
Carefully view the schedule for your planned tour so you are prepared for each phase of your trip.
Wear closed-toe shoes to safeguard your feet. Make sure your footwear has good tread.
Wear lightweight clothes that wick away moisture and protect your knees and arms from the hot African sun.
Give your friends and family copies of your travel itinerary in case they need to contact you, or you run into an emergency.
Only pack what you will be wearing and using – don't bring any more than needed.
Bring a travel adapter so you can stay connected.
Check with your doctor about getting any needed vaccinations before your trip, including malaria medicine.
Make sure you fill any needed prescriptions before you leave on your trip.
Check your travel documents to make sure they are in order.
Malawi Tours Things To Do
Lilongwe

Sitting next to the Lilongwe River, Lilongwe is the capital and most populated city in Malawi. The wooded paths of the city wind through the Lilongwe Wildlife Center, a shelter and home to injured and rescued animals, including monkeys, lions, and crocodiles.

Best Time To Visit

The best time to see Lilongwe is during the dry season, which runs from May to October. The cooler times during the season are from May to August. The wet season falls between November and April. To avoid the rain and hotter weather, visit from May to August.

You Should Know

The City Center in Lilongwe is the hub for the Parliament Building, a twenty-first-century Chinese-built structure. The capital was once a small fishing village along the Lilongwe River. Today, almost 4,000 people live inside each square mile of the city.

Kuti Wildlife Reserve

Located about one hour from Lilongwe and situated close to Lake Malawi, the Kuti Wildlife Reserve is set near Salima and is home to numerous African animals. You can visit the reserve on foot, by bike, or by car. The reserveis suggested for family travel, as it does not contain dangerous game at its site.

Best Time To Visit

Plan your trip to the reserve from May to August, when the temperatures are not as hot and the weather is not damp.

You Should Know

The reserve is a birder's paradise. The place has recorded 250+ species of birds, including the burnt-necked eromomeia and the African pied wagtail. Whether you are new or experienced in birding, you will enjoy the time spent on the activity.

Chongoni Rock-Art Area

Found inside wooded granite hills and covering a space-traveling up the central Malawi plateau, the Changoni Rock-Art area highlights the biggest concentration of rock art in this part of Africa. The Chewa farmers, whose ancestors lived in the region from the latter part of the Iron Age, practiced rock painting into the twentieth century.

Best Time To Visit

Travel to the natural area is easiest during May through October, during the dry season.

You Should Know

Rocks in the region represent the artwork and paintings of BaTwa hunter-gatherers, who lived in the area from the late Stone Age. The plateau that displays the rocks is home to 127 sites, which feature geological-based paintings.

Nyika Plateau

The Nyika Plateau is a tableland in the far north of Malawi. The rolling plateau sits at an altitude of 2,500 meters or about 1.5 miles high. Located within Nyika National Park, the plateau is known for its montane grasses, heathers, and endemic herbs.

Best Time To Visit

Plan to visit or stay on the plateau during the dry season, preferably when it is cooler, from May to August.

You Should Know

The plateau is home to around 200 species of orchid. Also, animals, such as leopards, spotted hyenas, elands, and zebras make the tableland their home. However, most visitors come to the plateau to experience the wilderness rather than to just watch the game. The destination is known for its mountain, waterfalls, and small streams, as well as its chameleons, birds, and butterflies.

Likoma Island and Likoma Town

Located close to Mozambique, the small island of Likoma is home to large numbers of fishermen. The small isle features a couple small villages, some vehicles and bicycles, and one bush road for travel. Likoma Town on the island is home to St. Peter's Cathedral in Central Africa, which is the largest cathedral in this part of the world.

Best Time To Visit

Likoma Island and Likoma Town are best visited during the cooler part of the dry season, or from May through August.

You Should Know

St. Peter's Cathedral in Likoma Town is around the same size as Winchester Cathedral in the UK. It was built in 1903. Perfectly maintained stained-glass windows and ornate soapstone carvings decorate the interior.

Liwonde National Park

While Malawi does not feature big game viewing like other African locations, it does offer a pleasant respite in the form of Liwonde National Park. At the heart of the area is the Shire River, whose palm-lined banks provide shade to crocodiles and hippos. The park is also home to the endangered black rhino as well as elephants, bushbuck, sable, waterbuck, and suni antelopes.

Best Time To Visit

The dry season, especially from May to August, is an excellent time to see animals migrating to the waters of the Shire River.

You Should Know

The national park features 400+ species of birds from both south and east Africa, including the Pel's fishing owl, Livingstone's flycatcher, and Boehm's bee-eater.

Lake Malawi and Lake Malawi National Park

Known as Lake Nyasa in Tanzania, Lake Malawi is a Great Lake in Africa, and the southernmost lake in the East African Rift system. The lake area is known for its biodiversity and is home to wildlife, such as hippopotamuses, monkeys, and Nile crocodiles. African fish eagles inhabit the area due to the large number and variety of fish.

Best Time To Visit

Plan a trip to the shore of Malawi Lake during the early part of the dry season, or from May to August. During this time the temperatures are not quite as sweltering as they are later in the season.

You Should Know

The area is of global importance because of its wide diversity of fish – about 1,000 species live in the waters of Lake Malawi, which has the largest and most varied fish population in the world. The meromictic properties of the lake provide more environments for plant and marine animals to thrive.

Majete Wildlife Reserve

The Majete Wildlife Reserve is located in southwest Malawi and was founded as a protected area in 1955. Although poachers decimated large populations of wildlife in the 1970s and 1980s, the reserve has now been restored to a game-viewing area.

Best Time To Visit

Visit the wildlife reserve during May and April, or during the cooler times of the dry season in Malawi.

You Should Know

Reintroduction and translocation of animals, including the Big 5, began in 2003 in the Majete Wildlife Reserve. Today, both boat safaris and vehicle safaris are offered to see the variety of game. The reserve estimates that the total population of mammals falls around 11,000.
Malawi Tour Packages
Malawi has two seasons, a dry season and a rainy season. The best time to visit is during the dry season in the months of May to August when the temperatures are the coolest. However, during this time the nights are also a bit cold os it best to pack a light jacket.
Rainy Season - November to April

However, if you would rather reduce what you spend on Malawi tour costs, you might want to consider a trip during the wet season. Just be advised that wildlife viewing is not the same during the rainy season as it is in the dry season. That is because, many waterholes dry up during the drier times, which leads the animals to drink from streams, such as the Shire River in central Malawi. Again, if you wish to avoid excess heat, travel from May to August. However, if you prefer to pay less for a Malawi tour, then you might opt to take a trip during Malawi's wet season, which takes place from November to April. Thundershowers normally happen every day during this period. However, the showers, while heavy, are of short duration, and everything dries off fast.

Dry Season - May to October

The best time to visit Malawi is during the dry season, which spans from May through October. However, it can get quite hot from September to October, so it is better to travel from May to August. If you want to avoid excessive heat and humidity, planning a trip during these months is better.
Malawi Tours Frequently Asked Questions
What are Malawi Tours?

Malawi tours come in various travel packages, which enable you to customize your trip to Malawi. Most tours last about 7 to 14 days and allow visitors to see wildlife or enjoy birdwatching activities.

What's Included in a Malawi Tour?

A tour of Malawi includes stops at wildlife reserves and national parks to view the wildlife as well as boat rides down the Shire River or over Lake Malawi. During your Malawi tour, you can also choose to go on safari by boat or by jeep. All your travel is scheduled by way of an itinerary, thereby allowing you to create a trip for a private or group guided tour.

What's the Best Malawi Tour?

The best Malawi tour is one that meets your interests and budget. Therefore, it is important to speak to a travel representative about what you are seeking in a Malawi tour and trip. You should get full details about the daily excursions as well as what is covered in a Malawi tour package.

How Much Do Malawi Tours Cost?

The price you will pay for a Malawi tour will depend on the number of days you plan for your trip and the time of year you decide to travel. While it will cost less in the wet season than the dry season, this is not the best time to visit the country. You will find that it is a better investment to spend your money on a Malawi tour when there is less threat of rain or flooding. On average, the per-trip price for a Malawi tour lasting 7 days is set at around $2,200 per person for a budget Malawi travel package.
Departure
Lengths
Styles
Specialities
Price
How It Works
Vacationing has never been easier or cheaper with the help of a dedicated travel consultant from AffordableTours.com
1. Free Quote
Find your perfect trip on our website and simply request a free quote. Need to speak to a live person? Call us 7 days a week at 1-800-935-2620. No robots here!
2. Dedicated Travel Consultant
Your personal travel consultant will reach out and be your point of contact for your entire travel experience from start to finish. Did we mention you'll be working with an award winning team? Sweet!
3. Lowest Price Guaranteed
Because we're one of the largest sellers of travel, we're able to give you a discount on your vacation package. No one beats our prices!
4. Stress Free Travel
Knowing you got the best deal, all that's left is for you to pack your bags and enjoy your vacation!