Belgium Tours Under $1000 2024/2025
Save up to 40% on Belgium Tours Under $1000 2024/2025
Belgium Travel Guide
Belgium is a favorite European travel destination. It's very diverse, with influences from many neighboring countries of France, Germany, the Netherlands, and Luxembourg – you'll see many influences in the language, food, and city styles. Belgium has a lot of history to discover, with many of its traditions preserved for tourists to experience. Sightsee around the top cities like Brussels, Bruges, and Antwerp on a Belgium Tour to make the most of your European vacation! With tour operator volume buys plus our low everyday prices you can save up to 40% versus assembling the same itinerary on your own! Book your Belgium tour today with AffordableTours.com, your discounted tour headquarters. View Belgium Tour Deals and Discounts
Belgium Travel Guide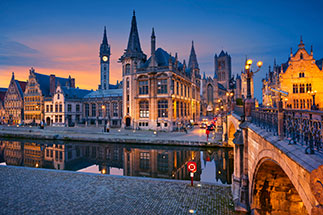 Showing 1 - 20 Tours
Sorry, we were unable to find a tour for you.
If you've not chosen a criteria, then please do so; otherwise you need to broaden your search criteria to find matches.
Belgium Travel Guide
Belgium Tours Highlights
Witness the beauty of Grand Place, Europe's most beautiful squares.
Discover where art meets science in Brussels at the Atomium landmark.
Visit the Manneken Pis to take photos of one of the most famous statues in Brussels.
Take photos of the traditional Belgium architecture surrounding the Bruges Market Square.
Enter the rotunda at the Memorial of Waterloo 1815 to see an artistic depiction of the Battle of Waterloo.
Enter inside the Brussels Royal Palace to get a glimpse of the elegant royal lifestyle.
Tour the three main Ghent Towers to see the best views in town.
Watch a lace demonstration to see behind the scenes of the intricately detailed designs.
Stroll along the Antwerp Port to see countless ships entering and leaving the docks.
Taste delicious Belgian cuisine to find out why it's a famous foodie destination.
Belgium Tours Travel Tips
Belgians speak three main languages – Dutch, German, and French. The preferred language varies depending on what part of the country you're traveling. You will be able to get by with English in popular tourist areas.
Biking is one of the main ways to get around the major cities. Check to see if your accommodations have a bike to rent for a local way of exploring.
Beer is a must-try beverage in Belgium – the country is famous for its wide range of beer options, but use caution when consuming. Beer in Belgium has a higher average alcohol count than other parts of the world.
Prepare for the weather. You can experience unexpected weather in any season you visit. It can get very cold in the winter, while in the summer, you might get caught in a rainstorm. Pack appropriately and check the weather before heading out each day.
Most stores are closed on Sundays, so plan in advance when getting food and check times for attractions.
Belgium Tours Things To Do
Witness the beauty of Grand Place, Europe's most beautiful squares

Ranked among Europe's most beautiful squares, Grand Place is a must-visit for tourists in Brussels. Old streets lead to the central square, surrounded by fantastic architecture – it's a perfect photography spot and sightseeing. Grand Place, or Grote Markt, is a UNESCO World Heritage Site and a popular gathering place for locals and tourists. Many sightseeing tours originate or pass through the square to see some of the notable buildings surrounding it – Town Hall, Brussels City Museum, historic guild houses.

Best Time To Visit

You'll get a different experience every time you visit Grand Place. It hosts lots of public events year-round. Also, it features seasonal decorations like Christmas or a flower garden.

Visit the Manneken Pis to take photos of one of the most famous statues in Brussels

Anyone visiting Brussels should take the time to visit "Brussel's Oldest Citizen." Manneken Pis is a famous fountain statue of a naked boy urinating. The original bronze statue from the early 1600s was relocated to the Brussels City Museum, but a replica was installed in 1965. Manneken Pis is a small statue that holds a lot of value to the Brussels people – it's symbolic of independent thinking and a sense of humor – something embodied by all Belgians.

Best Time To Visit

The statue sometimes has clothing on to represent various holidays or other events. When you visit, you might see it clothed instead of naked.

You Should Know

Manneken Pis is best as a quick stop while touring Brussels. Lots of people tend to gather around the fountain for photos of the small statue. It also makes a great souvenir item as mini statues, t-shirt designs, and postcards.

Enter the rotunda at the Memorial of Waterloo 1815 to see an artistic depiction of the Battle of Waterloo

The Battle of Waterloo is one of the most critical battles in Belgium's history, where Napoleon was defeated and ended the Napoleonic Wars. Several commemorative structures were established on the site over the centuries to create a museum complex about the battle. The Memorial of Waterloo 1815 includes a museum, Panorama of the Battle of Waterloo, Lion's Mound, and the Hougoumont farm.

You Should Know

The museum is the newest feature of the complex detailing a storyline of the battle, artifacts, dioramas, and more. The panorama is a rotunda decorated with a detailed panoramic painting of the battle. A long stair pathway leads to the lion monument atop a large hill overlooking the entire battlefield.

Discover where art meets science in Brussels at the Atomium landmark

The Atomium landmark is an iconic symbol of Brussels and worth a trip outside the city center to see the giant structure. It was built for the 1958 Brussels World Fair as a temporary installation, but its popularity led it to become a permanent landmark. The Atomium is over 100 meters tall with nine large stainless-steel spheres. It's a symbol of art, science, and design representing a unit atom of an iron crystal, seen as 165 billion times scale.

You Should Know

Visitors can enter the Atomium to explore the contents of most of the spheres. You'll discover exhibition halls, public spaces, and a restaurant at the top with a 360-degree view of Brussels. The tubes connecting the spheres, house escalators for navigating between them.

Take photos of the traditional Belgium architecture surrounding the Bruges Market Square

Experience a traditional look of Belgium at the Bruges Market Square or Markt. The centrally-located square is a famous tourist destination for leisure and sightseeing. It's designated as a pedestrian area with only traffic from horse-drawn carriages. Bruges Market Square is one of the most scenic spots in town for seeing the traditional-style architecture. It's surrounded by historical buildings, including the Belfry, West Flanders Provincial Court, and numerous Catholic churches. It also features lots of shops, restaurants, and bars.

Best Time To Visit

Visit Bruges Market Square during the winter to experience the world-famous Christmas Market. It's one of the largest in Belgium, where the square fills with vendors, decorations, and activities like ice skating.

Tour the three main Ghent Towers to see the best views in town

Ghent is one of the oldest cities in Belgium, with much of its old city charm preserved. It has one of the top skyline views in the country thanks to three notable towers showcasing the city's medieval presence – the Belfry of Ghent, Saint Nicholas' Church, and Saint Bavo's Cathedral.

You Should Know

The Belfry of Ghent is a 91-meter high gothic tower – it's Belgium's tallest belfry. It has a lookout at the top for views overlooking the old city center. Saint Nicholas' Church is one of the oldest churches in Belgium and showcases incredible gothic architecture. It also includes an observation deck in the central tower. Saint Bavo's Cathedral is an 89-meter tall gothic cathedral serving as the seat of the diocese of Ghent. It doesn't have an observation deck, but the interior artwork makes it one of the favorite local tourist attractions.

Taste delicious Belgian cuisine to find out why it's a famous foodie destination

Besides the tourist attractions, most tourists visiting Belgium look forward to immersing in the country's decadent culinary delights. Belgium has several famous dishes worth trying during your visit. Some of the top local foods are waffles, fries, chocolate, and beer. Belgian waffles create delicious toppings and flavors to the standard waffle. There are many ways to prepare it, so be sure to taste a variety. There are also lots of chocolate shops in Belgium serving locally-made chocolate. Belgium is famous for beers with plenty of flavors to try something new each night of your trip.

You Should Know

You can find these popular Belgian foods on the streets or in restaurants. Each region of the country also prepares them slightly different, so you'll get a different flavor and dining experience every time.

Enter inside the Brussels Royal Palace to get a glimpse of the elegant royal lifestyle

The grand scale of the Brussels Royal Palace is an impressive sight to see from the outside and inside. It's located adjacent to Brussels Park, the largest urban park in the middle of Brussels. The palace was the former official residence of the King and Queen, but now predominantly serves as a place to host company and royal events. The 19th-century palace is open to the public to explore the interior. Guided tours are available or self-guided walk through to admire the artwork, elegant decorations, and furnishing. It also has a beautiful, well-manicured garden in the front.

Best Time To Visit

Brussels Royal Palace is open during the summer for visitors. It's also the best time to see the exterior gardens.
Belgium Tour Packages
The best time to visit Belgium is during the summer when the weather is nicest, but every season has its charm and worthwhile to experience. Although most people travel in the summer, winter can be just as fun!
Spring – March to May – Good Season

Spring is an incredible time to visit Belgium, especially starting in April when the weather begins to warm up. It has average temperatures in the 50s and 60s, so it's the perfect time to explore some of the country's natural beauty as it begins to bloom.

Summer – June to August – Peak Season

Summer is the most popular travel time. June is the busiest month with larger tourist crowds. The climate ranges in the 60s and 70s, so there are many public events and outdoor activities you can do in every city.

Fall – September to November – Good Season

Fall is another favorite time to visit Belgium. September is the sunniest month but quickly changes to cold, rainy weather in October. The temperature averages in the 40s and 50s, so it's still moderate enough to enjoy without harsh weather.

Winter – December to February – Low Season

Winter is the low season, but it's a season you don't want to miss in Belgium. It's the most festive time where you can see the large plazas decorated with vibrant Christmas lights or visit the famous Christmas markets. It's the coldest time of year, and common to have temperatures below freezing, so be sure to dress appropriately.
Belgium Tours Frequently Asked Questions
What are Belgium Tours?

Belgium tours offer an exciting travel experience in one of Europe's most popular destinations. Belgium is a very diverse country worth exploring the history, culture, and modern sights. Spend some time in each of the favorite destinations like Brussels, Bruges, Antwerp, and smaller towns to immerse in the attractions and lifestyle.

What's included on Belgium Tours?

Belgium is a stop included on many tours around Europe. Spend a couple of days exploring the traditional plazas like Grand Place, modern attractions like the Atomium, or Antwerp's scenic port city to get a broad view of the country. Some tours even include destinations outside the major cities, such as a visit to the site of the Battle of Waterloo.

Who should go on a Belgium Tour?

Belgium tours have something for everybody! Whether you're a history buff or looking for a romantic town for relaxing, Belgium has it all. There are various tours specializing in exploring the local cuisine, witnessing the beautiful tulips blooming, or exploring the UNESCO World Heritage sites. You'll find the perfect tour to suit your travel needs!

Where do Belgium Tours go?

Belgium tours combine a few days touring in Belgium, along with visits to the neighboring countries. You'll be able to check off several of your bucket list countries when you embark on a European journey. You'll stop by some of the favorite local towns, like Brussels and Bruges, before setting off to The Netherlands, France, Italy, Switzerland, and more!
Learn More About Belgium Tours
Reviews for Belgium Tours and Vacations
It's worth the trip, the tour is amazing.. the tour guide and the driver was excellent. I will choose our agent on my next adventure.. actually, I gave his name already to my newly friends from previous tour.. highly recommend
Rosario D
The Trafalgar Whirlwind of Europe Tour was unbelievable. Top to bottom was fantastic, the tour director, driver, motor coach, accommodations, excursions and food were all outstanding.
Ronn M
Best vacation, totally worth it. We had the best tour guide
Maureen D
Departure
Lengths
Styles
Specialities
Price
How It Works
Vacationing has never been easier or cheaper with the help of a dedicated travel consultant from AffordableTours.com
1. Free Quote
Find your perfect trip on our website and simply request a free quote. Need to speak to a live person? Call us 7 days a week at 1-800-935-2620. No robots here!
2. Dedicated Travel Consultant
Your personal travel consultant will reach out and be your point of contact for your entire travel experience from start to finish. Did we mention you'll be working with an award winning team? Sweet!
3. Lowest Price Guaranteed
Because we're one of the largest sellers of travel, we're able to give you a discount on your vacation package. No one beats our prices!
4. Stress Free Travel
Knowing you got the best deal, all that's left is for you to pack your bags and enjoy your vacation!