Croatia Tours $4001 to $5000 2023/2024
Save up to 40% on Croatia Tours $4001 to $5000 2023/2024
Croatia Travel Guide
If you're obsessed with food, wine, history and natural beauty, this European destination on the Adriatic coast is like no other. Walk high above the blue waters on the Old Town Walls in Dubrovnik, explore Krka National Park and see the waterfalls at Plitvice Lakes. With tour operator volume buys plus our low everyday prices you can save up to 40% versus assembling the same itinerary on your own! Book your Croatia tour today with AffordableTours.com, your discounted tour headquarters. View Croatia Tour Deals and Discounts
Croatia Travel Guide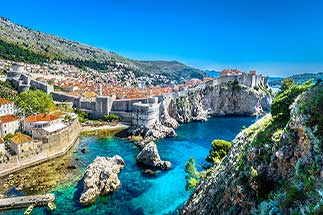 Showing 1 - 20 Tours
Tour Itinerary
Days
Operator
Quality
Style
Starts
Ends
Price

Highlights of Eastern Europe

92 reviews
17

Days

Trafalgar

First Class

Escorted
Vienna
Vienna
Austria, Croatia, Czech Republic, Germany, Hungary, Poland, Slovakia, Slovenia
$4,117View Tour

Best Price Guaranteed

Book With Flexibility

A Taste of Croatia with Coastal Cruise 2024

14

Days

Globus

First Class

Tour & Cruise
8+ years old
Zagreb
Split
Bosnia, Croatia
$4,550View Tour

Best Price Guaranteed

Book With Flexibility

Treasures of the Balkans - Classic Group

8 reviews
13

Days

Insight Vacations

First Class

Escorted
Bucharest
Belgrade
Albania, Bosnia, Bulgaria, Croatia, Macedonia, Montenegro, Romania, Serbia
$4,526View Tour

Best Price Guaranteed

Book With Flexibility

Balkan Discovery with 1 Night in Budapest & 2 Nights in Transylvania 2024

2 reviews
12

Days

Globus

First Class

River Cruise
1 - Light

8+ years old
166
Budapest
Bucharest
Bulgaria, Croatia, Hungary, Romania, Serbia
$4,477View Tour

Best Price Guaranteed

Book With Flexibility

Balkan Discovery with 2 Nights in Transylvania 2024

11

Days

Globus

First Class

River Cruise
Budapest
Bucharest
Bulgaria, Croatia, Hungary, Romania, Serbia
$4,198View Tour

Best Price Guaranteed

Book With Flexibility

The Danube from the Black Sea to Budapest 2024

11

Days

Globus

First Class

River Cruise
1 - Light

8+ years old
166
Bucharest
Budapest
Bulgaria, Croatia, Hungary, Romania, Serbia
$4,248View Tour

Best Price Guaranteed

Book With Flexibility

Active & Discovery on The Lower Danube with 2 Nights in Transylvania 2024

10

Days

Globus

First Class

River Cruise
1 - Light

Bucharest
Belgrade
Bulgaria, Croatia, Romania, Serbia
$4,198View Tour

Best Price Guaranteed

Book With Flexibility

The Danube from Romania to Budapest with 1 Night in Bucharest, 2 Nights in Transylvania & 1 Night in Budapest 2025

13

Days

Globus

First Class

River Cruise
1 - Light

8+ years old
166
Bucharest
Budapest
Bulgaria, Croatia, Hungary, Romania, Serbia
$4,427View Tour

Best Price Guaranteed

Book With Flexibility

The Danube from Romania to Budapest with 1 Night in Bucharest and 2 Nights in Transylvania 2025

12

Days

Globus

First Class

River Cruise
1 - Light

8+ years old
166
Bucharest
Budapest
Bulgaria, Croatia, Hungary, Romania, Serbia
$4,148View Tour

Best Price Guaranteed

Book With Flexibility

Gems of the Balkans with coastal cruise 2024

14

Days

Globus

First Class

Tour & Cruise
8+ years old
Tirana
Split
Albania, Croatia, Montenegro
$4,350View Tour

Best Price Guaranteed

Book With Flexibility

The Danube from the Black Sea to Budapest with 1 Night in Budapest 2024

12

Days

Globus

First Class

River Cruise
Bucharest
Budapest
Bulgaria, Croatia, Hungary, Romania, Serbia
$4,527View Tour

Best Price Guaranteed

Book With Flexibility

The Danube from the Black Sea to Budapest with 2 Nights in Transylvania 2024

13

Days

Globus

First Class

River Cruise
1 - Light

8+ years old
166
Bucharest
Budapest
Bulgaria, Croatia, Hungary, Romania, Serbia
$4,998View Tour

Best Price Guaranteed

Book With Flexibility

The Eastern Discovery - Classic Group

14

Days

Insight Vacations

First Class

Escorted
Zagreb
Athens
Albania, Bosnia, Croatia, Greece, Montenegro
$4,612View Tour

Best Price Guaranteed

Book With Flexibility

Country Roads of Croatia - Classic Group

16 reviews
14

Days

Insight Vacations

First Class

Escorted
5+ years old
40
Zagreb
Dubrovnik
Croatia, Slovenia
$4,455View Tour

Best Price Guaranteed

Book With Flexibility

Pearls of the Adriatic North

09

Days

Trafalgar

First Class

Escorted
5+ years old
50
Dubrovnik
Split
Croatia
$4,095View Tour

Best Price Guaranteed

Book With Flexibility

Highlights of Austria, Slovenia and Croatia End Zagreb

14

Days

Trafalgar

First Class

Escorted
5+ years old
50
Vienna
Zagreb
Austria, Croatia, Montenegro, Slovenia
$4,072View Tour

Best Price Guaranteed

Book With Flexibility

Highlights of Austria, Slovenia and Croatia End Vienna

1 reviews
14

Days

Trafalgar

First Class

Escorted
Vienna
Vienna
Austria, Croatia, Montenegro, Slovenia
$4,072View Tour

Best Price Guaranteed

Book With Flexibility

Highlights of Eastern Europe

92 reviews
17

Days

Trafalgar

First Class

Escorted
Vienna
Vienna
Austria, Croatia, Czech Republic, Germany, Hungary, Poland, Slovakia, Slovenia
$4,995View Tour

Best Price Guaranteed

Book With Flexibility

Dalmatian Elegance - Upper Deck Deluxe Cabin, Classic Group

2 reviews
09

Days

Insight Vacations

First Class

Escorted
5+ years old
40
Split
Split
Croatia
$4,899View Tour

Best Price Guaranteed

Book With Flexibility

Eastern Capitals & Dalmatian Riviera - Classic Group

14

Days

Insight Vacations

First Class

Escorted
40
Vienna
Dubrovnik
Austria, Bosnia, Croatia, Montenegro, Slovenia
$4,067View Tour

Best Price Guaranteed

Book With Flexibility
Croatia Travel Guide
Croatia Tours Highlights
Go chasing waterfalls at Plitvice Lakes National park.
Explore King's Landing in Dubrovnik's old town.
Walk the old town walls.
Explore another famous Game of Thrones filming location at the Diocletian's Palace in Split.
Get lost in narrow alleys in a palace complex.
Sail the beautiful Adriatic Sea and island-hop.
Listen to the Sea Organ in Zadar and watch a light show at the Sun Salutation.
Croatia Tours Travel Tips
Croatia uses its own currency called Kuna.
Try to find restaurants that locals love and eat local!
If you have extra free time, busses, trains, and boats are a great way to travel. Taxis are expensive!
Nature buffs will love Croatia and should enjoy the vast outdoor scenery and hikes.
As a region famous for its natural sites, try to be mindful of your environmental impact – don't leave trash around and stick to the hiking paths when out on trails.
Try to learn some of the local language, the locals will surely appreciate it!
Croatia Tours Things To Do
Plitvice Lakes National Park

Take a hike in this famous national park where 16 lakes roll into each other to create a paradise with multiple waterfalls. The full trail can take up to 6 hours to complete with over 11 miles of the wooden walkway, or you can opt for the shorter version of about 4 hours where you'll skip portions using free boats.

You Should Know

If you don't want to hike the full trail and even 4 hours is too much, you can hike just the top portion in about 2 hours. Bring comfortable walking shoes and maybe a poncho if you want to get the best view of the large waterfall. The summer season is the

Best Time To Visit

As the weather will be the most cooperative and getting wet from the splashing waterfalls will be refreshing.

Dubrovnik Walls

It would be a huge missed opportunity to visit Dubrovnik and not walk the old city walls and forts. You can purchase a ticket and climb up some steps and begin your one way – from any of two entrances – and walk off the 2-mile wall in a counterclockwise direction. There's no rush to finish in any amount of time, so take your time and fully enjoy the views of the Adriatic sea and the iconic orange tiled roofs.

Best Time To Visit

In terms of weather, the summer or spring will be the best time to do this walk. Summer will be the hottest as you'll be about over 80ft above the city, but any other season and you may encounter rain during your stroll. As you walk, there will be little places to sit and enjoy a drink to rest before continuing.

Old Town – Dubrovnik

When you're done with your self guided tour on the city walls and have taken all the selfies of you with the beautiful Adriatic sea in the background, make sure to explore every little corner of the old town. The old town is basically the biggest attraction here and is still a fully functioning city with local residents living within the old walls. Chances are high that you'll find a cute, charming little cafe or pub that feels like your own little secret spot.

You Should Know

Dubrovnik has become even more famous in recent years due to HBO's hit show Game of Thrones. A lot of major places within the show were filmed here in Dubrovnik spawning a side industry of Game of Thrones tours.

Srd Mountain – Dubrovnik Cable Car

When you're done exploring the inner workings of the old town confined in the city walls and fortress, take a cable car ride up for the most iconic view of Dubrovnik. A quick ride up Srd Mountain – running every 3 minutes – you'll be treated to the best view of the Adriatic and the old town. Once you've taken it all in, reflect on your time there at the restaurant up at the top.

You Should Know

The entrance to the cable car is right outside the old city walls. Running every 3 minutes, you won't have to rush or walk far to catch a ride.

Zadar Sea Organ

Designed by local architect Nikola Basic, Zadar's Sea Organ is a masterpiece in its own right. The structure is built into stone stairs that dip right into the sea and is a system of pipes that whistles and creates soothing sounds reminiscent of an organ as the waves push air through the pipes.

You Should Know

If you have time, you can do as the locals do and spend some time here on the steps, maybe enjoying a small little picnic as you reflect on your incredible time in Croatia. This is also a great spot to catch the sunset with the "organ" piping in the background.

Sun Salutation

Right next to the Organ is another installation by Nikola Basic. The Sun Salutation is a 72ft wide circular piece filled with 300 glass plates that collect solar energy during the day. The result is a really fun light show from sunset to sunrise that attracts lots of tourists and families where kids like to enjoy the light show.

Best Time To Visit

The best time to be here is right before sunset to stake out your spot to enjoy the illuminating light show beaming onto the floor. It can get crowded with kids and families so your view may not be guaranteed.

Krka National Park

Krka National Park is made up of the 45 mile long Krka River and is defined by its beautiful waterfalls. Over a millennia of river water has created a bit of a phenomenon – the water has carved a canyon about 650ft deep into hills made out of limestone. It's truly a sight to behold and a must-see destination for any visit to Croatia.

Diocletian's Palace

Right along the main harbor in Split is a towering palace complex from ancient Roman times. However, this is no regular palace, this is essentially what makes up the city of Split. You'll find all types of restaurants, bars, shops, and even residences here. Even more amazing? This structure was built in the 4th century and took 10 years to finish.

You Should Know

Most of your time in Split will be spent here. Navigating the palace is a labyrinth of narrow alleys, secret corridors, and yes, more Game of Thrones filming locations. Fans of the show will be happy to know a scene involving dragons was filmed in the basement of the complex.

Klis Fortress

The imposing Klis fortress controls the narrow valley leading into Split. Built by Illyrians in the 2nd century BC, this fortress has a long history of being attacked and taken control of by different groups. In the end, the Venetians took control of it in 1648. Just northwest of the center of Split, this is a short journey and a good option for a day trip.

You Should Know

Our last Game of Thrones reference, fans will be delighted to know Klis fortress served as the setting of Mereen in the show.

Island Hopping

With over 1200 beautiful islands, no trip to Croatia is complete without getting on a boat and exploring some. Croatia's islands and islets make up about 3700 miles of coastline. Some notable stops are at Hvar, Trogir, Split, and Dubrovnik.
Croatia Tour Packages
Mostly an outdoor destination, you'll definitely want to know the weather forecast ahead of your arrival. Part of the Balkans, Croatia has the advantage of amazing weather coupled with rich history, you don't want anything to hold you back during your visit.
Late Spring and Summer are the best times to visit.
The high season is during the Summer when crowds are at its peak.
Low season begins in October until April.
High season not only brings crowds, but prices reflect the demand.
Spring – May to June – Good Season

The average high during the spring is 70F and average lows of 56F. It can still be chilly during this time but it's a good time to visit as crowds have not yet arrived. It may be too cold to do any sailing or multi-day stays at sea.

Summer – July to August – High Season

During the summer, the average highs are 83F and 71F lows. The weather is picturesque beautiful during this time but crowds are big and the prices are higher. If you don't mind, this is is the time of the year you want to come.

Fall/Winter – October to April – Low Season

Winter is coming and with it, average highs of 56F and 46F low. It does snow in Croatia and can often snow a lot. This is low season where there are little tourist groups but it's the cheapest time of the year to visit. Don't count on doing too many of the outdoor activities during this time as some parks have winter hours and some may not even be open.
Croatia Tours Frequently Asked Questions
Learn More About Croatia Tours
Reviews for Croatia Tours and Vacations
We had a wonderful trip. Great service.
Nancee S
I did not worry at all before and during my trip because I always have good experience both with Affordable tour and Gate 1.
Lumen M
One of my fave tours.
Susana B
Departure
Lengths
Styles
Specialities
Price
How It Works
Vacationing has never been easier or cheaper with the help of a dedicated travel consultant from AffordableTours.com
1. Free Quote
Find your perfect trip on our website and simply request a free quote. Need to speak to a live person? Call us 7 days a week at 1-800-935-2620. No robots here!
2. Dedicated Travel Consultant
Your personal travel consultant will reach out and be your point of contact for your entire travel experience from start to finish. Did we mention you'll be working with an award winning team? Sweet!
3. Lowest Price Guaranteed
Because we're one of the largest sellers of travel, we're able to give you a discount on your vacation package. No one beats our prices!
4. Stress Free Travel
Knowing you got the best deal, all that's left is for you to pack your bags and enjoy your vacation!