Czech Republic Tours $1001 to $2000 2024/2025
Save up to 40% on Czech Republic Tours $1001 to $2000 2024/2025
Czech Republic Travel Guide
Prague is the highlight of any Czech Republic vacation because of its architecture, views of the Vltava River, and its history. The town escaped destruction in World War II and became a UNESCO World Heritage Site. Travelers come from all over the world to visit the Charles Bridge, Prague castle, St. George Basilica and Old Town Hall with its awe-inspiring astronomical clock. With tour operator volume buys plus our low everyday prices you can save up to 40% versus assembling the same itinerary on your own! Book your Czech Republic tour today with AffordableTours.com, your discounted tour headquarters. View Czech Republic Tour Deals and Discounts
Czech Republic Travel Guide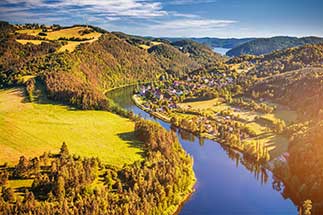 Showing 1 - 20 Tours
Tour Itinerary
Days
Operator
Quality
Style
Starts
Ends
Price

Prague, Vienna & Budapest 2024

300 reviews
09

Days

Cosmos

Budget

Escorted
3 - Explorer

Munich
Munich
Austria, Czech Republic, Germany, Hungary
$1,519View Tour

Best Price Guaranteed

Book With Flexibility




11 Day Classic Central Europe - Wednesday Departure

12 reviews
11

Days

Gate1

First Class

Escorted
Budapest
Berlin
Austria, Czech Republic, Germany, Hungary, Slovakia
$1,949View Tour

Best Price Guaranteed

Book With Flexibility

From Prague to Munich Escape 2024

1 reviews
08

Days

Globus

First Class

Escorted
Prague
Munich
Czech Republic, Germany
$1,319View Tour

Best Price Guaranteed

Book With Flexibility

Highlights of Bohemia

44 reviews
15

Days

Costsaver

Budget

Escorted
Frankfurt
Frankfurt
Austria, Czech Republic, Germany, Hungary, Poland
$1,738View Tour

Best Price Guaranteed

Book With Flexibility

Prague, Vienna and Budapest

232 reviews
10

Days

Trafalgar

First Class

Escorted
Prague
Budapest
Austria, Czech Republic, Hungary, Slovakia
$1,895View Tour

Best Price Guaranteed

Book With Flexibility




Prague, Vienna & Budapest 2023

300 reviews
09

Days

Cosmos

Budget

Escorted
3 - Explorer

Munich
Munich
Austria, Czech Republic, Germany, Hungary
$1,429View Tour

Best Price Guaranteed

Book With Flexibility




11 Day Crown of Central Europe - Saturday Departure

2 reviews
11

Days

Gate1

First Class

Escorted
Prague
Budapest
Austria, Czech Republic, Germany, Hungary
$1,899View Tour

Best Price Guaranteed

Book With Flexibility

Imperial Escape with Berlin 2024

27 reviews
09

Days

Globus

First Class

Escorted
Budapest
Berlin
Austria, Czech Republic, Germany, Hungary
$1,529View Tour

Best Price Guaranteed

Book With Flexibility

Imperial Escape 2024

51 reviews
07

Days

Globus

First Class

Escorted
2 - Classic

8+ years old
Budapest
Prague
Austria, Czech Republic, Hungary
$1,399View Tour

Best Price Guaranteed

Book With Flexibility

Imperial Escape 2024 - Small Group

3 reviews
07

Days

Globus

First Class

Escorted
2 - Classic

8+ years old
24
Budapest
Prague
Austria, Czech Republic, Hungary
$1,729View Tour

Best Price Guaranteed

Book With Flexibility

Imperial Escape with Berlin 2024

27 reviews
09

Days

Globus

First Class

Escorted
2 - Classic

8+ years old
Budapest
Berlin
Austria, Czech Republic, Germany, Hungary
$1,759View Tour

Best Price Guaranteed

Book With Flexibility

Imperial Escape with Berlin 2024 - Small Group

09

Days

Globus

First Class

Escorted
Budapest
Berlin
Austria, Czech Republic, Germany, Hungary
$1,949View Tour

Best Price Guaranteed

Book With Flexibility

Imperial Escape 2025

51 reviews
07

Days

Globus

First Class

Escorted
2 - Classic

8+ years old
Budapest
Prague
Austria, Czech Republic, Hungary
$1,299View Tour

Best Price Guaranteed

Book With Flexibility

Imperial Escape 2025 - Small Group

3 reviews
07

Days

Globus

First Class

Escorted
2 - Classic

8+ years old
24
Budapest
Prague
Austria, Czech Republic, Hungary
$1,729View Tour

Best Price Guaranteed

Book With Flexibility

Imperial Escape 2024

51 reviews
07

Days

Globus

First Class

Escorted
Budapest
Prague
Austria, Czech Republic, Hungary
$1,199View Tour

Best Price Guaranteed

Book With Flexibility

Imperial Escape 2024 - Small Group

3 reviews
07

Days

Globus

First Class

Escorted
Budapest
Prague
Austria, Czech Republic, Hungary
$1,599View Tour

Best Price Guaranteed

Book With Flexibility

Imperial Escape with Berlin 2025

27 reviews
09

Days

Globus

First Class

Escorted
2 - Classic

8+ years old
Budapest
Berlin
Austria, Czech Republic, Germany, Hungary
$1,659View Tour

Best Price Guaranteed

Book With Flexibility

Imperial Europe

304 reviews
10

Days

Trafalgar

First Class

Escorted
Munich
Munich
Austria, Czech Republic, Germany, Hungary, Slovakia
$1,916View Tour

Best Price Guaranteed

Book With Flexibility

Imperial Highlights

60 reviews
10

Days

Costsaver

Budget

Escorted
Munich
Munich
Austria, Czech Republic, Germany, Hungary, Slovakia
$1,667View Tour

Best Price Guaranteed

Book With Flexibility

Essential Western Europe: Amsterdam, Berlin & Epic Views

10

Days

G Adventures

First Class

Escorted
2 - Classic

18 - 35 years old
24
Amsterdam
Munich
Austria, Czech Republic, Germany, Netherlands
$1,519View Tour

Best Price Guaranteed

Book With Flexibility
Czech Republic Travel Guide
Czech Republic Tours Highlights
Take a stroll down the most iconic bridge in Prague, Charles Bridge.
Enjoy a guided tour through St Vitus Cathedral.
See the iconic spires of Prague Castle.
Retrace history in Wenceslas Square.
Watch the Astronomical Clock display every hour.
People watch in the old town square.
Take an optional guided tour to the charming town of Cesky Krumlov.
Czech Republic Tours Travel Tips
The currency used is the Czech Koruna.
Czech cuisine is not exactly fancy but it sure is hearty and delicious, try Goulash and other local cuisines when possible.
Take in the culture around you: admire the beautiful architecture on your walking tours and a local beer in the pub.
The Czech Republic has a very low crime rate, so you can feel safe if out and about at night. As with any destination, practice common sense.
Like the U.S., tipping is not required but usually expected.
Do support local shops when doing your souvenir shopping.
Czech Republic Tours Things To Do
Charles Bridge

A must-do while in Prague is to take a walk down Charles Bridge. There is a certain charm you feel as you stroll down the gaze of old baroque period statues that line the bridge. Regardless of the buskers and people selling all types of stuff, tourists squeeze past by and you enter a river-like flow as you move along.

Best Time To Visit

Due to the crowds of both tourists and entrepreneurial locals, any time during the day is prime time and will be crowded. Try going at sunset where you'll feel the charm of the bridge a bit more.

Prague Castle

Looming over the city with the castle's spires viewable from almost anywhere in the city, it's no surprise Prague Castle is the most popular attraction in the city. Home to historic buildings, museums, and various galleries, some of the Czech Republic's most prized arts and cultural artifacts are within the castle walls.

Best Time To Visit

There is no bad time to visit Prague; summer has nice temperate weather, but fall and winter bring cooler weather and fewer crowds. If you don't mind the cold weather, walking around the city in the wintertime has a magical feel.

St Vitus Cathedral

Taking almost 600 years to complete, St Vitus houses some of the richest cultural treasures in central Europe. St Vitus is integral to the cultural and religious side of the Czech Republic. A mix of Gothic and Romanesque, this unique cathedral is a must-see in Prague.

You Should Know

If you are traveling to Prague with one of our partners on a guided tour, St Vitus is almost always included in your walking tour of Prague. If included, you'll skip the line to get in and get a local guide to narrate as you explore. Inclusions vary by itinerary.

Prague Jewish Museum

One of the most visited museums in Prague is the Jewish Heritage Museum. With about 40,000 artifacts, 100,000 books, and more, it houses one of the largest Judaic collections in the world. The museum is made up of four synagogues and includes the Old Jewish Cemetery.

Wenceslas Square

The most famous square in Prague, Wenceslas Square has been witness to some of the most famous historical events in Czech history. Actually, it is less of a square and more similar to a large public street, like one you'd find in Paris. The square is located in New Town, which was created during Charles IV's reign.

You Should Know

Although many important demonstrations and speeches have been given at Wenceslas Square, arguably the most important was given by Alexander Dubcek, known as the man who started the Prague Spring.

Astronomical Clock

A tourist favorite attraction, every hour very large crowds begin to form under the Old Town Hall Tower to watch the Astronomical Clock. An intricate dance of puppets and other objects depict a story representing 15th-century life. Called a "must-see" event by everyone ever, the truth is the display is hyped up a little too much and don't feel guilty if you find it a bit underwhelming.

You Should Know

t's not an exaggeration to say that large crowds begin to form quite early under the tower. If you really want to see and get a good view, you'd have to stake out your spot at least 15 minutes before the hour.

Cesky Krumlov

Located in the Southern Bohemian region of the Czech Republic is Cesky Krumlov. Along with Prague Castle, it was designated a UNESCO site in 1992. The town was built around a 13th-century castle with various design cues from Baroque, Renaissance, and Gothic. A popular day trip among visitors, the charming town of Cesky Krumlov is definitely a must-see.

You Should Know

If not already included in one of our itineraries from our partners, most will offer Cesky Krumlov as an optional guided day tour. Activities and inclusions vary by itinerary.
Czech Republic Tour Packages
Known for its castles and baroque style architecture, the Czech Republic is full of history, art, and culture. Whether you're doing a land tour or a river cruise with one of our partners, you'll want to plan accordingly to maximize your time in this beautiful east European country.
Spring and Fall time are two of the best times to visit.
The most popular tourist time is during the Summer.
Winter can get really cold but you'll want to be there for the beautiful Christmas Markets.
Spring – March to May – Good Season

The average high in Spring is 58F and the low is 38F. It's a really comfortable time to visit, plus there is fewer crowds to deal with. You won't have to worry about the rain and the days are typically sunny and long, so you can have more time to explore and discover.

Fall – September to October – Good Season

The average high in the Fall is 66F and 48F low. Like the Springtime, this is a really comfortable season to explore the country.

Summer – June to August – High Season

The average temperature during the Summer is 77F high and 55F low. Summer has the best weather with long sunny days, but it also has the most crowds. Along with tourists, locals also love to spend their time outdoors as much as possible. Because it's the busiest time of the year, expect prices to be higher than in other seasons.

Winter – November to March – Low Season

The average temperature during the Winter is 36F and 27F low. The winters can be quite cold but you may find a sizable amount of people here for the famous Christmas Markets. These stalls are set up every year and they are beautifully lit, each selling different items that would make perfect souvenirs.
Czech Republic Tours Frequently Asked Questions
Learn More About Czech Republic Tours

Top Culinary Destinations Around The World

Finding exceptional flavors should not be hard to do, so we have put together some of the top culinary destinations around the world. However, if you've not traveled much then you may not know where to go for all the amazing food. Learning a bit more about these areas, what they offer, their different tastes,…


It's Time For a Wellness Vacation

Wellness Tours and Why They Are Growing in Popularity Wellness is a selling point for so many companies, and when it comes to feeling good; you want to be one of the many taking advantage of them. Wellness tours are one of the newest types of tours on the market, and they are offering the…


Review: Central European Experience With Avalon Waterways

This Central European Experience with Avalon will take you from the gothic skyline of Prague to Remich on the Main, Rhine, and Moselle Rivers.

How Much You Should Tip In 11 Countries Around The World

Here in the US, tipping is not optional in most circumstances, but every country in the world has different guidelines. Because tipping rules vary by country, region, and place of business, it's important to research your destination's customs prior to any trip. And since there are no real 'rules', the etiquette of what countries you…
Reviews for Czech Republic Tours and Vacations
So far I've traveled with Cosmos 18 times!! That should say something!!
Rebecca G
Trafalgar provided a first class trip and we would use them again. People need to realize how packed a trip can be. Between tours, breakfast lunch and dinners, each day is very full. An itinerary where you can stay at one place for at least 2-3 nights would be preferable, rather than having to pack and unpack every night. The hotels they picked were fine and we enjoyed all excursions, with the exception of the Prague one of a "folklore" dinner. They should update this one.
Ginger A
It was well organized, feel safe and comfortable. The driver and travel director were very cooperative and accommodating which cater efficiently with our needs and meet our expectations. I will use this agency again with our future travel plans end will highly recommend with my friends and families
Victoria F
Departure
Lengths
Styles
Specialities
Price
How It Works
Vacationing has never been easier or cheaper with the help of a dedicated travel consultant from AffordableTours.com
1. Free Quote
Find your perfect trip on our website and simply request a free quote. Need to speak to a live person? Call us 7 days a week at 1-800-935-2620. No robots here!
2. Dedicated Travel Consultant
Your personal travel consultant will reach out and be your point of contact for your entire travel experience from start to finish. Did we mention you'll be working with an award winning team? Sweet!
3. Lowest Price Guaranteed
Because we're one of the largest sellers of travel, we're able to give you a discount on your vacation package. No one beats our prices!
4. Stress Free Travel
Knowing you got the best deal, all that's left is for you to pack your bags and enjoy your vacation!