Vietnam Tours $2001 to $3000 2024/2025
Save up to 40% on Vietnam Tours $2001 to $3000 2024/2025
Vietnam Travel Guide
Vietnam is a land of unmatchable natural beauty and cultural complexities. Vietnam is a country that has established itself from a war-torn state into an emerging economy that is praised everywhere in the world. The country's villages and tribal areas are one of the reasons why a lot of backpackers tend to spend most of their time exploring the rural areas of this dynamic nation. Vietnamese people are one of the most resilient and they have brought themselves back on their feet but you can still feel the unforgettable experiences that they have had, after communicating with them. Vietnam has a diverse yet complex culture because of its history. You may witness the Chinese influence on this country by the ancient temples and alongside you can also witness the Hindu temples in the south. Vietnam has always held a pivotal position of being close to the epicenter of East Asian power and prosperity. With tour operator volume buys plus our low everyday prices you can save up to 40% versus assembling the same itinerary on your own! Book your Vietnam tour today with AffordableTours.com, your discounted tour headquarters. View Vietnam Tour Deals and Discounts
Vietnam Travel Guide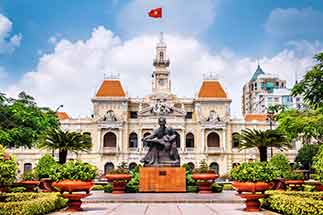 Showing 1 - 20 Tours
Tour Itinerary
Days
Operator
Quality
Style
Starts
Ends
Price

Vibrant Vietnam 2024 - Small Group

13

Days

Cosmos

Budget

Escorted
Hanoi
Ho Chi Minh City
Vietnam
$2,579View Tour

Best Price Guaranteed

Book With Flexibility




17 Day Bangkok, Cambodia & Vietnam - Friday Departure

4 reviews
17

Days

Gate1

First Class

Escorted
Bangkok
Hanoi
Cambodia, Thailand, Vietnam
$2,449View Tour

Best Price Guaranteed

Book With Flexibility

Vibrant Vietnam 2025 - Small Group

13

Days

Cosmos

Budget

Escorted
20
Hanoi
Ho Chi Minh City
Vietnam
$2,770View Tour

Best Price Guaranteed

Book With Flexibility

Saigon and Bangkok Explorer

09

Days

Trafalgar

First Class

Escorted
Ho Chi Minh City
Bangkok
Thailand, Vietnam
$2,985View Tour

Best Price Guaranteed

Book With Flexibility

Vietnam and Cambodia Adventure

14

Days

Costsaver

Budget

Escorted
Hanoi
Siem Reap
Cambodia, Vietnam
$2,760View Tour

Best Price Guaranteed

Book With Flexibility




17 Day Bangkok, Cambodia & Vietnam - Friday Departure

12 reviews
17

Days

Gate1

First Class

Escorted
Bangkok
Hanoi
Cambodia, Thailand, Vietnam
$2,689View Tour

Best Price Guaranteed

Book With Flexibility

Southeast Asia Family Journey: Vietnam to Cambodia

13

Days

G Adventures

First Class

Escorted
2 - Classic

7+ years old
Hanoi
Siem Reap
Cambodia, Vietnam
$2,294View Tour

Best Price Guaranteed

Book With Flexibility




Thailand, Laos & Vietnam Adventure

22

Days

G Adventures

Budget

Escorted
2 - Classic

12+ years old
15
Bangkok
Ho Chi Minh
Laos, Thailand, Vietnam
$2,999View Tour

Best Price Guaranteed

Book With Flexibility

Vietnam, Laos & Thailand: Riversides & Railways

22

Days

G Adventures

Budget

Escorted
2 - Classic

18 - 39 years old
18
Ho Chi Minh City
Bangkok
Laos, Thailand, Vietnam
$2,399View Tour

Best Price Guaranteed

Book With Flexibility

Best of Cambodia & Northern Thailand

1 reviews
15

Days

G Adventures

First Class

Escorted
2 - Classic

12+ years old
16
Ho Chi Minh City
Chiang Mai
Cambodia, Thailand, Vietnam
$2,049View Tour

Best Price Guaranteed

Book With Flexibility

Thailand & Vietnam: Mountains & Coastlines

21

Days

G Adventures

First Class

Escorted
2 - Classic

18 - 39 years old
18
Bangkok
Ho Chi Minh City
Thailand, Vietnam
$2,049View Tour

Best Price Guaranteed

Book With Flexibility

Essential Southeast Asia: Hanoi, Phnom Penh & Thailand Good Times

25

Days

G Adventures

First Class

Escorted
2 - Classic

18 - 35 years old
24
Hanoi
Bangkok
Cambodia, Thailand, Vietnam
$2,199View Tour

Best Price Guaranteed

Book With Flexibility

27 Days in Southeast Asia: Cambodia, Vietnam & Big Nights in Bangkok

27

Days

G Adventures

First Class

Escorted
2 - Classic

18 - 35 years old
24
Hanoi
Bangkok
Cambodia, Thailand, Vietnam
$2,399View Tour

Best Price Guaranteed

Book With Flexibility




Cambodia & Vietnam Experience

2 reviews
26

Days

Intrepid

Budget

Guided/Hosted
2 - Classic

15+ years old
16
Bangkok
Hanoi
Cambodia, Thailand, Vietnam
$2,192View Tour

Book With Flexibility




Premium Vietnam in Depth

15

Days

Intrepid

First Class

Escorted
Ho Chi Minh City
Hanoi
Vietnam
$2,968View Tour

Book With Flexibility

Best of Vietnam & Cambodia

1 reviews
18

Days

Intrepid

First Class

Escorted
2 - Classic

15+ years old
16
Hanoi
Bangkok
Cambodia, Thailand, Vietnam
$2,121View Tour

Book With Flexibility




Best of Cambodia & Vietnam

18

Days

Intrepid

Budget

Escorted
2 - Classic

15+ years old
16
Bangkok
Hanoi
Cambodia, Thailand, Vietnam
$2,133View Tour

Book With Flexibility




Premium Vietnam

08

Days

Intrepid

First Class

Escorted
Hanoi
Ho Chi Minh City
Vietnam
$2,024View Tour

Book With Flexibility

Cycle Vietnam, Cambodia & Thailand

13

Days

Intrepid

Budget

Escorted
3 - Explorer

14+ years old
16
Ho Chi Minh City
Bangkok
Cambodia, Thailand, Vietnam
$2,520View Tour

Book With Flexibility

Classic Vietnam

1 reviews
15

Days

Intrepid

Budget

Guided/Hosted
2 - Classic

15+ years old
12
Ho Chi Minh City
Hanoi
Vietnam
$2,508View Tour

Book With Flexibility
Vietnam Travel Guide
Vietnam Tours Highlights
In Phong Nha-Ke Bang National Park, be inspired while exploring the world's most spectacular cave systems.
Feel the rush while witnessing the tsunami of motorcycles on the roads of Hanoi, which can take several minutes for you to just cross a single road.
Pay gratitude to the war heroes of Vietnam while witnessing a solitary grave of several war victims in one of Vietnam's cemetery.
Enjoy a satisfying meal while taking a street-food tour in Asia's culinary heaven.
Go on a hike into the hills and meet the hill-tribes in the villages. These tribes will give you a peek into various cultures and traditions of Vietnam and you will get a chance to meet some of the most welcoming and friendly people on earth.
You will be mesmerized to witness Hanoi's colonial charm.
Take a day cruise to explore the mythical Halong Bay.
Take a stroll in Vietnam's ancient capital city and feel the country that it used to be several years ago. This walking tour of the ancient city of Hue will take you into the world of true Vietnamese people who have been living here for many years.
Vietnam Tours Travel Tips
Vietnam is a fairly big country, area-wise, as opposed to what many people believe, you can take an idea of this by just looking at the distances between cities, for instance, the distance between Hanoi and Ho Chi Minh City is around 1700 kilometers which is huge and that means that train ride from one city to another can easily take around 35 hours.
You must plan your Vietnam tour wisely because exploring each destination properly will need you to make sufficient stops in each of these destinations and if you are planning to take a tour of the entire country from north to south then you must at least plan a trip for around 3 weeks or you might miss a lot of attractions and also not be able to enjoy your trip to the fullest in the rush.
In Vietnam, you can easily negotiate for a better price for whatever thing you are planning to buy. In case if you are satisfied with the price it is still a good option to haggle for the best price because there is a fair chance that the price that seems right to you might not be right and you may be getting ripped off so it is always better to stay on the safe side and try your luck for the best price.
You will be shocked to know that the cuisine in Vietnam is ranked no 1 in entire Southeast Asia and the food there is simply amazing so if you are a foodie and plan on eating a lot on this trip, be prepared because Vietnam has a lot to offer.
If you are a person who likes to go on a beach or if your idea of Vietnam is somewhat similar to Thailand or the Philippines then there is bad news because Vietnam's beaches are not what you might be expecting. The trash accumulated along 90% of Vietnam's supposedly best beach, Sao Beach, will disappoint the beachgoer inside you.
In this country, the conversion rate from 1 U.S dollar is equal to around 23 thousand Vietnamese Dong, as of the day this article is written, which means that you are going to have to carry a lot of cash and making the conversions from U.S dollar into the local currency can be very cumbersome.
The condition of the traffic in Vietnam has very deteriorated over the past few years since the economic boom in the country. On your first day in any major city of Vietnam, you will notice that there are some thousand motorbikes on the road and it is advised that you make up your mind about how you are going to tackle the problem of crossing the road amidst this chaos.
Vietnam Tours Things To Do
Ho Chi Minh City

Ho Chi Minh caters to those looking to spice up their holiday with interesting activities and journeys to the most prominent sites. Ho Chi Minh City is full of French architecture, shiny skyscrapers, embellished temples, and pagodas. Ho Chi Minh City is famous for its nightlife scene including lively bars, night clubs, and rooftop bars, and restaurants over there offer both local and international flavors.

Best Time To Visit

Anytime in of the year is a perfect time to visit Ho Chi Minh as the city is famous for its pleasant weather and rarely suffers from disasters.

You Should Know

Ho Chi Minh is undoubtedly the most attractive city with cutter edge buildings and the exciting nightlife offered here. The street food scene is also one of the most liked things about the city in Ho Chi Minh as it is famous for street food and food lovers can happily spend their days. This is a place with so much inventions and it includes historical attractions, museums, and religious sites.

Mekong Delta

It is a network of tributaries in Southwestern Vietnam, between Ho Chi Minh and Cambodia. It is a vast maze of rivers, swamps, and islands, home to floating markets, Khmer pagodas, and village surrounded by rice paddies. More than half of Vietnam's rice and fish comes from the delta region. It's vital to the Vietnamese economy and diet. Peoples' lives revolve around water, from the famous floating markets to the vast agricultural industries. They have an amazing variety of fruits, flowers, and livestock grow in the region.

Best Time To Visit

Mekong Delta is heavily affected by the weather as boating is the main source of transportation there. The best time to travel to Mekong Delta is between November to January as its cool and the water level is at its peak.

You Should Know

It is known for its tropical climate, tasty food, and friendly people. You'll find yourself submerged in rice and coconut paddies. This place is one of Vietnam's most attractive stops and nature and culture lovers. There are many alluring places to visit including coconut groves and cycling in Ben Tre, Temples and small-town life, legendary lakes, floating rides, and sampan rides.

Cu Chi

It is a considerable labyrinth of underground tunnels that stretch all the way to the Cambodian border. Cu Chi served as a means of communication between villages and helped the Vietnamese to evade scouting French soldiers and it is home for thousands of soldiers. Cu Chi is famous for its unique architecture and structure. There were hospitals, theatres, schools, kitchens, all built into this extraordinary tunnel network.

Best Time To Visit

Cu chi is open in the rainy season from May to November and there will be no flooding inside the tunnels.

You Should Know

Cu chi is the first tunnel and it is one of the best trip options from Ho Chi Minh City, as it makes a great history lesson in combination with a visit to the War Remnants Museum. Experiencing Cu Chi Tunnels by motorbike is the best of all. If you want to make a full day out of it and have amazing experiences not pertaining to just the tunnels, then Ben Duoc is for you.

Da Nang

It is a city in the center of Vietnam and has a rich history for being a French port during the time of colonialism. In De Nang, you can visit some well-known Buddhist Pagodas which will remind you of the centuries-old traditions of Vietnam.

Best Time To Visit

Visit the De Nang is during the months of February until May because this is the period when De Nang sees very favorable weather conditions with beautiful long sunny days and low humidity. Since De Nang is a very famous beach destination in Vietnam so it is very important that you get enough sunshine and less humidity while on your day out on the beach.

You Should Know

The best place to visit in this city is the 20 miles long, My Khe Beach; this spot is very famous amongst the tourist who would want to spend some time relaxing on the beach. You may find a number of high-end resorts and luxurious hotels along the beachfront. The landscape of this city is very diverse and you can also visit the Marble Mountains that surround the city, enhancing the beauty of it.

Ninh Binh

This town of Vietnam is located in the southeast of the capital city, Hanoi. Most of the tourists visiting this city use it as an entry point into the exquisite sceneries of the surrounding areas. The town itself does not have many attractions of its own but acts as a very nice base for all the other attractions around it.

Best Time To Visit

The months from May to July are considered as the best time to travel to this city by frequent travelers because it is the harvest season during those months. While visiting the region during this time you will be able to capture some of the most picturesque moments of Vietnam while the locals reap the rice.

You Should Know

There are multiple attractions that you can access from Ninh Binh town like Tam Coc which is one of the best natural landscape destinations of Vietnam. You will be captivated to witness the magnificent limestone hills, dotted amongst emerald green rice paddies.

Hoi An

This city is famously known as the imperial capital of Vietnam. It has wonderful architectural sites of temples, tombs, and the well known Purple Forbidden City, although, this city and its beautiful architecture was destroyed in the recent war. This town is a very quiet place to spend an evening by the river.

Best Time To Visit

It is suggested that you visit this town during the dry season that starts from February and goes till July. These 3 months are filled with plenty of sunshine which is not too hot and provides a very nice climate to stroll in the streets or take a boat ride during the day.

You Should Know

There are a lot of activities to participate in, so you will need to dedicate a lot of time to this town. You can take a cooking class and learn about the culinary skills and how to make the delicate cuisine of this Southeast Asia's paradise for the foodies. The best way to tour the city is via a bicycle, which will let you explore some of the most unseen gems of this town and give you a chance to connect with the local Vietnamese people who have a lot of stories to tell you. The best thing about this town is that you will experience, probably for the first time, a concept of farm to table in which you will be able to see how the food you are eating is grown in the farm and served to you directly.
Vietnam Tour Packages
The overall weather in Vietnam is very hot and humid which is why most of the tourists tend to visit the country during the months of February until May because those are the months when the weather is not so hot and humidity is at its lowest. While planning your visit to Vietnam you also need to make sure that the rainy season has passed as well because a lot of tourist destinations become inaccessible due to the rain. If you want to visit the country in seclusion and don't want to see a lot of tourists, then the best time for you to visit is during the winters, when there are fewer crowds on the streets.
Vietnam Tours Frequently Asked Questions
What are Vietnam Tours?

Vietnam is consistently becoming one of the most sought after tourist destination. Due to this high influx of tourists, a lot of tour operators offer packages that let you design your trip and you don't have to be bothered about how you will be traveling or where you will be staying because most of these things are covered in your Vietnam tour. These tours take you to multiple destinations in Vietnam, some of which are listed above.

What's included in a Vietnam Tour?

A Vietnam tour includes the most basic facilities like two meals, transportation, nice accommodation, and an English speaking tour guide. These facilities are included in most of the basic packages of the tour. The tour usually includes picking you up from the airport and then taking you to all the destinations that are mentioned in your itinerary. The best thing about these tours is the comfort that you have while traveling with an experienced travel guide.

What's the Best Vietnam Tour?

There are a lot of options for Vietnam Tour available to the tourists. All these tours are different in prices and durations of stay, also some other factors that distinguish different tours are the facilities, number of destinations, and names of the destination. Some of the tours recommended to you are Hoi An Express, INTRO Travel, Contiki, Legend Travel Group, and Intrepid Travels.

How Much Does a Vietnam Tour Cost?

The tour prices for Vietnam tours range in between $500 and $2000 per person on average. These are the prices for the tours that include most of the basic facilities but if you want to customize the tour according to your own preferences then you can also have that but for a higher price.
Learn More About Vietnam Tours

Top Culinary Destinations Around The World

Finding exceptional flavors should not be hard to do, so we have put together some of the top culinary destinations around the world. However, if you've not traveled much then you may not know where to go for all the amazing food. Learning a bit more about these areas, what they offer, their different tastes,…


5 Unique Ways Coffee is Served Around The World

If you love coffee and want to find new flavors to add to your favorite caffeinated drink, here are five unique ways coffee is served around the world.
Reviews for Vietnam Tours and Vacations
Our guide for this trip was outstanding! He was there for us and educated us a lot on the history and culture of Vietnam.
Judith B
Excellent tour and both Thailand and Vietnam tour managers were exceptional super organized, caring and very informative on every different activity and tour of different towns! The best tour managers we have taken from Gate1 tours!
Doris C
Excellent tour and both Thailand and Vietnam tour managers were exceptional super organized, caring and very informative on every different activity and tour of different towns! The best tour managers we have taken from Gate1 tours!
Doris C
Departure
Lengths
Styles
Specialities
Price
How It Works
Vacationing has never been easier or cheaper with the help of a dedicated travel consultant from AffordableTours.com
1. Free Quote
Find your perfect trip on our website and simply request a free quote. Need to speak to a live person? Call us 7 days a week at 1-800-935-2620. No robots here!
2. Dedicated Travel Consultant
Your personal travel consultant will reach out and be your point of contact for your entire travel experience from start to finish. Did we mention you'll be working with an award winning team? Sweet!
3. Lowest Price Guaranteed
Because we're one of the largest sellers of travel, we're able to give you a discount on your vacation package. No one beats our prices!
4. Stress Free Travel
Knowing you got the best deal, all that's left is for you to pack your bags and enjoy your vacation!