Germany Themed or Special Event Tours 2024/2025
Save up to 40% on Germany Themed or Special Event Tours 2024/2025
Germany Travel Guide
We know that travelers want to experience Germany's vibrant cities, amazing historic architecture and enchanting medieval villages. From romantic castles, longstanding palaces and abbeys to the Black Forest and glistening skyscrapers, there are plenty of opportunities to see it all in Germany. Frankfurt is the international hub of Germany and many tours begin and end in Frankfurt. Munich is a quintessential Bavarian city, where the city's most famous beer garden, the Hofbrauhuas and the picturesque New Town Hall with its working carillon (Glockenspiel) is located. Neuschwanstein Castle is a popular fair-tale estate that inspired the design of Disney's Cinderella castles. In Berlin, see remnants of the Berlin Wall and the fascinating Checkpoint Charlie museum. Cologne is also a popular destination, with its absolutely stunning and majestic gothic Cathedral. Many Germany tours have special Christmas Market itineraries during the holidays that focus on these wonderful events. With tour operator volume buys plus our low everyday prices you can save up to 40% versus assembling the same itinerary on your own! Book your Germany tour today with AffordableTours.com, your discounted tour headquarters. View Germany Tour Deals and Discounts
Germany Travel Guide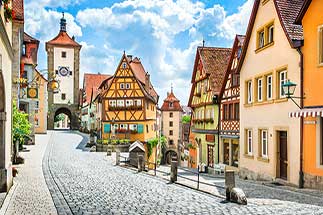 Showing 1 - 20 Tours
Tour Itinerary
Days
Operator
Quality
Style
Starts
Ends
Price

Imperial Europe

304 reviews
10

Days

Trafalgar

First Class

Escorted
Munich
Munich
Austria, Czech Republic, Germany, Hungary, Slovakia
$2,460View Tour

Best Price Guaranteed

Book With Flexibility

Best of Germany

56 reviews
12

Days

Trafalgar

First Class

Escorted
Frankfurt
Frankfurt
Germany
$3,055View Tour

Best Price Guaranteed

Book With Flexibility

Christmas Markets of Austria, Germany and Switzerland

32 reviews
08

Days

Trafalgar

First Class

Escorted
Vienna
Lucerne
Austria, Germany, Switzerland
$2,595View Tour

Best Price Guaranteed

Book With Flexibility

Poland, East Germany & World War II 2024

24 reviews
13

Days

Globus

First Class

Escorted
Warsaw
Munich
Germany, Poland
$3,249View Tour

Best Price Guaranteed

Book With Flexibility

Imperial Europe

304 reviews
10

Days

Trafalgar

First Class

Escorted
Munich
Munich
Austria, Czech Republic, Germany, Hungary, Slovakia
$1,916View Tour

Best Price Guaranteed

Book With Flexibility




Christmastime on the Danube (Westbound) 2023

4 reviews
07

Days

Globus

First Class

River Cruise
1 - Light

Vienna
Nuremberg
Austria, Germany
$2,471View Tour

Best Price Guaranteed

Book With Flexibility

Christmastime in Alsace & Germany (Southbound) 2023

1 reviews
05

Days

Globus

First Class

River Cruise
1 - Light

Frankfurt
Basel
France, Germany, Switzerland
$2,314View Tour

Best Price Guaranteed

Book With Flexibility

Christmastime in Alsace & Germany (Northbound) 2024

05

Days

Globus

First Class

River Cruise
Basel
Frankfurt
France, Germany, Switzerland
$2,199View Tour

Best Price Guaranteed

Book With Flexibility

Poland, East Germany & World War II 2025

24 reviews
13

Days

Globus

First Class

Escorted
Warsaw
Munich
Germany, Poland
$3,329View Tour

Best Price Guaranteed

Book With Flexibility

Poland, East Germany & World War II 2025 - Small Group

2 reviews
13

Days

Globus

First Class

Escorted
24
Warsaw
Munich
Germany, Poland
$4,169View Tour

Best Price Guaranteed

Book With Flexibility

Christmas Markets of Austria, Germany and Switzerland

32 reviews
08

Days

Trafalgar

First Class

Escorted
Vienna
Zurich
Austria, Germany, Switzerland
$2,925View Tour

Best Price Guaranteed

Book With Flexibility

European Experience

40 reviews
14

Days

Costsaver

Budget

Escorted
London
Amsterdam
Austria, England, France, Germany, Italy, Netherlands, Switzerland
$2,655View Tour

Best Price Guaranteed

Book With Flexibility




Christmastime on the Danube with 2 Nights in Prague (Westbound) 2023

4 reviews
09

Days

Globus

First Class

River Cruise
1 - Light

8+ years old
166
Vienna
Prague
Austria, Czech Republic, Germany
$3,060View Tour

Best Price Guaranteed

Book With Flexibility




Christmastime on the Danube (Eastbound) 2023

4 reviews
07

Days

Globus

First Class

River Cruise
1 - Light

Nuremberg
Vienna
Austria, Germany
$2,471View Tour

Best Price Guaranteed

Book With Flexibility




Christmastime on the Danube with 2 Nights in Prague (Eastbound) 2023

4 reviews
09

Days

Globus

First Class

River Cruise
1 - Light

8+ years old
166
Prague
Vienna
Austria, Czech Republic, Germany
$3,060View Tour

Best Price Guaranteed

Book With Flexibility

Festive Season in the Heart of Germany 2023

06

Days

Globus

First Class

River Cruise
1 - Light

Frankfurt
Nuremberg
Germany
$1,942View Tour

Best Price Guaranteed

Book With Flexibility

Festive Season in the Heart of Germany 2023

06

Days

Globus

First Class

River Cruise
1 - Light

Nuremberg
Frankfurt
Germany
$2,042View Tour

Best Price Guaranteed

Book With Flexibility

Christmastime from Nuremberg to Basel with 2 Nights in Prague 2024

12

Days

Globus

First Class

River Cruise
1 - Light

8+ years old
166
Prague
Basel
Czech Republic, France, Germany, Switzerland
$4,787View Tour

Best Price Guaranteed

Book With Flexibility

Festive Season in the Heart of Germany 2024

06

Days

Globus

First Class

River Cruise
Nuremberg
Frankfurt
Germany
$2,224View Tour

Best Price Guaranteed

Book With Flexibility

Christmastime on the Danube with 2 Nights in Prague (Eastbound) 2024

09

Days

Globus

First Class

River Cruise
1 - Light

8+ years old
166
Prague
Vienna
Austria, Czech Republic, Germany
$3,288View Tour

Best Price Guaranteed

Book With Flexibility
Germany Travel Guide
Germany Tours Highlights
Enjoy spectacular scenery as your motorcoach driver takes you around beautiful Germany.
Experience the drive on the Autobahn.
Visit famous cities like Munich, Berlin, the Black Forest, Frankfurt, Cologne, and more.
Climb the famous Cologne Cathedral.
Step back in history at the Berlin Wall Memorial.
Castle watch on the Rhine river, with over 30 castles in only a few miles stretch.
Get inspired – like Walt Disney did – at King Ludwig II's Neuschwanstein Castle.
Sample local German beers and have your fill of bratwurst.
Fall in love with Bamberg, a beautiful romantic UNESCO heritage city.
Visit the Holocaust Memorial and other historically significant sites.
Germany Tours Travel Tips
Make sure to carry cash as you'll most likely be visiting a lot of smaller towns and the acceptance of credit cards is not that common.
It's a good idea to try to learn some German phrases and practice basic greeting etiquette. The locals will appreciate it.
Germany – and most of Europe – do not have a lot of public restrooms. You'll usually have to pay 1 Euro to use public restrooms.
Water is not free. You'll have to pay for water at restaurants and anywhere else that offers a drink. Make sure you specify still water if that's your preference.
Many stores and attractions may be closed on Sundays – plan accordingly.
Europeans take the bike lane very seriously so watch where you walk.
Germany Tours Things To Do
Cologne Cathedral

Completed in 1880, the Cologne Cathedral was designated a UNESCO heritage site in 1996. Famous for its gothic architecture, it took seven centuries and successive builders to finish. The cathedral is the second tallest building in Cologne at 475 feet.

Best Time To Visit

The best time to visit the Cathedral is on your river cruise! Typically, your ship will dock right in the heart of Cologne and almost always, a walking tour will be included where you'll be taken right to the cathedral. In the Spring or Fall, when it's not too hot, you can brave the 509 stone steps of the spiral staircase to an observation area where you'll have a beautiful panoramic view of the city.

Rhine River

Over 766 miles long, the Rhine river is one of the longest and most important rivers in all of Europe. It starts in the Swiss Alps and goes through 6 countries: Switzerland, Liechtenstein, Austria, Germany, France, and the Netherlands before terminating into the North Sea in Rotterdam.

Best Time To Visit

The best time to visit the Rhine river is in the summer and on an all-inclusive river cruise. You'll be able to take full advantage of the sun deck, comfortably castle watching, and being served on. A river cruise also allows you to see all the little towns along the Rhine that you would not normally be able to see. If you don't care for sunbathing, Spring is a great time as Fall and Winter will be too cold to enjoy any outdoor activities.

Neuschwanstein Castle

With over 1 million visitors a year, the fairy-tale-like Neuschwanstein Castle is one of the most visited castles in Germany. In fact, this castle is so "fairy-tale like", it served as the inspiration for the Walt Disney Sleeping Beauty Castle!

You Should Know

King Ludwig II of Bavaria started the build on this castle but he never actually got to see it completed. Neuschwanstein Castle was featured in the 1968 movie Chitty Chitty Bang Bang. Repairs and work are continuously done throughout the year to preserve the castle.

Marienplatz – Mary's Square

The central square of Munich, Marienplatz, or Mary's Square, was founded by Henry the Lion. It wasn't until the Olympics in 1972 that Marienplatz became a really popular tourist attraction. The square got its name from the Marian pillars that tower over the plaza. Most of the historic sites and interest points are still there today, making Marienplatz a very popular destination.

You Should Know

No visit to Munich would be complete without visiting Marienplatz. Make sure you get to see the iconic Fish Fountain, both the Old Town Hall and New Town Hall, and the Glockenspiel, which is the world-famous show in the tower of the New Town Hall.

Berlin Wall Memorial

The Berlin Wall was a dark spot in Germany's history, but in October 1990, Germany reunified and on August 13, 1998, a monument was established, dedicated to the victims and in memory of the divided city. The monument stretches about 1 mile on the old wall and is free to all who want to visit.

You Should Know

There are 3 total sites to visit: lookout tower, outdoor exhibit, and of course a visitor center where you'll find educational materials as well as a bookstore. If you're coming with a tour group, you won't have to worry about a thing as it'll all be planned out for you. Speak to one of our travel consultants for details.

Holocaust Memorial

Located between the American Embassy and a former East Berlin neighborhood is the Memorial for the Murdered Jews of Europe, commonly referred to as the Holocaust Memorial. The memorial is a field of dark gray blocks and it opened in 2005. The memorial attracts over 5 million visitors a year.

You Should Know

Photography is generally allowed at most memorial sites and it's no different at the Holocaust Memorial. However, you should watch for signs regarding flash photography. More importantly, you should be mindful of some etiquette and be mindful of how you compose your photos. For example, it's generally frowned upon to take smiling, or overly joyous selfies at such a place recognizing such a dark stain on history.

Altstadt

When visiting Germany, a German Old Town, or Altstadt, is a must-see. It's got all the things you love when you think about "old" Germany: cobblestone streets, cafes and perfect people-watching terraces, bustling squares, and lots of historic landmarks.

You Should Know

If you love Medieval, Gothic or Baroque style, you're going to love visiting any German old town Alstadt means "old town" and you can find an altstadt in most major German cities – so you can't go wrong!

Bamberg

The small, quaint German town of Bamberg has a population of about 73,000 people and is so precious that it was designated a UNESCO site in 1993. You'll fall in love with this little city immediately. It's romantic, quiet, and has a strong German beer tradition.

Best Time To Visit

The best time to visit Bamberg is when you're on a river cruise sailing down the Main or Danube river. It's the best – and easiest – way to get to Bamberg. Most itineraries will have a stop for a day trip here and believe us, you'll want to experience it.

Kehlsteinhaus – Eagle's Nest

Located in Obersalzburg, the Kehlsteinhaus, or Eagle's Nest as the allies called it, is one the most popular attractions in the area. Commonly known as "Hitler's Tea House", this location was a symbol of power to the fallen regime. The Eagle's Nest attracts over 1.5 million visitors per year.

You Should Know

Kehlsteinhaus does not translate to Eagle's Nest in English. The name Eagle's Nest is rumored to have started by a visiting journalist who referred to it as such and has stuck since. It's said that Hitler barely even visited this location. To reach the top, you have to go up a brass elevator located in the heart of the mountain.

The Autobahn

Automotive enthusiast or not, no trip to Germany is complete without visiting the Autobahn. The first segment was completed in 1932 between Cologne and Bonn. Today it stretches more than 8000 miles. If visiting on a guided tour from one of our partners, chances are your motorcoach will drive along the legendary autobahn and you can check it off your bucket list!

You Should Know

Contrary to popular belief, there are segments of the Autobahn that have a speed limit. The speed limit is only completely removed when driving on the outskirts of cities and towns with little residential areas.
Germany Tour Packages
The best time to visit Germany is going to be from the months of May to September. There may be crowds but you'll be enjoying your time so much you won't mind. Caution, it can still be rainy during this time.
May to September is the best time for good weather.
July and September are typically drier.
Spring brings unpredictable rain.
Winter is when the Christmas markets start but it's cold and wet,. However, it is definitely a bucket list item.
Summer – June to August – High Season

During the summer, the average high is 68F and the average low is 53F. Summer is high season, with tourism reaching a peak in Germany. If you're not traveling on a guided tour with one of our partners, get ready for long lines. If you're booked on a package with us, you won't have to worry about a thing.

Spring – April to June – Good Season

During Springtime, the average high is 62F and the average low of 38F. This time is considered "shoulder season", which is a good middle ground between high season and low season. The big tourist crowds are not here just yet and you'll be able to explore with a bit more room to breathe. Just beware, Spring weather is seriously unpredictable.

Winter – November to March – Low Season

During the winter, the average high is 43F and the average low is 34F. Definitely the slowest and quietest time of the year in Germany, you're probably here during this time only for the Christmas markets. It's going to be cold, wet, and dark. But you're going to love the festive holiday markets.
Germany Tours Frequently Asked Questions
Learn More About Germany Tours

The 5 Drinks You Have To Try This Winter

If you decided to stay home this winter season, you can still delight in the world's unique holiday flavors when you try one of these five winter drinks.


Surprising Laws In Europe

Avoid making locals angry, and disagreeable encounters with the police. Keep these peculiar laws in mind on your next vacation to Europe.
Reviews for Germany Tours and Vacations
My 1st river cruise and 2nd tour with Gate1. Room larger than expected. Full bathroom and very comfortable beds. Excursions were good with 90 minute walking or bus tours and adequate free time to explore. The entertainment was more for older people and I'm 74. Meals in the ship were fantastic!
Marilyn W
My 1st river cruise and 2nd tour with Gate1. Room larger than expected. Full bathroom and very comfortable beds. Excursions were good with 90 minute walking or bus tours and adequate free time to explore. The entertainment was more for older people and I'm 74. Meals in the ship were fantastic!
Marilyn W
So far I've traveled with Cosmos 18 times!! That should say something!!
Rebecca G
Departure
Lengths
Styles
Specialities
Price
How It Works
Vacationing has never been easier or cheaper with the help of a dedicated travel consultant from AffordableTours.com
1. Free Quote
Find your perfect trip on our website and simply request a free quote. Need to speak to a live person? Call us 7 days a week at 1-800-935-2620. No robots here!
2. Dedicated Travel Consultant
Your personal travel consultant will reach out and be your point of contact for your entire travel experience from start to finish. Did we mention you'll be working with an award winning team? Sweet!
3. Lowest Price Guaranteed
Because we're one of the largest sellers of travel, we're able to give you a discount on your vacation package. No one beats our prices!
4. Stress Free Travel
Knowing you got the best deal, all that's left is for you to pack your bags and enjoy your vacation!