Long a mystery to people from the West, Tibet is an autonomous region that covers the Tibetan Plateau, and is known as the traditional homeland of the Tibetan people. Tibet is also the highest region in the world, with an average elevation of 16,000 feet. The area is also home to the world's highest mountain, Mount Everest, which rises 29,029 feet high. The peak is located in the Himalaya Mountain Range. A province in southwest China, Tibet has a population of 7 million Tibetans. Some of the Tibetan people live in the neighboring Chinese provinces of Gansu, Sichuan, Yunnan, and Qinghai. Some tours to Tibet may include travel to the Yunnan Province, or stops in Shanghai or Shangri-la. With tour operator volume buys plus our low everyday prices you can save up to 40% versus assembling the same itinerary on your own! Book your Tibet tour today with AffordableTours.com, your discounted tour headquarters. View Tibet Tour Deals and Discounts
Tibet Travel Guide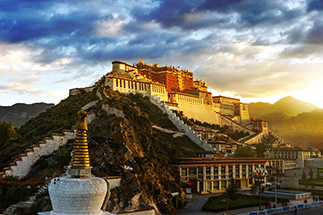 Showing 1 - 20 Tours
Sorry, we were unable to find a tour for you.
If you've not chosen a criteria, then please do so; otherwise you need to broaden your search criteria to find matches.
Tibet Travel Guide
Tibet Tours Highlights
Gaze at the stunning and dramatic scenery of the Yunnan province, passing through the breathtaking Tiger Leaping Gorge before arriving at Jade Dragon Snow Mountain.
Enter the capital and "Forbidden City" of Lhasa, which was out of bounds to people in the West for hundreds of years.
Visit the Potala Palace, the former home of the Dalai Lama, which dates back to the seventh century.
Journey to Everest Base Camp to see the highest mountain peak in the world.
Travel through Tibet's western wilderness to Manasarovar Lake, one of the holiest lakes of Tibet, and a site for pilgrims.
Hike around Tibet's lakes and over its montane landscape, among distant snow-capped peaks and towering canyons.
Visit the Jokhang Temple, one of the most sacred temples in Lhasa.
Travel to Songzanlin, the largest Tibetan monastery in Yunnan.
View the awe-inspiring Mount Nyenchen Khangsar Glacier
See the Kumbum Stupa, a multi-door building and largest stupa in Tibet.
Tibet Tours Travel Tips
All Tibet tours should be reserved at least 20 days before departure, as you will need to get a Tibet Entry permit from the Tourism Bureau in Tibet.
The high season for travel in Tibet is May to October. At that time, the weather is more comfortable and the oxygen content is high.
Tibet is closed to travelers during February and March. During this time, the Tibetan New Year takes place. Therefore, it is best to plan a Tibet tour from the 10th of April onward to play it safe.
The bucket-list, must-see attractions include the Potala Palace, the Jokhang Temple, the Drepung Monastery, the turquoise waters of Lake Yamdrok, and Mount Everest.
Wear warm clothes, including fleeces and sweaters. Pack and wear this apparel, even in the summer months, as the day-night temperature plunge is dramatic. If you visit Mount Everest, you will need to wear a thick down coat. During the low season, pack winter mountain clothing.
To protect your lips in Tibet's dry climate, use a lip cream or chapstick with an SPF of at least 15..
Take altitude sickness medicine before you reach a high altitude. It will be more effective.
Include anti-diarrhea medicine in your travel bag, as Tibetan cuisine is very different from Western cuisine.
Dress conservatively in the monasteries and do not photograph the Buddha statues. Some monasteries will allow you to take pictures for a small fee.
Usually, activities are not arranged for the first day of a Tibet tour to give travelers some time to acclimatize to the higher altitude and lower oxygen content. If you are abnormally tired or suffer from headaches during the trip, let your tour guide know.
Tibet Tours Things To Do
Norbulingka

Norbulingka is a palace and park in Lhasa, Tibet. It was built in 1755 and served as the traditional summer palace of the Dalai Lamas from the 1780s to 1959. The site now serves as a park, providing visitors with plenty of plant-derived oxygen - an ideal location to get used to the Tibetan altitude.

Best Time To Visit

Travel from May to October when the oxygen content is high and the temperatures are milder.

You Should Know

Located on the west side of Lhasa, just southwest of Potala Palace, Norbulingka spans over an area just short of 90 acres. It is considered Tibet's largest man-made garden.

Sera Monastery

Sera Monastery sits at the foot of Tatipu Hill. It is located in the north suburb of Lhasa City, and is one of three well-known monasteries in Lhasa, including the Drepung Monastery and Ganden Monastery. The monastery commemorates the Gelugpa or Yellow Hat Sect, which is a branch of Buddhism in Tibet. The sect was established by Tsong Khapa.

Best Time To Visit

Visit the monastery during the high season that spans from May to October.

You Should Know

One of the disciples of Tsong Khapa, Jamchen Chojey, constructed the Sera Monastery in 1419 during the Ming Dynast (1368 to 1644). The name for the monastery, Sera, means "wild rose," a reference to the wild roses that bloomed behind the monastery when it was built. A highlight of a visit to the religious attraction is the monk debates, all of which take place at 3:30 p.m. daily, except on Sunday.

Drepung Monastery

Drepung Monastery is the largest monastery in Tibet. About 10,000 eat at the monastery each day, which also makes the monastery's kitchen larger than any other monastery's kitchen in Tibet. Sitting at the foot of Mt. Gephel, Drepung is one of the major 3 Gelug sect university "gompas" (monasteries) of Tibet. The other two monasteries are Sera Monastery and Ganden Monastery.

Best Time To Visit

Visit from May to October - the most favorable time, given the oxygen content and weather.

You Should Know

Each year, the Shoton Festival is held in the first part of August at Drepung, a time when monks meet with their families and go to the mountains to contemplate.

Barkhor Street

Barkhor Street is an important street in Lhasa. While it is not wide, it accommodates thousands of visitors. You can see floating stands on corners, with most displaying and selling prayer wheels, the chuba, or long-sleeved clothing of Tibetans, and religious items. Some of the shops on the street sell Thangka or Tibetan scroll paintings.

Best Time To Visit

Visit Lhasa and Barkhor Street from May to October.

You Should Know

You should always walk in a clockwise direction on Barkhor Street. Also, don't stay past dark on the street, as it features many lanes, which can be confusing. When bartering with vendors, remember that some vendors sell the same thing for varying prices. Usually, a vendor will give the best price to the first buyer or last buyer of the day.

Jokhang Temple

Jokhang Temple stands in the middle of Lhasa, in the town square. One of two featured stelas at the temple record the alliance of the emperor of Tang and the King of Tibet. The other stela portrays teaching the local people in the prevention and treatment of smallpox. Smallpox was once an incurable disease in Tibet

Best Time To Visit

Visit Jokhang Temple in the high season of May to October.

You Should Know

The Jokhang Temple inspired people to worship Buddha, which became an inseparable part of the history of Tibetan culture and history. The city of Ra-Sa expanded around the temple, ultimately being known as Lhasa - a holy and sacred area. When you stand in the city square, you can see the whole temple complex. Rows of flicking votive lights, in the east section, provide a pathway to the temple's main entry.

Potala Palace

The palace is the highest ancient palace in all the world. Potala comes from a Sanskrit word which means "Abode of the Buddha of Mercy. According to legend, the palace was built by the Tibetan king, Songsten Gampo, to greet his new bride, Princess Wen Cheng of the Tang Dynasty (618 -907).

Best Time To Visit

Visit the Potala Palace anywhere between May and October.

You Should Know

While at the palace, it is important to observe Tibetan rules. For example, do not take any photos of the inside of the palace. Also, do not wear a hat or sunglasses inside the building. Don't smoke or drink any kind of beverage inside the palace either. Also, you cannot step on the doorsill when entering the structure.

Lhasa Carpet Factory

Hundreds of expert weavers, inside the Lhasa Carpet Factory, use old-styled vertical looms to weave Tibetan carpets. All of the carpets in the facility are hand-crafted in various styles, sizes, and patterns. While some carpets are intricate or ornate, other rugs are vibrant and colorful. Carpets can be used on the floor or hung on the wall as a tapestry.

Best Time To Visit

Visit the Lhasa Carpet Factory from the late spring (May) to the middle part of autumn (October).

You Should Know

Tibetan carpets are made into one of three kinds of main carpets Common carpet is made of wool and yak hair. Delicate patterns are weaved in the smooth, soft, and light carpet. Thin carpet is weaved from soft sheep hair. This type of carpet always shows off simple weaved patterns and designs. A rug is a large carpet that is favored by Tibetans for daily use, and is weaved using wool yarns in various colors.

Yamdrok Yumtso Lake

Yamdrok Yumtso Lake lies in the Shannan Region of Tibet. It is distinguished as being one of Tibet's three holy lakes, and the largest freshwater lake at the south foot of the Himalayan Mountain range. The deep lake covers an area of about 246 miles and is about 81 miles long and 43 miles wide.

Best Time To Visit

See the Yamdrok Yumtso Lake from May to October.

You Should Know

Some people refer to Yamdrok Yumtso Lake as Coral Lake or Green Jade Lake. The "Coral" name comes from the lake's shape, which resembles coral. Short streams wind into adjacent hillsides next to the body of water. The "Jade" reference is attributed to the lake's clean water, which is smooth as jade.
Tibet Tour Packages
If you opt for one of the featured Tibet tours online, you should plan your trip from May to October. You will not be able to make any Tibet tour plans in January and February, as Tibet is closed to tourists for New Year during these two months.
If you go during the high season, from May to October, the high altitude is more oxygen-rich and the temperatures are milder. However, you still will need to bring layers of clothing, plus a sweater, in the summertime, as temperatures take a significant drop during the nighttime hours.
If you plan to visit Mt. Everest or climb the mountain, the best time to plan a trip is during April or May, or up to the middle part of June. During these months, the summit of the mountain can be clearly seen. If you are a mountain climber, the climbing window falls between April and May if your goal is to climb to the top.
Tibet Tours Frequently Asked Questions
What Are Tibet Tours?

Tibet tours represent travel packages that usually last about 4 days (to visit Lhasa, the capital) or 8 days (when visiting Mt. Everest). You don't have the same flexibility with the length of stay as with other tours, as you need to get a Tibet travel permit. Most of the tours cover visits to monasteries, natural attractions (including lakes and hiking trails), and interesting diversions, such as a carpet weaving facility.

What Is Included in a Tibet Tour?

Tours to Tibet include an English-speaking Tibet tour guide, the cost of admissions to attractions, the price of some meals, hotel accommodations, and airport and hotel transfers. Usually, you have to pay for your airfare separately.

What Is the Best Tibet Tour?

The best tour to Tibet is a trip that meets your travel expectations and budget. It should also include any permits or paperwork you have to get to travel to the region. To ensure you get the best Tibet tour package for you, consult with an experienced travel representative - someone who is well-versed in Tibet travel planning and scheduling.

What Is the Cost of a Tibet Tour?

Because it is much better to travel during Tibet's high season, you will have to pay more for your Tibet tour. For a tour that lasts four days in Lhasa and the nearby area, expect to pay about $440 per person and around $950 per person for an 8-day tour that includes the Mount Everest Base camp.
Reviews for Tibet Tours and Vacations
Riley has been our travel agent for over six years. He is very professional, helpful, knowledgeable and has been the main reason why we continue to use affordable tours,
Mookash S
Having seen some remote areas of China and mingled with people who hosted us with home made foods was really and experience I just felt bad that we had a rainy windy weather when we were at the Great Wall Planting those trees at the foot of the wall was truly and experience the weather just dint cooperate our group bonded well like a family and Sam our tour director is one of the best I ever had
Lagrimas S
One of the best tours we ever took. Our guide Sam was excellent; everything ran smoothly and was above our expectations. The city guides were very knowledgeable. Would highly recommend.
Mary O
Departure
Lengths
Styles
Specialities
Price
How It Works
Vacationing has never been easier or cheaper with the help of a dedicated travel consultant from AffordableTours.com
1. Free Quote
Find your perfect trip on our website and simply request a free quote. Need to speak to a live person? Call us 7 days a week at 1-800-935-2620. No robots here!
2. Dedicated Travel Consultant
Your personal travel consultant will reach out and be your point of contact for your entire travel experience from start to finish. Did we mention you'll be working with an award winning team? Sweet!
3. Lowest Price Guaranteed
Because we're one of the largest sellers of travel, we're able to give you a discount on your vacation package. No one beats our prices!
4. Stress Free Travel
Knowing you got the best deal, all that's left is for you to pack your bags and enjoy your vacation!