Belize Small Ship Tours 2024/2025
Save up to 40% on Belize Small Ship Tours 2024/2025
Belize Travel Guide
Belize's natural beauty makes it a popular travel destination in Central America. From the ancient Mayan heritage to the Caribbean atmosphere, you'll get a blend of cultures during your time in the country. Experience the laid-back island lifestyle or explore the countless archaeological ruins. You've never experienced hospitality like Belize. The friendly locals are more than welcoming to visitors. With tour experts in every travel destination, Belize Tours provides the best experiences for exploring the "Jewel In The Heart Of The Caribbean Basin." With tour operator volume buys plus our low everyday prices you can save up to 40% versus assembling the same itinerary on your own! Book your Belize tour today with AffordableTours.com, your discounted tour headquarters. View Belize Tour Deals and Discounts
Belize Travel Guide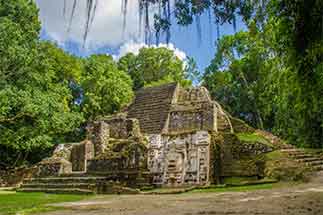 Showing 1 - 20 Tours
Sorry, we were unable to find a tour for you.
If you've not chosen a criteria, then please do so; otherwise you need to broaden your search criteria to find matches.
Belize Travel Guide
Belize Tours Highlights
Go scuba diving to discover the vast, beautiful underwater scenery of the Belize Barrier Reef.
Adventure through the Actun Tunichil Muknal Caves to find The Crystal Maiden.
Climb to the top of El Castillo at Xunantunich for panoramic views and Guatemala in the distance.
Paddle inside the Barton Creek Cave to explore the Mayan archaeological site.
Hike through the rainforest before reaching the natural pool for a refreshing swim in St. Herman's Blue Hole National Park.
Visit Crooked Tree during the migratory months for one of the best birdwatching spots.
Snorkel at the Hol Chan Marine Reserve to swim alongside sharks and stingrays.
Explore the lush forests of the Mountain Pine Ridge to see Baird's Tapirs, Belize's national animal.
Take a bike tour around Caye Caulker to experience the laid-back island lifestyle.
Belize Tours Travel Tips
Belize is the only native English-speaking Latin country, so you can easily get around with the language during your trip.
The main airport hub is in Belize City. There are several ways of getting around the country to popular destinations, including small local planes to the islands, ferries, or buses – ferries and buses are the preferred local method and much cheaper option.
Many of the small islands like Caye Caulker predominantly use golf carts instead of cars to get around.
The official currency in Belize is the Belize dollar, although many people will also accept US dollars. Most of the street or local establishments will prefer cash payment.
Use caution when traveling outside of the resort areas in Belize due to crime. Be mindful when carrying valuable like cameras and try to avoid any flashy jewelry or clothing.
If shopping for souvenirs on the streets, feel free to haggle to avoid being stuck with high tourist prices.
Belize Tours Things To Do
Go scuba diving to discover the vast, beautiful underwater scenery of the Belize Barrier Reef

The Belize Barrier Reef is part of the larger Mesoamerican Barrier Reef System, the second-largest in the world. The extensive reef stretches from Mexico to Honduras, with the Belize Barrier Reef section more than 300-kilometers long. Snorkeling and scuba diving are must-do activities at the reef to immerse in the colorful reefs and abundant marine life. It contains approximately 500 fish species and more than 100 coral species. Belize Barrier Reef is designated as a UNESCO World Heritage Site to preserving the reef ecosystem.

You Should Know

You have to take a boat out to the reef before diving since it's located offshore. There are multi-day tour excursions, including multiple diving sites, to get a broad range view of the reef system.

Climb to the top of El Castillo at Xunantunich for panoramic views and Guatemala in the distance

Xunantunich is famous for the El Castillo pyramid, the second tallest pyramid in Belize. It's located in Mayan ruins and archaeological site approximately one square mile in size. The site dates back to AD 600 when it was used as a ceremonial site. Now, it's one of the top tourist attractions in Belize to explore. Xunantunich holds over 26 structures ranging from palaces to temples. The El Castillo pyramid is the centerpiece, rising more than 130-feet high and decorated with detailed carvings on the wall. Visitors can climb to the top of the pyramid for panoramic views of the ruins, rainforests, and nearby Guatemala.

You Should Know

Xunantunich is accessible only by crossing the Mopan River on a ferry operated by a hand crank. After crossing the river, you'll make a short hike through the rainforest before reaching the ruins.

Visit Crooked Tree during the migratory months for one of the best birdwatching spots

Crooked Tree is a famous wildlife sanctuary in Belize. It was established in 1998 to protect the environment for migratory birds. It's home to hundreds of animal species and birds, and an excellent place for animal sightseeing. Crooked Tree consists of over 16,400 acres of wetlands, including lagoons, swamps, and creeks. The most common bird in the region is the Jabiru storks, hosting the largest population in Central America. It also has populations of endangered species of turtles, monkeys, and parrots. It's a popular destination for bird watching, boat tours through the wetlands, and visiting the onsite museum to learn more about the wildlife.

Best Time To Visit

The best time to tour Crooked Tree is during the dry season when birds migrate. November is a very common time of year to see lots of storks, as is April to May.

Adventure through the Actun Tunichil Muknal Caves to find The Crystal Maiden

It will be a day's adventure to explore the Actun Tunichil Muknal, or ATM cave, but it's well worth it to discover the wonders kept inside. ATM is a former Mayan site and considered one of the most sacred caves in the world. It's shaped to include altars and other rooms showcasing artifacts. Actun Tunichil Muknal is famous for The Crystal Maiden, a crystallized skeleton of a young girl used for sacrifice. The cave also includes several other skeletons, ceremonial ceramics, and Mayan pottery.

You Should Know

Tours of the caves are reserved for a few licensed operators. Swimming is required to enter and navigate the caves. The caves are delicate - follow instructions from the guides on navigating the narrow caverns and what's permitted along the tour inside.

See the Barton Creek Cave to explore the Mayan archaeological site

Barton Creek Cave is one of the popular cave attractions near San Ignacio. It's a natural cave formation used as a Mayan ceremonial site. The archaeological site holds a lot of preserved artifacts to learn more about Mayan history. Barton Creek Cave is a stream cave – visitors take a canoe ride through the dark caverns. It holds Mayan artifacts situated on ledges inside of the cave, and even human remains from rituals.

You Should Know

Take a guided tour of Barton Creek Cave for the best experience. Expert guides provide details about the cave's history and use in the Mayan civilization. The guides also assist with paddling through the cave.

Explore the lush forests of the Mountain Pine Ridge to see the Baird's Tapirs, Belize's national animal

Mountain Pine Ridge is a forest nature reserve to preserve the native Belizean pine forests. Established in 1944, it predominantly includes thick pine forests, along with other natural landscapes. There is a lot to see and do in Mountain Pine Ridge, in which you can use a guide or self-exploration. It's home to several animal species, including jaguars, cougars, ocelots, and Baird's Tapirs, the national animal. Some of the points of interest are Big Rock Waterfalls, Slate Creek Canyon, 1000 Foot Falls, and Rio pools.

You Should Know

Mountain Pine Ridge is the perfect place for outdoor recreation in Belize. Visitors can enjoy activities such as hiking, sightseeing, and bird watching. It has lots of waterfalls, creeks, caves, and Mayan archaeological sites to explore.

Take a bike tour around Caye Caulker to experience the laid-back island lifestyle

Caye Caulker is a remote island off the coast of mainland Belize. It's one of the favorite day trip destinations from Belize City to see a local island full of charm. Take a ferry ride to the island and rent a bike for the best way to see the island's beauty. You won't see many cars on the streets of Caye Caulker as golf carts or biking is the preferred way to get around. To the north are forests for natural scenery or explore the southern villages. You'll ride past the colorful towns full of boutique hotels and roadside eateries.

You Should Know

You'll find lots of tours around Caye Caulker in addition to the bike tours. You can take a guided tour to learn about some of the interesting sites on the island or hire a bike on your own to experience the laid-back island lifestyle.

Snorkel at the Hol Chan Marine Reserve to swim alongside sharks and stingrays

The Hol Chan Marine Reserve is one of the favorite diving and snorkeling sites in Belize, located off the coast of Caye Caulker. It was established in 1987 to protect and preserve the marine area. Hol Chan Marine Reserve receives tens of thousands of visitors to explore the rich, vibrant underwater world of the reserve. Jump in the calm, clear blue waters to swim with various sea creatures, such as sea turtles, dolphins, sharks, manatees, and stingrays.

You Should Know

The Hol Chan Marine Reserve is divided into designated zones based on the environment – coral reefs, seagrass beds, mangrove swamps. Each section has different permissions for snorkeling, diving, fishing, etc.
Belize Tour Packages
The best time to visit Belize is from November to April during Belize's dry season. Belize has warm weather all year long, but most people prefer traveling outside of the rainy season to enjoy more outdoor activities. The rainy season in Belize lasts from June to December due to the regional monsoons.
Dry Season – February to May – Best Season

Most people plan their vacation to Belize around the dry season since it's the best time to enjoy the great weather and outdoors. It has a mild tropical climate during the dry season months, and the frequent cool breeze always feels amazing.

Rainy Season – June to December - Low Season

The rainy season is the off-season for traveling to Belize. The rainy season months experience significantly heavier rainfall and humidity, especially in the rainforest region. The peak of rain lasts from June to August. It could be a good time to travel if you don't mind daily rain showers because you'll avoid large tourist crowds and find great deals on accommodations or tours. Be sure to stay alert for warnings of hurricanes.
Belize Tours Frequently Asked Questions
What are Belize Tours?

Belize Tours provide guided travel experiences to the top tourist destinations in the country. Travel with the best tour operators for a personalized experience designed to give you the most value during your time there. Whether traveling for one week or planning multiple countries in the region, Belize Tours delivers on an incredible travel experience!

Where do Belize Tours go?

Belize Tours gives visitors a chance to explore more of Belize than any other tours. You'll get to experience the natural beauty, the ancient archaeological sites, and more during your trip. Tours explore areas including Belize City, San Ignacio, Crooked Tree, Caye Caulker, and more. You'll see all the best of what Belize has to offer!

What's included in a Belize Tour?

Belize Tours are all-inclusive of the travel experiences to give you more time to enjoy the trip – we'll handle all logistics. Booking a Belize Tour includes a full itinerary with the entire trip planned out, from arrival to departure. You'll have designated guides in each location, accommodations, restaurant options, and even free days to explore as you wish. With Belize Tours, you can sit back, relax, and enjoy the journey!

Are Belize Tours expensive?

Belize is a budget-friendly country, and the available tours reflect that in the price. You'll find incredible deals on booking tours in Belize. We bulk purchase tours to give massive savings on multi-city and activities in Belize compared to competitors. You can find an immersive tour experience in Belize for less than $1000, with additional discounts available on different packages.
Reviews for Belize Tours and Vacations
Was a good budget trip.
Brenda M
Affordable tours your staff is great and very professional. It is very unfortunate that you offer services with Intrepid,they are a step above a hostel. Spending a night in a tent in Tikal, in scorching heat after of a tour in extremely hot and humid conditions is basically asking for heat stroke. Also I wasn't aware of hidden fees from the Intrepid guide for advance transportation and tipping drivers. In addition we were told we had to pay extra for any excursion since we had such of small group of only four persons. This would have been nice to know ahead of time. The Guide was nothing more than a person who took us from one destination to the other. In addition she was not prepared for a road block done by local protesters in Guatemala. This forced us to walk across the protesters lines in hope we would be pick up by another contact. Instead we were fortunate to hitchhike a ride by a good samaritan in the back of his truck.
Jesus V
Good value, definitely a budget tour, but I knew that going in. G Adventures keeps prices low by offering optional activities at additional cost. I see advantages and disadvantages to this--because if you don't want to do the optional activities, then at times there was not much else available to do. This was OK with me on this trip because I really enjoyed just kicking back and relaxing, but it wouldn't always work well for me.
Marian R
Departure
Lengths
Styles
Specialities
Price
How It Works
Vacationing has never been easier or cheaper with the help of a dedicated travel consultant from AffordableTours.com
1. Free Quote
Find your perfect trip on our website and simply request a free quote. Need to speak to a live person? Call us 7 days a week at 1-800-935-2620. No robots here!
2. Dedicated Travel Consultant
Your personal travel consultant will reach out and be your point of contact for your entire travel experience from start to finish. Did we mention you'll be working with an award winning team? Sweet!
3. Lowest Price Guaranteed
Because we're one of the largest sellers of travel, we're able to give you a discount on your vacation package. No one beats our prices!
4. Stress Free Travel
Knowing you got the best deal, all that's left is for you to pack your bags and enjoy your vacation!