Ecuador Tour and Cruise 2024/2025
Save up to 40% on Ecuador Tour and Cruise 2024/2025
Ecuador Travel Guide
Ecuador is a beautiful country filled with incredible landscapes, beautiful towns, and stunning beaches. The diverse culture and heritage should be explored by visitors. If you're going on an Ecuador tour, you're sure to have a fantastic time with your tour director, exploring the jungles, islands, and more in this country. With tour operator volume buys plus our low everyday prices you can save up to 40% versus assembling the same itinerary on your own! Book your Ecuador tour today with AffordableTours.com, your discounted tour headquarters. View Ecuador Tour Deals and Discounts
Ecuador Travel Guide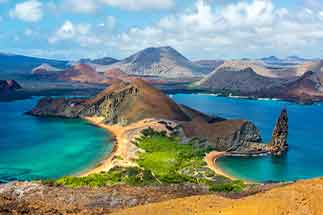 Showing 1 - 20 Tours
Tour Itinerary
Days
Operator
Quality
Style
Starts
Ends
Price

Independent Galapagos cruise aboard the Galápagos Legend with Peru 2024

13

Days

Globus

First Class

Tour & Cruise
8+ years old
Quito
Lima
Ecuador, Galapagos, Peru
$5,999View Tour

Best Price Guaranteed

Book With Flexibility

Peru Splendors with Galápagos Cruise 2024 - Small Group

10 reviews
13

Days

Globus

First Class

Tour & Cruise
2 - Classic

20
Lima
Guayaquil
Ecuador, Galapagos, Peru
$6,702View Tour

Best Price Guaranteed

Book With Flexibility

Spirit of South America with Amazon & Galápagos Cruise 2024 - Small Group

26

Days

Globus

First Class

Tour & Cruise
2 - Classic

20
Manaus
Guayaquil
Argentina, Brazil, Ecuador, Galapagos, Peru
$12,562View Tour

Best Price Guaranteed

Book With Flexibility

Peru Splendors with Peru's Amazon & Galápagos Cruise 2024 - Small Group

8 reviews
17

Days

Globus

First Class

Tour & Cruise
2 - Classic

20
Lima
Guayaquil
Ecuador, Galapagos, Peru
$7,890View Tour

Best Price Guaranteed

Book With Flexibility

Spirit of South America with Amazon & Galápagos Cruise 2025

26

Days

Globus

First Class

Tour & Cruise
Manaus
Guayaquil
Argentina, Brazil, Ecuador, Galapagos, Peru
$13,343View Tour

Best Price Guaranteed

Book With Flexibility

From the Inca Empire to the Peruvian Amazon with Galápagos Cruise 2025

18

Days

Globus

First Class

Tour & Cruise
Lima
Quito
Ecuador, Galapagos, Peru
$12,440View Tour

Best Price Guaranteed

Book With Flexibility

Independent Galapagos cruise aboard the Galápagos Legend 2024

07

Days

Globus

First Class

Tour & Cruise
8+ years old
Quito
Guayaquil
Ecuador, Galapagos
$4,459View Tour

Best Price Guaranteed

Book With Flexibility

Independent Galapagos cruise aboard the Galápagos Legend with Peru 2025

13

Days

Globus

First Class

Tour & Cruise
8+ years old
Quito
Lima
Ecuador, Galapagos, Peru
$6,379View Tour

Best Price Guaranteed

Book With Flexibility

Independent Galapagos cruise aboard the Galápagos Legend 2025

07

Days

Globus

First Class

Tour & Cruise
8+ years old
Quito
Guayaquil
Ecuador, Galapagos
$4,719View Tour

Best Price Guaranteed

Book With Flexibility

Independent Galapagos cruise aboard the Galápagos Legend with Ecuador's Amazon & Peru 2025

17

Days

Globus

First Class

Tour & Cruise
8+ years old
Quito
Lima
Ecuador, Galapagos, Peru
$8,709View Tour

Best Price Guaranteed

Book With Flexibility

Legacy of the Incas with Galápagos Cruise 2024 - Small Group

19

Days

Globus

First Class

Tour & Cruise
2 - Classic

20
Lima
Guayaquil
Ecuador, Galapagos, Peru
$10,298View Tour

Best Price Guaranteed

Book With Flexibility

Peru Splendors with Galápagos Cruise 2025

10 reviews
13

Days

Globus

First Class

Tour & Cruise
Lima
Guayaquil
Ecuador, Peru
$7,099View Tour

Best Price Guaranteed

Book With Flexibility

Legacy of the Incas with Peru's Amazon & Galápagos Cruise 2024 - Small Group

1 reviews
23

Days

Globus

First Class

Tour & Cruise
2 - Classic

20
Lima
Guayaquil
Ecuador, Galapagos, Peru
$11,466View Tour

Best Price Guaranteed

Book With Flexibility

Spirit of South America with Galápagos Cruise 2024 - Small Group

22

Days

Globus

First Class

Tour & Cruise
2 - Classic

20
Rio de Janeiro
Guayaquil
Argentina, Brazil, Ecuador, Galapagos, Peru
$10,931View Tour

Best Price Guaranteed

Book With Flexibility

Ecuador & Its Galápagos Islands 2025

14 reviews
08

Days

Globus

First Class

Tour & Cruise
Quito
Quito
Ecuador, Galapagos
$6,656View Tour

Best Price Guaranteed

Book With Flexibility

Peru Splendors with Peru's Amazon & Galápagos Cruise 2025

8 reviews
17

Days

Globus

First Class

Tour & Cruise
Lima
Guayaquil
Ecuador, Peru
$8,359View Tour

Best Price Guaranteed

Book With Flexibility

Legacy of the Incas with Galápagos Cruise 2025

19

Days

Globus

First Class

Tour & Cruise
Lima
Guayaquil
Ecuador, Peru
$10,897View Tour

Best Price Guaranteed

Book With Flexibility

Independent Galapagos cruise aboard the Galápagos Legend with Ecuador's Amazon 2025

11

Days

Globus

First Class

Tour & Cruise
8+ years old
Quito
Guayaquil
Ecuador, Galapagos
$7,049View Tour

Best Price Guaranteed

Book With Flexibility

Spirit of South America with Galápagos Cruise 2025

22

Days

Globus

First Class

Tour & Cruise
Rio de Janeiro
Guayaquil
Argentina, Brazil, Ecuador, Peru
$11,599View Tour

Best Price Guaranteed

Book With Flexibility

Ecuador & Its Galápagos Islands with the Amazon 2025

2 reviews
12

Days

Globus

First Class

Tour & Cruise
Quito
Quito
Ecuador, Galapagos
$9,116View Tour

Best Price Guaranteed

Book With Flexibility
Ecuador Travel Guide
Ecuador Tours Highlights
Hike the beautiful Quilotoa Loop.
Walk around Cuenca.
Ride a train through the Andes Mountains.
Get up close with animals at the Galapagos Islands.
Explore the Inca Trail.
See the iconic Pailon del Diablo Waterfall.
Go on a boat ride through the Amazon Jungle.
Relax and grab a drink in Canoa.
Explore Quito, now a UNESCO World Heritage Site.
Climb to the top of the Basilica del Voto Nacional.
Visit the Papallacta thermal baths.
Zipline through the Cloud Forest.
Ecuador Tours Travel Tips
Most places in Ecuador completely close by 10 pm at the latest. If you need any water or groceries, then be sure to buy them earlier in the day, or you'll have to wait until the next day.
Keep in mind that much of Ecuador is at a high altitude. Many visitors to the country don't account for the altitude change, which can, unfortunately, lead to altitude change. Be sure to drink lots of water and take it easy your first few days to avoid altitude sickness.
It's customary in Ecuador to say buen provecho at the beginning of every meal, whether you're eating out or eating in. This means "good meal," and it should be said once the food arrives at the table.
Take the time to try chocolate while you're here because many locals even consider it its own food group! Make sure to try from one of the local brands, which you can easily purchase from convenience stores.
Ecuador uses American money as its currency, so you won't have to exchange your money when visiting if you're from the U.S.
Ecuador Tours Things To Do
Hike the Quilotoa Loop

The Quilotoa Loop is a gorgeous hike that is best done over a few days in the Andes Mountains of Ecuador. This is popularly done by many backpackers visiting the country because there are spots to sleep outside along the trail for those willing to. This hike starts at the gorgeous Quilotoa Lake, which is a crater lake with breathtaking views. If you don't want to do this hike alone, consider doing it with a local guide or a tour group.

You Should Know

If you plan on doing this hike, make sure that you've taken the time to get used to the high altitude here. Don't have time to do the whole hike? No need to worry; just hike a small portion of it.

Walk around Cuenca

Cuenca is a must-visit city in the southern part of Ecuador in the Andes Mountains. This mountain city is most well-known for its craft scene, specifically with its Panama hats (which, yes, are created in Ecuador and not Panama). Some of the best spots to explore in Cuenca are the Parque Nacional Cajas, the Cathedral of the Immaculate Conception, and the Museo Pumapungo. Take the time to explore and walk around this city, and don't be scared to adventure through it without a set plan. That's one of the best ways to explore this city!

You Should Know

If you plan on visiting some of the museums, book your tickets ahead of time to save time and money.

Get up close with animals at the Galapagos Islands

The Galapagos Islands are one of the most popular destinations in all of Ecuador for a good reason. These islands are located on a volcanic archipelago and are home to many fantastic wildlife animals, including the iconic turtles. The islands are most famous for being the very spot that Charles Darwin visited way back in the 19th century. It's said to be the same spot that later inspired Darwin's theory of evolution, which is studied in science classes worldwide.

You Should Know

There are two ways to get to the Galapagos Islands. You can fly to Baltra Island and then take a ferry to Puerto Ayora as one option. If you don't want to do that, you can also fly right into San Cristobal Island's Puerto Baquerizo Moreno.

Explore the Inca Trail

The Inca Trail goes all the way up to the famous Machu Picchu. It takes about four to five days on average to hike along the Inca Trail, though you can also explore some of it in just one day if you want to experience it a little. Parts of the Inca Trail are dangerous, but the same can be said of any other hike in the world because there is always a risk. The Inca Trail is best explored with a tour guide, so you're already in luck if you're exploring the country on an Ecuador tour.

You Should Know

For the most part, a hike along the Inca Trail (if you plan on hiking the whole thing) costs typically around $500 per person. Of course, this can be done cheaper with specific guides and can also cost more.

Ride a train through the Andes Mountains

The Andes Mountains are an iconic mountain range on the western side of South America. It's notably one of the longest mountain ranges globally and is known for holding unique archaeological sites worth exploring. One of the best ways to explore some of the Andes Mountains is by hopping on a train ride. Many different companies offer train rides through the mountains, so make sure you do your research to find a train car that you'll be comfortable in.

You Should Know

Book your tickets through a train ride through the Andes Mountains well in advance because this is one of Ecuador's most popular excursions.

Go on a boat ride through the Amazon Jungle

The Amazon Jungle (also known as the Amazon Rainforest) is the most significant tropical rainforest in the entire country. It covers many countries in South America, including Ecuador, Colombia, Brazil, and Peru, among others. The forest is most well-known for its unique biodiversity and wildlife that are worth exploring. The easiest way for a visitor to learn more about the jungle is to go on a boat ride along the many rivers with guides.

You Should Know

Make sure you dress appropriately to explore the Amazon Jungle and dress in layers. The bugs here can be particularly nasty as well, so pack your bug spray.

See the Pailon del Diablo Waterfall

The Pailon del Diablo Waterfall, also known in English as the Devil's Cauldron, is a gorgeous waterfall alongside a cliff in Ecuador's Rio Verde. There's a short hike to get up to the waterfall, but the views are ultimately rewarding. In total, the trail approximately takes 30 minutes, depending on how fast or slow you walk. This is an easy to moderate trail to walk, so even if you aren't a strong hiker, you'll be able to explore this trail and visit Devil's Cauldron.

You Should Know

This is not a waterfall to visit if you are scared of heights. The trek along the cliff is extremely high up.

Explore Quito

Quito is the capital of Ecuador and is right at the foothills of the Andes Mountains. It's filled with great things to see and explore and is even built right into an old Incan city, making it significantly historical. Some of the best spots to explore in Quito include the Basilica of the National Vow, Independence Square, and the Middle of the World. One of the best ways to explore Quito is with a tour guide, especially a local guide so that you can get immersed in the local culture.

Best Time To Visit

Because Quito is the capital, it's known for being busy at almost all times. Visit the sites you're most interested in seeing early in the morning to avoid the crowds that you'll see later in the day.

Zipline through the Cloud Forest

The Cloud Forest in Ecuador is a gorgeous forest located not that far from Quito. It's filled with breathtaking views and scenery that can be seen through hikes, walks, and more. However, one of the best ways to adventure through the Cloud Forest is by zipline! Keep in mind that ziplining always has its risks, and you might have to meet prequalifications to go ziplining. However, there's truly no better way to see the forest than from above!

You Should Know

If you plan on ziplining, you'll want to book your adventure ahead of time and plan to rent a car or take a taxi to get to the Cloud Forest because it isn't easily accessible by public transportation.
Ecuador Tour Packages
Ecuador is a great place to visit no matter the time of year, but keep in mind that it does have its dry seasons. Be sure to plan your trip to Ecuador ahead of time and pick the time of year that you are most interested in visiting.
Spring and Fall - September to November and March to May - Shoulder Season

The shoulder seasons in Ecuador are the fall and spring seasons. The average temperature in the spring is approximately 67°F, while the fall sees average temperatures of about the same. Crowds during this time won't be as bad as they are during the winter.

Summer - December to February - Low Season

This is the wettest time of year, meaning that this time of year sees a lot of precipitation in Ecuador. The average temperature in the summer is around 69°F each day. Because not many people visit during this time, you'll be able to find accommodation prices pretty cheaply.

Winter - June to August - High Season

The most popular time to visit Ecuador is during the winter because this is the driest time of year, making it arguably the best time to visit. During this time, the average temperature is 66°F, and accommodation prices might be at their highest during this time.
Ecuador Tours Frequently Asked Questions
What are Ecuador Tours?

If you're the type of traveler who loves exploring places but hates taking the time to do the nit-picky parts of travel like making an itinerary, then Ecuador tours are perfect for you. You'll also have a guide with you at all times of your adventure and a tour group who will be with you experiencing Ecuador for the first time too. All you have to do is pack your bag and get ready to go on an adventure!

What's included on an Ecuador Tour?

Ecuador tours include access to a tour director who will be with you throughout your entire trip to the country. Your tour director may also enlist the help of other local tour guides throughout your trip so that you can have a more knowledgeable guide on less-visited areas of the country. A majority of your meals, accommodations, and transportation from place to place will also be included on your Ecuador tour. There will be days where you'll mostly be with your group in the morning, and then you'll be set to free in the afternoon to explore on your own.

What's the best Ecuador Tour?

No Ecuador tour is better than another because they're all so fantastic. You'll genuinely have to do your research to find the one that fits your needs the best. Take the time to find the tour that is best for your budget, your vacation length, and consider the stops that you'd love for your tour to include. If you find that you're struggling to find the tour that's best for you, don't hesitate to give our tour experts a call.

How much do Ecuador Tours cost?

Ecuador costs vary drastically in price because each one has different lengths and stops. Some cost as little as $80 a day while others cost upwards of $150 a day. Luckily, you can save up to 40% off Ecuador tours by booking through Affordable Tours versus booking the same tour through another website. We often have other fun promotions running with our tours, so keep an eye out to see what kind of deal you can get on your Ecuador tour!
Reviews for Ecuador Tours and Vacations
Amazing experience, good food & very nice accommodations. Tour manager was excellent, accommodating, flexible Driver helpful, courteous & very good overall.
Consuelo D
Excellent trip! Great deal. We loved the itinerary for this short trip.
Kristi B
Excellent trip! Great deal. We loved the itinerary for this short trip.
Kristi B
Departure
Lengths
Styles
Specialities
Price
How It Works
Vacationing has never been easier or cheaper with the help of a dedicated travel consultant from AffordableTours.com
1. Free Quote
Find your perfect trip on our website and simply request a free quote. Need to speak to a live person? Call us 7 days a week at 1-800-935-2620. No robots here!
2. Dedicated Travel Consultant
Your personal travel consultant will reach out and be your point of contact for your entire travel experience from start to finish. Did we mention you'll be working with an award winning team? Sweet!
3. Lowest Price Guaranteed
Because we're one of the largest sellers of travel, we're able to give you a discount on your vacation package. No one beats our prices!
4. Stress Free Travel
Knowing you got the best deal, all that's left is for you to pack your bags and enjoy your vacation!