If you want to experience a true paradise on earth, look no further than Fiji! This country, located in the South Pacific, comprises more than 300 islands that are just waiting to be explored by travelers like you. Be sure to go on a Fiji tour to get the best experience possible in Fiji! With tour operator volume buys plus our low everyday prices you can save up to 40% versus assembling the same itinerary on your own! Book your Fiji tour today with AffordableTours.com, your discounted tour headquarters. View Fiji Tour Deals and Discounts
Fiji Travel Guide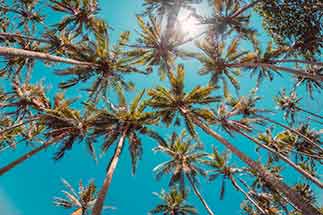 Showing 1 - 20 Tours
Sorry, we were unable to find a tour for you.
If you've not chosen a criteria, then please do so; otherwise you need to broaden your search criteria to find matches.
Fiji Travel Guide
Fiji Tours Highlights
Go surfing at Tavarua Island.
Visit the volcanic island of Malolo.
Have fun at the Kula WILD Adventure Park.
Snorkel and scuba dive at the Mamanuca Islands.
See the Sri Siva Subramaniya Swami Temple.
Walk through the trails at the Garden of the Sleeping Giant.
Go on a cruise around the islands in Fiji.
Walk around Port Denarau.
Explore the Fiji Museum.
Check out the gorgeous Thurston Gardens.
See the waterfalls at Colo-I-Suva Forest Park.
Visit Beachcomber Island.
Fiji Tours Travel Tips
Try to see a rugby game if you can or visit a restaurant and watch a rugby game with the locals. It's the biggest sport in the whole country!
The people in Fiji tend just to live life a little slower. So, don't be in such a rush while you're in Fiji and try to live like a local! It's okay not to stick hardcore to a specific itinerary.
A lot of places are closed in Fiji on Sundays because everyone is at church. Plan your trip wisely and have alternate plans (maybe outdoor activities?) during your time in Fiji.
Learn to say Bula whenever you meet new people or want to welcome people. The locals love greeting new people with this term!
Winter is almost nonexistent in Fiji because the weather is fantastic year-round. So, there's never a wrong time to visit the country.
Fiji Tours Things To Do
Walk through the Garden of the Sleeping Giant

The Garden of the Sleeping Giant is filled with around 2,000 different types of plants and flowers, most of which are native. It's a gorgeous botanical garden filled with pathways throughout so that visitors can easily explore the area. The garden is pretty big, so plan on spending at least a few hours exploring the garden. You could genuinely spend the whole day here if you wanted to just because it's so peaceful and breathtaking. The gardens are located right near the spectacular Nausori Highlands.

Best Time To Visit

To miss the crowds, be sure to visit right when the garden opens early in the morning. It's worth it!

Walk around Port Denarau

Port Denarau is the marina area in Fiji on Denarau Island. This area is filled with great shops and restaurants that are fun to explore. You might even find a souvenir or two while exploring this area! Be sure also to take the time to walk over to the port's coastal part for breathtaking views. There is a white sand beach here, so feel free to dip your toes or just relax along the sand. This place is known for being quite busy at all times of the day!

You Should Know

Make sure to wear strong walking shoes in this area because it's best explored on foot.

Check out Thurston Gardens

The Thurston Gardens are another botanical garden that is worth exploring in Fiji. This one is located in Suva and is located near Albert Park and the ocean, so the area's views are breathtaking. The gardens were officially established in the 19th century by Colonial Secretary Sir John Bates Thurston, who the gardens were later named after. Unlike the Garden of the Sleeping Giant, this set of gardens doesn't have laid-out walking trails. So, you can walk around and explore on your own!

Best Time To Visit

The gardens can get pretty busy, but there isn't a wrong time to visit. Visit during any time of day!

Go surfing at Tavarua Island

Tavarua is a famous island located in Fiji. It's considered to be one of the island resorts. It's a tiny island home to a few 3-star and 5-star hotels, with varying prices. The island is approximately 29 acres in total, and beautiful coral reefs surround it. The waves in this area are excellent, which is why surfers frequent it. It's also a perfect spot to go swimming, snorkeling, or diving if you'd like to!

You Should Know

To get to the island, you'll have to go on a boat from mainland Fiji, Viti Levu.

Snorkel at Mamanuca Islands

Mamanuca Islands is a volcanic archipelago. It's located near Nadi and is a beautiful set of islands to visit in Fiji. It covers approximately 20 different islands in total; however, some of them can't be seen at all times because the Pacific Ocean covers them! The hit show Survivor was filmed on Monuriki, which is one of the Mamanuca Islands. It was also featured in Tom Hanks's popular film Cast Away from 2000. If you only visit one Mamanuca Island, make sure that it's Monuriki! This is also a popular spot to go snorkeling in Fiji.

You Should Know

It can be a bit hard to get to the Mamanuca Islands depending on where you're coming from, so make sure you do a quick internet search if you're unsure what to do for transportation.

Explore the Fiji Museum

The Fiji Museum is a quirky little museum located right near the Thurston Gardens, which is also a top spot to visit. It first opened in the 29th century and is a great spot to learn more about its history. The Fiji Museum is a bit pricey for entrance, but it's worth it. The best way to explore the Fiji Museum is by tour, so if you're already on a Fiji tour, then you're in luck. While you're here, make sure to take the time also to explore the Thurston Gardens and the rest of Suva, Fiji.

You Should Know

The museum is relatively small, so you won't need more than a few hours to explore it.

See the Sri Siva Subramanya Swami Temple

The Sri Siva Subramanya Swami Temple is a Hindu temple that happens to be located right in Nadi, Fiji! It's the largest temple of its kind in all of the Pacific and is built in the Dravidian style of architecture. It was built in the late 20th century and is one of the most unique spots to visit in Fiji. This temple is incredibly colorful and has incredible ornate carvings throughout. The temple is quite tall and is beautiful both inside and out. Be sure to be respectful when visiting inside.

Best Time To Visit

To avoid crowds, be sure to visit the temple right in the morning when it opens.

Have fun at Kula WILD Adventure Park

The Kula WILD Adventure Park is a fun spot to go with families when visiting Fiji. It's located in Korotogo and was initially a park built for bird-watching in the 1980s. It became the park that it's known for being today in the late 20th century. This amusement park is open every day of the year and is filled with fun water rides and other attractions. There are also tons of fun bridges and outdoor areas inside the adventure park, which are worth exploring.

You Should Know

The park is best explored by spending an entire day here. Plan wisely!

Visit Beachcomber Island

Beachcomber Island is a breathtaking resort island that is covered by vibrant blue water. It's home to one of the more upscale resorts in all of Fiji, but it's a great getaway if you want to have a peaceful resort experience. There's ferry service directly to the island, which makes it pretty easy to get to. There's also a vast beach covering about 75% of Beachcomber Island's coastline, so you can truly relax and rejuvenate here.

You Should Know

If you want to stay at the resort on Beachcomber Island, make sure you take the time to make reservations well in advance. It's a great spot to end your Fiji tour before you head home!
Fiji Tour Packages
As mentioned earlier in this article, Fiji is gorgeous, no matter the time of year. It's home to some of the best beaches in the world that you can swim in no matter the season.
Spring and Fall - September to November and March to May - Shoulder Season

The spring and fall seasons are the shoulder seasons in Fiji, so they aren't as busy or crowded as the peak summer season. The average high temperature in the spring is approximately 86°F, while the fall average is around 85°F.

Summer - December to February - High Season

The summer is arguably the busiest time to visit Fiji. However, this is also the warmest time to visit, with an average high temperature being approximately 89°F. Because this is the busiest time to visit, you'll find that accommodation prices and flights to and from Fiji will be at their highest.

Winter - June to August - Low Season

The least popular time to visit is during the low season, even though the weather is still great. The average high temperature during this time is only 83°F, which is always beautiful! Accommodation prices will be a lot more affordable during this time.
Fiji Tours Frequently Asked Questions
What are Fiji Tours?

Fiji tours are the perfect way to get introduced to the islands in the Pacific. It's great for travelers who don't want to worry about transportation, meals, accommodations, and all the little pieces of their itinerary because it will all be figured out for them. Tours also come with a tour director who will be with you every step of the way, and you might even make some lifelong friends in your tour group.

What's included on a Fiji Tour?

As mentioned earlier, Fiji tours include a tour director, which is the most integral part of the tour. Your director helps manage the whole group and makes sure that the itinerary is stuck to. Sometimes, the tour director might ask for help from other local tour guides to enhance your Fiji tour experience. Fiji tours also include most accommodations, transportation, and meals throughout your trip. Usually, the mornings on Fiji tours will be spent with your tour group on fun experiences, while in the afternoons, you'll be able to do whatever you like.

What's the best Fiji Tour?

No Fiji tour is better than another because they're all so different. Make sure to research before booking a tour to find the one that's best for you. Consider your vacation length, designated budget, and even the destinations you want to be included in your itinerary.

How much do Fiji Tours cost?

Fiji tours range drastically in price. You'll find that most tours cost around $100 a day, but they can go up to around $200 per day. It depends on the length, stops, and inclusions. It also varies from tour operator to tour operator. By booking through Affordable Tours, you can guarantee that you'll be saving up to 40% off of your tour experience in Fiji.
Reviews for Fiji Tours and Vacations
This Globus Independent tour was perfect for us. The itinerary covered so many great highlights. There were many plane trips on this tour, I counted 10, so be prepared for this, but this was necessary as there is so much land to cover.
Glenn G
From the signing up with Affordable tours to the day before departure, I felt that any questions were answered and that I was prepared with the appropriate information to make the most of my travel plans. It was a fabulous trip with so much to see and do. There were no problems or disappointments. The accommodations were comfortable and above average. The hotels had us pre-checked. There was no waiting in lines. Transportation was always right on time and staff was very friendly and accomodating. Our tour guide was the best. Erika was wonderful, always available, very informative, willing to help with any alternate plans. She was courteous, patient, accommodating, helpful and fun. I would highly recommend this tour to anyone having an interest.
Dorothy B
We chose Globus for the Australia/ New Zealand trip because the itinerary was more inclusive than others we reviewed. two plusses were that the group was the right size to travel well together and was made up of experienced travelers and that the hotels exceeded our expectations.
Paula C
Departure
Lengths
Styles
Specialities
Price
How It Works
Vacationing has never been easier or cheaper with the help of a dedicated travel consultant from AffordableTours.com
1. Free Quote
Find your perfect trip on our website and simply request a free quote. Need to speak to a live person? Call us 7 days a week at 1-800-935-2620. No robots here!
2. Dedicated Travel Consultant
Your personal travel consultant will reach out and be your point of contact for your entire travel experience from start to finish. Did we mention you'll be working with an award winning team? Sweet!
3. Lowest Price Guaranteed
Because we're one of the largest sellers of travel, we're able to give you a discount on your vacation package. No one beats our prices!
4. Stress Free Travel
Knowing you got the best deal, all that's left is for you to pack your bags and enjoy your vacation!