Malaysia River Cruises 2023/2024
Save up to 40% on Malaysia River Cruises 2023/2024
Malaysia Travel Guide
Malaysia is an incredible tourist destination located in Southeast Asia. On your visit, you'll get to experience firsthand the influences of Chinese, Indian, Malay, and European cultural influences. There are tons of beaches to relax on, rainforests to explore, and shopping districts to discover. You're bound to have the time of your life on your group tour! With tour operator volume buys plus our low everyday prices you can save up to 40% versus assembling the same itinerary on your own! Book your Malaysia tour today with AffordableTours.com, your discounted tour headquarters. View Malaysia Tour Deals and Discounts
Malaysia Travel Guide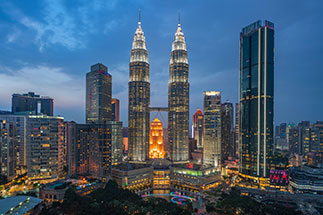 Showing 1 - 20 Tours
Sorry, we were unable to find a tour for you.
If you've not chosen a criteria, then please do so; otherwise you need to broaden your search criteria to find matches.
Malaysia Travel Guide
Malaysia Tours Highlights
Head up 88 floors to the top of the Petronas Twin Towers.
Explore the Hindu temple at the Batu Caves.
Get the perfect photo op in front of the iconic Menara Kuala Lumpur.
Discover the beauty of the Kek Lok Si Temple.
Learn a bit of Malaysian history at Merdeka Square.
Get an authentic and diverse shopping experience at Central Market.
Wander the gardens at the National Mosque of Malaysia.
Relax with birdwatching at the Taman Burung Kuala Lumpur.
Malaysia Tours Travel Tips
When you're packing, consider clothes that are both modest and comfortable. You'll definitely want breathable materials, but also pack a cardigan or sweater for visiting cooler indoor locations.
Most of the bigger cities in Malaysia are full of English speakers, but if you're planning to visit any rural locations, you might want to learn a few basic Malay phrases.
Don't be afraid to grab some food from a hawker stall. It might look hot and stuffy, but the food is incredibly delicious and cheap!
Tipping is not a common practice in Malaysia. Gratuities are included with your bill at restaurants, and taxi drivers and hotels often won't accept tips. If you do get exceptional service, ask before giving a tip.
Prepare for outdoor activities by bringing plenty of water, sunscreen, bug repellent, sunglasses, and a hat. These items will be even more important if you plan to go hiking.
Malaysia Tours Things To Do
Petronas Twin Towers

The Petronas Twin Towers, sometimes simply referred to as the Petronas Towers, are among the tallest buildings in Kuala Lumpur and the world. They were officially the world's tallest buildings from 1998 to 2004. It's an awesome tourist attraction that you simply can't miss when you're in Malaysia.

Best Time To Visit

The Petronas Twin Towers welcome visitors all year long, so you can visit no matter when your tour is. As far as the time of day, it's recommended to visit the towers in the late evening if possible. This timing allows you to see the light and fountain show that runs from 7 to 9 p.m.

You Should Know

The towers have 88 floors and 5 underground. They contain mainly office zones, but you can also find an observation deck, shopping center, discovery center, gift shop, and more. The towers are closed on Mondays. They're open Tuesday through Friday from 11 a.m. until 4 p.m. and weekends from 10 a.m. until 6 p.m.

Menara Kuala Lumpur

Kuala Lumpur is full of huge structures, and another great example is the Menara Kuala Lumpur, also called KL Tower. Completed in 1995, this communications tower is currently the 7th tallest freestanding tower in the world at 1,381 feet. The top of the tower is the tallest viewpoint in the city that's open to the public.

Best Time To Visit

It's recommended to visit KL Tower from 9 to 10 a.m. when crowds are the smallest. It will typically take about an hour to explore everything the tower has to offer.

You Should Know

Inside the tower, you can find a revolving restaurant that gives a stunning view of the city. Participants can race to the top of the tower in annual races. The elevator inside can get guests up to the observation deck in a quick 54 seconds.

Batu Caves

One of the most popular Hindu shrines outside of India, Batu Caves is actually a limestone hill with a series of caves and cave temples. Located in Gombak in Selangor, this shrine is dedicated to Lord Murugan, the Hindu god of war. Not only can you come for the religious aspect, but you can also rock climb, watch the wildlife, and perhaps even attend an annual festival.

Best Time To Visit

Since you'll be walking and climbing a lot, it's generally not recommended to visit Batu Caves in the rainy season. It's best to visit between December and February when it's cooler and drier.

You Should Know

Batu Caves is open daily from 6 a.m until 9 p.m. You'll actually find three separate caves here: Cathedral Cave, which is the largest, and two smaller cave temples called Gallery Cave and Museum Cave. It is free to experience the main Batu Cave and temple, but you can also pay to go on an Educational Tour or Adventure Tour.

Merdeka Square

Merdeka Square, literally translated to Independence Square, is a popular area of Kuala Lumpur. It's situated just in front of the Sultan Abdul Samad Building and is best known for being the first place where the Malaysian flag was hoisted. You'll also find the Cop's Fountain, the Plaza Putra, the Kuala Lumpur City Gallery, and more.

You Should Know

Merdeka Square hosts the annual Merdeka Parade in August and frequently hosts political rallies. This square was the starting place for The Amazing Race Asia 1. Part of the square contains a Padang (field) that used to be the Selangor Club cricket pitch.

Kek Lok Si Temple

The largest Buddhist temple in all of Malaysia, Kek Lok Si Temple is an incredible destination for all. Located in Air Itam in Penang, this temple complex was built from 1890 to 1930 and is an important pilgrimage location for Buddhists throughout the Philippines, Hong Kong, Singapore, and other countries around Southeast Asia.

Best Time To Visit

Kek Lok Si Temple welcomes guests daily from 8:30 a.m. until 5:30 p.m. If you're able to visit around Chinese New Year, you'll get to experience the stunning lights throughout the festival.

You Should Know

The first zone of Kek Lok Si, the temple grounds, is where you'll find food and drink stalls, souvenir vendors, and the turtle liberation pond. In the mid-section of the temple, you'll find a pagoda, gardens, and the Four Heavenly Kings Pavilion. On the hilltop, there are more gardens and temples, as well as a statue of Kuan Yin, the Goddess of Mercy.

Central Market

If you want the experience of strolling through a traditional stall-style market and browsing the wares of the locals, don't miss a trip to Central Market. The National Heritage Department has classified it as a Heritage Site, putting the attraction on par with San Francisco's Fisherman's Wharf or London's Covent Garden.

Best Time To Visit

Central Market is open daily from 10 a.m. until 10 p.m.

You Should Know

This is a great destination for popular Malaysian foods. There's a large food court and several restaurants located on the second floor. If you want cheap souvenirs, this is a great place to get them. You'll find embroidery carvings, sculptures, batik, paintings, and more. For a truly unique experience, stop by the Fish Spa! You'll get a fish pedicure where you dip your feet into a tub of water with little fish that will eat off the dead skin cells.

Taman Burung Kuala Lumpur

Also called Kuala Lumpur Bird Park, Taman Burung Kuala Lumpur is a "must-see" for the animal-loving traveler. More than 3,000 birds in more than 200 species are represented here, with about 90% being local birds and about 10% imported. This public aviary opened in 1991 and is a popular attraction for regular guests as well as scientists monitoring the birds.

Best Time To Visit

Visitors are welcome daily from 9 a.m. until 6 p.m. Individual attractions and shops within the park may have varied hours.

You Should Know

Stop by a bird feeding while you're at the park! You're able to see birds like the milky stork, eagle, hornbill, lory, and ostrich being fed at certain designated times throughout the day. Be aware and respectful of the birds at all times by not touching or shouting at them. Especially if it's been raining, be careful of where you walk and always watch your step so you don't slip.

National Mosque of Malaysia

Opened in 1965, the National Mosque of Malaysia is one of Kuala Lumpur's main attractions. It's situated among 13 acres of gardens and can fit up to 15,000 people. Throughout the compound, you'll see features like fountains, reflecting pools, and more. You'll also see a 16-pointed star and 73-meter-tall minarets.

You Should Know

The Mosque is open daily from 6:30 a.m. until 1 p.m., from 2:30 p.m. until 4 p.m., and finally from 5:30 p.m. until 7 p.m. This attraction is located near other popular destinations like the Lake Gardens Kuala Lumpur, so it's easy to visit multiple attractions in a short time. The Mosque was originally built on the former grounds of a church called the Venning Road Brethren Gospel Hall. That church has since been moved to Jalan Imbi and is now called Jalan Imbi Chapel.
Malaysia Tour Packages
Overall, Malaysia is good to visit at any time of year; it truly just depends on which side of the country you want to visit. If you're traveling to the East coast, visit from March through October, and if you're visiting the West, November through February is your best bet.
Malaysia's weather is pretty consistent all year long, so there isn't a huge distinction between the seasons. Expect heat and humidity no matter when you visit! The one thing that does vary, however, is rain. Monsoon season arrives around November or December and brings tons of rain until mid-February. It's not usually recommended to visit the East coast of Malaysia during this time.
However, if you plan to visit Malaysia's West Coast, you'll be fine traveling during these months. The West Coast doesn't have its rainy season until April through October, and it's typically much milder and not as wet as the East coast's rainy season.
Malaysia Tours Frequently Asked Questions
What is a Malaysia Tour?

A Malaysia tour is a guided group excursion through the stunning Southeast Asian country of Malaysia. You'll get to experience beautiful nature sites, exciting city life, and everything in between. Malaysia tours typically last 7-10 days, though both shorter and longer tours are available from certain tour companies.

What's Included on a Malaysia Tour?

The price of your Malaysia tour will include your transportation throughout the various destinations you'll be visiting, as well as all of your accommodation. Many meals are also included, though you may get the opportunity to grab a few lunches or dinners on your own. Some companies will also include your arrival and departure transfer within your overall tour price.

What's the Best Tour for a Malaysia Tour?

Malaysia tours are popular options for several of the world's largest group tour companies. Organizations like Trafalgar, G Adventures, Goway, and Yatra are all known for their wide selection of tours across Malaysia.

How Much Does a Malaysia Tour Cost?

Your Malaysia tour will vary in price depending on how long you stay and which tour company you travel with. It's not uncommon to find Malaysia tours that cost upwards of $8,000 per person for a 5-day, 4-night tour. Luckily, this is the high end of the scale. Many companies can cost much less at around $2,000-$3,000 per person for a trip of about a week or so.
Learn More About Malaysia Tours

Why Travel Is Worthwhile: Creating Lifelong Memories

Traveling is an incredible way to enrich our lives and create memories that will last forever. Whether you're exploring new cultures, trying new foods, or taking in breathtaking sights, traveling offers experiences that can change us in profound ways. In today's fast-paced world, it's easy to get caught up in our daily routines and forget…
Reviews for Malaysia Tours and Vacations
I had a memorable experience during the entire trip. I would highly recommend Gate 1 tour to my friends and family.
Willy C
Our CEO Ronald was extremely knowledgeable about the locales and animals. He reviewed each days schedule and made us feel as if we were all friends, not individual travelers.
Andrea B
During this trip, I lost my money belt which contained most of my money, passport, driver's license and credit cards. The operator had me file a police report and arranged for a local handler to help guide me through the process of getting a money transfer from the USA, getting a new passport from the US Embassy and making arrangements to leave the country. I thought the operator ( Intrepid ) did an excellent job for me in a difficult situation.
Thomas P
Departure
Lengths
Styles
Specialities
Price
How It Works
Vacationing has never been easier or cheaper with the help of a dedicated travel consultant from AffordableTours.com
1. Free Quote
Find your perfect trip on our website and simply request a free quote. Need to speak to a live person? Call us 7 days a week at 1-800-935-2620. No robots here!
2. Dedicated Travel Consultant
Your personal travel consultant will reach out and be your point of contact for your entire travel experience from start to finish. Did we mention you'll be working with an award winning team? Sweet!
3. Lowest Price Guaranteed
Because we're one of the largest sellers of travel, we're able to give you a discount on your vacation package. No one beats our prices!
4. Stress Free Travel
Knowing you got the best deal, all that's left is for you to pack your bags and enjoy your vacation!