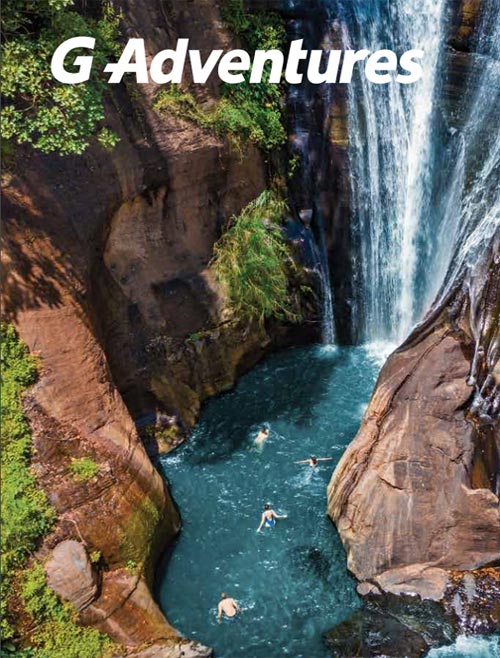 Guaranteed Low Prices on G Adventures Vacations - TailorMade
NEW! 2021 Now Open for Sale! Create your own private adventure from a selection of unique itineraries that can be tailored to exactly what you like and how you want to see the world. Travel by yourself, with a friend or a group. Choose your pace, tour length, and date. Make the tour yours by customizing activities, your preferred method of transportation, and where you stay.
Independent Vacation
An independent vacation combines the best parts of escorted and guided tours, with the freedom and flexibility of solo traveling. On an independent vacation, you will not be part of a group, which gives you the ability to spend your days exactly how you like. A "local host" or "local guide" in each of the cities you visit is available to answer any questions and to give plenty of guidance along the way. Depending on the tour operator and your destination, your local host may visit your hotel, meet you at the airport or be available by phone. He or she can make sightseeing, shopping and dining suggestions as well as give you the "inside scoop" on all of the most important things to see and do while you're in a foreign city.
Tour Itinerary
Days
Operator
Quality
Style
Starts
Ends
Price



TailorMade Peru: Machu Picchu Uncovered

08

Days

G Adventures

Budget

Independent
1 - Light

5+ years old
Lima
Lima
Peru
$1,779View Tour

Best Price Guaranteed

Book With Flexibility




TailorMade Thailand: Island Highlights

08

Days

G Adventures

Budget

Independent
1 - Light

5+ years old
Bangkok
Bangkok
Thailand
$1,459View Tour

Best Price Guaranteed

Book With Flexibility




TailorMade Thailand: Northern Express

08

Days

G Adventures

Budget

Independent
1 - Light

5+ years old
Bangkok
Chiang Mai
Thailand
$1,419View Tour

Best Price Guaranteed

Book With Flexibility




TailorMade India: Delhi, Rajasthan, and Jaipur

08

Days

G Adventures

Budget

Independent
1 - Light

5+ years old
New Delhi
New Delhi
India
$919View Tour

Best Price Guaranteed

Book With Flexibility




TailorMade Costa Rica: Rivers, Jungles, and Wildlife

09

Days

G Adventures

Budget

Independent
1 - Light

5+ years old
San Jose
San Jose
Costa Rica
$1,959View Tour

Best Price Guaranteed

Book With Flexibility




TailorMade Vietnam: North to South Explorer

09

Days

G Adventures

Budget

Independent
1 - Light

5+ years old
Hanoi
Ho Chi Minh
Vietnam
$1,459View Tour

Best Price Guaranteed

Book With Flexibility




TailorMade Ecuador: Natural Highlights

10

Days

G Adventures

Budget

Independent
1 - Light

5+ years old
Quito
Quito
Ecuador
$1,879View Tour

Best Price Guaranteed

Book With Flexibility




TailorMade Southern Africa: Cape Town, Kruger & Zimbabwe

11

Days

G Adventures

Budget

Independent
1 - Light

5+ years old
Cape Town
Victoria Falls
South Africa, Zimbabwe
$3,739View Tour

Best Price Guaranteed

Book With Flexibility




TailorMade Southern Africa: Cape Town, Safaris & Victoria Falls

11

Days

G Adventures

Budget

Independent
1 - Light

5+ years old
Cape Town
Victoria Falls
South Africa, Zimbabwe
$3,419View Tour

Best Price Guaranteed

Book With Flexibility




TailorMade Peru: Andes & Beyond - Lares Trek

12

Days

G Adventures

Budget

Independent
5 - Challenging

5+ years old
Lima
Lima
Peru
$3,499View Tour

Best Price Guaranteed

Book With Flexibility




TailorMade Peru: Andes & Beyond - Inca Trail

12

Days

G Adventures

Budget

Independent
5 - Challenging

5+ years old
Lima
Lima
Peru
$3,499View Tour

Best Price Guaranteed

Book With Flexibility




TailorMade Peru: Andes & Beyond - Cusco Stay

12

Days

G Adventures

Budget

Independent
5 - Challenging

5+ years old
Lima
Lima
Peru
$3,499View Tour

Best Price Guaranteed

Book With Flexibility




TailorMade India: West Coast Discovery

12

Days

G Adventures

Budget

Independent
1 - Light

5+ years old
New Delhi
Goa
India
$1,979View Tour

Best Price Guaranteed

Book With Flexibility




TailorMade Costa Rica: Natural Wonders

13

Days

G Adventures

Budget

Independent
1 - Light

5+ years old
San Jose
San Jose
Costa Rica
$2,759View Tour

Best Price Guaranteed

Book With Flexibility




TailorMade Thailand: East Coast Explorer

14

Days

G Adventures

Budget

Independent
1 - Light

5+ years old
Bangkok
Bangkok
Thailand
$2,879View Tour

Best Price Guaranteed

Book With Flexibility




TailorMade: India Introduction

15

Days

G Adventures

Budget

Independent
1 - Light

5+ years old
New Delhi
New Delhi
India
$2,799View Tour

Best Price Guaranteed

Book With Flexibility




TailorMade Southern Africa: Safari & Camping Adventure

16

Days

G Adventures

Budget

Independent
1 - Light

5+ years old
Johannesburg
Johannesburg
Botswana, South Africa, Zimbabwe
$5,579View Tour

Best Price Guaranteed

Book With Flexibility




TailorMade: Highlights of Southeast Asia

16

Days

G Adventures

Budget

Independent
1 - Light

5+ years old
Bangkok
Siem Reap
Cambodia, Laos, Thailand, Vietnam
$3,719View Tour

Best Price Guaranteed

Book With Flexibility




TailorMade Peru: Andes & Machu Picchu - Lares Trek

21

Days

G Adventures

Budget

Independent
5 - Challenging

5+ years old
Lima
Lima
Peru
$5,459View Tour

Best Price Guaranteed

Book With Flexibility




TailorMade Peru: Andes & Machu Picchu - Inca Trail

21

Days

G Adventures

Budget

Independent
5 - Challenging

5+ years old
Lima
Lima
Peru
$5,459View Tour

Best Price Guaranteed

Book With Flexibility




TailorMade Peru: Andes & Machu Picchu - Cusco Stay

21

Days

G Adventures

Budget

Independent
5 - Challenging

5+ years old
Lima
Lima
Peru
$5,459View Tour

Best Price Guaranteed

Book With Flexibility