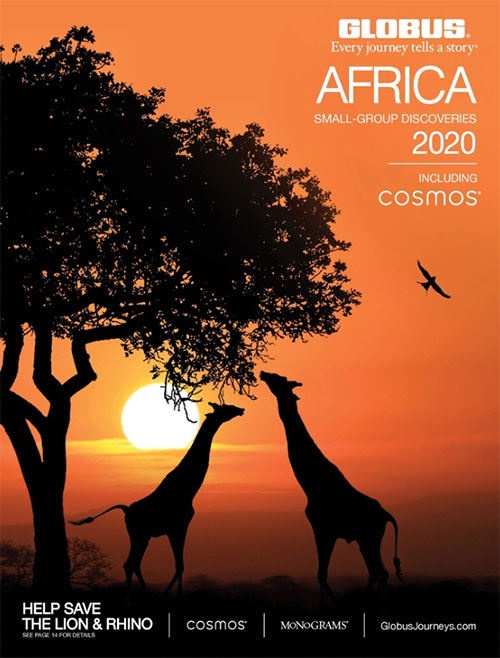 Guaranteed Low Prices on Globus Vacations - Africa
NEW! 2020 Now Open for Sale! Whether you want to shop in the bazaars of the bustling African cities, ride a camel in the African desert, or quietly spy a leopard in the wild, you'll find the experience you're looking for on a Globus vacation to Africa.
Escorted Tour
Escorted Tours are our most popular product. Escorted tours are normally conducted by a tour director who takes care of all services from beginning to end of the tour. Escorted tours normally include flights, hotels, transportation, transfers to the airport/hotel, most meals and sightseeing. Escorted Tours are conducted by motor-coach and usually no more than 2 nights are spent in each location visited. Escorted Tours are usually fast-paced and prices include much of the sightseeing.
Tour Itinerary
Days
Operator
Quality
Style
Starts
Ends
Price

42 reviews

Tanzania: The Serengeti & Beyond 2021

09

Days

Globus

First Class

Escorted
1 - Light

8+ years old
44
Arusha
Arusha
Tanzania
$4,540View Tour

42 reviews

Tanzania: The Serengeti & Beyond 2020

09

Days

Globus

First Class

Escorted
1 - Light

8+ years old
44
Arusha
Arusha
Tanzania
$4,264View Tour

12 reviews

Kenya: A Classic Safari 2020

09

Days

Globus

First Class

Escorted
1 - Light

8+ years old
20
Nairobi
Nairobi
Kenya
$4,188View Tour

12 reviews

Kenya: A Classic Safari 2021

09

Days

Globus

First Class

Escorted
1 - Light

8+ years old
20
Nairobi
Nairobi
Kenya
$4,036View Tour

12 reviews

Kenya: A Classic Safari with Nairobi 2020

10

Days

Globus

First Class

Escorted
1 - Light

8+ years old
20
Nairobi
Nairobi
Kenya
$4,678View Tour

12 reviews

Kenya: A Classic Safari with Nairobi 2021

10

Days

Globus

First Class

Escorted
1 - Light

8+ years old
20
Nairobi
Nairobi
Kenya
$4,566View Tour

42 reviews

Tanzania: The Serengeti & Beyond with Stay in Serengeti 2021

11

Days

Globus

First Class

Escorted
1 - Light

8+ years old
44
Arusha
Arusha
Tanzania
$5,830View Tour

12 reviews

Kenya: A Classic Safari with Stay in Maasai Mara 2020

11

Days

Globus

First Class

Escorted
1 - Light

8+ years old
20
Nairobi
Nairobi
Kenya
$5,508View Tour

42 reviews

Tanzania: The Serengeti & Beyond with Stay in Serengeti 2020

11

Days

Globus

First Class

Escorted
1 - Light

8+ years old
44
Arusha
Arusha
Tanzania
$5,464View Tour

12 reviews

Kenya: A Classic Safari with Amboseli 2020

11

Days

Globus

First Class

Escorted
1 - Light

8+ years old
20
Nairobi
Nairobi
Kenya
$5,378View Tour

42 reviews

Tanzania: The Serengeti & Beyond with Zanzibar - Stone Town 2021

11

Days

Globus

First Class

Escorted
1 - Light

8+ years old
44
Arusha
Dar es Salaam
Tanzania
$5,360View Tour

12 reviews

Kenya: A Classic Safari with Amboseli 2021

11

Days

Globus

First Class

Escorted
1 - Light

8+ years old
20
Nairobi
Nairobi
Kenya
$5,226View Tour

12 reviews

Kenya: A Classic Safari with Stay in Maasai Mara 2021

11

Days

Globus

First Class

Escorted
1 - Light

8+ years old
20
Nairobi
Nairobi
Kenya
$5,146View Tour

42 reviews

Tanzania: The Serengeti & Beyond with Zanzibar - Stone Town 2020

11

Days

Globus

First Class

Escorted
1 - Light

8+ years old
44
Arusha
Dar es Salaam
Tanzania
$5,024View Tour

12 reviews

Kenya: A Classic Safari with Nairobi & Stay in Maasai Mara 2020

12

Days

Globus

First Class

Escorted
1 - Light

8+ years old
20
Nairobi
Nairobi
Kenya
$5,978View Tour

12 reviews

Kenya: A Classic Safari with Nairobi & Amboseli 2020

12

Days

Globus

First Class

Escorted
1 - Light

8+ years old
20
Nairobi
Nairobi
Kenya
$5,838View Tour

12 reviews

Kenya: A Classic Safari with Nairobi & Amboseli 2021

12

Days

Globus

First Class

Escorted
1 - Light

8+ years old
20
Nairobi
Nairobi
Kenya
$5,726View Tour

12 reviews

Kenya: A Classic Safari with Nairobi & Stay in Maasai Mara 2021

12

Days

Globus

First Class

Escorted
1 - Light

8+ years old
20
Nairobi
Nairobi
Kenya
$5,656View Tour

132 reviews

Splendors of South Africa & Victoria Falls 2021

12

Days

Globus

First Class

Escorted
2 - Classic

8+ years old
20
Cape Town
Johannesburg
South Africa, Zimbabwe
$4,549View Tour

132 reviews

Splendors of South Africa & Victoria Falls 2020

12

Days

Globus

First Class

Escorted
2 - Classic

8+ years old
20
Cape Town
Johannesburg
South Africa, Zimbabwe
$4,084View Tour

132 reviews

Splendors of South Africa & Victoria Falls with Chobe National Park 2021

14

Days

Globus

First Class

Escorted
2 - Classic

8+ years old
20
Cape Town
Johannesburg
Botswana, South Africa, Zimbabwe
$5,549View Tour

132 reviews

Splendors of South Africa & Victoria Falls with Chobe National Park 2020

14

Days

Globus

First Class

Escorted
2 - Classic

8+ years old
20
Cape Town
Johannesburg
Botswana, South Africa, Zimbabwe
$5,014View Tour

152 reviews

Kenya & Tanzania: The Safari Experience 2021

15

Days

Globus

First Class

Escorted
2 - Classic

8+ years old
20
Nairobi
Arusha
Kenya, Tanzania
$7,798View Tour

152 reviews

Kenya & Tanzania: The Safari Experience 2020

15

Days

Globus

First Class

Escorted
2 - Classic

8+ years old
20
Nairobi
Arusha
Kenya, Tanzania
$6,915View Tour

152 reviews

Kenya & Tanzania: The Safari Experience with Nairobi 2021

16

Days

Globus

First Class

Escorted
2 - Classic

8+ years old
20
Nairobi
Arusha
Kenya, Tanzania
$8,308View Tour

152 reviews

Kenya & Tanzania: The Safari Experience with Nairobi 2020

16

Days

Globus

First Class

Escorted
2 - Classic

8+ years old
20
Nairobi
Arusha
Kenya, Tanzania
$7,395View Tour

132 reviews

Splendors of South Africa & Victoria Falls with Botswana 2021

16

Days

Globus

First Class

Escorted
2 - Classic

8+ years old
20
Cape Town
Johannesburg
Botswana, South Africa, Zimbabwe
$6,939View Tour

132 reviews

Splendors of South Africa & Victoria Falls with Botswana 2020

16

Days

Globus

First Class

Escorted
2 - Classic

8+ years old
20
Cape Town
Johannesburg
Botswana, South Africa, Zimbabwe
$6,304View Tour

152 reviews

Kenya & Tanzania: The Safari Experience with Zanzibar 2021

17

Days

Globus

First Class

Escorted
2 - Classic

8+ years old
20
Nairobi
Dar es Salaam
Kenya, Tanzania, Zanzibar
$8,708View Tour

152 reviews

Kenya & Tanzania: The Safari Experience with Zanzibar 2020

17

Days

Globus

First Class

Escorted
2 - Classic

8+ years old
20
Nairobi
Dar es Salaam
Kenya, Tanzania, Zanzibar
$8,511View Tour

152 reviews

Kenya & Tanzania: The Safari Experience with Nairobi & Zanzibar 2021

18

Days

Globus

First Class

Escorted
2 - Classic

8+ years old
20
Nairobi
Dar es Salaam
Kenya, Tanzania, Zanzibar
$9,198View Tour

152 reviews

Kenya & Tanzania: The Safari Experience with Nairobi & Zanzibar 2020

18

Days

Globus

First Class

Escorted
2 - Classic

8+ years old
20
Nairobi
Dar es Salaam
Kenya, Tanzania, Zanzibar
$8,981View Tour